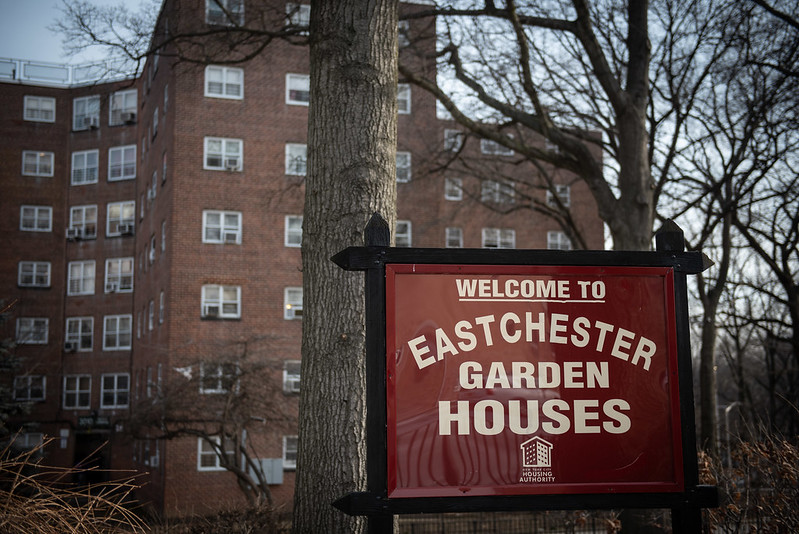 NYCHA's Eastchester Garden Houses (photo: Michael Appleton/Mayoral Photography Office)
---
For decades, government officials, advocates, and residents have debated the best path forward for New York City public housing while conditions have deteriorated and the price tag for urgent capital repairs and operational costs has boomed.
The New York City Housing Authority (NYCHA) faces an estimated capital need of $40 billion to address mold, lead paint, broken boilers and elevators, and a host of other needs critical to stable and safe housing for more than 400,000 tenants. There is also an ongoing operating deficit exacerbated by the pandemic and the authority has been placed under the watch of a federal monitor.
A number of solutions have been suggested or launched but there has been only piecemeal follow-through from government officials and limited collaboration among city, state, and federal entities to solve the public housing crisis.
Some -- like Mayor Bill de Blasio and his likely successor, Brooklyn Borough President Eric Adams -- have embraced roadmaps that include privatizing public housing management at some developments and selling air rights while pushing for a variety of additional funding sources, including more state and federal aid. Others have rejected proposals that alter the management of NYCHA or allow new housing on NYCHA land in favor of full federal funding, which has been anemic for decades.
In his American Jobs Plan, a $2 trillion infrastructure bill, President Joe Biden has included $40 billion to restore public housing nationwide with much of it likely to go to NYCHA, the nation's largest public housing system. A counter proposal in Congress would double that funding to $80 billion, with half going to NYCHA -- enough to meet its capital needs. While Senate Majority Leader Chuck Schumer, the senior senator from New York, promised in a recent op-ed in City & State "to use all of my power as majority leader" to pass the congressional plan, its fate remains uncertain.
Now, a new report from Community Preservation Corporation (CPC), a nonprofit affordable housing financing company, seeks to cut through some of the noise and offer a concrete roadmap to finally secure the funding that NYCHA and its residents need. The CPC white paper being released Tuesday, October 5, argues that officials at all levels of government will need to use multiple tools to solve NYCHA's myriad problems -- even if the federal package does include $40 billion for New York City's public housing.
The company, led by Rafael Cestero, former commissioner of the New York City Department of Housing Preservation and Development (HPD) under Mayor Michael Bloomberg, is pushing for the city, state, and federal governments to pursue a three-part solution in line with de Blasio's 2020 roadmap.
It includes converting 62,000 NYCHA units to private management (while remaining under NYCHA ownership), an idea that has received mixed reviews from tenant advocates and elected officials, and which CPC is currently a part of in 16 NYCHA properties in Manhattan; establishing a so-called "Public Housing Preservation Trust" at the state level to leverage funding for the remaining 110,000 units; and receiving a one-time federal infusion to address major capital needs.
For the plan to work, Community Preservation Corporation argues the city and state will each need to allocate an additional $1.5 billion annually for the "comprehensive modernization of whole developments." The nonprofit is urging the next mayoral administration, due into office January 1, to move aggressively on the programs and to work with the state to advance legislation to establish the public housing trust.
"What we tried to get across is we should stop making a false choice between doing the first way, the second way, or the third way," Cestero told Gotham Gazette. "The reality is that NYCHA is important enough, and the problems big enough, that we should do all three things."
While the $40 billion for capital repairs has become the marquee figure used by NYCHA leadership, the de Blasio administration, and others, CPC believes the needs are far greater.
Its assessment, previewed by Gotham Gazette, reasons that the authority needs closer to $48 billion in capital funding to address both the collapsing infrastructure and increasingly urgent environmental resilience updates. And none of that addresses NYCHA's operating cost deficit.
CPC estimates the city and federal governments' subsidies for operating costs were $45 million below expectations in 2020, including $34 million in city assistance below budget. Rent collection from NYCHA tenants, intended to make up roughly a third of the authority's operating budget, has been declining since 2016, according to CPC, and has gotten worse during the pandemic. The city's Independent Budget Office has reported rent collection was $64 million under budget by the end of 2020.
Unsurprisingly, CPC's recommendations have the support of NYCHA Chair Greg Russ, who helped author the de Blasio administration's "A Blueprint for Change," which includes many of the components in the new CPC white paper.
"NYCHA agrees with and supports the recommendations made by the Community Preservation Corporation, including receiving capital funding from the City and State to make comprehensive modernizations to our developments; passing the Public Housing Preservation Trust legislation and having HUD allocate 12,000 Tenant Protection Vouchers; and receiving funding through an infrastructure package while establishing a distribution formula that works for NYCHA," Russ wrote in a Monday statement to Gotham Gazette. "This is an exciting time for NYCHA and we look forward to working with residents to transform and improve public housing."
Budget watchdogs like Citizens Budget Commission, which has been pushing for better management of NYCHA's finances and aggressive steps to bring in new revenue, say the most important action is action itself. "Without dramatic changes within 10 years nearly 90 percent of NYCHA's housing units could be at risk of deteriorating past the point at which it is cost-effective to repair — a crisis from which NYCHA and the City might well not be able to recover," reads a 2018 Citizens Budget Commission report. There has been limited action in the years since.
The most controversial component of the plans from NYCHA, CPC, and others who favor it is Rental Assistance Demonstration (RAD), which allows public housing authorities to enter into new public-private partnerships wherein private companies like CPC manage public housing developments using federal Section 8 subsidies.
In New York City's version of the plan, developments are still owned by NYCHA, which preserves requirements that rent not exceed 30% of tenants' incomes. According to Erin Burns-Maine, CPC's vice president of policy, RAD developments are still subject to requirements under a 2019 agreement with the U.S. Department of Housing and Urban Development (HUD). That same agreement, in response to a series of crises and scandals at the housing authority, including around lead paint, also established a federal monitor for NYCHA.
Some tenant groups have opposed RAD out of fear that private management companies would pursue evictions more vigorously and displace residents, calling it a clear step toward more full privatization of public housing. Opposition groups like Fight for NYCHA have organized protests against the de Blasio administration and Adams' campaign for their support of RAD, which have garnered some attention in the media and among some elected officials. If he becomes the next mayor, Adams has promised free legal services for tenants going through the RAD conversion process. Throughout the campaign Adams has stressed the importance of communication with tenants and said that in developments where he has seen RAD implemented the tenants have liked it.
According to Cestero, the current congressional proposal of $40 billion for NYCHA appears to come with the requirement that the authority use Section 9 subsidies, rather than Section 8, foreclosing the possibility of public-private partnerships under RAD. "That is just, in our opinion, a huge mistake," he said.
Under CPC's recommendations and NYCHA's Blueprint, a majority or repairs and operating costs should be covered by the Public Housing Preservation Trust, which if passed by state lawmakers would allow two-thirds of NYCHA units to transfer to a wholly public entity that can use more valuable federal Tenant Protection Vouchers. The vouchers would open the possibility for NYCHA "to leverage debt, deploy capital funds more quickly, and cut through a number of procurement challenges," according to the white paper. CPC is calling on Washington to allocate 12,000 vouchers to New York City and fund a study of the model.
While widely supported, legislation for the public housing trust has been met with delays. In June, the bill's sponsors, ​​State Senator Brian Kavanagh and Assemblymember Steven Cymbrowitz, said they were holding the proposal until the 2022 legislative session for "further conversation, outreach, and negotiation."
"The public housing trust shouldn't be controversial except it hasn't moved yet...and frankly should be the easiest thing because it is a fully public entity," Cestero said.
To raise additional revenue, CPC also advocates for the sale of NYCHA air rights, in line with the de Blasio Blueprint, as well as infill development -- the leasing of underutilized NYCHA land for private development.