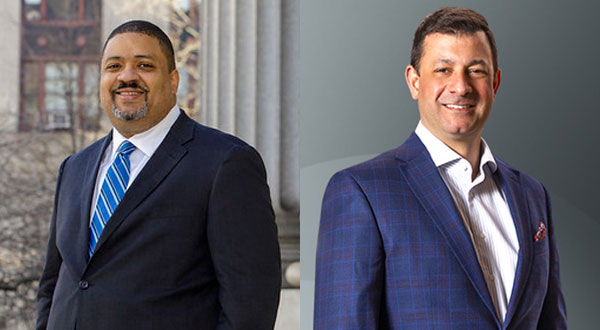 Manhattan DA candidates Alvin Bragg, left, & Thomas Kenniff
---
The two candidates running for Manhattan District Attorney in the imminent fall election met recently for a spirited televised debate, with issues ranging from the bail system to gun violence and each aspirant's record of public service.
Democratic nominee Alvin Bragg, a former prosecutor and top deputy New York Attorney General, and Republican nominee Thomas Kenniff, a former military judge and criminal defense attorney, sparred over their resumes and visions for the office in a debate hosted by Manhattan Neighborhood Network and moderated by Gotham Gazette's Ben Max. [Watch the full 30-minute debate here.]
As he's done throughout the campaign, which included his win in a crowded and competitive primary, Bragg talked of both his personal and professional experience and positioned himself as a reformer who will also ensure public safety. Kenniff, who did not have to face any primary opponent and is fighting the uphill battle in a very Democratic-leaning borough, stressed first and foremost taking on crime more aggressively and sought to paint Bragg as a threat to public safety.
As the top state-level prosecutor in Manhattan and a local and national leader on criminal justice issues given the high-profile nature of the position, the district attorney has enormous sway over issues of law and order, prosecution and punishment, freedom and incarceration, and policy-making with a focus on improving public safety. The DA leads a large office of attorneys, investigators, and other staff with a budget well over $100 million and has jurisdiction over aspects of Wall Street, City Hall, major portions of the subway system, and much more.
In his opening statement, Kenniff emphasized his background as an army veteran and a defense attorney who served in Iraq and in the Javits Center in New York City during the COVID-19 pandemic. He professed his anger at what he called misguided criminal justice policies that he said have led to an increase in violent crimes and a decrease in quality of life for city residents. He also attacked Bragg, particularly over Bragg's positions on bail reform.
"Having spent the majority of my career defending the rights of the accused, I understand fairness, but I also know that Manhattan needs a district attorney that will keep us safe," Kenniff said.
Bragg argued he has the ability to understand policy issues from a variety of angles, both personal and professional. He discussed his upbringing in Harlem, where he had guns pointed at him on six occasions, three of them by police, his education at Harvard Law School, and his dedication to the New York criminal justice system as an attorney in several different roles. Bragg noted his work as a federal prosecutor and chief deputy under the New York Attorney General, and mentioned having led a number of high-profile and complex cases, including related to armed robbery, public corruption by the former State Senate majority leader, and the Trump Foundation's misuse of charitable assets.
"All of these experiences, personal and professional, lead me to a vision that marries fairness and public safety. This is my life. This is my life's work. As a result of it, I have been endorsed by the New York Times, by [former U.S. Attorney] Preet Bharara, and so many others," Bragg said, with reference to the Times editorial board's pivotal endorsement in the primary.
On running the large office of Manhattan District Attorney and the charges they would give to their many deputies as DA, the two candidates both indicated they would seek to shift the culture and priorities of the office.
Kenniff stressed the importance of rebuilding it given departures of staff and the need to abandon what he has deemed failed policies. He criticized what he characterized as "far left, progressive" policies that he says have hurt the office and the borough. Kenniff also denounced Bragg's intention to rebrand a bureau to review wrongful convictions, calling it the "Free the Wrongfully Convicted Unit," saying that it sends a negative message to those working in the DA's office and beyond. While he supports overturning wrongful convictions, Kenniff indicated he believes it must be done without insulting longtime professionals who have done no wrong.
Bragg countered, pointing out his experience leading a large office and talking about his extensive "Day 1 memo," which Kenniff had criticized regarding the newly-named office. Bragg touted being the candidate who has laid out in detail what he would do if elected, and discussed leading the office by reshaping the criminal justice system so that it prioritizes what he called cases that really do harm while going up the food chain to the most harmful actors.
"I have walked the walk. I have done the work. I have been with loved ones who have had violent acts happen to them, and I have also walked with those who are fighting the civil rights fights. I have managed an office like this, and I am ready to serve on day one," Bragg said.
He would not prioritize the types of cases that led to the deaths of Eric Garner and George Floyd, he said, but stressed he would focus on drug and gun trafficking as well as sex crimes in order to improve public safety.
Kenniff highlighted his 15 years as a criminal defense attorney in Manhattan (where he lived until moving to Long Island) and discussed the wide range of clients he represented, including those who were indigent. He attacked Bragg's career, including specific cases where he said Bragg had pursued harsh prosecution for powerless individuals.
"Take a look at the electronic filing system. Take a look at PACER [Public Access to Court Electronic Records]. See the type of people that Alvin Bragg was seeking decade-long, life sentences for as a federal prosecutor, including opposing a motion to vacate a life sentence against a non-violent drug trafficker who was found mentally unfit. That was one of his first published cases," Kenniff said.
Bragg continued to point to his varied career and personal experience, saying he is proud of his record.
On the contentious issue of bail reform, Bragg argued for the recent reforms made by the state and said that they should be kept as-is after sweeping changes were passed two years ago and slightly rolled back last year. Bragg said that bail has been a wealth test that disproportionately hurts and incarcerates poor people and people of color, while it is meant to simply ensure a return to court for those not yet convicted of any crimes. He noted that Kenniff has regularly asked for bail reductions during his legal career.
In terms of additional policies, Bragg mentioned pretrial services or accommodation for people's ability to return to court, and pointed to a recent op-ed he wrote on bail reform.
Kenniff vehemently criticized the recent bail reforms, which went into effect on January 1, 2020, and argued that such reform led to the massive increases in gun violence that plagued New York City throughout much of 2020 and into 2021, before some recent declines, and argued those results disproportionately hurt people of color.
"We know when there is an increase in violent crime, disproportionately Black and brown people are going to pay the price for it," Kenniff said. "So, the very people Alvin Bragg talks about how he walks with everyday, the policies that he and his progressive friends have championed are terrorizing them the most."
It was one of several comments from Kenniff that Bragg took offense to.
Kenniff also criticized Bragg's support for bail reform and said he and others had weakened the criminal justice system.
"Ask people on the streets in Manhattan, in the neighborhoods that he is talking about, in every neighborhood, whether they are feeling safer post-January 1, 2020, or feeling that they are less safe," Kenniff said.
When asked if there is statistical evidence that the people being released by the new bail policies significantly contributed to the increase in gun violence, Kenniff replied by discussing a single case in which an individual was released on a gun charge and went on to kill a 17-year-old young person of color, but did not cite any data.
Bragg noted that Kenniff did not provide any data, saying there isn't any to support the argument that the bail reforms had led to the spike in shootings and murders. He called Kenniff's arguments out of touch with the neighborhoods, such as Harlem, that the new bail reforms actually impact.
Bragg spoke about taking a nuanced approach to prosecuting gun crimes, citing certain instances of illegal possession where individuals should not be prosecuted.
"My dad had a gun when I was young. It was unlawful, but it was to protect our home. I had him turn it in when he was 65. He was not a public safety risk. My position [on gun prosecution] are nuanced. They are born out of real experiences, both in the courtroom and personal that marry fairness and public safety," Bragg said.
Kenniff said he would take a far harder line on gun prosecutions and also called for bringing back a disbanded NYPD plainclothes unit that was focused on illegal guns but had been the subject of civil rights complaints. Pointing out that Eric Adams, the Democratic nominee for New York City mayor, holds a similar position, Kenniff said he is arguing for common sense positions.
When asked to present one question to each other, Kenniff asked Bragg about his reaction to the case Kenniff has previously mentioned: "I have brought up that case that was in the paper the other day with the individual who shot a 17-year-old boy and had been arrested a few days before on a gun possession charge, released on the sort of bail reform policies that you support. What would you say to the mother of that child?"
Bragg answered that it wasn't really a hypothetical for him, since he has talked to families whose loved ones were killed by gun violence. He spoke about his own experience, having guns pointed at him by police officers and others. "I understand the pain and I understand that the misguided policies you are talking about, like bringing back stop-and-frisk, is not going to address that," Bragg said.
Bragg asked Kenniff how he could serve Manhattan's interests when he is registered to vote and resides on Long Island. Kenniff said that he lived and voted in Manhattan in the past, and served on the front line of the Javits Center as a legal officer during the COVID-19 pandemic. "If I take this office, as I expect I will, I will obviously reestablish my residency in Manhattan," Kenniff said.
In his closing statement, Bragg emphasized how his personal upbringing inspired his career in public services and how he would utilize his experiences as a federal prosecutor and criminal defense attorney to represent Manhattan. Kenniff addressed the need for improving public safety, noting his outsider background to politics and his focus on moving away from reforms he believes have made New Yorkers less safe.
[WATCH the full 30-minute debate between Manhattan District Attorney Candidates Alving Bragg and Thomas Kenniff]