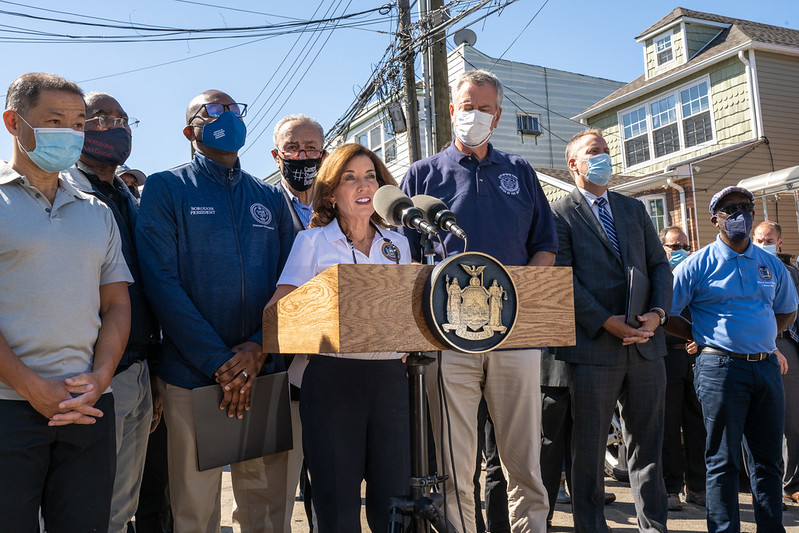 Gov. Hochul & other officials in Ida's aftermath (photo: Darren McGee/Governor's Office)
---
After the powerful remnants of Hurricane Ida hammered the Northeast and killed 16 New Yorkers, Governor Kathy Hochul promised a full review of the state's handling of the catastrophe. Nearly two months later, the governor has not released anything or provided any update about the assessment while questions remain about how the nascent Hochul administration dealt with the storm's approach and arrival.
As the storm crossed into New York on September 1, only a week into Hochul's tenure as governor, her office issued an advisory warning of heavy rain and "possible flooding." That morning she directed state agencies to take some precautionary action but did not declare a state of emergency, hold a press briefing, or announce any travel restrictions before the worst of the storm hit that evening.
That night and into the next morning, the downstate region saw torrents of water -- enough to submerge cars up to the windows and fill basement apartments, especially in parts of Queens where geography and infrastructure placed homes in the floodpath. Those basements are where most of the victims died.
Subway entrances resembled waterfalls and the rain erased the contours of streets and highways. It was not until after midnight that Hochul declared a state of emergency.
Within days the state assessed tens of millions of dollars in property damage.
"I'm going to be convening a task force of individuals who will do an after-action report to me," Hochul said at a briefing in Yonkers on September 3. "I've insisted on this already and I want to know exactly what we did right. If we did it right, we'll keep doing it right. If there were any areas that were shortcomings I want to know what they are and how we address them."
Without admitting fault, Hochul said the state needed to be better prepared for extreme weather events like Ida, which have been coming with more frequency in recent years.
"Some people called this a 500-year event. I don't buy it because I was up on Lake Ontario when in 2017 we had what was known as a 100-year event. It happened two years again later," she said at the September 3 briefing, surrounded by grieving families and other elected officials.
A day earlier, Hochul laid out the critical questions of her post-mortem.
"Did we have enough warning? Did we let people know? Should we shut down subways earlier? Was there a breakdown in communication with the weather systems? Were we prepared enough?" she asked at a press briefing on Long Island. "I am going to intensely ask those questions, get the answers, and when I get that, I will share that with the public because every crisis is an opportunity to learn and to improve and to be more prepared for the next one."
"The after-action report is in progress," said Avi Small, a spokesperson for Hochul, when asked about the review and any preliminary findings.
On the morning of September 1, Hochul began issuing warnings and directing state agencies to deploy available emergency response resources. The state Department of Transportation was instructed to clear drain catches and dispatch generators, pumps, chainsaws, and emergency lighting. Plows, dump trucks, and other equipment from the Thruway Authority were placed on standby and MTA crews were called in to inspect "flood-prone areas" of the subway. At least ten state agencies and authorities were engaged in a last-minute rush to prepare the state.
While the review hasn't materialized, the administration has been active in the aftermath of the storm. Hochul secured a major disaster declaration from President Joe Biden, along with millions in federal aid. For immigrants excluded from FEMA relief, the administration established a $27 million fund that was applauded by advocacy groups. The governor visited devastated areas of New York City and other parts of the state -- including a visit to Queens with Biden and other elected officials -- and pledged to return.
On Monday, as another (less severe) deluge was expected to hit the state, Hochul issued a preemptive state of emergency declaration. The early order is a sign of the apparent lessons learned from getting caught flat-footed in the storm water two months prior.
"I am proactively declaring a State of Emergency to ensure we can provide the necessary resources to respond to this storm and protect lives and property in regions where the forecast is calling for significant rainfall," Hochul said in a statement accompanying agency directives that looked similar to what she issued the morning before Ida hit, though without the emergency declaration. "I am encouraging New Yorkers to prepare now for inclement weather expected over the coming days and urging commuters to take precaution ahead of heavy rainfall expected tomorrow morning."
On September 23, three weeks after Ida, Mayor Bill de Blasio issued a report from a city task force he convened in the aftermath of the storm with new protocols for responding to catastrophic weather events. The task force recommended $2.7 billion in new funding for resiliency projects, which de Blasio said he supported.
"Extreme weather is more common than ever, and more severe than ever. Business as usual is over. Keeping New Yorkers safe means profoundly changing the way we prepare for – and react to – this new normal," the mayor said in a statement. "This new report charts a path forward for investing in vulnerable neighborhoods, shoring up our infrastructure, warning communities ahead of major weather events, and better tracking storms before they arrive."
Like Hochul, the mayor received significant scrutiny about the city's preparations for Ida and the fact that so many people died in basement apartments that were not up to code. The new plan includes developing the Office of Emergency Management's early warning systems -- a project that had been planned for 2023 but de Blasio said the city would expedite. Some have questioned why the system wasn't in place when Ida hit, given the city's knowledge of both flooding problems and widespread code violations for basement apartments.