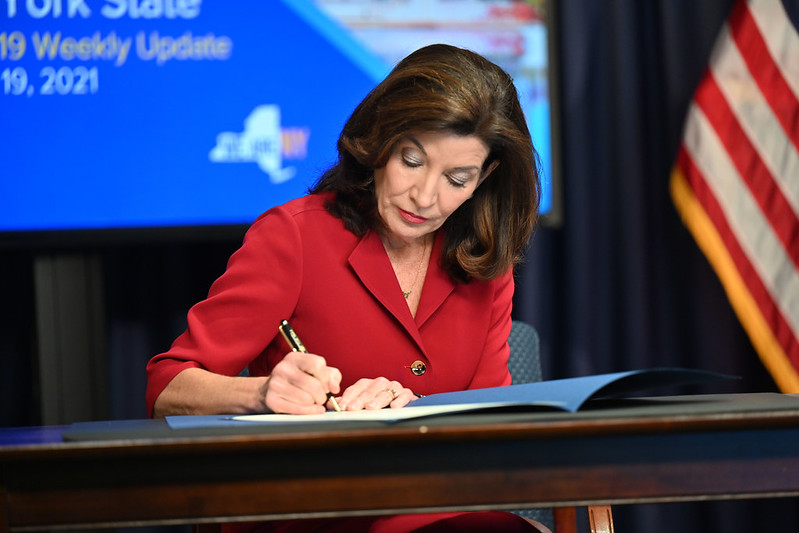 Gov. Kathy Hochul (photo: Kevin P. Coughlin/Office of the Governor)
---
Governor Kathy Hochul is signing two bills Thursday to protect the personal information and finances of domestic violence survivors fleeing their abusers.
One bill allows survivors to shield their home address in public records when registering to vote with the Board of Elections. The second bill requires utility companies to release individuals from shared contracts without charge when they affirm that they are victims of domestic abuse. The latter makes it easier for individuals to leave abusive homes without the financial penalties often attached to seeking safety. State lawmakers passed the bills almost unanimously this spring.
"My mother worked with domestic violence survivors all her life, and I'm proud to continue the mission to put an end to abuse and support the needs of survivors and families," Hochul said in a statement provided to Gotham Gazette. "Requiring utility companies to release survivors of domestic violence from their contracts freeing up funds for necessities as they get their feet on the ground in a new home and keeping those new homes' addresses confidential ensures survivors can live there safely."
The legislations' supporters say the laws will help individuals, especially women and youths, extricate themselves from abusive environments. Home addresses in Board of Elections records can be used by abusers to locate their victims and renew cycles of harm. And so-called "escape clauses" in utility contracts can mitigate the often great personal costs survivors sustain when they break free, the bill's sponsors said. The new provision only applies to contracts initiated after the law is signed.
"The unfortunate truth is that New York State needs to do more to ensure protection for victims of domestic violence," said State Senator Kevin Parker, a Brooklyn Democrat and one of the lead sponsors of the utility contract bill. "As survivors work to move forward with their lives they need [to] be able to break away from utility contracts without penalty."
Assemblymember Carmen De La Rosa, the Manhattan Democrat who carried the bill in the Assembly, noted that "intimate partner violence manifest itself in physical, verbal, and economic abuse."
The bills each require victims to submit affirmations in writing in order to opt-out of their respective obligations. In the case of voter registration, the documentation must be a signed statement expressing that the voter is a victim of domestic violence and "that because of the threat of physical or emotional harm to themself or to family or household members, [they wish] for their registration record to be kept confidential." The confidentiality exemption will last four years, after which the voter may reapply.
"No survivor should have to give up their right to vote in order to protect themselves from abuse," said Assemblymember Nily Rozic, a Queens Democrat who championed that bill.
Previously, registered voters would have to apply for a court order from the state supreme court in order to shield their address.
"We want all New Yorkers to play a role in our democracy," said State Senator Zellnor Myrie, a Democrat from Brooklyn who carried the bill in his chamber. "By removing a cause for fear, this law will hopefully make it easier for survivors to find and use their voices in our elections."
To break utility contracts, individuals will have to request to be removed from contracts in writing and submit some form of official documentation attesting to their status as a victim of abuse. Valid statements include an incident report, police report, order of protection, or a signed affidavit from a range of medical, social service, or legal professionals.
Hochul, a Democrat, has championed a number of initiatives to protect domestic violence survivors in her two months in office. Earlier this month she made the annual declaration of October as "Domestic Violence Awareness Month" and allocated $6.5 million to survivor support and domestic violence prevention programs. Roughly three-quarters of the funding went to organizations that provide housing for survivors.
In her first major address after being sworn in as governor -- the first woman to hold the position in the state's history -- Hochul said her mother grew up "in an abusive home" and imparted to her the value of social justice advocacy. "Together, we founded a home for survivors of domestic violence when she was 70 years old—she taught me empathy," Hochul said in the August 24 speech.
Hochul has committed to championing anti-sexual-harassment and discrimination issues and turning the page on a culture of sexism in state government. She came to power this summer after former Governor Andrew Cuomo resigned following a report from the Attorney General's office showing he sexually harassed multiple women, including current and former staff members, and oversaw a toxic workplace.
The bills being signed Thursday appear to be the first anti-domestic violence legislation Hochul has enacted into law in her short time as governor.