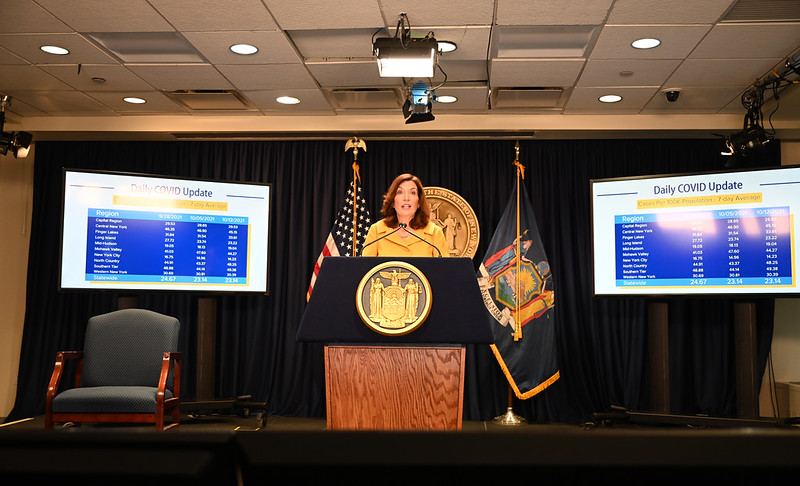 Gov. Hochul presents data (photo: Kevin P. Coughlin/Governor's Office)
---
An advocacy group for low-income communities is suing New York State for documents and data that could shed light on the struggle of non-English speakers to get unemployment insurance during the pandemic.
The National Center for Law and Economic Justice (NCLEJ), a legal advocacy organization, filed a lawsuit in New York State Supreme Court last week against the state Department of Labor for documents the group requested under the state Freedom of Information Law. According to NCLEJ, workers who don't speak English as a first language have faced barriers to accessing state and federal unemployment payments throughout the pandemic, including limited translation services. Its lawyers are seeking documentation of the policies and procedures the Department of Labor instituted to assist non-English-speakers and data on claims filed by people with language access needs.
"We have all of these very, very troubling anecdotes and we want to get a better picture of what are the agency's policies, what were they actually doing, how much of this was agency oversight and how much of it was the result of actual documented policies? We just don't know," said Katharine Deabler-Meadows, the NCLEJ staff attorney who filed the suit. She described applicants who could not reach a DOL representative that spoke their language, workers being sent notices in the wrong language, and delays in translating important information on DOL's website.
"Without the DOL complying with their FOIL obligations and giving us the information that they have, it's difficult to get a systemic picture," Deabler-Meadows told Gotham Gazette.
A spokesperson for the Department of Labor wrote in an email: "The New York State Department of Labor cannot comment on pending litigation."
Unemployment in the state skyrocketed during the pandemic, jumping from 4% to 16% in April 2020, and remained high for much of the past 20 months. In New York City, the unemployment rate hit 20% last year and remains more than double pre-pandemic levels. The economic fallout has landed disproportionately on lower-wage sectors that tend to employ more immigrants and people with limited English fluency – particularly retail and food services.
In September, multiple federal unemployment programs implemented under the CARES Act expired, including Pandemic Unemployment Assistance, or PUA, which was available to individuals who did not qualify for traditional state unemployment insurance, like gig workers, people who were self-employed or didn't work enough hours to qualify. Roughly 900,000 people were receiving benefits through PUA when the program expired. Pandemic Emergency Unemployment Compensation, or PUEC, which supplemented the unemployment benefits of traditionally eligible workers, also expired. According to NCLEJ, administrative obstacles at DOL existed while the agency was administering the programs and continued after they ended.
The Freedom of Information Law enables public access to government records upon request but has suffered from abysmal response times and poor document retrieval. NCLEJ requested the documents nearly a year ago, in January 2021, on behalf of its members, Make the Road New York, an advocacy group and service provider for immigrants, and others. The group filed the lawsuit after DOL "failed to produce a single document or respond in any meaningful way to the request," according to the NCLEJ. It was served to DOL on Tuesday. If NCLEJ prevails, the state will have to cover its legal fees.
The documents, including internal DOL policies on handling applications from non-English speakers, records on translating DOL's website, statistics on claims by applicants' languages, and statistics on staffing levels, including bilingual staff, and translation capacity.
The lawsuit is just one of hundreds or thousands filed every year on behalf of people seeking government records but it is indicative of what transparency advocates call a "broken" FOIL system.
In her four months in office, Governor Kathy Hochul has made government transparency, and improving FOIL, in particular, a central commitment as part of an effort to distance herself from some of the hallmarks of the Cuomo administration. In October, Hochul announced a number of changes to the way FOIL requests would be processed to reduce delays and "the backlog of thousands of FOIL requests inherited by the Hochul Administration."
"From Day One, I've been committed to restoring New Yorkers' faith in their government by improving transparency and increasing accountability," Hochul said in an October statement. "The changes we're announcing today bring us closer to creating the kind of government that New Yorkers deserve, and we'll continue to build on this progress."
"I have instructed my counsel to come up with an expedited process to fulfill all FOIL requests as fast as possible—and post completed requests publicly online," she said in her major address as governor.
"Governor Hochul is committed to transparency and restoring trust in government and has announced major improvements to the FOIL process, with the goal of providing more public records on a faster timeline and reducing the significant backlog of FOIL requests inherited by the Hochul Administration," wrote Hazel Crampton-Hays, a spokesperson for Hochul, in an email, noting the Executive Chamber does not comment on ongoing litigation. "We will continue to build on our progress to deliver the accountability New Yorkers deserve."
As part of the October measures, the administration released "agency transparency plans" where agencies reported to the governor how they would improve access to government information. The Department of Labor's plan includes a section on improving FOIL that consists of only two measures, exploring the use of request tracking software and continuing to post commonly requested data online, which it will complete in the third or fourth quarter of 2022, according to the document.
"Although we face significant staffing challenges within Counsel's Office, as a Department, NYSDOL is already very responsive to FOIL requests," the plan states.
"What you see here with this is typical because the agencies pay no price for basically ignoring FOIL," said John Kaehny, executive director of the good government group Reinvent Albany. "They find it easier to just get sued than they do to comply with the law. And it's systematic, it's everywhere."
Kaehny believes part of the problem is that the Committee on Open Government, the state agency that oversees FOIL, the Open Meetings Law, and privacy laws, is only an advisory body with few teeth, and the shrinking local news landscape means delinquent agencies aren't being "name[d] and shame[d]."
"No one knows how many FOIL requests are filed. Nobody knows how long it takes agencies to respond because that data is not collected. And there is no government body that has the authority to do anything that is charged with continuous improvement of FOIL," he said.
While transparency advocates have been heartened by Hochul's early efforts to review and adjust agency information access, more is expected.
"This is something that [Hochul] should be specifically asked as a candidate," Kaehny said. "How are you fixing Freedom of Information Law structurally so that agencies like this comply with it and so that the process is improved?"
"This new era of transparency that Governor Hochul promised when she took office is not happening at the DOL," Deabler-Meadows said. "We are in the same position that we were in the Cuomo administration where we're having to fight tooth and nail just to get basic information. And it's causing people real harm."