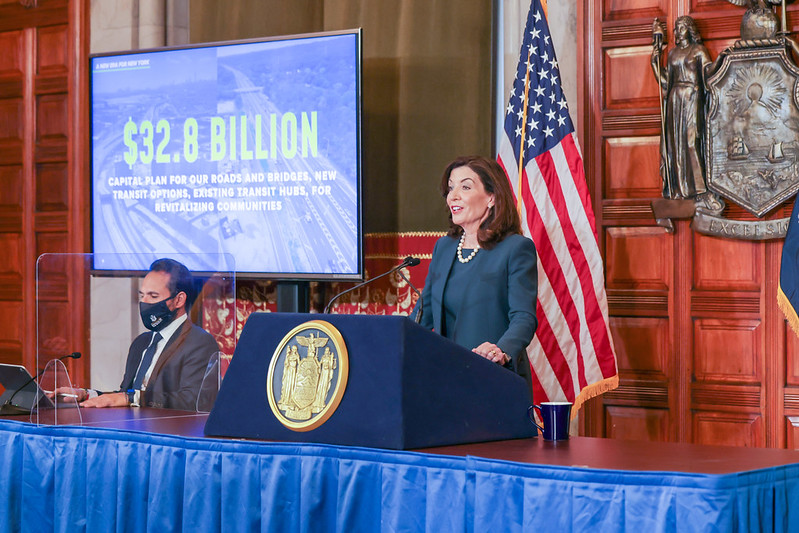 Gov. Hochul presents her budget (photo: Mike Groll/Office of Governor Kathy Hochul)
---
Governor Kathy Hochul on Tuesday put forth a $216.3 billion Executive Budget for the 2023 fiscal year, which begins April 1, making massive proposed investments in education, health care, and infrastructure as the state continues on its road to recovery from the COVID-19 pandemic.
Hochul touted a "socially responsible and fiscally prudent" budget plan that will rebuild the state's health-care and education workforces, provide tax relief to middle class New Yorkers, build affordable housing, invest in infrastructure and climate action, promote public safety and increase confidence in state government.
"We need to embrace this moment of possibility and use it to redefine York's destiny," said Hochul, delivering her first budget presentation as governor after taking over after Governor Andrew Cuomo's resignation last year. Hochul is running for a full term in the position in this year's election, with a Democratic primary in June.
The Executive Budget, which puts numbers to many policy agenda items Hochul announced in her early January State of the State as well as more detailed plans for the expenditure of billions in federal aid, now becomes the subject of state legislative hearings and negotiations as the two branches move toward an adopted budget by the start of next fiscal year.
Despite the economy being hampered by the pandemic, Hochul's budget increases state operational spending to just under $119 billion, an increase of about $3.6 billion or 3.1%, because of higher tax revenues from increased taxes on the wealthy and a booming stock market, and a massive infusion of federal relief funds. All those factors and others, including additional expected economic growth in the next few years, mean that Hochul was able to craft a fiscal plan with major spending increases but no budget gaps through 2027, she said. It includes no new taxes or fees, according to state budget director Robert Mujica, but does include new potential revenue-raisers.
The state will also set aside $2 billion in federal funds for pandemic recovery programs, Hochul announced. The governor did not outline how she proposes to spend that sum but said that she would work with the state Legislature "to identify the most impactful use of these funds in the short term, whether that's help for struggling small landlords and their tenants or the hardest hurt industries and workers or for other purposes."
Two possible areas where the funding could be disbursed is to replenish the Excluded Workers Fund, which provided relief to undocumented immigrants ineligible for federal aid, and the Emergency Rental Assistance Program, which helped renters and landlords who lost income during the pandemic. Both those programs have been depleted and did not receive any new funding in the budget. Instead, Hochul has called on the federal government to provide additional rent relief funds, and at least some federal money is coming to New York.
"This is a once in a generation opportunity to make thoughtful purpose-driven investments in our state and in our people that will pay dividends for decades and that's exactly what my budget will do," she said. To prepare for possible future shortages, the state will put away about $5 billion in reserve funds, for a total of $14 billion in reserves by the end of the fiscal year and building to about $19.3 billion, or 15% of spending by 2025. Unlike her predecessor, Hochul is eschewing the tradition of keeping state spending growth around 2%.
Pre-kindergarten through high school education spending is the largest part of the proposed budget, with Hochul planning $31.2 billion on state aid to localities, an increase of $2.1 billion, or 7.1%, over the current fiscal year, including a $1.6 billion increase in Foundation Aid.
Under Hochul's plan, Medicaid spending will increase to $26.5 billion, about $1.6 billion or 6.3% higher than last year because the state is continuing to increase its pick-up in the growth of local Medicaid expenses.
She has also said she wants to "overhaul" SUNY but has not presented a full plan for doing so, though she did pledge $1.5 billion in additional operational support for the SUNY and CUNY systems over five years and a $150 million increase in the Tuition Assistance Program.
The state's capital budget funds infrastructure projects and Hochul's budget includes a $32.8 billion Department of Transportation five-year capital plan to fix roads, bridges and highways, as well as a $1 billion investment to pave potholes across the state. She is also moving ahead on several major infrastructure projects begun under Cuomo and prior governors, including measures in New York City like the next phase of the Second Avenue Subway, the Gateway project, JFK and LaGuardia Airport overhauls, and more.
Hochul specifically spoke of "reconnecting neighborhoods that were severed by asphalt highways," which disproportionately impacted communities of color. She has, for instance, proposed covering up parts of the Cross-Bronx Expressway to build green space, in line with proposals from Bronx Rep. Ritchie Torres and others. "For me, infrastructure is a quality of life issue," Hochul said. "It's about creating connections, connecting neighborhoods, connecting people to jobs, connecting people to their family members and loved ones."
The state's Metropolitan Transportation Authority (MTA), which runs New York City's subway and bus systems, is set to receive $6.6 billion in operating funds from the state under Hochul's plan, an increase of about $997 million, or about 18%, from last year.
The state should invest, Hochul proposed, $10 billion in New York's health-care system over multiple years including $1.2 billion for health care worker retention bonuses, $500 million for Cost-of-Living Adjustments for human services workers, and $2.4 billion for health-care capital infrastructure.
Under Hochul's plan, state investment in childcare subsidies will increase to $1.4 billion, making 400,000 more New York families eligible to receive them. More than 6 million middle class taxpayers will receive $1.2 billion in expedited tax cuts, which were originally meant to take effect between 2023 and 2025. Another $2 billion in property tax rebates would aid about 2 million middle class homeowners, she said. About $350 million would be awarded to small businesses, theaters, and musical art venues for pandemic-related expenses.
Hochul's budget proposal includes $4 billion for the state's Clean Water, Clean Air and Green Jobs Environmental Bond Act, an increase of $1 billion from Cuomo's plan. The proposed Act will be put to a ballot referendum in November this year and is meant to spur investment in climate resiliency and clean air and water infrastructure, creating hundreds of thousands of green jobs in the process. Hochul also added a new $500 million investment in offshore wind energy, which she had previously announced in her State of the State address.
Hochul also unveiled a $224 million planned investment into programs to reduce gun violence, such as state funding for gun tracing programs, direct support for local law enforcement and community-based organizations, and a $400 million multi-year investment in opioid and substance abuse addiction services.
The governor also announced a $25 billion, five-year plan to create and preserve 100,000 units of affordable housing, including 10,000 units with supportive services, which builds off a prior state housing program launched by Cuomo in 2016, which was budgeted at $20 billion over five years. Cuomo had committed to building 20,000 supportive housing units over 15 years, attempting to outdo a separate commitment by Mayor de Blasio to build 15,000 such units in New York City.
In a briefing after the governor's presentation, state budget director Robert Mujica acknowledged that there are still risks to the state's fiscal outlook including rising inflation, labor shortages, stubborn unemployment in certain industries, especially hospitality-related sectors in New York City, and supply chain disruptions, among other factors. But, he emphasized several positive indicators and projections including the high rate of vaccinations, declining covid cases and state revenues bouncing back faster than previously expected.
"Overall, this budget invests smartly, we prepare for the future, we're mitigating risks that we're seeing and we're building reserves at a level that has not been seen before," said Mujica, who noted that the state had never before had a budget plan with no out-year gaps.
Mujiica also said the state has no plans to change the increased taxes on top earners and corporations that were approved last year, and acknowledged, when asked, that there was no evidence that the taxes caused any out-migration of wealthy New Yorkers or companies. He did note that high-earners may have left New York City for the suburbs amid the pandemic and that they may return as the pandemic abates, but there is uncertainty around those trends given the moves to remote work. He also noted that prior federal tax policy, particularly the cap on state and local tax deductions from federal taxations put into place under then-President Donald Trump's tax overhaul, would have provided more impetus to high earners to relocate out of state.
Besides major capital investments which will benefit New York City, the budget contains several other items of importance for the five boroughs and new Mayor Eric Adams. Hochul proposed a four-year extension of mayoral control of New York City schools, which is longer than Cuomo ever agreed to provide to former Mayor Bill de Blasio. Her budget also expedites the planned authorization of three additional casino licenses, which could potentially be located in or near the city.
In the coming weeks, the State Legislature will analyze the spending plan in joint legislative hearings led by the two Democratic majorities, which will include testimony from state agency leaders, local officials like Mayor Adams, and others inside and outside government. The State Senate and Assembly will also each release its own one-house budget proposal as part of the negotiations.
State Comptroller Tom DiNapoli issued a cautious statement on the governor's budget, promising his office's usual fuller vetting in the coming weeks. "State revenue is running well ahead of projections, and the proposed budget includes significant federal aid to support our recovery," he said. "The state has the opportunity to provide needed relief to the many individuals, small businesses and sectors that are still struggling. We must make sure these funds are allocated effectively and properly used."
Andrew Rein, president of Citizens Budget Commission, a nonprofit watchdog, urged the governor and Legislature to take more steps to rein in recurring spending. "The budget recognizes an eye-popping additional $5 billion in receipts in each of the next four years, dependent on the continued economic recovery," he said. "As strong as the receipts and federal aid are, this year's budget negotiations risk a feeding frenzy that could destabilize the State's future finances."