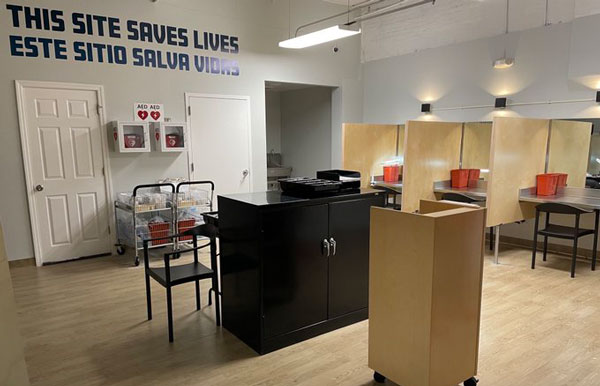 An Overdose Prevention Center (photo: @nycHealthy)
---
In December, New York City became the first municipality in the country to establish Overdose Prevention Centers to allow people with substance use disorders to safely use drugs under medical supervision while receiving services such as medical care, mental health treatment, and more. After years of consideration and discussions with other levels of government, the de Blasio administration gave a longtime nonprofit service-provider the go-ahead to offer safe injection sites.
Within the first three months, the two sites in East Harlem and Washington Heights have received more than 10,000 visits and reversed nearly 200 overdoses, according to data provided by the nonprofit that runs the sites, OnPoint NYC. No one has died at either of the centers. The initial results of the overdose prevention programs have encouraged some elected officials and advocates who are now calling for an expansion of the program to other parts of the city.
Proponents of overdose prevention centers, also known as safe injection sites, point to the data as proof that they are an effective measure in tackling the ongoing opioid overdose crisis, which peaked during the pandemic. Rather than risk unsupervised overdoses, allowing substance use disorders to go untreated, or putting people through the criminal justice system, OPCs help keep people alive and provide various other forms of treatment they need, with consistent efforts to help those using drugs enter counseling or other programming.
"We've proven it works and proven it's an important health intervention and we just need more," said Sam Rivera, executive director of OnPoint NYC. OnPoint is among the organizations that have run clean needle exchanges and other public health programming to reduce negative outcomes of drug use.
The sites are controversial, with many Republicans and moderate Democrats arguing that they encourage higher rates of drug use or simply provide social approval to the use of illegal substances. OPCs are also illegal under the federal Anti-Drug Abuse Act of 1986. Specifically, under what is known as the "crack house" statute in the law, which makes it a felony to "knowingly open, lease, rent, use, or maintain any place, whether permanently or temporarily, for the purpose of manufacturing, distributing, or using any controlled substance."
While the Trump administration used the law to prevent an overdose prevention center from opening in Philadelphia, the Biden administration has held off as the president himself has indicated support for less punitive policies focused on harm reduction. 
The results in New York City may provide the Biden administration with enough cause to continue to at least look the other way, if not use the data to encourage changes to the law. The city initially estimated that the two OPCs would save between 100 to 130 lives each year. In just the first few months, the centers have already surpassed those numbers. As of Wednesday, March 9, the sites had been visited 10,470 times by 857 individual participants, with interventions in 180 overdoses.
OnPoint's Rivera said the effects are farther reaching than just saving lives. There has also been an improvement in the quality of life for the surrounding communities. He said that in Highbridge Park in Washington Heights, the Sanitation Department is collecting far fewer discarded syringes, from 13,000 a month down to roughly 1,000.
"For me, just the biggest concern overall is funding to operate them which has to come from the federal government making a change to the 'crack house' statute," he said. "We don't want such an amazing health intervention that's already shown pretty significant outcomes to be taken away…or closed because the funding isn't available."
The OPCs are run by existing service providers, which receive city funds for other services such as needle exchange programs but have to raise private funds for the overdose prevention services. The centers are currently open for certain hours but plan to provide all-day services later this year.
The question in New York City, and perhaps other parts of the state, now appears to be whether more safe injection sites will open in the coming months and years.
"Every overdose death is a tragedy and we must use all tools available to prevent them," said Kate Smart, a spokesperson for Mayor Eric Adams, a Democrat who took office January 1, in a statement. "Overdose prevention centers are evidence-based solutions that save lives and make communities safer. While no community should carry too heavy of a weight in serving New Yorkers with these critical supports, we hope to build on the success of existing OPCs to serve more New Yorkers, and build a safer, healthier city."
In a March 9 appearance on Gotham Gazette's Max Politics podcast, outgoing New York City Health Commissioner Dr. Dave Chokshi said the OPCs are his proudest achievement as health commissioner. "[I]f we weren't in a pandemic, this would be the five-alarm fire in public health," he said of the opioid overdose crisis. "And we should still treat it as the emergency that it is. And so I'm really proud that we were able to be pioneering in this respect. And, you know, I hope that it's an example for the entire country."
City Council Member Diana Ayala has focused on social services and substance use treatment as chair of two relevant committees in the Council. Her East Harlem and South Bronx district is home to many people struggling with drug and alcohol addiction, and one safe injection site is near her district, just over the line into the district of new City Council Member Kristin Richardson Jordan.
Ayala hails the success of the OPC and encourages her colleagues to push for an expansion of sites. "I love it. I love it," she said in an interview. "I don't want to give the appearance that I'm condoning drug use because I'm not, but I'm trying to be a realist and understand that people with substance use disorder have a very difficult time getting the assistance they need, and it takes some time to get to a place where they no longer want to use and are ready to accept help."
Ayala said without the OPC, people will use drugs at home or out in the community, leading to additional drug exposure, syringe litter and, most consequentially, fatal overdoses. "It is a great tool to have in the toolbox and I think that it should be replicated," she said. "I'm hoping that this is something that the administration really highly considers doing because I think that is the only way to really make a dent on the opioid crisis."
The Washington Heights site is in City Council Member Carmen De La Rosa's district. Like Ayala, she is a Democrat.
De La Rosa is slightly more circumspect about the OPC in her district, while acknowledging that the results are largely positive. "I'm encouraged by the news that lives have been saved by the safe injection sites," she said. But, she added, "I do have concerns though about the way that safe injection centers came into our community." Both sites opened in December, just weeks before De La Rosa took office as a newly-elected Council member and in the final stretch of Bill de Blasio's tenure as Mayor.
"Without robust community input, the program's successes aren't necessarily celebrated by the full community…We can't run away from community backlash. We have to include the community in decisions that we're making that will impact whether it's their quality of life or their surrounding neighborhood," De La Rosa, previously a State Assembly member, said in an interview.
She also said the centers should be accompanied with more wraparound services including outreach workers to bring in people off the street, social workers to follow up with them, mental health professionals to treat them, and sanitation services for syringe clean-ups. "It's hard to be opposed to something when there's clear proof that lives have been saved…I guess my opposition is to the public outreach…I think that that was truly lacking," she said.
As elected officials of virtually all political stripes and many advocates have pointed out, it has never been more urgent to dedicate more resources to overdose prevention. In 2020, overdose deaths were the highest ever on record in New York City and nationwide. But those who support safe injection sites often are quick to note that their larger fight is at the state level, where they are hoping that Governor Kathy Hochul, a Democrat, and State Health Commissioner Dr. Mary Bassett will authorize overdose prevention centers across the state, which would allow state and city funds to flow to service-providers who currently have to rely on private donations.
Jasmine Budnella, director of drug policy at VOCAL-NY, a nonprofit advocacy and service group, said short of state health department authorization, the Legislature should pass State Senator Gustavo Rivera's bill, the Safer Consumption Services Act, which would also accomplish that.
"We're at a critical moment of the overdose crisis where if we don't have immediate action by the government, we are going to continue to see record breaking years like 2020 every single year going forward," Budnella said.
She also pointed out that overdose prevention centers are particularly critical for homeless New Yorkers, for whom overdoses have been the leading cause of death for the last eight years. "There's absolutely no reason that the political will to ensure that all New Yorkers are able to stay alive and healthy and safe while using substances isn't afforded to them," she said.
"I proudly carry the bill to authorize Overdose Prevention Centers in the New York State Senate," Senator Rivera, a Bronx Democrat, said in a statement. "These centers are not only safe places where people who use drugs can receive medical care and be connected to treatment, but they also help address the valid concerns that certain New Yorkers have regarding the increased presence of substance use on our streets and its impact on our communities. We already have two overdose prevention centers operating in New York City and they have saved over a hundred New Yorkers from an overdose death. I look forward to working with Governor Hochul and my colleagues in the Legislature to authorize them throughout New York State and prevent unnecessary overdose deaths as we deal with putting an end to the opioid epidemic."
While Hochul has said the state would study OPCs, she has otherwise been noncommittal about authorizing them. "Governor Hochul is deeply and personally committed to combating the opioid epidemic, and all options are on the table to save lives," said Hazel Crampton-Hays, a Hochul spokesperson, in an email. "Together with our Department of Health and Office of Addiction Services and Supports we will continue to explore the efficacy of this approach and how it impacts our communities to determine how best to reduce harm and keep New Yorkers safe."
Hochul, in her first and potentially only full year as Governor, may not want to get involved with the issue during an election year. Dr. Bassett has been a proponent of overdose prevention centers since her time as New York City health commissioner, if not prior to that, when she and de Blasio first announced support for them in 2018.
"We are pleased that these centers have helped save hundreds of lives, and we look forward to learning more from NYC's experience. No decision has been made on whether to expand to other parts of the state," said Jeffrey Hammond, a state Department of Health spokesperson, in a statement.
The fiercest opposition to the overdose prevention centers has come from U.S. Rep. Nicole Malliotakis, a Republican who represents Staten Island and parts of Southern Brooklyn. In December, Malliotakis introduced a bill to "defund" OPCs by witholding federal funds from any city, state, tribal, or private entity that operates one.
"In 2018, the Department of Justice committed to me that it would intervene if Mayor de Blasio proceeded with his illegal scheme to open heroin injection centers in New York City," Malliotakis said in a statement at the time, referring to the DOJ during President Trump's tenure. "Now that Mayor de Blasio has gone forward with these plans, I've called on the Biden Administration to take the same course of action. If they don't, I've introduced this legislation to ensure any federal funds sent to entities that operate these unlawful facilities are stripped for good. We've already identified millions of federal dollars that have been sent to these facilities. Gifting money to heroin shooting galleries that only encourage drug use and deteriorate our quality of life is an egregious abuse of taxpayer dollars."
Malliotakis' bill could see more momentum if Republicans take the majority in the House of Representatives through this year's elections.
On the other side of the argument, some City Council members are looking to open additional facilities in the near future.
"I'm certainly going to be working with my colleagues to urge deeper investment in OPCs because…they're undeniable, the results are undeniable," said Council Member Tiffany Cabán, a Queens Democrat, who asked Dr. Chokshi about the overdose prevention centers during a recent City Council budget hearing.
Asked by Cabán if the city has plans to expand the number of centers and even to make the current ones operate 24/7, Dr. Chokshi, who is leaving the post March 14 for Adams' chosen health commissioner, Dr. Ashwin Vasan, said he is hopeful that the Adams administration will partner with Council members and service-providers to do so.
Note: this story has been corrected to reflect that one of the two initial OPCs is not in Council Member Diana Ayala's district, but just nearby it in a neighboring district.