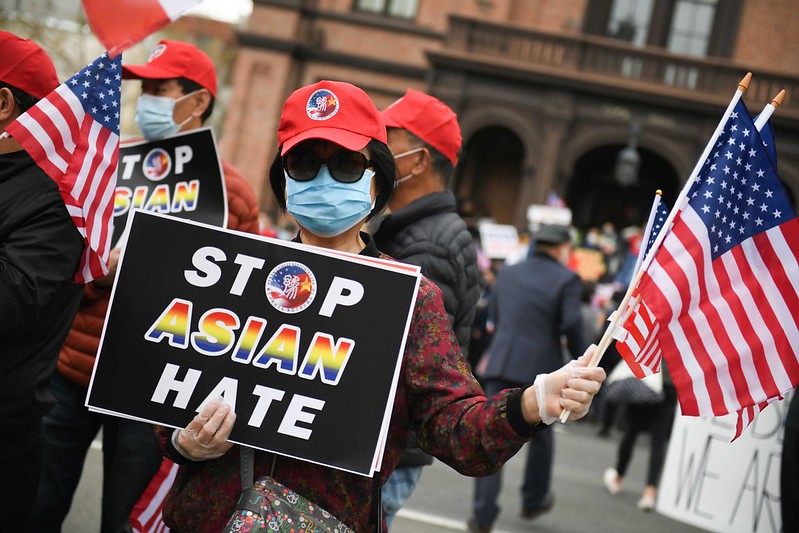 "Stop Asian Hate" (photo: Ed Reed/Mayoral Photography Office)
---
"Right now our community is incredibly, incredibly angry," said Jo-Ann Yoo, executive director of the Asian American Federation, a New York City-based nonprofit, during a recent appearance on Gotham Gazette's Max Politics podcast. "We feel ignored. We feel unseen," Yoo said, discussing the rise in anti-Asian hate crimes and violence, including several high-profile murders in recent months, and the lack of resources dedicated to the problem.
"You know, there's this crime wave against Asian-Americans," Yoo continued. "But yet, there seems to be no solution. We finally met with the mayor this week…I asked that we have many, many more meetings with the mayor. But right now, our community, our tempers are running hot…And rightly so, because we've had to endure watching really gruesome videos in the media for two years and feeling unsafe when we walk out of the house. Our parents are refusing to send their kids to school because they're afraid; seniors are afraid to go out for a walk for all of these reasons. And I hope it's not just the Asian-American community that's angry about what is happening, and it's not just the Asian-American community that's horrified and afraid. I hope it's all New Yorkers."
The Asian-American Federation, dedicated to amplifying the influence of the Pan-Asian community and putting forth research, policy, and services while coordinating its many members, has taken additional action to both serve Asian-American New Yorkers directly and push the city and state governments to do more. At times, that work is being done in larger coalitions, like the new "AAPI Equity Coalition," which recently released its $64.5 million ask of New York state government ahead of the new state budget due by the April 1 start of the new fiscal year.
With a still-new governor, a brand new mayor, and many other new city office-holders, as well as the urgency of the problem, Yoo sees the opportunity to make a major push for the attention and resources the larger Asian-American Pacific-Islander (AAPI) community needs. "We don't just live in enclaves anymore," she explained, "We are 18% of the [New York City] population, there's 10% of us in at least half the City Council districts throughout New York City."

The time for thoughts and prayers is over, Yoo said, stressing a need for action, though she acknowledged some differences of opinion among Asian-American New Yorkers on certain potential solutions, like more ubiquitous police presence. "It's hard to feel safe anywhere," she said, expressing acute concern for those with no choice but to leave home for work and other reasons, those who must venture out into a city that appears increasingly hostile to them.
At the recent meeting of AAPI leaders with Mayor Eric Adams, a Democrat, and members of his administration at City Hall, Yoo said her "bold ask" was to request $30 million for mental health programs. Calling out former Mayor Bill de Blasio's embattled ThriveNYC program for not investing in Asian-American communities, Yoo said those communities are in desperate need of more mental health resources. She will give Adams a little grace, she said, given that he's only been in office for under three months and inherited various crises, but he has to engage systemically and call upon experts.

The need for increased mental health services in the AAPI community has been compounded by recent attacks, Yoo explained, speaking from personal experience about fighting back tears in her own home so as not to alarm her children. "We are sick of this but we need to talk to somebody and we need to have this investment made," she said, adding that the resources should be spread to all communities of color.
For its part, the Asian American Federation has just launched a mental health directory, aimed at providing community members with the culturally competent resources they need should they decide to seek support. With the directory, the AAF hopes to decrease stigma and target long wait times and linguistic barriers.

As for public safety, the conversation around responding to anti-Asian violence in New York City often consists of a debate over more or less police presence on the streets and subways. Yoo said both points of view have merit and that there is debate within AAPI communities. While there are some elders in the community who want an extremely robust police presence, she said, others don't see it as a panacea and police responses to attacks on Asians have been fraught with errors, Yoo said. She pointed to several challenges in interactions between AAPI New Yorkers and members of the NYPD, as well as some uncertainty among AAPI New Yorkers about what they should even report.
Yoo referenced the recent killing of Christina Lee in her apartment after being followed as a prime example of a police response that discouraged individuals from reporting incidents. Police jumped to conclusions, she said, by quickly saying it was not a hate crime before any investigation. "It dismisses our community's pain," Yoo said of that and other responses AAPI New Yorkers have gotten from the police.
She also pointed to language barriers when reporting incidents, pointing to a larger debate around the need for the demographics of law enforcement to mirror the communities in which they serve and the importance of staffing certain precincts and divisions with a targeted diversity of officers.
Additionally, community members are at times unsure of where the line is drawn for a hate crime, Yoo said, and what degree of physical harm has to be inflicted before it crosses that line. 

Along with Yoo's $30 million ask of Mayor Adams for mental health resources, she and the AAF are part of the coalition seeking more from the state. In late February the Asian American Federation joined other community groups to announce the formation of the AAPI Equity Coalition, which is calling for a historic $64.5 million in equity funding in the upcoming state budget.
This is the fastest-growing population in the country, Yoo explained, but the investment hasn't matched that. "With the AAPI Equity Budget, we seek to finally correct the long-standing underfunding of the AAPI community by supporting the intricate network of on-the-ground community organizations that are already well known as lifelines to our struggling community," says a statement from State Senator John Liu, a Queens Democrat and among the elected leaders of the city's AAPI communities, in backing the equity budget agenda.
When asked about working with other member coalitions and partner organizations, Yoo explained that both unity and specificity exist at the same time. Each non-profit organization is working to lift up their own specific neighborhood, she says, but they are bound together by pan-Asian identity and by a common frustration.
"When you have nothing you share," Yoo said on the podcast. "We share resources. There's a lot of solidarity and sympathy and empathy work that is happening." In particular, protecting seniors has emerged as a common goal. In response, the federation has convened its first-ever seniors working group dedicated to ensuring community elders feel safe and respected in their neighborhoods.

It is important for the AAPI community to have advocates not just on the ground, but in the halls of government as well, Yoo explains. When asked about the significance of representation her response was that Asian-American elected officials are vital because it is lived experience that makes for great champions. Yoo expressed gratitude for the work of U.S. Representative Grace Meng, State Senator Liu, Assemblymember Ron Kim, and others, but clarified that you don't have to be Asian-American to represent Asian Americans, referencing new City Council Member Christopher Marte, who serves Manhattan's Chinatown as part of his district. What's most important, she says, is that the leadership has your back no matter what. 
It is that principle that Yoo blames in part for the recent Republican swing in Asian voters in the city, saying she saw the trend coming for a few years now. While every community has partisan diversity, the documented shift in the city presents a wake-up call for Democratic leadership, Yoo said. "Shame on you for taking the Asian-American community for granted," she said.
[Listen to the full conversation: Max Politics Podcast: Asian-American New Yorkers Fight To Be Seen, with Jo-Ann Yoo]