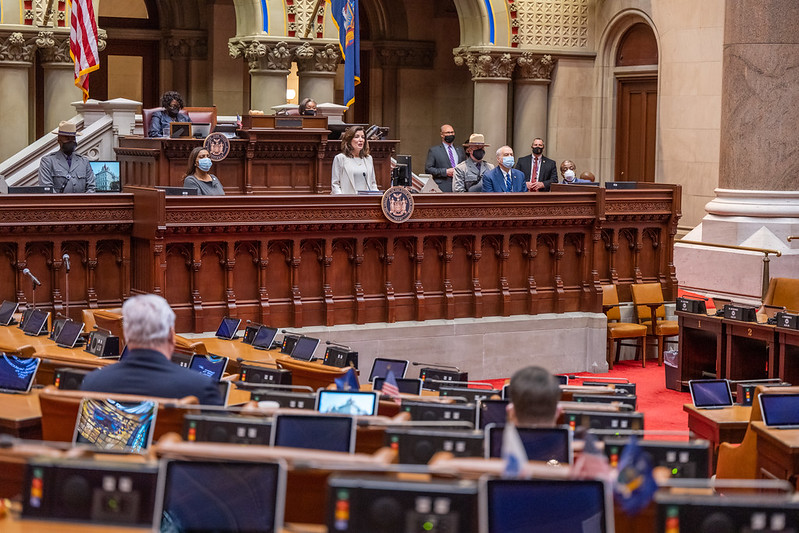 Gov. Hochul addresses the Legislature (photo: Darren McGee/Governor's Office)
---
New York officials are in the final stages of negotiating what is likely to be a roughly $220 billion state budget for the next fiscal year, which begins Friday, April 1. While the Legislature will not pass the budget bills by the start of the fiscal year, a deal between Governor Kathy Hochul and the two houses of the Legislature is expected within a few days.
The budget contains hundreds of funding and policy priorities that will impact government services at the state and local levels and the short- and long-term fiscal health of New York. Marquee issues include funding for child care, the CUNY and SUNY systems, responding to climate change, affordable housing, and much more. The largest chunks of the state budget are always local education aid, Medicaid, and running state government itself.
Decisions may include next steps on contentious political issues like changes to recent criminal justice reforms, the 421-a real estate tax break, a potential Buffalo Bills stadium subsidy, health care for undocumented New Yorkers, mayoral control of New York City schools, and many others. Some policy issues may be kicked beyond the budget into the legislative session to follow that is scheduled until June, when primary elections for statewide and state legislative seats will also occur.
The final budget talks are unfolding among Governor Hochul, Senate Majority Leader Andrea Stewart-Cousins, and Assembly Speaker Carl Heastie – all Democrats – largely behind closed doors. It is Hochul's first and potentially only state budget as she runs for election to the position this year after taking the reins from disgraced former Governor Andrew Cuomo last August. The extent to which Hochul is able to achieve her priorities will be a telling test of her power and style, and the biggest marker, by far, of the direction she will set for state government in her first year as governor.
At $216.3 billion, Hochul's executive budget proposal released in January factored in massive pandemic federal aid to New York as well as higher than expected tax revenue, and included significant savings as well as no projected out-year gaps. Two months later, the Senate and Assembly one-house budget resolutions, non-binding statements of priorities and bargaining tactics, called for additional billions to be spent on programs leaders say are needed to address numerous crises and help empower New Yorkers.
Leaders had not reached an agreement by Thursday afternoon making it clear a deal was unlikely before the April 1 deadline. Legislators were being sent home for the weekend, to return Sunday or Monday, while the governor, state budget director Robert Mujica and other top administration appointees, legislative leadership and their staffs will stay in Albany to finalize a deal.
"I am continuing to have productive conversations with Majority Leader Stewart-Cousins and Speaker Heastie and I appreciate their collaboration and good faith approach to these negotiations," Hochul said in a statement.
"We are getting closer to agreement, with consensus on major policy items," Hochul continued. "New Yorkers should know that progress is being made and that we will put in the time it takes to reach an agreement that delivers for them and moves our state forward."
"We're going to have a timely budget because we are making progress," Stewart-Cousins told reporters Thursday when pressed about the timing of the budget. "But the reality is this isn't the way it was years ago. We're living in a hybrid world. And I am able to pull together my conference within an hour [digitally]."
When asked whether changes to the bail law were the primary sticking point, Stewart-Cousins stated: "There are certainly a lot of things that we are now weighing that were not in the original governor's budget presentation, but that being said we are working through them."

"We are making progress and continuing to discuss the budget with our members," wrote Assembly spokesperson Michael Whyland in an email Thursday afternoon.
The parties are hoping to get to agreements over the next few days in order for legislators to vote through the budget bills on some combination of Sunday and/or Monday. Any later than Monday could disrupt state payroll.
This will be the third state budget of the pandemic. It comes as the economy continues its recovery and amid uncertainty about COVID-19's ongoing impact on New Yorkers' health and beyond. Unemployment remains high compared to national and pre-pandemic levels, especially in New York City. Some industries have exploded during the pandemic, like healthcare, life-sciences, and tech, while others – tourism, in-person retail, bars and restaurants – continue to struggle.

This will also be the first state budget to pass during the tenure of Mayor Eric Adams, with a number of decisions that will impact the state's largest city and economic engine. Adams has a number of campaign and early administration promises that depend on state actions now unfolding in the budget. The Democratic mayor outlined his Albany agenda during a February legislative budget hearing and has refined parts of it since, with major asks on education, housing, criminal justice, tax policy, and more. The details of the final deal will in part be a measure of Adams' intergovernmental skill.
"The administration has clearly laid out its priorities for the upcoming state budget, and continues to engage with state lawmakers to ensure we are delivering for New Yorkers and building an equitable and inclusive recovery," said an Adams spokesperson, in a statement to Gotham Gazette. "We look forward to reviewing the budget when it is finalized."
There are many areas that the major parties -- from the governor to the legislative majorities to less powerful forces like Adams -- agree on and are just a matter of working out the details, like expanding child care and higher education funding. Other topics are more controversial.
Here are many of the key things to watch as a final New York state budget deal for the 2022-2023 fiscal year comes together:
Childcare and Social Safety Net
Governor Hochul and the legislative majorities have proposed major expansions in subsidized child care. Hochul proposed an additional $1.4 billion in January to expand subsidy eligibility to more families and increase payments to providers, a proposal then dwarfed by the Senate's plan of $2.2 billion in the upcoming fiscal year (growing to $4.1 billion over four years), and the Assembly's plan of $3 billion. Of the Assembly's $3 billion, $2 billion will go toward childcare subsidies and expanding eligibility to four times the federal poverty rate. Another $500 million would go to providers to cover wages, rent, and other operational costs.
Movement toward "universal child care" was one of Adams' budget priorities – namely asking state lawmakers to pass two tax incentives to help create more space for providers. One is a tax abatement for retrofitting existing space for child care and the other is a tax credit for companies that cover child care, in whole or in part, for their employees. It's unclear whether either is in the budget mix, but Adams has also said he's pleased to see the likely major funding investment in expanding child care subsidies for more families and providers.
The governor's executive budget included a 5.4% cost of living adjustment for human service providers under a number of state agencies. The Senate proposes a 5.4% increase in each of the next two fiscal years and to extend the increase to the state's Supportive Housing Program, operated out of the Office of Temporary and Disability Assistance, which is currently excluded from Hochul's plan. The Assembly proposes an 11% increase, inclusive of the Supportive Housing Program, and making it permanent.
Advocates are calling for a $3 billion replenishment for the Excluded Workers Fund (for New Yorkers ineligible for other pandemic assistance due to immigration status) and permanent unemployment benefits for excluded workers. The $2.1 billion allocation to the excluded workers fund in the current budget has been exhausted and none of the major parties have proposed another round of funding, instead focusing on other areas of investment and relief for the impacted communities, such as expanded state health care coverage and child care subsidies to undocumented New Yorkers.
In his budget testimony before the Legislature in February, Adams urged lawmakers to allow the city to increase its Earned Income Tax Credit match to up to 30% of the federal level. He also asked for a $250 million state investment in the tax credit, which he said would match the city's contributions. The credit is an anti-poverty measure accessible to low- and moderate income families. Both houses of the Legislature included hundreds of millions of dollars for an expanded EITC in their budget resolutions, but it is unclear where the issue may land.
Housing
Much must be reconciled on housing where the governor, Senate, and Assembly have proposed roughly $5 billion, $8 billion, and $10 billion, respectively, on housing programs.
All three of the governor and legislative majorities agree on at least $4.5 billion for the state's five-year housing plan, with the Assembly calling for $6.1 billion, including an additional $1 billion for limited-equity coops, $100 million for land banks, and $130 million more to Mitchell-Lama preservation for a total of $250 million.
Both the Senate and Assembly are seeking funding for a number of programs left completely out of Hochul's executive budget. Both are looking to renew funding into the Emergency Rental Assistance Program – by $1 billion and $1.25 billion, respectively – after the federally-funded program has been exhausted. Hochul has asked for more federal money but only received a small portion of the state's ask, and appears against using any more state funds for ERAP, which is meant to make whole renters and landlords hurt by lost income due to the pandemic.
In the current fiscal year, 2021-2022, the state allocated $250 million to the Emergency Rental Assistance Program, but Hochul did not renew funding in her executive budget, even amid the end of the eviction moratorium, instead pressing federal officials for more funds.
The Legislature also wants a slew of other housing stabilization measures. They include a homeowner assistance fund (Assembly: $400 million; Senate: $500 million), $400,000 for utility arrears assistance, and $250 million for the Housing Access Voucher Program (HAVP), a subsidy for homeless and at-risk New Yorkers sought by housing advocates. The potential new state voucher program could be a significant addition to New York City's anti-homelessness efforts, complementing the city's voucher programs created under Mayor Bill de Blasio. Among the questions about the launch of the program is whether it would include eligibility for undocumented New Yorkers, which the Legislature would like to see.
Both one-house budgets include half a billion dollars for NYCHA public housing and $150 million for housing conversion for distressed commercial property, enabled by legislation passed in 2021 that has stalled (there is also discussion about loosening some of the regulations involved in the program).
No budget proposal included Good Cause Eviction legislation to the disappointment of some housing advocates and progressive lawmakers, who are hoping to take the issue up in the post-budget legislative session.
There is also a fight over the fate of the controversial real estate tax break for creating some affordable housing in new development in the city, often known as 421-a. The program is widely criticized as a give-away to developers, though industry leaders and some elected officials like Hochul and Adams argue it is necessary to produce housing, and Hochul is proposing to reform it with her version, called 485-w, with a few changes around greater affordability requirements and higher worker wages.
The measure has support from Mayor Adams and some key legislators, but faces strong opposition among many others, including Senate Finance Chair Liz Krueger. It is another issue that may be punted into post-budget consideration as the current version of 421-a does not expire until June.
Adams is seeking other measures to make it easier to create affordable housing. He has backed the conversion of distressed hotels to housing and raising the Floor Area Ratio cap, which would allow more density and is something Hochul included in her budget but does not appear to have strong support in the Legislature.
The mayor was also a proponent of legalizing accessory dwelling units, like basement and garage apartments, as a way to create affordable housing and regulate illegal flats. Hochul included it in her original budget proposal but withdrew it after pressure from suburban parts of the state where lawmakers are often against adding affordable housing.
Health Care
Both the Assembly and Senate included $345 million for "Coverage for All" in their proposals to expand state health insurance coverage to an estimated 154,000 New Yorkers, regardless of immigration status. A broad coalition of advocates are urging Hochul to support the measure, as is the Adams administration.
"As City agencies tasked with promoting the health and wellbeing of all New Yorkers, including immigrants, we urge the Governor and the Legislature to include these changes in the final New York State budget and continue to lead the nation in recognizing healthcare as a human right," said the leaders of the Mayor's Office of Immigrant Affairs, health department, and public hospital system in a recent joint statement.
But officials in the Hochul administration have said the Legislature might be underestimating the costs, which they said could reach $1.9 billion in the first year. Legislators like Senator Gustavo Rivera, a Bronx Democrat and the Senate's health committee chair, have pushed back, saying the administration is overestimating likely uptake and that overall this type of programming winds up saving money and/or providing economic benefits.

Both one-house budgets included full funding for "Fair Pay for Home Care," legislation that would set minimum wages and Medicaid reimbursement levels for home care workers – a measure backed by advocates for older adults and people with disabilities and some of the state's biggest labor unions. The houses each put $625 million toward the program. Hochul's plan instead contains one-time bonuses for some healthcare workers of up to $3,000.
In another alignment with Adams, Hochul is also pushing for the expansion of Kendra's Law, which allows judges to mandate outpatient treatment for people with serious mental illness and commit people with mental illnesses if they refuse to take medication.
Hochul and Adams claim the expansion to include individuals who cannot "accept" help will ensure people with severe mental illness receive needed treatment and help law enforcement and outreach workers to remove people who pose a danger to themselves and others from the streets and subways. But civil rights and mental health advocates want to see less restrictive and more targeted outreach and warn the expansion could be unconstitutional. Legislative leaders have expressed openness to renewing Kendra's Law, which expires this year, but whether it will be expanded remains an open question.
Kendra's Law is part of a larger push by Hochul and Adams to enhance psychiatric offerings, including by increasing bed capacity across the state. Hochul is looking to fund an additional 140 Safe Haven beds, 350 stabilization beds, 600 psychiatric hospital beds, and 500 scattered-site supportive housing units.
Education
Hochul's executive budget includes $31.3 billion for public schools around the state to fund pre-K through 12th-grade, a number amenable to both houses of the Legislature and, given its massive size, removing a typical major point of contention in past state budget negotiations.
Hochul's plan would increase Foundation Aid by $1.6 billion and fully phase it in by the 2023-24 school year, compared with $1.5 billion in the Assembly and $1.2 in the Senate plans. All include funding for pre-K and mental health services in schools.
Levels of funding and their specific focus for the major public university systems, SUNY and CUNY, are a significant point of negotiation in the state budget.
The Senate budget has $13.8 billion for SUNY and CUNY, including a $1.1 billion "New Deal" for the public university systems to reduce tuition, restore pandemic cuts, and close the Tuition Assistance Program gap, along with $153 billion for each system to hire more full-time staff. The Assembly budget also includes funding to close the TAP gap and $88 million for new full-time hires. Hochul's higher education general fund budget is $8.1 billion, with $53 million for full-time staff and funding to close the TAP gap. There are also questions over funding for the CUNY capital budget.
Also on the table is the possible return of availability of the state's Tuition Assistance Program to people in prison, part of a larger "Jails to Jobs" plan Hochul has advocated and for which there appears to be legislative appetite.
Hochul's budget extends mayoral control of New York City schools for four years, while both houses of the Legislature left it out of their one-house resolutions and appear content to allow it to be dealt with in the post-budget session. Mayoral control expires in June and all indications are that Mayor Adams will get an extension, but questions linger about what length and whether there will be tweaks to the law to add certain requirements, like additional parental involvement or changes to the structure of the Panel for Educational Policy.
There is no indication at this point that an increase in the cap on charter schools in New York City, which has been reached, will be increased in the budget, or that the deal will include the request from Mayor Adams and others that so-called zombie charters be authorized for re-issuance. Zombie charters are those that were given to schools that have since shut down, and the call for re-issuing them is seen as something of a potential compromise in the debate over the charter school cap.
Criminal Justice
The item dominating much of the negotiations are changes to criminal justice reforms enacted by state lawmakers over the last three years. Hochul is pushing to expand the list of crimes eligible for bail and to allow judges to consider an individual's past violations in setting bail. The effort has lent a powerful hand to Adams' push for state-level bail reform as part of his public safety plan. But it has incensed some Democratic lawmakers and criminal justice advocates who fought hard to eliminate cash bail for most offenses as a way to make the legal system more equitable for low-income New Yorkers and people of color.
Hochul is also pushing for changes to the state's discovery and Raise the Age reforms, along the lines of changes Adams also wants to see that would slightly loosen what prosecutors have to ensure they are turning over in terms of evidence and toughening how certain alleged gun crimes are handled among 16- and 17-year-olds.
While she has driven a wedge between herself and many lawmakers, upsetting both leaders of the Legislature and others, Hochul appears likely to get some tweaks to the criminal justice reforms into the budget, in part by packaging them into the larger deals.
One could be passage of the Clean Slate Act, which would allow criminal records to be sealed post-incarceration, thus helping eliminate a source of housing and employment discrimination for formerly incarcerated New Yorkers. The governor and Senate included it in their proposals but the Assembly did not. That appears to be because the Assembly removed all non-budget-related policy from its resolution, though the adopted state budget is likely to have a significant amount of policy baked in, which could include Clean Slate.
Climate
Under Hochul's plan, state funding for the Environmental Bond Act, which is due to go before voters for approval or disapproval this fall, would increase from $3 billion to $4 billion to support conservation and climate change-mitigation projects. The Assembly is proposing an increase to $5 billion and the Senate to $6 billion.
The Senate's budget includes suspending a state gas tax, used to support roads and other infrastructure, from May through the end of the year in response to inflation and rising gas prices. The Assembly did not include it in its plan but Heastie has suggested he's open to talks, while Hochul has been more reticent.
The gas tax holiday is opposed by a broad coalition of transit, climate, community-based, and good-government advocates who say it disproportionately benefits the wealthy and places burdens on mass transit riders. The tax raises roughly $2 billion in state revenues annually.
There's a push from advocates and some officials to pass a bill creating an Extended Producer Responsibility system, which would require packaging companies to reimburse municipalities for recycling their products. Hochul and the Senate included EPR in their budget proposals, but the Assembly did not, again likely due to its stance to exclude most non-budgetary items from its budget resolution. It's unclear how much of a priority the policy is and whether the parties can get to an agreement on specifics.
One other major climate-related policy being negotiated is what could be, in effect, a ban on new gas hook-ups in newly-constructed buildings, a potential state law that could look a lot like something New York City enacted last year. Points of contention beyond broad agreement on the general principle are what year regulations would take effect and whether, like in the city, there would be different start dates for smaller and larger buildings.
Buffalo Bills Stadium
On Monday, Hochul announced a $1.4 billion deal with Erie Country, the Buffalo Bills, and the NFL to build a new stadium for the football team near Buffalo. Under the deal, the state would pay $600 million and Erie County would pay $250 million, while the Bills and NFL would contribute a total of $550 million.
Hochul is now trying to secure the deal in the budget, but lawmakers have raised opposition, citing concerns about the state's return on the massive investment and the lack of public transparency and the last-minute nature of the deal.
The Hochul administration estimates the new stadium – and a requirement the Bills stay in Buffalo for at least 30 years – will generate $1.6 billion in tax revenue over the 30-year period. Economists and fiscal watchdogs say similar projects are often not cost-effective and many critics have questioned whether the state needed to commit such a large subsidy.
Ethics and Campaign Finance Reform
One of Hochul's top promises, when she took over from the scandal-marred Cuomo, who resigned last year amid multiple sexual harassment and corruption allegations, was to bolster government transparency and ethics. High on the list was replacing the Joint Commission on Public Ethics (JCOPE), the state's dysfunctional ethics watchdog, with a new body with more teeth and independence from political leaders.
Hochul proposed a plan in her State of the State agenda, to replace JCOPE with a five-member body made up of deans from the state's accredited law schools or their appointees. Good government groups supported the plan but the Legislature rejected it. Advocates still want to see JCOPE replaced but have criticized proposals that would fail to change the fundamental issues of independence that JCOPE has become known for. A plan now being discussed in Albany would strengthen ethics and lobbying enforcement but would leave appointing authority with state lawmakers, which good government groups said would do little.
Also part of state budget negotiations is funding for the implementation of the state's new public campaign finance system, which will go into effect after this year's elections. In order to be implemented effectively, the new system, which includes public matching of certain small-dollar campaign donations, needs millions of dollars, but just how much it needs and will get are a matter of debate.
Revenue and Reserves
Leaders have left tax increases off the table this year and appear to be leaving in place increases on high earners that were enacted last year. Along with a gas tax holiday of some sort, also under consideration is the proposed acceleration of planned middle class income tax cuts.
Hochul's spending plan seeks to build reserves to 15% of state operating funds over multiple years and projects a balanced budget through 2027. Fiscal watchdog groups like Citizens Budget Commission say more is needed to protect against future recessions based on the frequency and severity of recent downturns.
Watchdogs are also warning against adding recurring spending without reducing existing recurrences, particularly given that federal pandemic aid will run out over the next few years. State operating funds are expected to grow on average $4.6 billion a year after the coming fiscal year, according to CBC, which suggests, among other changes, that recurring funds can come from the $2 billion in school aid that goes to wealthy districts.
And the state is looking at other ways to boost revenue and keep its budget balanced. Lawmakers are expected to agree on licensing three casinos in the downstate area on a faster timeline than planned, and Mayor Adams has said he wants two of the sites to be in the five boroughs.
Other Issues to Watch
Dozens of other budget items remain up in the air. Areas to watch are how the state will allocate some $2 billion in federal funding set aside in Hochul's executive budget that she planned to determine with the Legislature.
Also on the table are how much state Medicaid spending will increase and capital spending on major infrastructure projects, like the next phase of the Second Avenue Subway, the Gateway project, JFK and LaGuardia Airport overhauls, and others.
The fate of to-go cocktails is also uncertain. Hochul included permanently legalizing the pandemic-era favorite of bars, restaurants, and imbibers but the one-house resolutions rejected it, in apparent deference to liquor store owners. But, indications are that the Legislature may be coming around to Hochul's side of things.
Other Adams Asks
The Adams administration and a group of legislators called on Albany to give New York City control of its speed limits and traffic cameras, among other things, but transference of 'home rule' is unlikely. Some changes to relevant laws, like the hours that speed cameras can operate, may be in the offing, however.
The mayor is also hoping lawmakers will raise the city's borrowing capacity by increasing the bonding limit by $19 billion. The city's debt limit is based on average property values, which shrank during the pandemic. Comptroller Brad Lander is among those who have opposed the request, saying it is unnecessary at this time.
Adams is also seeking $117 million for foster care, adoption, and related child welfare programs and funding for safety-net hospitals.
In a memo outline budget priorities, Adams strongly opposed Hochul's plan to make permanent the Distressed Hospital Fund Tax Intercept, which he said diverts $200 million annually from the city's public hospital system, NYC Health + Hospitals, and $50 million a year from counties outside the city. "The City strongly opposes this proposal," the memo states. "We implore the State to mimic our partnership with Goldman Sachs on the creation of the Hospital Loan Fund to support safety-net hospitals with creative and sustainable solutions."