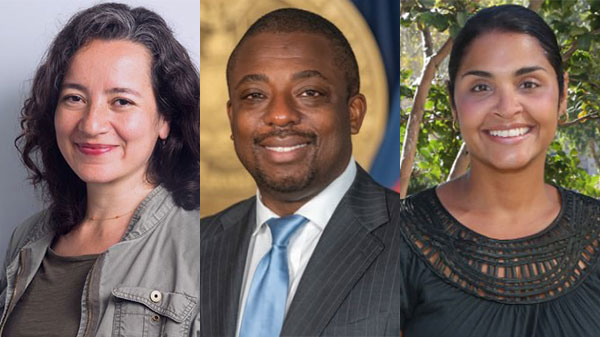 Ana Maria Archila, Brian Benjamin, Diana Reyna (l-r)
---
This year's race for New York Lieutenant Governor took a major turn with the recent resignation from office of Lieutenant Governor Brian Benjamin, who had been in the role less than eight months. Benjamin -- a state senator appointed to the position by Governor Kathy Hochul when she ascended from Lieutenant Governor upon the resignation of then-Governor Andrew Cuomo last August -- resigned after being indicted on federal corruption charges related to a fundraising scandal.
Benjamin was seeking the Democratic nomination in this year's Lieutenant Governor's race, and may still appear on the June ballot given the timing. It remains an open question whether he will move out of state or another path will be pursued to remove him from the ballot, like legislation that has been floated in the State Legislature. Hochul and her team have apparently begun vetting replacements for the Lieutenant Governor position, but those determinations are likely closely intertwined with whether that new official could also get onto the ballot this year.
Those issues are being examined as voting approaches and as Hochul runs in her own primary, seeking the Democratic nomination for Governor for the first time. Party primaries for Governor and Lieutenant Governor occur separately but the winners in each party form a general election ticket. Meaning that whoever wins the Democratic primaries for Governor and Lieutenant Governor, even if they are not informal running-mates from the primaries, become a joint ticket for the fall ballot.
Asked last week about the situation, Hochul indicated she is exploring the options. "That is up for him and his attorneys to decide the best recourse for him," she said after saying she was not asking Benjamin to move out of state. "That is one of the options that are out there. There are limited options available to us but we're exploring all that."
"There's other options with respect to legislation," Hochul went on say, in response to questions from reporters. "If the Legislature wants to take action, there's other things on the table." She went on to say that she had "not had conversations asking them to do this" about the proposed legislation that would remove Benjamin from the ballot, but she has repeatedly called the ballot laws "antiquated" and said last that week that the Legislature could choose to address the situation that is of concern to many voters.
Hochul stressed that she is assuring "continuity of government" with acting Lieutenant Governor Andrea Stewart-Cousins, the Senate majority leader who also filled the position briefly last year between Hochul's ascension to Governor and Benjamin's swearing in.
"I assure you the media will be the very first to know when a decision has been made on which options have been executed…," Hochul said about the Lieutenant Governor situation. "There's a lot to be dealt with and we understand that and we understand the interest and I look forward to sharing that information with all of you as soon as that is resolved."
At the time of his resignation, Benjamin was facing two formidable challengers in the Democratic primary for Lieutenant Governor: Diana Reyna and Ana Maria Archila. Reyna is a former deputy Brooklyn borough president and former City Council member; Archila is a longtime progressive activist and advocate, having helped launch and run two nonprofit organizations focused on immigrant and low-income communities.
Early voting in the primary will occur June 18-26, and June 28 is primary day. There is also absentee voting.
Here is a brief snapshot of each of the candidates:
Diana Reyna
Diana Reyna, previously deputy Brooklyn borough president under now-Mayor Eric Adams and a member of the New York City Council representing Brooklyn's 34th district, has been a trailblazer for the Latino community.
Reyna was the first Dominican-American woman elected to public office in the state when she was elected to become a City Council member in 2001. She was in the City Council for three terms, until 2013, and served as deputy borough president from 2014 to 2017.
In her previous roles she championed causes like educational equity and better access to park space, lobbying for park space in Williamsburg and supporting then Brooklyn Borough President Eric Adams in increasing STEM funding for schools, among other accomplishments. Reyna has also been an advocate for Latino representation in politics.
After exiting Adams' borough president's administration in Reyna has been working in consulting for the past few years, and she started her own firm in 2019.
In February, Rep. Tom Suozzi, who is running for governor, announced Reyna as his running-mate. As of mid-April, their ticket has been endorsed by a handful of labor unions, such as IBEW 1049 and Brotherhood of Railroad Signalmen Local 56, as well as a few political figures like New York City Council Member Bob Holden, a conservative Queens Democrat.
Suozzi and Reyna are running on a platform focused on improving education and public safety and emphasize their moderate approach to leadership; Reyna has said they "won't pander to the political left or right." Suozzi is running as a "common sense" Democrat, much in the vein of Adams, who Suozzi endorsed early in the mayoral race last year.
"Kathy Hochul lacks the judgement (sic) and experience - she's unfit to lead. The Suozzi/Reyna ticket will tackle crime, rising taxes and affordability." Reyna wrote on Twitter.
Reyna, like Archila, is vying to become the first Latino elected to statewide office in New York (Hochul's second pick for Lieutenant Governor could potentially be the first statewide Latino official in New York).
Ana Maria Archila
Ana Maria Archila is running for elected office for the first time after many years working in politics, especially as an activist and advocate.
Archila immigrated to the United States from Colombia at age 17 and became an activist on Staten Island, followed by decades of work in advocacy on behalf of immigrant and low-income communities.
She has helped launch and lead two leading New York advocacy groups, Make the Road New York and the Center for Popular Democracy. Archila has fought for immigration reform at all levels of government and a number of other budgetary and policy priorities. She has advocated for the New York Dream Act, raising the minimum wage and increasing public school funding. 
Perhaps more famously, Archila gained attention after she confronted then-U.S. Senator Jeff Flake in an elevator for stating he would vote to confirm Brett Kavanaugh to the U.S. Supreme Court. The incident appeared to pressure Flake to call for further FBI investigation into Kavanaugh, who had been accused of sexual assault as a teenager, delaying his nomination. Archila, a sexaul assault survivor, spoke from her personal experience as part of her work on the issue.
New York City Public Advocate Jumaane Williams, a candidate for Governor this year, announced Archila as his running-mate in February. They are running on a platform focused on tenant protections, creating more affordable housing, immigrant protections and empowerment, expanding healthcare, and creating public safety by addressing root causes of crime.
"New York is one of the richest states in the richest nations in the world, but if you are a working person, you don't feel it and haven't before or during the pandemic…I have dedicated the last 20 years to building power rooted in working class communities. My work has been animated by the certainty that a new, more just nation is struggling to be born." Archila writes on her website. 
Upon Benjamin's resignation, the floodgates appeared to open in terms of additional elected officials endorsing Archila's campaign. As of mid-April, her endorsements include the Working Families Party, Tenants PAC, Make the Road Action, New York Communities for Change, Rep. Jamaal Bowman, Comptroller Brad Lander, and a recent slew of state-level electeds who appear to have decided to back her right after Benjamin's resignation, such as State Senator Alessandra Biaggi, Assembly Members Jessica Gonzalez-Rojas, Yuh-Line Niou, Ron Kim, and others. Many of these organizations and officials have also endorsed Williams.
Like Reyna, Archila could potentially become the first Latino ever elected to statewide office in New York.
David Englert
David Englert, the mayor of Sodus, in upstate Wayne County, is also in the Democratic primary for Lieutenant Governor.  Before becoming mayor in 2016, Englert was a Sodus village trustee starting in 2012, and touts his decade of local political experience to his candidacy. He is running with Democratic gubernatorial candidate Paul Nichols, a Queens-based attorney. Their campaign platform centers affordable housing, tax reform, and business-friendly initiatives. 
Brian Benjamin
The recently-resigned former Lieutenant Governor Brian Benjamin became a State Senator in 2017, representing the 30th district based in Harlem.
He focused on criminal justice reform and affordable housing, and ran an unsuccessful campaign for New York City Comptroller in the 2021 Democratic primary. That campaign, which included some of his alleged malfeasance, helped land him on Hochul's radar as she selected a Lieutenant Governor to fill her position when she became Governor in August 2021.
Hochul and Benjamin were among the New York State Democratic Party's official designees for this year's election, assuring their spots on the primary ballot. But Benjamin's resignation casts doubt on whether he will remain on the ballot, however hard it may be to remove him at this point, though several avenues are being considered, including asking him to move out of the state and new legislation to allow for a change.
The Republican Side
On the Republican side, it appears all but certain that Alison Esposito will be the Lieutenant Governor nominee, running alongside whoever wins the GOP primary for Governor.
Esposito, a former NYPD captain, is the running mate of Rep. Lee Zeldin, the frontrunner for the Republican gubernatorial nomination. She is the only Republican candidate for Lieutenant Governor. In the gubernatorial primary, Zeldin is competing with Harry Wilson, Rob Astorino, and Andrew Giuliani.
***
by Jasmine Sheena for Gotham Gazette. @GothamGazette
Ben Max contributed to this story.