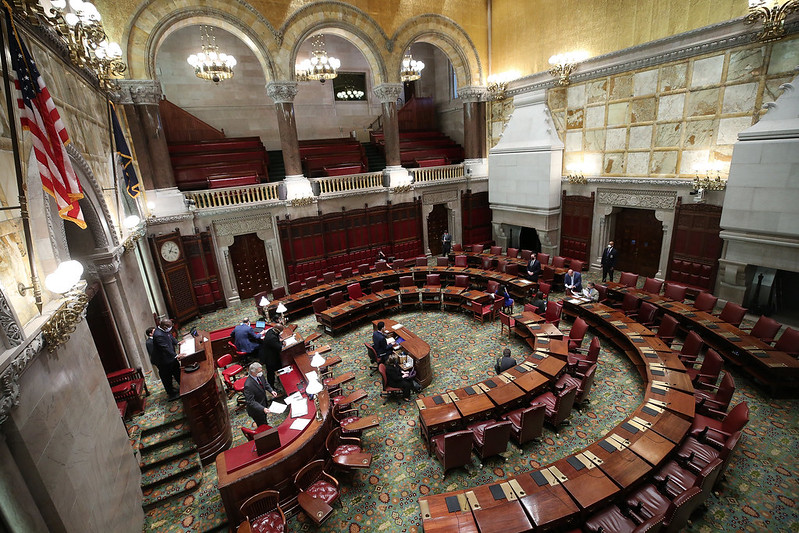 The State Senate (photo: NY Senate Media Services)
---
The details of the new $220 billion New York state budget, which included many funding and policy decisions, are still being deciphered and debated. The package, negotiated by the Democrats who hold the governor's office, Gov. Kathy Hochul, and have super-majorities in the two houses of the Legislature, includes massive education aid to localities, significant increases in funding for child care and public universities, changes to criminal justice laws, a large subsidy for the Buffalo Bills to build a new stadium, and much more.

State Senators Jabari Brisport and Julia Salazar, two democratic socialists representing parts of Brooklyn, recently joined Gotham Gazette's Max Politics podcast to discuss the new state budget and their own priorities for the upcoming legislative session, which will run from the end of April until early June. They also shared a few thoughts on the recent Brooklyn subway attack, which occurred on the outskirts of Brisport's district, as well as the indictment and resignation of Lieutenant Governor Brian Benjamin.
Senator Brisport represents District 25 in Brooklyn, encompassing the neighborhoods of Fort Greene, Boerum Hill, Red Hook, Bedford-Stuyvesant, Sunset Park, Gowanus, and Park Slope. He chairs the committee on children and families. Salazar, who chairs the committee on crime and correction, represents District 18, which includes Bushwick, Cypress Hills, Greenpoint, and Williamsburg, as well as parts of Bedford-Stuyvesant, Brownsville, and East New York.
Before diving into their views on the wins and losses of this year's state budget and what comes next, Brisport and Salazar were asked by host Ben Max to address the Sunset Park subway shooting, in which ten people were shot and more than twenty injured. Calling the attack "vicious," as Salazar put it, the two senators expressed disagreement with Mayor Eric Adams' ongoing prescription for subway crime, which is led by greater police presence. They cited the number of officers already in stations who didn't prevent the attack and emphasized instead the need for a well-resourced public transit system, as well as broader measures to help reduce violence through prevention.
"As a legislator, I always seek to think in terms of prevention," Brisport said, adding that though he wanted to acknowledge people around the city were scared and confused, he doesn't see a way to police a way out of deeply-embedded problems. Salazar, for her part, expanded on the need to look at the transit system more closely and make sure it is functioning effectively, including security cameras, some of which apparently faltered around the time of the shooting. 
On the larger issue of public safety, and the necessary steps to create a safer city and state, topics that continue to be debated as Adams implements his agenda, officials negotiate criminal justice policies, and funding decisions are made, both Brisport and Salazar continued to stress their belief that the Legislature should focus more on violence interruption and investment in communities than traditional law enforcement.
Brisport criticized Governor Hochul's 10-point public safety plan, presented privately very shortly before a state budget was due and including a number of rollbacks to landmark criminal justice reforms passed in recent years. He pointed to the alternative agenda released by the Black, Puerto Rican, Hispanic, and Asian Legislative Caucus (BPHA). That plan focused on investment into diversionary programs for people awaiting trial as well as Cure Violence, and after-school and job programs for young people. It also emphasizes the importance of getting credible messengers and mentors on the streets.
Salazar reiterated the need for investment in youth and making sure there are community centers and public places for young people to gather. She referenced the importance of putting money into mental health resources for the communities both she and Brisport represent. All of these things, she said, are directly related to public safety whereas the state budget focused more on changes to bail and discovery reforms.
Senators Salazar and Brisport both spoke briefly as well on the resignation of Lieutenant Governor Brian Benjamin after he was charged with federal corruption crimes in connection with an alleged use of his office as a state senator to provide a grant to a donor who was also breaking the law to provide Benjamin with straw donations.
"It's certainly relevant to the need for ethics reform at the state level in New York," Salazar said of the incident, explaining that the current ethics body, the Joint Commission on Public Ethics (JCOP) has gotten what she perceives as due criticism for being a tool former Governor Andrew Cuomo used to protect political allies. Notably, in the new budget, legislators and the governor made changes and renamed the state ethics body with the goals of making it more independent and giving it more teeth.
Generally, discretionary grants, like the one Benjamin allegedly secured in exchange for donations, are a good thing, Salazar argued, as they give people closest to the community control of funds. Accountability and enforcement need to come in tandem, though, she said, before mentioning a so-called slush fund Governor Hochul snuck into the budget last-minute to send $350 million to Long Island that will be decided by elected officials representing Suffolk and Nassau Counties, key battlegrounds in the coming statewide and state senate elections.
"It casts a shadow over the entire legislature," Brisport said of the Benjamin scandal, calling it "disappointing" while cautioning against presuming guilt.
Drilling down into the details of the state budget, Salazar said her points of pride were also areas where she felt funding nevertheless remained inadequate. She cited "fair pay for home care" workers, where advocacy led to permanent minimum wage increases, but at only $3 per hour over the next two years.  "I really feel that we need to increase wages for home care workers much more substantially," Salazar said. "We're really going to need to see a much bigger investment in our home care work force in the immediate future in order to meet the demands of what is really becoming a long-term care and home care crisis in New York."
She also cited funding for financially distressed hospitals as a point of pride, referencing safety net hospitals like Woodhull in her own district. "We were able to secure about $800 million to assist those hospitals in particular," Salazar said, "that really is a victory. We want to make sure that hospitals, especially those that were facing more economic challenges because of the pandemic, that they are able to survive."
Salazar also touted the comparable investment in replenished state funding for emergency rental assistance as a big win in the new budget. "There are thousands of people who were unable to apply for ERAP [the Emergency Rental Assistance Program] before the federal funds were exhausted, as well as people who continue to need that assistance who maybe didn't need it earlier in the pandemic," said Salazar, for whom housing has always been a top priority.
Brisport pointed to the Transgender and Gender-Nonconforming Wellness and Equity fund as a major win. "As an openly queer legislator that means a lot not just to me but also to the community," he said. His other wins were somewhat blunted, he said, like Salazar, because the investments did not meet the degree he sought.
While he said it was great to see the influence of his universal child care act on the outcome of negotiations -- raising the income eligibility threshold for state child care subsidies to families, and increasing reimbursement levels to localities and providers -- he was frustrated by the exclusion of undocumented children, and by what he deems an inaccurate model for the sector due to the governor's under-estimatation of participation in the program.
"I'm very worried that we will be telling people that they're now eligible for child-care and there is actually no money for them to get child care," Brisport said. "It is definitely a historic investment, although the bar was low, for how much money we invest into child-care," he said, adding later that the investment is "not actually meeting the desperate need of a sector that's really in free-fall." Asked to quantify the investment, Brisport explained that the subsidized income threshold has been raised from 200% of the federal poverty level to 300%. In layman's terms that means a three-person household – two parents and one child – has qualified for subsidized childcare if the total household income was $45,000 or less, but under the expansion that threshold will be $69,000.
Both senators voted no on several budget bills. When prompted, Salazar said her issue was with process more so than substantive policy disagreement. She's generally opposed to including policy in the budget if it doesn't have a fiscal impact to the state, she said, explaining the body spent a lot of time in the final weeks on Hochul's push for bail and other criminal justice changes thrown into the mix at a late stage, with proposals many legislators disagreed with. Salazar said she was frustrated when it then became the focus of the state budget and held up other important decisions.
"I don't think we should be holding people pre-trial for what are essentially crimes of poverty," Salazar said on the substance, citing a change in the law that makes any arrest eligible for bail should the defendant have an open desk appearance ticket. "That's certainly a problem to me and I think for the communities that I represent," Salazar explained, "a lot of people are really struggling." She was also disappointed by the last-minute deal for a large state subsidy to build a new Buffalo Bills stadium, classifying it as a bad demonstration of the state's priorities. "Giving away hundreds of millions of dollars of public funds to a football team that's owned by a billionaire – I really want to see true economic development in Western New York and am certainly never opposed to that, but I question that use of public funds," she said.
Brisport voted no on the revenue section of the budget and called Governor Hochul "austere" for saying early on that she would refuse to raise taxes on the wealthy. "There's two things at play here, the fact that she refused to raise taxes on the rich and then throughout the budget process said I don't have money for that," he said of Hochul's approach. It was frustrating, he said, to go through the budget process and be told there wasn't enough money for certain services, only to find out that there was $600 million for the Bills stadium and a $350 million pot of money to be spent on Long Island, calling it "absolutely ridiculous and deceitful."
As for upcoming priorities, both senators said they would be pushing for Salazar's "good cause" eviction legislation, among other policies they each mentioned.
Brisport also said he will fight for a bill to divest the state teachers pension fund from fossil fuel holdings, while Salazar said she will push for parole justice legislation and a ban on gas hook-ups in new buildings.
The end of the conversation turned toward politics, and the upcoming state elections, with primaries in June and the fall general election.
Neither senator was ready to openly endorse a candidate for Governor or Lieutenant Governor, though both appeared open to the suggestion from the host that they may jump behind progressive Lieutenant Governor candidate Ana Maria Archila, especially given Benjamin's resignation.
[LISTEN: Max Politics Podcast: Senators Julia Salazar & Jabari Brisport on the New State Budget]