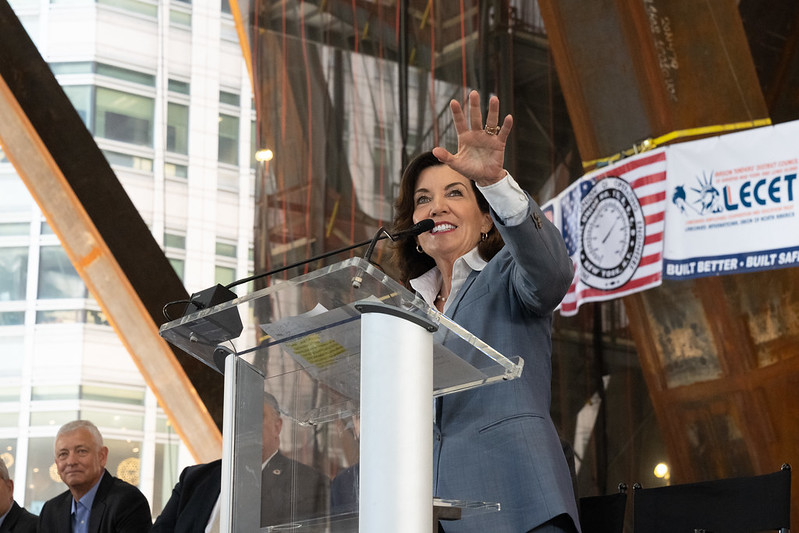 Gov. Hochul at an announcement (photo: Office of Governor Hochul)
---
Governor Kathy Hochul announced the launch of a new state office Tuesday intended to spearhead regional workforce development initiatives across New York.
The Office of Strategic Workforce Development will be housed under Empire State Development (ESD), the state entity responsible for most major economic development projects. The arrangement is intended to coordinate workforce training programs with employers' needs, especially in growing sectors, as New York continues its economic recovery from the devastation of the pandemic.
Hochul said the subject was personal, having seen steel plants close in her native Western New York, "leaving workers with nowhere to go."
"New Yorkers are still struggling to find work and opportunity due to the economic disruption of the pandemic," the governor said in a statement announcing the launch.
"With our brand new Office of Strategic Workforce Development, we are doubling down on our commitment to help train and connect New Yorkers with the good-paying jobs of the future," Hochul said.
The governor first proposed the creation of the new office under ESD in her State of the State agenda and secured it along with $350 million for workforce development in the $220 billion state budget passed earlier this month.
The city and state have been slower to rebound from the pandemic and economic shutdown than other parts of the country. The unemployment rate in New York City hit 6.5% in March, compared to the state's 4.6%, and the national rate of 3.6%, according to preliminary data from the U.S. Bureau of Labor Statistics. Lower-wage jobs in industries reliant on tourism and commuters have continued to lag after the pandemic shut down most international travel and led to a major increase in people working from home.
Hochul and Mayor Adams have each made commitments to bolstering the labor market in sectors poised for growth, like healthcare, technology, and so-called green industries. Both have also made a point to say they will harmonize strategic planning around workforce and economic development.
The Office of Strategic Workforce Development is responsible for steering the $350 million allocation, according to the governor's office, either directly or in coordination with other agencies. The money includes $150 million in "multi-year funding" for grants to "high-skilled" jobs training providers offering advanced, industry-specific programming. It will also help cover some of the administrative and capital needs of providers as they continue to adapt to a post-pandemic economy.
This is the first state office dedicated to workforce development. By aligning the state's programs, which have largely been siloed and scattered across multiple state agencies, and reporting to the governor, workforce advocates hope the new model will lend accountability to the hundreds of millions of state dollars allocated to job training.
"This announcement is an important step toward a more effective and coordinated state-level approach to workforce development, and will help to realize one of Governor Hochul's key policy proposals," said Eli Dvorkin, policy director at the Center for an Urban Future, a think tank focused on economic opportunity.
"It's especially encouraging to see this new office embedded in the state's economic development agency—recognizing that effective workforce training programs should work hand-in-hand with employers and focus on industries poised for future growth," Dvorkin wrote in an email to Gotham Gazette.
JobsFirstNYC, a workforce training advocacy group, lauded the new office but wants to see more funding put towards so-called "on-ramps" to training programs like bridge courses, pre-apprenticeship programs, and High School Equivalency and ESOL programs.
"The consensus among workforce providers is that until early education and skills development needs are addressed, high skills training is not likely to achieve the outcomes that workforce development agencies and employers are seeking," wrote JobsFirstNYC vice president Keri Faulhaber in an email.
ESD is a quasi-state agency closely tied to the governor's office that is responsible for economic planning and billions of dollars in business subsidies outside of the workforce training programs now under its purview. In recent years it has been charged with then-Governor Andrew Cuomo's Regional Economic Development Councils, which have doled out billions of dollars around the state for economic growth projects, and the Downtown Revitalization Initiative that has offered $10 million awards to business districts across the state, including in Chinatown and Downtown Brooklyn. As Lieutenant Governor, Hochul had economic development at the top of her portfolio, and she oversaw the work of the REDCs.
Good government group Reinvent Albany has been pushing for more transparency around the state's corporate subsidies, which are often spent with little accountability or public review.
"This is a far far better way to spend state economic development dollars than outright subsidies to businesses because you're getting a skilled workforce, which is fertile soil to get more businesses to come," said John Kaehny, executive director of Reinvent Albany, about workforce development..
According to Kaehny, the $350 million for workforce spending pales in comparison to the roughly $5 billion in annual state economic development spending identified by his group. "That's just massively wasteful. This is close to one-fifteenth that amount," he said.
The Office of Strategic Workforce Development is designed to work with New York's 10 Regional Economic Development Councils to tailor workforce training to regional strengths and needs. The REDCs are public-private consortiums of business, academic, and local government representatives responsible for crafting long-term economic plans that have designed proposals that have been funded by the state. The office will also collaborate with the state Department of Labor, SUNY, and CUNY, three of the largest workforce development providers in the state, according to the Hochul administration.
"We appreciate the Hochul administration's investment in New Yorkers' talent and skills and for embracing the need to improve workforce systems across the state, especially by working more closely with partners at CUNY and SUNY," said Annie Garneva, interim CEO of the NYC Employment and Training Coalition, an association of workforce development providers.
The state also launched an online survey to solicit feedback from business owners on the skills they are seeking in potential employees. The survey was developed in partnership with the Business Council of New York State.

According to the governor's office, part of the $150 million for providers will be available on a continual basis, rather than in annual allotments, in order to be more responsive to industry shifts. Dvorkin said that is essential for training providers who often face delays in receiving subsidies, in part because no centralized office was responsible for distributing them.
"Now the state should commit to getting these dollars out quickly to workforce development organizations and their partners across the state," he said. That money should go toward scaling up successful public and private training programs and covering the operating costs providers need to maintain staff, facilities, and employer relationships. Funding should also go toward some of the non-tuition costs associated with job training, like technology and transportation, he said, "as these barriers prevent many low-income New Yorkers from participating in programs, even if they're tuition-free."
The governor's office could not yet give specific details when asked how the spending will be overseen. "A funding application process and determination of awards will be implemented by ESD staff. Program guidelines and criteria are under development," wrote Jason Gough, a spokesperson for Hochul, in an email.
The press release announcing the new office said it would "establish and maintain metrics for tracking the implementation and success of the programs." Gough said ESD is in the process of developing a set of agency-wide metrics "and is committed to annually publishing information."
Mayor Eric Adams has also made workforce development a theme of his early administration. In December, he added "workforce development" to the title of the deputy mayor in charge of economic development and dedicated a section of his economic recovery "blueprint" to job access. On Tuesday, he unveiled a $99.7 billion executive budget, including a proposal for $285 million in education and career readiness in fiscal year 2023. That includes 10,000 new seats in the Summer Rising youth enrichment program, DOE apprenticeships, and CUNY career pipelines.
But beyond the new deputy mayor title, the Adams administration has yet to put out a plan for unifying the city's various training programs, which like the state's, have been spread across multiple agencies. The mayor's office did not provide a comment on the new state office following Gotham Gazette inquiries.