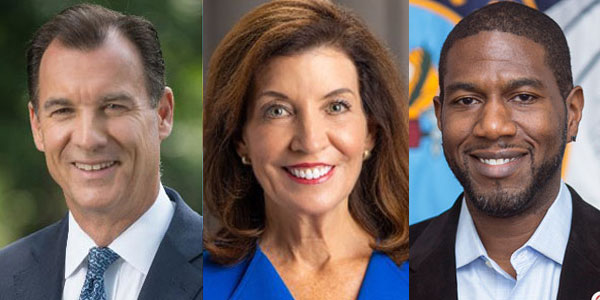 (l-r) Democratic candidates for Governor Tom Suozzi, Kathy Hochul & Jumaane Williams
---
New York is slated to hold two separate primary elections this year after a chaotic redistricting process led to legal challenges and United States House of Representatives and State Senate district lines had to be redrawn.
The primaries for Governor, Lieutenant Governor, Attorney General, State Comptroller, State Assembly, and U.S. Senate will be held in June, with early voting June 18-26 and primary day the 28th.
Congressional and State Senate primaries will be held in August with early voting from August 13 to 21 and primary day the 23rd.
The deadline to register to vote in the June primary is June 3 for in-person registrations, while mailed registration forms must be postmarked June 3 and received by the Board of Elections by June 8.
New York has closed party primaries, meaning voters must be registered with the party in order to vote in its primary. The February 14 deadline to switch party affiliation before the primary has long passed.
Most of the action in the June primaries for New York voters is in the two major party primaries in the race for Governor; the Democratic primary for Lieutenant Governor; and a number of competitive State Assembly Democratic primaries, with several notable contests centered in Manhattan and Brooklyn, among others.
In the most competitive Assembly races, some are for open seats where the incumbent is not seeking reelection and some are where an incumbent is being challenged from the left.
Governor and Lieutenant Governor
Governor Kathy Hochul, the state's first female governor, is running for her first full-term since taking office in August last year in the wake of Governor Andrew Cuomo's resignation amid scandal.
Hochul faces two opponents in the June Democratic primary, U.S. Rep. Tom Suozzi from Long Island and New York City Public Advocate Jumaane Williams. The governor has a slew of advantages heading into the election, outperforming her challengers in polling and accumulating a massive campaign warchest.
Hochul's campaign continues to deal with the resignation of her first choice as Lieutenant Governor, Brian Benjamin, who was indicted on public corruption charges and resigned. The Legislature passed a bill that allowed Benjamin to get off the ballot and Hochul appointed his successor, U.S. Rep. Antonio Delgado, who will also be her unofficial running-mate in the primary (the two positions are voted on separately in the party primaries before becoming tickets for the general election).
Suozzi, a moderate Democrat, is running on a platform of tackling rising crime and reducing taxes, as well as his experience as a former mayor and county executive and time in Congress. His running-mate is Diana Reyna, former deputy borough president in Brooklyn and a former New York City Council member.
Williams, a progressive Democrat, previously ran against Hochul and lost in the 2018 primary when she was serving as Lieutenant Governor. He is running a leftist campaign and has been endorsed by the Working Families Party. His running-mate is Ana María Archila, a longtime activist and nonprofit leader from Queens. 
In the Republican primary for Governor, four candidates are vying for the nomination. They include former Westchester County Executive Rob Astorino, who unsuccessfully challenged Cuomo in 2014; Andrew Giuliani, former aide to President Donald Trump and son of former New York City Mayor Rudy Giuliani; businessman Harry Wilson; and U.S. Rep. Lee Zeldin of Long Island.
Alison Esposito, a former NYPD deputy inspector, is seeking the Republican nomination for lieutenant governor as Zeldin's running-mate. She faces no opponents and is all but assured to be on the general election ticket with whichever Republican gubernatorial candidate prevails in the primary. 
Other Uncontested Statewide Primary Races
U.S. Senator Chuck Schumer, the Democratic majority leader, is running uncontested in the primary as he seeks another term. Republican Joseph Pinion, a former cable news anchor, awaits Schumer in the general election.
State Comptroller Tom DiNapoli, a Democrat who has been in his current office since 2007, is also running for reelection and has no primary opponents. In the Republican primary for comptroller, Paul Rodriguez, a Wall Street veteran, is running uncontested. 
State Attorney General Letitia James, a Democrat, briefly launched a gubernatorial campaign but abandoned it to run for reelection. She has no challengers in the primary. In the Republican Attorney General primary, Michael Henry, a New York City-based attorney, is running uncontested. 
Assembly Races
There are 150 seats in the New York State Assembly, all of which are on the ballot every two years. Find your Assembly district after entering your address here.
Many candidates running for State Assembly this year are unopposed in the primary, particularly, as usual, a number of incumbents. There are, however, several races worth watching, including but not limited to the following:
Queens
In District 28, Assemblymember Andew Hevesi faces a challenger in Ethan Felder, who is assistant general counsel at 32BJ SEIU, the service employees union.
In District 30, Assemblymember Brian Barnwell is not running for reelection. Two candidates are seeking to replace him: Steven Raga, executive director of Woodside on the Move, and Ramon Cando, a Democratic District leader. 
In District 32, Assemblymember Vivian Cook is being challenged by Anthony Andrews Jr., a Democratic district leader.
In District 33, Assemblymember Clyde Vanel is facing off against Oster Bryan, president of the St. Albans Civic Association, who has unsuccessfully tried to challenge Vanel before.  
In District 35, Assemblymember Jeffrion Aubry is facing a challenge from disgraced former state Senator Hiram Monserrate, who has attempted to run for office several times since being expelled from the Senate after a conviction for assaulting his then-girlfriend. 
In District 37, Assemblymember Cathy Nolan is retiring after 37 years in office and four candidates are running to replace her. They include Juan Ardila, a staffer at the Legal Aid Society and a progressive who has won several prominent endorsements; Johanna Carmona, an attorney and Nolan's chosen successor; Brent O'Leary, an attorney and community activist; and Jim Magee, an attorney. 
In District 40, Assemblymember Ron Kim is facing a challenge from Kenneth Chiu, founder of the New York City Asian American Democratic Club.  
Brooklyn
In District 43, Assemblymember Brian Cunningham, who won the seat in a special election in March, is facing three candidates in his run for reelection. They include Pierre Albert, a community activist; Jelanie Deshong, a former aide to Governor Hochul; and Tim Hunter, a high school teacher and community organizer.
In District 46, Assemblymember Mathylde Frontus is being challenged by Dionne Brown-Jordan, a Democratic district leader. 
In District 50, Assemblymember Emily Gallagher is facing a challenge from Paddy O'Sullivan, a firefighter. 
In District 51, Assemblymember Marcela Mitaynes is being challenged by Erik Frankel, a small business owner. 
In District 54, Assemblymember Erik Dilan is facing a challenge from Samy Nemir Olivares, a community activist and democratic socialist who has support from a wide swathe of progressive groups and officials.
In District 57, Assemblymember Phara Souffrant Forrest faces Olanike Alabi, a former Democratic district leader.  
In District 58, early voting is underway for the May 24 special election to replace Assemblymember Nick Perry, who was recently appointed U.S. ambassador to Jamaica. Among the candidates running to replace him are Democratic Party nominee Monique Chandler-Waterman, a staff member in the office of Public Advocate Jumaane Williams; and Hercules Reid, a former aide to Mayor Eric Adams who was recently endorsed by the mayor. Both Chandler-Waterman and Reid are on the June primary ballot as well and, depending on who wins the special election, will either be defending the seat or challenging for it.
In District 60, Assemblymember Nikki Lucas, who won the seat in a special election in February, faces a challenge from Keron Alleyne, who is backed by the Democratic Socialists of America New York City branch.
Staten Island
In District 61, which covers parts of Staten Island's North Shore and Lower Manhattan, activist Justine Cuccia is challenging Democratic Assemblymember Charles Fall. 
In District 63, Assemblymember Michael Cusick, a Democrat who has held his seat since 2003, is not running for reelection. Cusick has endorsed his former chief of staff, Vincent Argenziano, to replace him. There is also a competitive Republican primary for his seat with two candidates running: Sam Pirozzolo, an optician who previously challenged Cusick in 2012, and Paul Ciurcina Jr., a retired NYPD detective.
Manhattan
In District 65, Assemblymember Yuh-line Niou, a Democrat, is leaving her seat to run for State Senate. There are four candidates running in the Democratic primary to replace her: Illapa Sairitupac, an activist and social worker backed by the New York City branch of the Democratic Socialists of America; Grace Lee, who ran against Niou in 2020 and has received a long list of endorsements from elected officials and political clubs; Denny Salas, who calls himself an "Obama Democrat" running on a pro-growth platform; and Alana Sivin, a lawyer and democratic socialist. 
In District 66, Assemblymember Deborah Glick, a trailblazing 32-year incumbent Democrat, is being challenged by Ryder Kessler, a progressive tech entrepreneur and first-time candidate. 
In District 68, Democratic Assemblymember Edward Gibbs, who won a special election earlier this year to take the seat, faces three challengers: John Ruiz Miranda, a district leader; Wilfredo Lopez, a former City Council staffer; and Tamika Mapp, who previously sought the seat in 2020.
In District 70, Assemblymember Inez Dickens is facing two challengers: Delsenia Glover, a longtime progressive housing advocate and Deputy Public Advocate; and Shawanna Vaughn, founder and director of Silent Cry, Inc., a Harlem-based non-profit. 
There's a crowded Democratic primary race in District 73, where Assemblymember Dan Quart is not running for reelection. There are five candidates seeking to fill his seat. They include Kellie Leeson, co-founder of Empire State Indivisible; Russell Squire, chair of Community Board 8; Alex Bores, an engineer; and Adam Roberts, a former aide to former Council Member Ben Kallos and currently director of policy for the American Institute of Architects.
There's also a crowded primary in District 75, where longtime Democratic Assemblymember Richard Gottfried is retiring. There are five candidates in the race to replace him: Harrison Douglas Marks; Layla Law-Gisiko; Christopher Lebron; Tony Simone; and Lowell Kern. Simone seems to be the heavy favorite in the race, having been endorsed by Gottfried and many other current and former elected officials including those who represent or have represented parts of the district.
In District 76, Democratic Assemblymember Rebecca Seawright is being challenged again by Patrick Bobilin, a democratic socialist.

The Bronx
In District 78, Assemblymember José Rivera is being challenged by two candidates: George Alvarez, a perennial candidate; and Emmanuel Martinez, chair of Bronx Community Board 7. 
In District 81, Assemblymember Jeffrey Dinowitz is being challenged by Jessica Altagracia Woolford, a community organizer and former city press secretary for U.S. Senator Kirsten Gillibrand. 
In District 82, Assemblymember Michael Benedetto faces two challengers: Jonathan Soto, a former campaign staffer for U.S. Rep. Alexandria Ocasio-Cortez, and Algernon Quattlebaum, a former restaurateur. 
In District 84, Assemblymember Amanda Septimo is being challenged by Hector Feliciano, a director of a college prep program; and Alberto Torres, an attorney and community organizer. 
In District 86, Assemblymember Yudelka Tapia, a first-term member, is being challenged by Pooi Stewart, a teacher and secretary of Bronx Community Board 5. 
Outside New York City
In District 95, longtime Assemblymember Sandy Galef is retiring and three candidates are running to replace her including Westchester County Legislator Colin Smith, Ossining Supervisor Dana Levenberg, and former Peekskill Council Member Vanessa Agudelo.
In District 103, which includes parts of Dutchess and Ulster counties, Sarahana Shrestha, a first-generation immigrant and climate organizer, is challenging incumbent Democrat Kevin Cahill, who has been in office since 1998. Shrestha serves as the Ulster County co-chair of the Democratic Socialists of America (DSA) and has made climate change the central issue to her campaign.  
In District 111, which includes parts of Montgomery and Schenectady counties, progressive candidate Justin Chaires is challenging Angelo Santabarbara, a Democrat who has held his seat since 2012. Chaires is also running on the Working Families Party line against another candidate, Robert Menzies. There is also a competitive Republican primary for the district with two candidates seeking the nomination: Joseph Mastroianni and Michael Arbige.