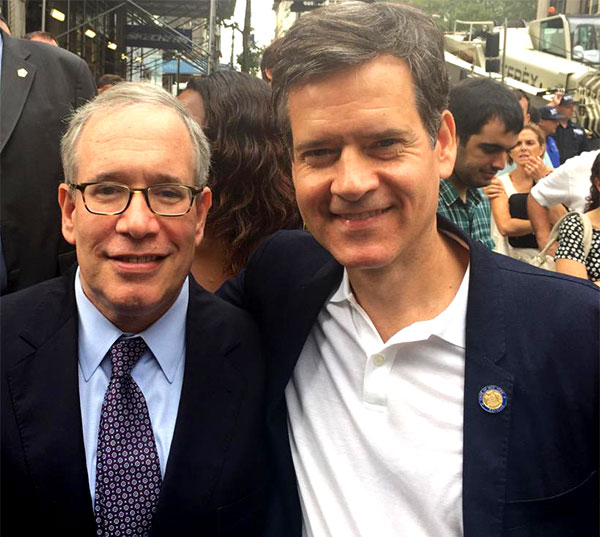 Scot Stringer, left, and Brad Hoylman (photo: @bradhoylman)
---
New York State Senator Brad Hoylman, a Manhattan Democrat, is running for reelection in a redrawn district after a chaotic state redistricting process. But the incumbent could face serious competition in the August primary as former New York City Comptroller and mayoral candidate Scott Stringer is gearing up to challenge him.  
Hoylman had previously considered a bid for an open seat in New York's 10th congressional district, which is currently represented by U.S. Rep. Jerry Nadler, who is now running in the redrawn 12th district, represented by fellow Democratic Rep. Carolyn Maloney. There is already a crowded field for the new 10th district seat, including former Mayor Bill de Blasio. 
But Hoylman decided to eschew that primary and seek reelection. He currently represents District 27, which covers parts of Manhattan's east and west side including the neighborhoods of Greenwich Village, Chelsea, Hell's Kitchen, Columbus Circle, Times Square, the Upper West Side, the East Village, Midtown East, and the Lower East Side.
After redistricting, Hoylman lives in District 47, which is situated entirely on the west side, stretching from the Meatpacking District through the Upper West Side up to West 100th Street — some of which is Stringer's old base. Another candidate, Maria Danzilo, who unsuccessfully ran for City Council on the Upper West Side last year, is also running against Hoylman. 
"I'll be running on my record of legislative accomplishments, which I think will stand up to just about anyone," Hoylman said in an interview. 
"It's been challenging every step of the way but I've succeeded on issues that I think many thought were not possible," he added, "whether it's the Child Victims Act or the Adult Survivors Act, protecting transgender New Yorkers, fighting for tenants and seniors, and passing the most groundbreaking legislation on climate action."
Hoylman's new district includes about 52% of the residents from his current district, which means he will have vast swathes of new constituents. "I look forward to talking to those voters," said Hoylman, who is not unfamiliar with other parts of Manhattan given his unsuccessful 2021 bid for Manhattan Borough President.
Those new voters are largely on the Upper West Side, which has been Stringer's base for nearly 30 years. He represented the area as a member of the State Assembly from 1992 to 2005, and its voter-rich territory catapulted him to two terms as Manhattan Borough President and two as Comptroller, and came out relatively strong for him in his 2021 mayoral bid, which crashed in most other parts of the city after sexual misconduct allegations were made against him.
A person close to Stringer said that an analysis showed the numbers even more in his favor – that Hoylman has only represented 41% of Democratic registered voters in the new district while 57% of those voters are new to him. 
In an interview, Stringer would not confirm whether he is launching a campaign for Hoylman's district which, as City & State first reported, he was rumored to be considering when the race would've been for an open seat if Hoylman ran for Congress.
But Stringer is taking steps that would set him on the path to a primary contest. He has been out in the streets with "a coalition of folks," he said, collecting petition signatures to get on the August primary ballot -- primary day is August 23, with early voting preceding it. On Wednesday, he tweeted a photo of himself holding literature that clearly reads, "Scott Stringer for State Senate." But he subsequently reiterated that he isn't confirming his bid. 
"I haven't confirmed anything. We have not had a formal announcement yet," he said in a brief phone interview. "So we're not going to dive right in. But an announcement will come as we get things a little further down the line." 
"We're taking things slow, building consensus," he added. 
Though he would in part be returning to his political roots and likely able to rely on many loyal supporters, Stringer faces some serious disadvantages. In last year's mayoral race, he was a leading contender in the Democratic primary as one of the only elected officials in the race, along with then-Borough President Eric Adams, and a citywide one at that. But his campaign was thrown into disarray after multiple women came forward with allegations of sexual harassment that dated back decades. Stringer denied the allegations but lost the support of several elected officials and groups who had previously endorsed him. He later came in fifth in the primary. 
"We always talk about men's reputations being harmed and this false idea of cancel culture and yet, Scott Stringer is making the decision that he's going to come back into public life, political life, without ever taking accountability for his actions," said Erica Vladimer, co-founder of the Sexual Harassment Working Group (SHWG), a group of current and former legislative aides who were sexually harassed and have led the effort to enact new state laws to prevent and punish such behavior.
Vladimer, who is running for a Democratic state committee position, also noted that Stringer's campaign sought to discredit the account of one of his accusers, Jean Kim, who said he groped her when she worked on his unsuccessful campaign for public advocate in 2001. "He is acting as every candidate does. He is taking the actions of someone who expects to see their name on the ballot and expects to hold the public trust, and he doesn't deserve that," Vladimir said. 
"Everyone deserves the opportunity to rectify harm and be welcomed back into whatever spaces they want to be a part of. He has yet to take any steps to prove that he deserves to be welcomed back into public service," she added. 
Hoylman, on the other hand, "has been an ally of survivors since I've known him," she said. Just this week, the Adult Survivors Act, which Hoylman sponsored, was signed into law by the governor. The legislation creates a one-year look-back window for adult sexual assault survivors to sue their alleged abusers.
Stringer has maintained support from several prominent elected officials from his home base including Rep. Nadler, Assemblymember Linda Rosenthal, former Manhattan Borough President Ruth Messinger, and others. Opinions of him are even divided within the Sexual Harassment Working Group. Elizabeth Crothers, another co-founder of the group, has repeatedly come to Stringer's defense since the allegations were made last year. "While I don't use the word 'integrity' often nor lightly, I've seen that Scott has integrity - even when others don't," she tweeted the day of the mayoral primary last June. "Whatever the election results, that will remain true."
Hoylman, dealing with a new district and Stringer's machinations, quickly lined up and announced a series of endorsements in the last week, including from several progressive elected officials who had been allies of both men in the past, such as his Senate colleagues Senators Jessica Ramos, Julia Salazar, and Alessandra Biaggi, all of whom were among those who had endorsed Stringer in the mayoral primary but then rescinded that support upon Kim's allegations. 
"It's gonna be a tough race for [Stringer]," said Chris Coffey, CEO of Tusk Strategies, who co-ran Andrew Yang's Democratic primary campaign for mayor last year, often clashing with Stringer's campaign aides. "Brad is a popular legislator who has gotten a tremendous amount done in his time in Albany. So Scott is running against an incumbent and a popular incumbent. I don't know that that's the race that Scott intended it to be." 
Coffey said Hoylman is not only one of the most effective members of the state Legislature, but also a strong campaigner and fundraiser. "As far as I know, he doesn't really have any negatives," he said. And Stringer, he pointed out, did not fare so well on the Upper West Side in last year's mayoral race despite it being his political stronghold. Kathryn Garcia, the former city sanitation commissioner who came in second to Adams in the primary, dominated the area.
"People have a choice now between a competent, well-liked legislator who has no baggage that I know of," Coffey said, "versus someone who has just had this kind of tough experience in the mayoral race and not done well, even if he's a generally well-liked person, which I think [Stringer] is."
Note - This article has been updated to note that Maria Danzilo is also running for the District 47 Senate seat.