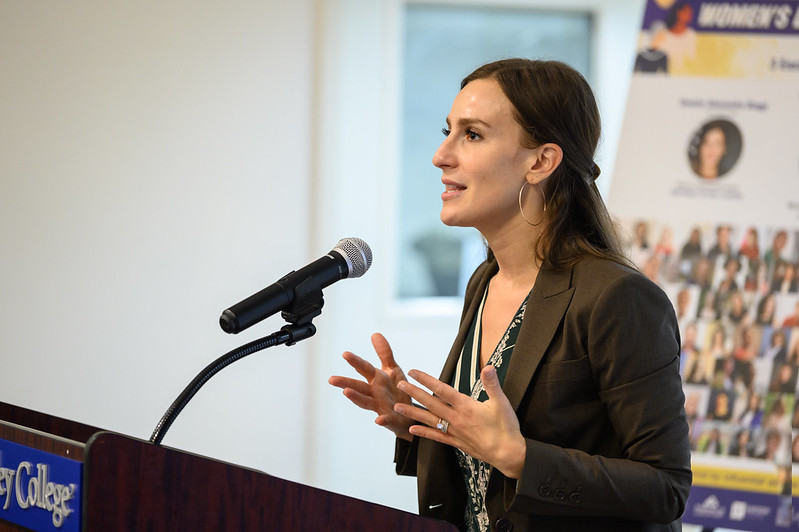 State Senator Alessandra Biaggi
---
State Senator Alessandra Biaggi, a progressive Democrat, garnered national attention after announcing her run in the new 17th Congressional District of New York against Rep. Sean Patrick Maloney, who chairs the Democratic Congressional Campaign Committee (DCCC) and currently represents the 18th district. Both districts are north of New York City in the Hudson Valley.
All of New York's congressional and state legislative districts were just redrawn in a mandatory decennial process based on new Census information. It got particularly messy in New York, which is losing one seat in the House of Representatives, going from 27 to 26 come next year. Primaries for the House and State Senate are in August, following the June primaries for State Assembly and statewide seats.
The new district lines have altered many plans -- Biaggi, who represents parts of the Bronx and Westchester in the State Senate, had been running in what was supposed to be the new 3rd Congressional District. But when maps drawn by Democrats who control the State Legislature were thrown out by the courts and new maps drawn by an appointed "special master" were released, that district was among many that were significantly reconfigured. Biaggi had to reconsider.
Meanwhile, Maloney announced he would run in the district where he lives but that is mostly still made up of Rep. Mondaire Jones' 17th district. Jones in turn declined to stay put and fend off Maloney, and declared his candidacy for the new 10th district, based in downtown Manhattan and a large swathe of Brooklyn.
Then, Biaggi made her decision to run in the new 17th district, taking on the powerful Maloney, who had just pushed Jones out, inviting a wave of criticism.
"Voters can have a say and vote for someone who is a progressive Democrat who actually has a record of making progress…or they can vote for a selfish corporate Democrat who clearly only cares about himself," Biaggi said in a recent appearance on the Max Politics podcast from Gotham Gazette, hosted by executive editor Ben Max.
Though she does not live in the district, Biaggi cited ties to the area and a plan to move within its new bounds, but said her motivations to run included bringing more fight to Congress to tackle the most pressing issues of this era and to stop the kind of leadership Maloney represents.
Biaggi said she was angered that the new map motivated Maloney to avoid a slightly more challenging race in his existing district and effectively pushing out the district's current "beloved" representative in Jones. 
Biaggi said she sees a lack of "urgency" and "effort" from current elected officials to get things done, and pledged to bring a different perspective and energy to Congress if elected, including on issues like reproductive rights, fighting climate change, health care, gun control, and more.
Amid the chaos of New York's redistricting, Biaggi said even she has had trouble following all the twists and turns and worries the combination of the new maps and two separate primaries will have a negative effect on voter turnout. Asked about why redistricting had gone awry under the Democratic Legislature, Biaggi said one key reason was related to the independent, bipartisan commission first tasked with drawing new maps and that there was  "no requirement for them to compromise."
The maps are now final and New York will be among the states where races determine control of the House. New York's 17th will be considered a swing district in the fall but it does have a solid Democratic lean. Still, it is expected to be a strong year for Republicans. First, the primaries.
With Democratic control of the House, Senate and the White House, Biaggi said there should be more momentum to pass legislation that addresses the most pressing issues.
"There is an incredible amount of urgency that is needed in our leaders around a lot of issues," said Biaggi, who is chair of the State Senate Committee on Ethics and Internal Governance and has led on issues related to workplace protections against sexual harassment and overhauling the state's ethics oversight agency, while also helping to pass a very long list of Democratic priorities over her nearly two terms. "There are a lot of new and progressive and young leaders who feel like we are not acting fast enough."
Biaggi said a key issue she and her opponent Maloney differ on is health care. Unlike Maloney, Biaggi supports "Medicare for All." She criticized Maloney for voting with Republicans when he was first elected, which, Biaggi claimed, slowed enhancement of the Affordable Care Act.
"Obamacare is one of the most important policies that I think any Democratic administration has passed. It has helped not just Democrats, but people across this country and it's something that I think makes our party very proud," she said. She also pointed to Maloney and the DCCC he leads supporting anti-abortion, pro-gun rights incumbent Rep. Henry Cuellar in a Texas primary where he is being challenged by progressive Jessica Cisneros.
Biaggi said she is drawing from her successful 2018 primary campaign against then-State Senator Jeff Klein, a moderate who led the Independent Democratic Conference (IDC) of breakaway Democrats who formed a power-sharing agreement with Republicans. Biaggi ousted Klein and several other progressive challengers beat members of the IDC in what wound up being a major Democratic wave year that flipped the State Senate and thus meant all of state government was in Democratic hands for the first time in nearly a decade.
Despite being "outspent" and "underestimated," Biaggi said she attributes her 2018 win to her authentic message. Biaggi said it is crucial for voters to feel like they can trust their elected leaders, and believes her previous record of legislative accomplishments is a marker of her credibility and reliability. 
Winning a campaign requires building a strong coalition of people that reflect the communities within the district, said Biaggi.
"People, really at the end of the day, are where the power comes from," she said. It is important for voters to "feel like you hear and see them and honor them and the struggles that they also are going through."
When people do not feel empowered to vote, they do not show up at the polls, Biaggi said.
"What makes me excited to vote…is when someone is bringing to me something that is bold," she said. "We have such a lack of Democrats who are willing to take bold positions."
Often touted by Republicans as a radical progressive, Biaggi said the issues she supports – abortion rights, fully funded schools, and protecting the environment – are mainstream and popular among Americans. 
If these issues are perceived as "too far left," then America is "in a lot of trouble," Biaggi said in response to whether she would need to moderate her stances given she's moving to a more purple district.
The significance of Biaggi's run against Maloney transcends New York State politics, she said.
"I think that this is a race that represents a clear option to bring the party in a different direction," she said, though she said she did not know whether the race would garner national attention or become a focus for the progressive movement.
In the current political climate, Biaggi said the people behind policy are just as important as policy itself. People who deny election results and bills that restrict voting access are threatening American democracy, she said.
"We are not dealing with a traditional Republican Party," she said. "What is it gonna take for this party to realize that we are not actually dealing with good faith actors and that we have to do whatever it takes for good, just like they do whatever it takes for evil?"
[LISTEN to the full conversation: Max Politics Podcast: Alessandra Biaggi on Running for Congress and Taking on Sean Patrick Maloney]