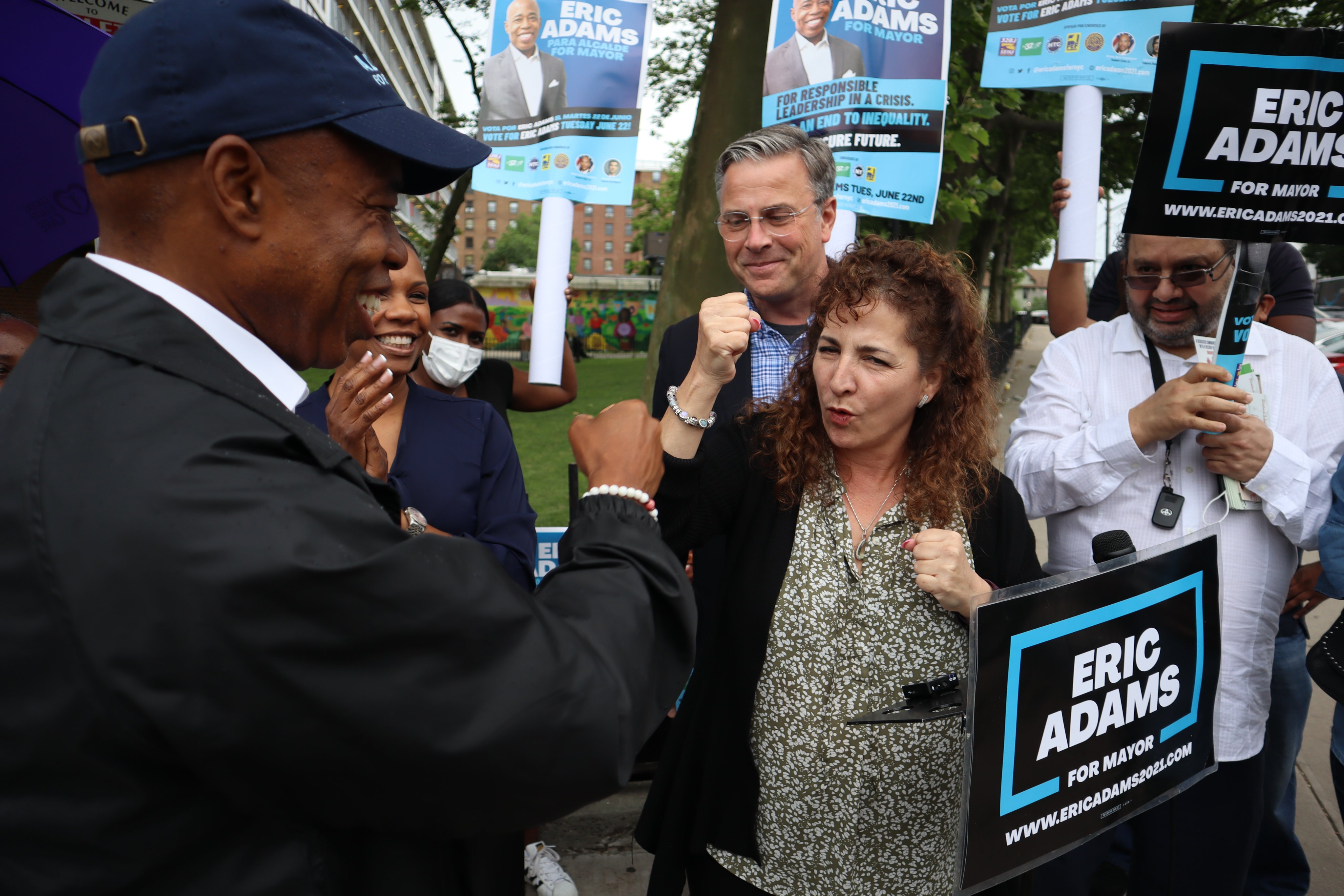 Diane Savino with Eric Adams (photo: @ericadamsfornyc)
---
In her ninth term serving as the New York State Senator for the 23rd district, spanning parts of Staten Island and southern Brooklyn, Diane Savino decided to not seek reelection this year. Savino, a moderate Democrat from Staten Island, is leaving the Senate after 18 years and passing 144 bills, which have heavily focused on labor issues. That focus made sense given Savino was elected to the Senate after having been a political operative for a large labor union.
Savino recently joined Gotham Gazette's Max Politics podcast to reflect on her tenure and how Albany has and hasn't changed over the past two decades, highlight policies she's championed, and discuss both the controversial Independent Democratic Conference she was part of as well as the future of the Democratic Party.
Savino said she decided to not run again because it felt like the right time to move on and pursue another chapter in her public service career, a third act of sorts given she had worked in child welfare and labor before becoming an elected official.
"For a lot of people in this business, you have to know when it's time to move on, when you've accomplished what you want to do and that it's time for someone else," Savino told Gotham Gazette editor Ben Max. "Too many people think that no one else can do this, that somehow or other the world will end if they're not there to serve in this district."
Prior to running in 2004, Savino said that seeking elected office had never been on her mind. She began her career as a caseworker for New York City's Administration for Children's Services, and served as the vice president for Political Action & Legislative Affairs of Social Service Employees Union Local 371. It was not until State Senators David Paterson (later governor), Eric Schneiderman (later attorney general), and Liz Krueger recruited her that she considered launching a campaign.
"My initial reaction was 'No, I'm not qualified,' — I think that's typical of most women," Savino said. "And then I decided that I could be more effective in the Legislature for the issues I cared about."
Pending signatures by Governor Kathy Hochul, Savino's office estimates her law total will hit 150 by the end of this year. She said on the podcast that her office has memorabilia from her legislation that became law as well as many other aspects of her life as an elected official. But, she said, she took home just 11 commemorations of her laws; most notably, the Domestic Workers' Bill of Rights, which is the first bill of rights for domestic workers in the country, she noted, and the legalization of medical marijuana in New York in 2014, which Savino said she had to fight then-Governor Andrew Cuomo on every step of the way to passage.
While reflecting on her record, Savino said protections for gig workers was one legislative push she was disappointed not to have gotten to the finish line. She said she wanted to find the right balance around providing both flexibility and protections for those who are not considered employees, like for-hire vehicle drivers.
"The world of work is changing, and the labor movement needs to change with it," Savino said.
She later followed up with Gotham Gazette to note that she also wanted to highlight not getting to a deal on medical aid in dying as a disappointment of her tenure.
When asked how the Legislature has changed over her nearly two decades in office, Savino immediately responded with "tremendously" and called the State Senate a "completely different place," citing how only six senators, including her (and Krueger), remain in the 63-seat chamber. Working with five governors, she said Governor Kathy Hochul's administration has been far less antagonistic toward the Legislature.
Looking ahead to the upcoming 2022 elections, Savino said Democrats, who she called a "circular firing squad," are in for some trouble. She said her party-mates should have agreed to revise the state's bail laws to allow judges to determine whether a person is dangerous, a position she shares with Mayor Eric Adams, whom she endorsed in last year's mayoral race and in whose administration she is expected to work when her Senate tenure is over. Savino said Republicans have been better at messaging about criminal justice reform by appealing to people's very real fears about their safety.
"To the extent that we continue to ignore that, and the press can find examples every day of some person who's been arrested numerous times and has now committed a violent felony, it's going to come back to haunt us," she said. "We can balance our need to create a fairer criminal justice system and protect public safety, and until we're able to do that, this is going to hang over our head."
Asked about the seemingly constant string of scandals in state government over recent years, Savino said she doesn't think structural changes are really the answer, but that it's more important to get people with good intentions and high ethical standards to seek public service as a profession.
"Unfortunately, the criteria for running for office in the constitution for a state senator is you have to be 18 years old, a resident of the district for at least one year unless it's a reapportionment year, and you have to be a citizen," Savino said. "It doesn't say that you have to be an honest person."
In New York political circles, Savino is well-known as one of the founding members of the Independent Democratic Conference, a group of breakaway Democratic state senators who created a power-sharing agreement with Senate Republicans and helped them maintain a majority for a number of years last decade.
There were several specific scandals involving the group as well as the broader question about its members' political allegiances and priorities. While it undercut Democratic efforts to win a Senate majority and therefore run all of state government, the IDC was in some ways particularly beneficial to its members and their districts, while it lasted.
Savino also argued on the podcast that the conference was important and well-meaning at the time, which was full of Democratic dysfunction and Republican power in the State Senate, and that the IDC was productive, including by pushing the Republicans to support certain Democratic priorities in state budget deals. "We did a lot of really good things," she said, referencing marriage equality and raising the minimum wage, among other policies.
The group dissolved in 2018, rejoining the Democrats as the writing was on the wall that its members were set to see particularly charged up primary challenges.
"When Donald Trump got elected, people were looking for not just a way to punish him, but to punish anybody," Savino said. "They were so angry with him and anybody that could be remotely associated with any Republicans, and so the voters turned on us."
Six of the eight members of the IDC lost their primaries in 2018, and then Democrats flipped several other seats and took the majority, setting the stage for the passage of many Democratic priorities over the last four years.
During the podcast, Savino defended the creation of the IDC and its tactics, and blamed Cuomo for not staying loyal to its members and helping them in those 2018 primaries.
Asked what she would have done differently with the IDC if she could do it again, she said, "maybe if we could have found a way to resolve it sooner, it might have been better for all of us."
"Do not underestimate what Andrew Cuomo did to us," she said, saying that the then-governor distanced himself from the IDC after having had a strong working relationship with its members because engaging and endorsing its members in those 2018 primaries would hurt him in his own race that year. "Silly me, expecting loyalty in politics," Savino said with a laugh.
Savino is the last-serving member of the IDC. Asked why that's the case, she cited her standing in the labor movement and among her moderate constituents "who like bipartisanship," her strong working relationship with her colleagues, and that she was not often the focus of negative press coverage, unlike IDC leader Jeff Klein. Savino credited Senate Majority Leader Andrea Stewart-Cousins for welcoming her into the Democratic fold beginning in the 2019 session when the party took the majority.
Although she did not divulge her future plans, Savino repeatedly said "my career in public service is not over." 
[LISTEN to the full conversation: Max Politics Podcast: Diane Savino Says Farewell to the State Senate]