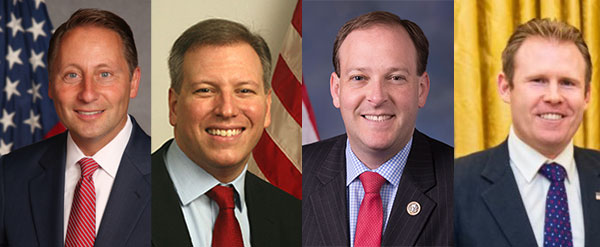 Rob Astorino, Harry Wilson, Lee Zeldin, and Andrew Giuliani (l-r)
---
With early voting for the June 28 primary set to begin on Saturday, the four Republican candidates for governor faced off in the sole debate of the race on Monday. The debate was hosted by CBS2, and moderated by anchor Maurice DuBois and reporter Marcia Kramer.
Appearing in person at the debate were former Westchester County Executive Rob Astorino, U.S. Rep. Lee Zeldin, and businessman Harry Wilson; Andrew Giuliani, a former White House aide and the son of former New York City Mayor Rudy Giuliani, participated virtually after refusing to abide by CBS' COVID-19 vaccination requirement to be present in the studio.
The hour-long debate was an acrimonious one with the candidates repeatedly sniping at each other as they addressed issues including former President Donald Trump's culpability in the January 6, 2021 insurrection, public safety and gun control, abortion rights, the rising cost of living, vaccine mandates, congestion pricing, and more. 
Zeldin is the frontrunner in the race, having been endorsed by the State Republican Party and many party officials, while a recent Emerson College poll showing him in the lead with 34% of the primary vote. Astorino, the 2014 Republican nominee for governor, came in second in that poll with 16%, Wilson trailed with 15%, and Giuliani was in last place with 13%. It was apparent at the debate that Astorino and Wilson were seeking to cut into Zeldin's lead by repeatedly attacking his record as a former state senator and trying to link him with disgraced former Governor Andrew Cuomo, a Democrat. 
Zeldin, for his part, did his best to emulate the Trump playbook, dubbing his opponents "Never Trumper Wilson," noting the businessman refused to vote for Trump in 2020, and "Rolex Rob," a reference to the luxury watch that Astorino was gifted by a real estate developer later caught in a bribery scandal. At one point, Wilson even said that Zeldin had asked him to join his gubernatorial ticket in January, a claim that Zeldin said was false, with Wilson then saying he has notes from the conversation.
As Astorino hammered Zeldin for voting for budgets largely designed by then-Governor Cuomo, the exasperated congressman noted that he had endorsed Astorino in his 2014 bid to unseat the governor then seeking a second term. Astorino retorted that Zeldin had not done much to help him win.
Giuliani, meanwhile, mostly stayed out of the fray, avoiding attacks on the others and receiving none in return, which has been the general tenor of the larger campaign as he has criss-crossed the state with his father.
Trump and January 6
As Congress holds public hearings on the January 6, 2021 insurrection at the Capitol in Washington D.C., nearly all Republicans have come to Trump's defense over his role in the attempt to overturn the 2020 election results by force. At the debate, the story was much the same, as the candidates largely said the hearings were a distraction from the kitchen-table issues that matter more to Americans. 
"I think President Trump was a great president and honestly, I'm hopeful that he runs again," said Giuliani. 
"President Trump told his supporters to go peacefully and patriotically to the Capitol and if President Trump wants to run, he should run and I believe that he will be the Republican nominee and he'll win," said Zeldin, falsely characterizing how Trump whipped up the mob leading up to and on January 6, 2021, spreading lies about the election and siccing his faithful on Vice President Mike Pence and members of Congress.
Zeldin was among the Republicans in Congress who voted against certifying the 2020 election results on the night of January 6, 2021 once the Capitol had been returned to government control.
Wilson said Monday night that people who invaded the Capitol should be prosecuted, though he did not place any blame on Trump for encouraging it. 
Astorino seemed to be the only one to break from the party line. "I do think he bears some responsibility," he said of Trump, though he added, "Look, we've got to move on though…These hearings right now are complete and utter political theater in Washington, D.C."
Gun Control
The Supreme Court seems poised to overturn a state law that restricts the concealed carrying of firearms, but there's an open question of whether it will allow the state to designate "sensitive places" where individuals cannot carry guns. None of the Republican candidates were in support of such controls, which they insisted would infringe on the Second Amendment rights of New Yorkers. Some decried "gun-free zones" as easy targets and none expressed support for limiting the sale of assault weapons.
The candidates also emphasized what they see as Democrats' failure to tackle crime, citing policies such as reforms to the state bail laws made in recent years. 
"We've got to get back to actually what worked, Broken Windows policing; stop, question and frisk," Astorino said, referring to controversial policing practices that have fallen out of favor among many Democrats. 
Wilson said the focus should not be on law-abiding gun owners but on "criminals, the mentally ill, and the purveyors of hate." 
Zeldin went further, calling for a repeal of the state's bail reform and the Secure Ammunition and Firearms Enforcement (SAFE) Act, a broad gun control package approved in 2013 after the Sandy Hook school massacre. "We have the strictest gun control laws in the entire country. They've gone too far," he said. 
Giuliani reiterated the push for more stop-and-frisk policing, a program put into effect by his father when he was mayor, and insisted on "empowering the police." He also said that on day one as governor, he would call on the Legislature to fully repeal the state's bail reform law and refuse to pass a state budget if it did not happen. 
A common target of attack for each of the candidates as they bemoaned gun violence was Manhattan District Attorney Alvin Bragg. The progressive prosecutor, and first Black person to hold his position, came under fire early in his tenure this year for being far too lenient and refusing to prosecute certain crimes, policies he partially altered amid blowback. But that hasn't stopped Republicans from inaccurately blaming him for increases in crime and all four gubernatorial candidates said Monday that, if elected, they would use their executive authority to remove him from office. 
They also all supported the idea of an amendment to the state constitution that could allow voters to recall state officials, akin to the ouster of San Francisco D.A. Chesa Boudin last week.  
Pocketbook Issues
The candidates had varying solutions to offer for helping New Yorkers cope with the rising cost of living, as they called for cutting taxes and regulations, and reducing wasteful state spending. They seemed mostly focused on reducing the cost of energy as gas prices have skyrocketed. 
Giuliani said he would make New York "truly the best fracking state in the country," pledging to reverse a fracking ban that was approved in 2014. He later vowed to cut spending by 10% across state government, except in law enforcement. 
Zeldin, similarly, said reversing the fracking ban would "allow us to create jobs and generate revenue and revitalize communities and to be able to drive down energy costs." He also promised "the largest tax cut in the history of the State of New York."
Astorino called for natural gas drilling and building out nuclear power. And he touted his experience in keeping spending and taxes low as a county executive. 
Wilson repeatedly said he would turn around the state as he has done with businesses throughout his career. He said he would cut income and property taxes by 20% and repeal regulations to put $3,000-$5,000 back in the pockets of middle-class New Yorkers. 
Abortion Rights
The U.S. Supreme Court's conservative majority has indicated that it will overturn Roe v. Wade, which would repeal federal abortion rights — a decision in the case at hand is expected this month. New York is among the states that is already moving to strengthen abortion rights, with Governor Hochul having signed new protections into law on Monday, just hours before the debate, building off of the decision to codify Roe protections into state law in 2019.
Zeldin said he is pro-life and said the state should not allow "late-term, partial-birth abortion", shouldn't allow non-doctors to perform abortions and called for parental consent for abortions. "We need to be promoting family and I believe that right now New York's law is going too far when you start allowing late-term, partial-birth abortion," he said, in reference to a practice that is virtually never used. 
"I'm pro-life and I'm not afraid to say it," said Giuliani, proceeding to attempt to use the issue of bodily autonomy to attack vaccination mandates put in place during the pandemic. 
Wilson separated himself from the pack in saying he would not attempt to change state abortion law, but did say he was "uncomfortable" with partial-birth abortions and non-doctors performing the procedure. 
"I'm pro-life, I've always been," said Astorino, though he indicated openness to a "reasonable discussion" about abortion restrictions.  
Rehiring Unvaccinated Workers
Giuliani has said that he would rehire state and city workers who were fired from their jobs for refusing to be vaccinated against COVID-19. While the governor would have no authority to demand that of New York City Mayor Eric Adams, a Democrat, who has already refused to do so, Giuliani insisted he would put fired city workers on the state payroll. 
Wilson said he would rehire state workers but said he wouldn't "go beyond the purview of the governor's office."
Astorino said he would demand that city workers be given back their jobs as part of any negotiations with the city regarding the state budget or legislation. 
"The state should offer the people who used to work for the city a job working for the state," Zeldin said, insisting that he will end all covid mandates on day one as governor. 
Congestion Pricing
All the candidates were opposed to the implementation of congestion pricing, which is meant to limit car and truck traffic south of 61st street in Manhattan while raising much-needed revenue for the MTA. 
Zeldin said he would do "everything in my power" to stop congestion pricing, and emphasized the need for public safety to restore mass transit ridership, and therefore revenue, for the MTA. He also referenced long-standing calls he's made to better run the MTA in order to lower costs.
Astorino called the policy "another backbreaker" while Giuliani called it a "tax" on hardworking New Yorkers. Neither offered ideas for how to make up for the planned revenue from congestion pricing that is supposed to help pay for the MTA capital plan.
Wilson stressed the need for a long-term capital plan for the MTA, "that means dealing with the cost overruns on construction…driven by overtime, bad contracts," he said. 
Domestic Terrorism and Social Media
Following the racist mass shooting in Buffalo, Governor Hochul called on social media companies to crack down on the forms of hate speech that radicalized the shooter. But Republicans are among those who have been circumspect about restrictions on speech, citing the First Amendment. 
At the debate, Astorino blamed the state's current policies for the inability to tackle domestic terror. "We need to get very tough on criminals. That always is the case but it's not happening in New York. Charges are being dropped. We're coddling criminals. We're turning the other way," he said. He stressed the need to be careful about limits on the First Amendment and "who's going to define hate speech…That's not a rathole I think we should be going down."

"I too worry about constraints of the First Amendment," said Wilson. "I think the focus should be on people we know are problems: criminals, the mentally ill who have violent tendencies, and people who are purveyors of hate."

Giuliani suggested a repeal of Section 230 of the Communications Decency Act, which shields website owners from liability for content posted by third parties.

"You have to protect First Amendment rights and you can't infringe upon that," Zeldin said. "That has to be the gold standard." 
LGBTQ History in Education
Asked by the moderators, given it is pride month, about whether LGBTQ history should be taught in schools, the candidates took things in different directions, talking about sex education and other matters.
"I do not believe that the classrooms in New York State should be used to advance an agenda that is not age appropriate. Let parents deal with this at home," said Zeldin, who also jumped to attacking Critical Race Theory. "Parents have a fundamental right to control the upbringing of their child and they don't relinquish that right by sending their kids off to school," he added.
Giuliani cited the recent Parental Rights in Education legislation passed in Florida and signed into law by Governor Ron DeSantis. The bill prohibits classroom instruction on gender identity and sexual orientation from kindergarten till third grade. Opponents of the legislation have dubbed it the "Don't Say Gay" law." As a father of a young daughter, I'm concerned with how we've brought sexualization into the classroom at such a young age," Giuliani said. "I too believe that it's so important that parents take the lead in education and that includes sex education." 
"How are we having a debate in this country, whether sex should be taught to five year olds," Astorino said, though the question was about LGBTQ history. "It is completely inappropriate." 
Wilson stood apart again. Education, he said, is "a hugely important issue, but respectfully, the issues you're focused on are not the most important issues." Instead, he emphasized the need to "reinvigorate civics education" and a "curricular reboot" to help children recover from learning loss during the pandemic. Like the others, he did not answer the question about LGBTQ history.