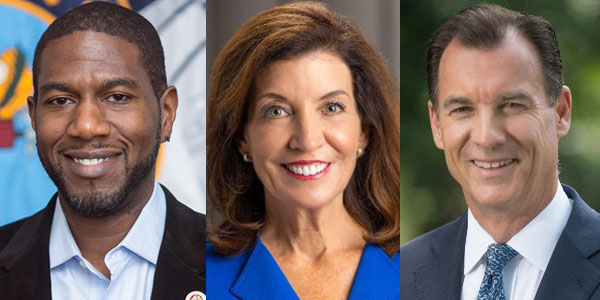 Jumaane Williams, Kathy Hochul, & Tom Suozzi
---
The three Democratic candidates for governor met at the final debate of the race on Thursday night, among their last opportunities to make an impression with voters before early voting begins on Saturday for the June 28 primary. Governor Kathy Hochul, who is running for her first full term, continues to have significant fundraising and polling advantages over her opponents, U.S. Rep. Tom Suozzi and New York City Public Advocate Jumaane Williams.
At Thursday's debate, hosted by NBC New York, Telemundo, and the Albany Times Union, the candidates covered some of the same ground from their previous debate encounter last week, with Hochul spending the hour fending off criticisms from her challengers and promoting her brief but busy record as governor. But the candidates, especially the underdog challengers, appeared to show an additional sense of urgency, likely knowing they needed to cut into Hochul's standing as voting is set to commence.
Suozzi was particularly dogged in his attacks against the incumbent, with several tense exchanges between the two. While Hochul was often on the back foot and at times struggled to rebut the criticism, Suozzi may have crossed the line into rude and patronizing behavior toward the state's first female chief executive. While she kept her composure throughout, at one point Hochul sternly told Suozzi to stop interrupting her.
He highlighted her past conservative-leaning positions on guns and undocumented immigrants. And he questioned her commitment to ethics over both her appointment of Brian Benjamin – who was Hochul's lieutenant governor before resigning in the face of federal corruption charges – and her negotiation of a new stadium deal for the Buffalo Bills, whose concessions contract is held by a company where Hochul's husband is a top executive. 
Hochul later said that her selection of Benjamin was the biggest mistake of her political career. She, in turn, pointed out Suozzi's "hypocrisy" as he is currently facing a potential ethics investigation in the House of Representatives over his stock trading portfolio and missed disclosures. 
For his part, Williams repeatedly critiqued Hochul's leadership and what he called her failure to address perennial issues including gun violence, the lack of affordable housing, and economic stagnation upstate. He pointed often to Hochul's six years as lieutenant governor under former Governor Andrew Cuomo, who she replaced nine months ago when he resigned in disgrace. "You can't spend six years taking credit for the good things that happened, and then not take accountability for the bad things that happened," he said at one point in the debate.
The debate covered a broad array of issues including public safety and gun violence, tenant protections, taxes and economic policy, education, climate action, abortion rights, mental health and more. But the candidates had little time to address each issue and consequently offered few solutions or plans to address them. There is little ideological difference between Hochul and Suozzi, both of whom are centrist Democrats with liberal streaks, while Williams sought to again clearly set himself apart as the progressive alternative in the race. 
But policy differences did emerge on several fronts.  
A major piece of legislation that failed to pass in the state Legislature this year was the "good cause eviction" bill, which the governor has not publicly supported. At the debate, she would not say whether she would have signed the bill if it made it to her desk, despite being asked twice by the moderators. Williams on the other hand has been an ardent advocate for the bill, which would strictly limit rent increases and evictions that landlords can pursue, and has sought to go further on tenant protections.
Suozzi is also not a supporter of the bill and, when asked about solutions for lowering rent burdens, simply stressed the need to build more affordable housing and invest more resources in public housing. 
The three candidates were particularly divided on tax policy. Asked about lowering one possible state tax, they each had a different answer. 
Hochul touted the recent temporary suspension of the state gas tax and expedited middle-class tax cuts that were passed in previous years. She did not say what tax she would cut but rather insisted, "We're not raising taxes on New Yorkers because they have suffered enough." 
Williams said he wants to "rightsize" the state's inequitable property tax system and raise taxes on billionaire New Yorkers to fund everything from housing to education. "That 'not raising tax' line is a Republican line that's meant to protect rich donors at the expense of people who need assistance," he said, referring to Hochul's answer. 
Suozzi promised to cut state income taxes by 10% and reduce property taxes, particularly for senior citizens. "Real people are suffering because we have the highest taxes in America," he said. 
The current governor's race is taking place as the specter of Cuomo continues to haunt the state's political scene. The former governor has continued to plot a political comeback despite being brought down amid multiple scandals that included sexual harassment and assault allegations, a cover-up of covid-related deaths among nursing home residents and making millions of dollars on a covid leadership memoir that appeared to rely on prohibited use of state resources in its production.  
At the debate, Suozzi was the only candidate who said he would nonetheless accept an endorsement from Cuomo, when the moderators posed the question. "I think that he's still very popular among a lot of people in New York State," Suozzi said. "And while he has a lot of baggage, along with what he's done, he's accomplished a great deal in the state of New York." 
Williams and Hochul both said no. 
As the state braces itself for a U.S. Supreme Court decision that could overturn restrictions on the concealed carry of firearms in New York, officials have expressed concern that the current gun violence crisis could be further exacerbated. But at the debate, the candidates gave few solutions for that possibility. 
Hochul said her administration will be ready to act as soon as the decision comes down from the court, though they are in a wait-and-see pattern to determine their approach. "I can't say right now what the approach will be because I have to see what basis they use to strike down the law and then we'll figure out what the answer is and make sure that our law can be legally sustainable," she said, adding that she's been in conversation on the issue with the legislative leaders.
Williams and Suozzi took the opportunity to highlight Hochul's past as a favored candidate of the National Rifle Association. "Unfortunately, we're ten years behind on this because we had a governor in Congress who's doing the work of the NRA," Williams said, insisting that the state should have spent $1 billion on gun violence prevention programs in the state budget adopted in April. 
Hochul has previously explained that her positions have since evolved, which Suozzi has repeatedly pounced on. "She says she's evolved. She didn't evolve after Columbine. She didn't evolve after Virginia Tech," Suozzi said. "The only thing that's evolved are the governor's political ambitions." 
The debate around public safety has been particularly fierce this year when it comes to the New York City subway system. Early this year, Hochul and New York City Mayor Eric Adams (who endorsed Hochul this week, she noted) partnered on a plan to use a combination of state outreach workers and NYPD officers to remove homeless people from the system, particularly to provide assistance and treatment to those with severe mental illness. 
Asked about the success of the program, Hochul implied that it was too early to judge. "We're just getting started," she said. "We've been in this office just a matter of nine months. It is a long-standing problem. But at least we're recognizing it and we're not ignoring it and hoping it goes away."
Williams again pointed to Hochul's six-plus years in state leadership. "The thing that we need is a governor who has been working on these issues like I have in the city to build a structure of continuum of care for mental health," he said. 
Suozzi called for an expansion of Kendra's Law, which allows court-ordered outpatient treatment for people who might be a danger to themselves or others and was indeed expanded by Hochul and the Legislature in the state budget deal. "This is the number one issue we face in the state and the governor has not treated it like the number one issue that it is," he said of public safety overall. 
There were a few areas of agreement among the three. They were all on the same page when it came to increasing wages for home health-care aides as the state faces a major shortage of those workers. They all spoke of greater resiliency measures that would protect New Yorkers who live in flood zones. And all three supported legislation that would mandate that schools teach Asian American and Pacific Islander history. 
There was no consensus, however, on the question of whether elementary school curriculums should include required lessons on gender identity and sexual orientation. 
Williams supported the measure. "We just have to teach children at the level that they can understand and not above that," he said, noting that the conversation has to have nuance.
"I wouldn't teach children under fifth grade about sexual orientation or about genitalia or about sexuality," said Suozzi. "I think that that's up to parents to do that."
"Everything has to be age appropriate and parents involved," said Hochul, who didn't take a clear stance but said she would work with legislators, parents, and local school boards.
At times, Williams found himself on one side of an issue with Hochul and Suozzi on the other. Asked about the state's Excluded Workers Fund, which provides relief to undocumented New Yorkers who couldn't receive federal pandemic relief, he was the only one to say he would replenish the fund and increase its total funding. 
Williams was also the only one to say that state funding should be used for travel and lodging for people coming to New York to seek abortions. The governor recently provided $35 million to bolster reproductive clinics in the state. But, she said at the debate, "I don't support taxpayer dollars being used to pay for transportation but I'm working with the advocacy groups, the not-for-profits, corporations to help fill these gaps and let people know that this is a safe harbor for people." Suozzi expressed support for safe and accessible abortion care, but opposed the use of state funds for travel and lodging for abortion care. 
Faced with a mental health crisis among young people across the state, the candidates did not offer concrete plans. Hochul touted $10 billion funding in the state budget to recruit health care workers, particularly mental health workers. Williams insisted that schools need more funding for mental health services for students. 
Suozzi faulted both for emphasizing more spending. "We don't have more money," he said, again referencing the state's high taxes but not acknowledging how flush state coffers are due to tax revenue and federal pandemic aid. He said current funds should be reallocated towards youth mental health.
The candidates presented differing visions for the struggling upstate economy. Williams has long criticized Cuomo, and by extension Hochul, for repeatedly sinking billions of dollars into large-scale projects in upstate communities with meager results. He insisted that the funds should go to small businesses instead to spur local growth. 
Suozzi said he would cut taxes and regulations to incentivize entrepreneurship. 
Hochul said the upstate economy has been "neglected for decades." "It never received the attention it needed…It's an important part of our ecosystem," said the Buffalo native. She offered no direct solutions but indicated that she would be a strong cheerleader for upstate. "It's about telling employers, 'you come to a place like upstate New York, you'll have low cost power, the most highly-educated, skilled workforce, the hardest working people,'" she said. 
Even as the state continues to deal with the COVID-19 pandemic, another threat is looming in the form of Monkeypox, which has begun to spread in New York. The candidates were each asked how they would treat it differently compared to covid. 
"It's all about being ready, treating it like a military operation," Hochul said, pointing to the steps she's already taken to respond to spikes of the coronavirus. 
Williams pointed to the chaotic decisions of the Cuomo administration in the early days of the pandemic, and said he would do things differently. "We'd have clear, concise information. We'd have resources to the people who are hardest hit," he said.

Suozzi said he would have a "comprehensive plan" in place, but gave no other details.