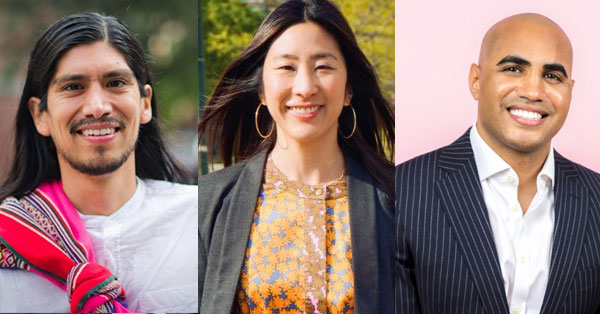 (l-r) Illapa Sairitupac, Grace Lee, and Denny Salas
---
UPDATE: Grace Lee won the Democratic primary for Assembly District 65. Read the full story for background on the race, her priorities, and more:
There's a wide open and highly-competitive Democratic primary heading for the finish line in Lower Manhattan's 65th State Assembly District.
It is among many Assembly primary elections where voting is set to conclude Tuesday, along with the statewide party primaries for Governor and Lieutenant Governor, as well as some down ballot races. Another set of primaries will unfold in August.
Assemblymember Yuh-Line Niou, a progressive rising star, is leaving the 65th Assembly District seat to run for Congress in the new 10th Congressional District, part of a crowded primary that will be decided in August, along with other U.S. House and State Senate party primary elections.
Running to replace Niou in the heavily-Democratic Assembly district are social worker Illapa Sairitupac, charter school development officer Denny Salas, and small business owner Grace Lee, who unsuccessfully challenged Niou for the seat in 2020. All three candidates have been involved in local community organizing in different ways.
The new 65th district, somewhat redrawn in the redistricting process, includes Chinatown, Two Bridges, the Lower East Side, South Battery Park City, and part of the Financial District. The total population of more than 139,000 residents, based on 2020 Census data, is 33.5% white, 36.8% Asian, 19.1% Hispanic, and 6.6% Black, according to Redistricting & You: New York from the CUNY Mapping Service. Residents of the district voted heavily Democratic during the 2020 presidential election, with 83.3% casting their ballot for now-President Joe Biden and 16.7% voting for then-President Donald Trump.
Niou was the first Asian-American to represent the district that is home to Chinatown and she won the seat over a short-term incumbent with establishment support who had replaced the disgraced former Assembly Speaker Sheldon Silver. Backed by the Working Families Party and several progressive elected officials and clubs, Niou was victorious in 2016 and has been a leading progressive voice in the State Legislature since.
In the race to replace her, Lee has been endorsed by a long list of officials and groups, including Rep. Jerry Nadler, Manhattan Borough President Mark Levine, Citizens Union, and several labor unions, among others; while Sairitupac is backed by the Democratic Socialists of America-New York City, the Working Families Party, and a slew of progressives including Rep. Alexandria Ocasio-Cortez and Lieutenant Governor candidate Ana María Archila; and Salas, has the backing of several law enforcement unions, among others.
Gotham Gazette spoke with the three candidates about their vision and priorities for the 65th Assembly District.
Denny Salas
Salas, currently a development officer at the Bronx Charter School for Better Learning, told Gotham Gazette that his campaign heavily incorporates the immediate concerns of residents of the district. Before launching his platform, Salas said he solicited feedback from the community, who ranked their top priorities, in order, as public safety, education, the economy, the environment, housing, and health.
"When you have this majority-minority district and you walk around, what you see is that their needs haven't been addressed," said Salas, who ran unsuccessfully for City Council last year. "There was this yearning for an elected official that was actually listening to them and trying to represent them."
To address public safety, Salas wants to amend the state's bail law to ensure perpetrators face consequences, pointing to how an individual has been able to access immediate release even if they are accused of possessing an illegal weapon or committing a hate crime. He hopes to add an Asian and Pacific Islander, Black, Latino, Jewish, and LGBTQ Hate Crimes Task Force in every police department across the state, as well as restrict the number of jails and homeless shelters in working class neighborhoods, increase funding for community-based organizations and violence interrupters, and provide more health services to individuals experiencing mental illnesses, among other policies.
"We're looking at it, we live it — we're living it every day here and it's unfortunate, and it shouldn't happen," Salas said about increases in crime over the past two-plus years.
Since the start of his campaign, he has received a string of endorsements from law enforcement unions, including the Captains Endowment Association, the Detectives Endowment Association, the Lieutenants Benevolent Association, and the Sergeants Benevolent Association. 
On education, Salas said he wants to expand the number of citywide high-performing schools, specialized high schools, gifted and talented programs, and afterschool programs. He argued that increasing partnerships between high- and low-performing schools can improve student test scores and create new student programs, as he said he's seen working at the Bronx Charter School for Better Learning.
Salas' platform on the economy includes supporting small businesses by creating a statewide Paycheck Protection Program and subsidizing wages, advocating for higher wages for workers, expanding export grants and increasing grants for minority- and women-owned businesses and other marginalized groups.
Salas also said he would put more funds into resiliency projects in Lower Manhattan and carbon-free energy, and develop disaster-proof communication services for first responders.
When it comes to housing, Salas said that he wants to better fund the New York City Housing Authority (NYCHA), create a new Mitchell-Lama program for more affordable homeownership, and support a rise in community land trusts and tax credits. On health, he hopes to have a public healthcare option for all residents, advocate for reproductive rights, and push the enactment of congestion pricing.
"I have taken the time and done the work to speak to every part of the community," Salas said. "And it's not me telling them what I want them to do or what I want to do for them. It's me asking, 'Are you okay? What are your main concerns? And how can I help and approach it from the lens of listening and not telling them anything?'"
Salas said he is "actually representative" of the neighborhoods of the 65th Assembly district.
He calls himself the "product of the American Dream" given his youth growing up poor with his parents, immigrants from the Dominican Republic, and move into the middle class thanks to education and other opportunities.
Salas started his career as a stockbroker before quitting his job to join then-President Barack Obama's political organization, Organizing for America. He then worked on Capitol Hill under a congress member from Massachusetts, the state where he grew up, and later became a political consultant and a lobbyist for small business boat manufacturing.
Alongside the law enforcement endorsements, Salas has received support from Justin Yu, the former president of the Chinese Consolidated Benevolent Association, and Alan Gerson, a former District 1 City Council member, as well as other groups and unions including the United Democratic Organization, Asian Wave Alliance, StudentsFirstNY, Great Public Schools, Steamfitters Local 638, Sheet Metal Workers Local 28 and more.
Illapa Sairitupac
Illapa Sairitupac, a democratic socialist who has lived in Lower Manhattan for nearly a decade, is running to represent the 65th district as an advocate for the working class. The top priorities of his campaign include climate, housing, healthcare, and workers' rights, as well as public safety, immigration, transit, education, feminism, and LGBTQ protections.
"I know how it is to advocate for working class folks who are marginalized, who are forgotten about, and that translates pretty beautifully into being a candidate and listening to them on the streets, listening to them in their homes, listening to their worries, their pains and their concerns, and being a champion for them," Sairitupac told Gotham Gazette.
As a mental health social worker and climate organizer, Sairitupac said he will use his experience to fight for free healthcare for all and a Green New Deal. If elected to office, he will champion the New York Health Act, which would create a state single-payer health care system, and the Build Public Renewables Act, which allow the state's power authority to produce far more renewable energy for use in New York as it seeks to move away from fossil fuels.
Sairitupac added that he wants to fully fund hospitals, expand access to healthcare, and end medical debt. He would support Good Cause Eviction to protect tenants and reduce mass evictions, push for all forms of public transportation to be fare-free, and call for energy utilities, such as Con Edison, to be publicly-owned.
On public safety, Sairitupac supports funding community-based violence prevention programs, which would connect community members with young individuals who are at risk of perpetrating violence or being victims. He wants to pass Daniel's Law, in which trained mental health professionals would respond to mental health and substance abuse emergencies instead of police officers, and expand mental health walk-in clinics in the district. 
Sairitupac is opposed to the building of a new jail in Chinatown, part of the city's plan to replace the Rikers Island jail complex by 2027, or any new jail, and said he will fight to reduce mass incarceration. He said he would work to decriminalize low-level drug possession and expunge past misdemeanor drug convictions, among other policies.
When asked why he is the best fit to represent the 65th Assembly district, Sairitupac said it is important for a person like himself, the son of working class immigrants from Peru, to represent working class communities. As a queer person, he pointed to the history of queer liberation movements in Lower Manhattan and their importance in fighting for LGBTQ rights.
"I believe that we need change to come from the ground up," Sairitupac said. "I don't see myself being a legislator in his ivory tower. I want to be on the streets as I have been already, talking to folks, being accessible to them and listening to them."
Sairitupac, who is backed by the Democratic Socialists of America-New York City, is the first candidate to be endorsed by the organization in Manhattan, as the local DSA has been focused largely on races in Brooklyn and Queens over recent election cycles. DSA has picked up key victories in state legislative races since 2018, including two Brooklyn State Senate seats and a handful of Assembly seats in Brooklyn and Queens. But the group came up short during last year's City Council primaries, when two of its six endorsed candidates won -- one in Queens and one in Brooklyn.
"I'm running on a slate of other leftists in different parts of the city, and if a bunch of us win, we'll have more power combined with the other leftists, socialists who are already in office," Sairitupac said. "We can create a voting bloc inside the Assembly and organize our other Assembly colleagues to move on bills that we know are common sense, so we can invest in the communities and we can fight for resources to be distributed equitably to our communities."
He also secured the endorsements of Rep. Alexandria Ocasio-Cortez; former gubernatorial candidate Cynthia Nixon; and democratic socialists elected to the State Legislature and City Council: State Senators Jabari Brisport and Julia Salazar; Assembly Members Zohran Mamdani, Emily Gallagher, Marcela Mitaynes, and Phara Souffrant Forrest; and City Council Members Tiffany Cabán and Alexa Avilés.
Alongside DSA, Sairitupac has received support from the New York Working Families Party, Tenants PAC, New York Communities for Change, and Green New York, among others.
Grace Lee
Lee — a small business owner and first-generation Asian-American — said she is running for the Assembly as the only candidate who has been actively involved in community organizing in the district. She said she will bring her experience of coalition building among elected officials, city and state agencies, and local leaders to Albany.
"As a community organizer, I've seen how the government has failed many people," Lee told Gotham Gazette. "I believe the district needs and deserves a representative who is on the ground, knows the issues intimately in this community, and can amplify the voices of the community to help deliver results."
Lee previously ran for the 65th Assembly district in 2020 against Niou, who won by a wide margin. If victorious this time, Lee said her top priorities would be public safety, affordable housing, and education, followed by climate, fair taxes, health care, immigration, jobs, transportation, women's rights, LGBTQ protections, and more. 
She said public safety is her number one concern, and she believes the path to having a safer community is better coordination among the NYPD, city and state agencies, and community advocates. Lee supports increasing foot patrol officers to have more of a physical NYPD presence in the district, and she also wants to see community policing in the communities of the 65th Assembly district.
"As a mother of three young girls and as an Asian-American woman, I know what it feels like to feel unsafe, especially these days," she said.
Lee said that the two leading drivers of crime are poverty and the lack of economic opportunities, and she believes it is necessary to invest in services that lift residents out of poverty, address racial inequity, and provide mental health care and housing. She added that law enforcement and prosecutors need to be held accountable, and lamented that many victims of anti-Asian hate crimes are not taken seriously.
On housing, Lee said she would pass Good Cause Eviction and supports preserving existing affordable housing by increasing funding for NYCHA and Knickerbocker Village in Two Bridges. She also said she would fight to expand down-payment assistance for first-time home-buyers.
Lee said that all students deserve a fully-funded education, and she supports investing in universal childcare and the New Deal for CUNY, which would add more funding to CUNY and make it tuition-free again for in-state students. She said it is important to close the learning gaps caused by the pandemic.
Through her community activism, Lee said she has achieved a number of accomplishments in Lower Manhattan, where she has lived for the past 15 years. She pointed to her work with Children First, a parent-led coalition she co-founded that is fighting a developer who is trying to build housing in the South Street Seaport on a site that may contain mercury in the ground from a past thermometer factory and is located across from two elementary schools. 
She also said she has delivered meals to NYCHA residents throughout the pandemic, helped neglected deaf residents form a tenants' association in their building on Forsyth Street, and was arrested for protesting the construction of the Chinatown jail last month. "I've put my body on the line to protect this community," she said.
Lee has received a host of endorsements from elected officials, district leaders, and community activists since the start of her campaign, including Manhattan Borough President Mark Levine, State Senator John Liu, Reps. Jerry Nadler, Grace Meng, and Hakeem Jeffries, and City Council Member Christopher Marte, who represents the 1st Council district that overlaps significantly with the 65th Assembly district. 
She has also garnered support from a number of Democratic clubs, political and civic organizations, Chinese family associations, and labor unions, such as DC37, the New York State United Teachers, the New York State Nurses Association, the New York City District Council of Carpenters, the Stonewall Democrats, and Citizens Union, among others.
Lee said only a few districts in New York State have a large Asian population, which includes the 65th district, and she hopes to be a voice for the Asian-American community in the Assembly.
"The Asian community is going through a lot and they deserve voices in government," she said. "It would be an honor to be one of the very few Asian-Americans elected."