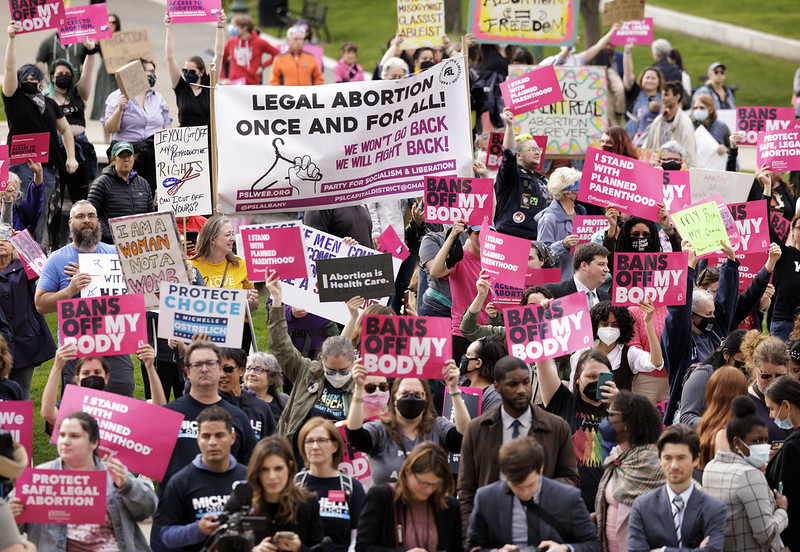 A rally in support of abortion rights (photo: Mike Groll/Governor's Office)
---
The U.S. Supreme Court's conservative majority issued two major rulings this past week, overturning Roe v. Wade federal abortion rights and striking down a New York State law that limited the concealed carrying of firearms. Both judgements have sprawling national implications, including as this year's elections will decide control of the U.S. Senate and House of Representatives, with several swing races here in New York.
The decisions have also brought abortion rights and gun control to the forefront in the middle of a state election where Republicans are trying to win the New York governor's office for the first time in 20 years and the state's first female governor, Kathy Hochul, is attempting to win her first full term in the position.
The decisions from the court, both of which were 6-3 rulings, came back to back this week, predictably prompting widespread outrage from Democrats and celebration from Republicans — though some in the New York GOP appear to acknowledge that the rulings will likely hurt their party in this state dominated by Democrats and where Republicans are outnumbered by independents, who favor abortion rights and gun regulations by wide margins.
First, on Thursday, the court scrapped a state law that required individuals to show "proper cause" in order to get a license to carry a gun outside their homes. The justices ruled that the law violated the Second Amendment right to keep and bear arms. Several other states including New Jersey, Massachusetts, Maryland, and California have similar laws that are likely to face legal challenges as a result.
Governor Kathy Hochul and the state Legislature are already working to shore up the state's law in response, with the governor calling a special session for June 30 (two days after primary election day in statewide races) "to pass new gun safety legislation in response to the United States Supreme Court's decision in NYSRPA v. Bruen."
Following that ruling, in a rejection of a nearly 50-year precedent issued Friday, the court nullified Roe v. Wade, which guaranteed the federal constitutional right to abortion. New York will continue to guarantee abortion rights under the Reproductive Health Act of 2019, which codified the protections of Roe v. Wade into state law, as well as a number of other laws and budgetary actions meant to ensure reproductive rights and health care. But in 11 states, abortions have immediately become illegal, while a dozen other states have passed laws that will soon take effect.
The decisions could shake up the gubernatorial election that has so far been largely focused on crime and the economy. It's unclear if a shift could happen in this month's party primaries, with early voting already underway, but both decisions have given Hochul especially additional leverage in appealing to base Democratic voters -- she has already been airing ads touting her work on both subjects, though her primary opponents have criticized her past conservative record on guns.
On the Republican side, four candidates are seeking the nomination for governor: U.S. Rep. Lee Zeldin (the frontrunner with the state GOP's endorsement), former Westchester County Executive Rob Astorino, businessman Harry Wilson, and former Trump White House aide Andrew Giuliani. All four are opposed to the state's strict gun regulations and all except Wilson are opposed to abortion. As expected, Zeldin, Giuliani, and Astorino lauded the Supreme Court's Roe ruling on Friday.
Giuliani said the decision was "a victory for states' rights but more importantly, the sanctity of life." 
Zeldin said, "Today is a victory for life, for family, for the constitution, and for federalism."
In the Democratic primary, Hochul is competing with U.S. Rep. Tom Suozzi and New York City Public Advocate Jumaane Williams. In recent months, as the repeal of Roe was on the horizon given a leaked majority draft opinion, Hochul signed into law several new laws extending abortion protections and contraceptive access, as well as a raft of gun control measures in the wake of the racist mass shooting in Buffalo. All three Democrats lambasted Friday's ruling.
"They just set women back in this country, back to the dark ages," Hochul said.
"American women today will have less freedom than their mothers," said Suozzi. 
"People will die because of today's decision," said Williams in a statement. "People have and will always seek abortions, and criminalizing them, making services inaccessible, only makes them more dangerous."
Public polling shows that Hochul and Zeldin are favored to win their respective primaries, but turnout is difficult to predict and the polling may not be particularly reliable.
Republicans have been hopeful this year that they might finally be victorious after 20 years of successive Democratic governors by emphasizing rising crime and focusing on pocketbook issues, a strategy that has won them several recent local races across the state. But with abortion rights and gun control taking center stage, more New York voters may gravitate towards the Democratic Party in the November general election.
"If we went back to February and March, the perception was that this election here in New York would be driven by the voters' perceptions on rising crime and rising inflation," said Bruce Gyory, an election expert and Democratic strategist. "Now all of a sudden you have very controversial issues in play, you have the Roe v. Wade issue, you have the guns issue."  
"I think the net effect of all these issues is, it will help Hochul position herself in the primary because it puts her front and center on issues that are remarkably uncontroversial within the Democratic Party," he added. Those issues also draw independents, he said, who will be able to vote in the general election but not in the closed primaries. "This could fortify Hochul and make whoever wins the Republican primary have a more difficult path," Gyory said.
The Supreme Court's ruling and Republican ideology are increasingly out of step with the public, nationwide and particularly in New York. A Siena College poll released June 13 found that a majority of New Yorkers support new gun controls and enhancing abortion protections.
The poll respondents said 76-14% that requiring a permit to acquire a semiautomatic rifle that includes being 21, passing a background check, and taking a safety course would be good for New York as opposed to bad for the state; 58-24% favored outlawing armored vests, except for law enforcement and first responders; and by a margin if 63-19% were in support of stronger legal protections for people seeking or performing abortions in the state.
Nationally, a majority of Americans also support the right to abortion and gun controls, and those numbers have trended upwards for years.
"It's going to be in the hands of voters – not pundits, like me not, not the candidates themselves – what issues voters prioritize," Gyory said. "The summer months between the Fourth of July and Labor Day tend to be the kiln into which the soft clay of voters' priorities become hardened and and we'll see where we are going into Labor Day and coming out on Labor Day on these issues."
Predictably, Democratic support for abortion rights and gun control is stronger than with Republicans and independents, but the opinions of the latter group is particularly meaningful for the general election in statewide races, among others. In the Siena poll, 83% of Democrats support strong permit requirements for semiautomatic rifles, compared to 67% of Republicans and 73% of independents. Among Democrats, 77% supported expanding abortion protections, while only 44% of Republicans and 52% of independents felt the same.
But on simply upholding Roe v. Wade, the poll taken earlier in the month it was overturned showed New Yorkers in favor by 60-24%, with Democrats at 73-16% in favor of the Supreme Court upholding the precedent, Republicans at 41-39% to uphold, and independents at 57-25% uphold Roe.
Besides the Governor's race, Republicans are also hoping to make gains in the State Senate and in the House of Representatives, where Democrats' are fighting to hold on to their slim national majority. There are a series of key races in New York — including tossups in Districts 3, 18, 19, 22, and New York City's district 11, where Democrat Max Rose is attempting to unseat Republican Rep. Nicole Malliotakis and regain the seat he held for one term before she beat him in 2020. In such swing districts, Republican candidates, including incumbents, will likely face a barrage of criticism for their votes on abortion and gun control.
Some Republicans have been transparent that they in part came to a bipartisan congressional agreement on newly-enshrined gun safety measures because of the strong support for such steps among suburban voters, many of whom tend to be swing voters. Republicans have made no such movement on abortion, however.
The New York State Democratic Party is already using the Republicans' positions against them, particularly with Zeldin and Giuliani.
"Zeldin and Giuliani continued utilizing the Trump playbook, promoting far-right conspiracy theories, attacking abortion rights, and pushing a dangerous, pro-gun agenda," the party said in a press release after the third Republican debate. "With their final pitch to right-wing voters, both candidates assured viewers they would pursue dangerous policies that would drag New York backward."
Among New York Democrats, there is already a push to further expand abortion rights by passing an Equality Amendment to the state constitution, which would have to be approved in two successive sessions of the Legislature and then be put to a ballot referendum. However, in this year's legislative session, the Legislature could not come to an agreement on the language of the amendment and it did not receive a vote. It does not appear to be on the agenda for the special session Hochul has called for June 30 to deal with gun laws.
In a statement, New York Civil Liberties Union executive director Donna Lieberman, said of the Supreme Court decision, "This is an attack on women and anyone in need of abortion care. This is a full-scale assault on pregnant people, their health care providers, and their support systems. This is a racial, gender and economic justice catastrophe."
She called on the governor to immediately convene a special session of the Legislature to pass the Equality Amendment. "Failing to pass these critical measures this summer is unconscionable – we must protect abortion care and ensure that anyone needing care can get it right here in New York." she said.
Some New York Republicans appear to be anticipating the Democratic push to expand abortion rights and to center the issue for this year's elections. State Senate Republican Leader Rob Ortt noted in a statement that the Supreme Court's decision returns the issue of reproductive rights to the states and will have no effect on New York's law.
"Despite this reality, Albany politicians will sadly use this ruling to fear-monger and weaponize this issue for their own political gain," he said. "They will also attempt to expand abortion laws even further, forcing taxpayers to fund abortions, including late term abortions, for non-New Yorkers."