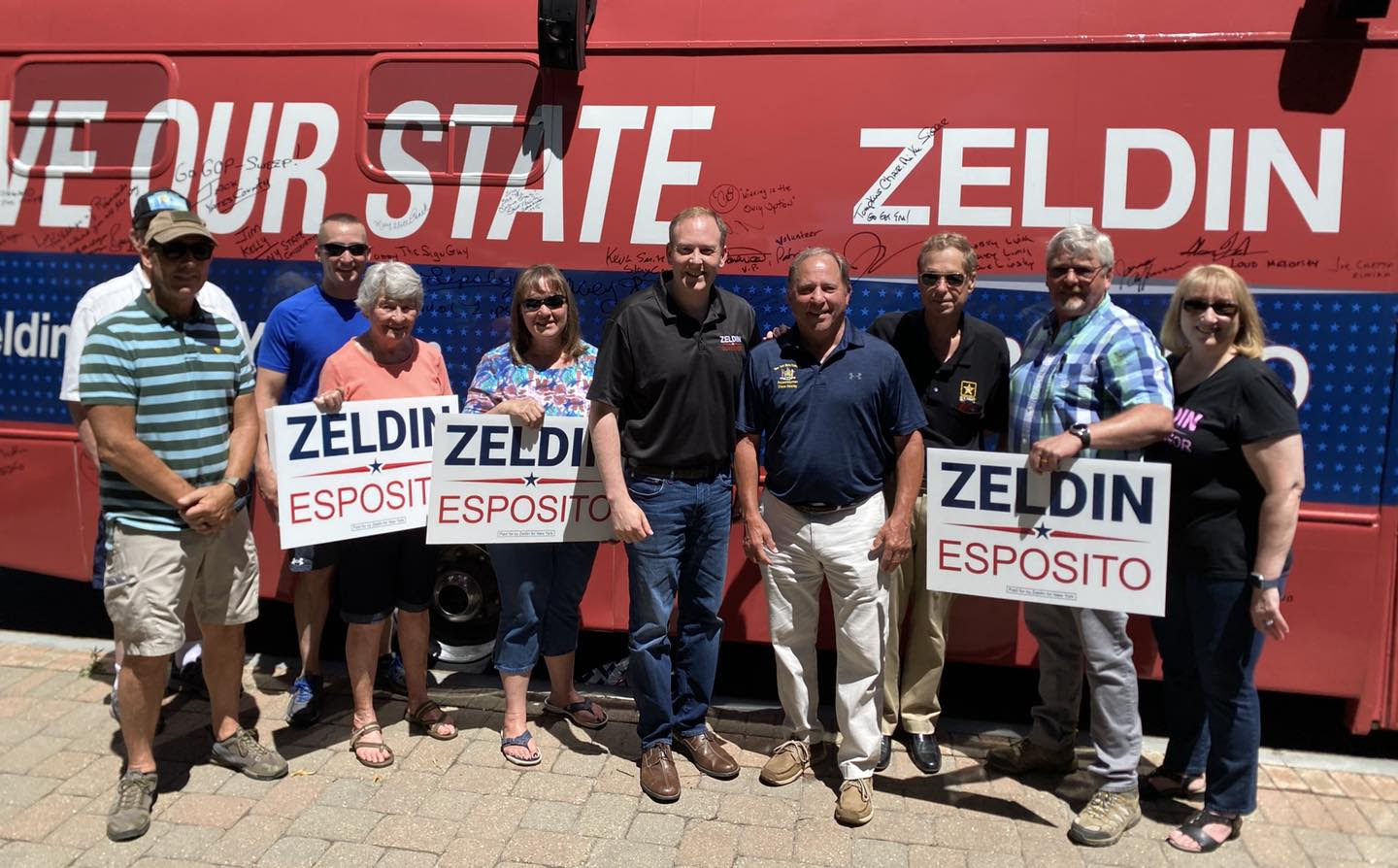 Lee Zeldin, center, on the campaign trail (photo: Zeldin campaign)
---
U.S. Rep. Lee Zeldin, who represents New York's 1st District on Long Island, won the Republican nomination for governor on Tuesday. Zeldin appeared headed to a fairly wide margin of victory in a highly competitive race, defeating three opponents in the primary: businessman Harry Wilson, former Trump White House aide Andrew Giuliani, and former Westchester County Executive Rob Astorino, who was the 2014 Republican nominee for governor.

The race was called by Spectrum News on Tuesday night around 10:30 p.m. as Zeldin's margin had become clear enough.
Zeldin was considered the frontrunner throughout the Republican primary. He jumped into the race early and quickly accrued endorsements from party officials, before winning the designation of the state GOP at its convention and many Republican leaders across the state. State Party Chair Nick Langworthy has been a big booster and close ally throughout the race, and Zeldin also has had the backing of the Conservative Party. Just last week, his campaign was bolstered by the endorsement of former Vice President Mike Pence.
Notably, former President Donald Trump did not make an endorsement in the race, though some of the candidates, including Zeldin, made their best efforts to appeal to the former president and even emulated his battle tactics during the three debates in the race. Zeldin mimicked the former president's tendency to nickname his critics – calling his opponents "Never Trumper" Harry Wilson and "Rolex Rob" Astorino, for instance. Zeldin was among the Republicans who voted against certifying the results of the 2020 presidential election, which Trump falsely said was stolen, on the night of the January 6, 2021 insurrection at the U.S. Capitol. Zeldin also twice voted against impeaching Trump.
Giuliani emerged as his closest competitor, benefiting from the name recognition that comes with being the son of Rudy Giuliani, the former two-term mayor of New York City and attorney for Trump. Wilson attempted to run on a more moderate "outsider" lane focused on turning around the state, but his resume and electability message did not land well enough with the party faithful.
Zeldin now heads into a general election matchup against Governor Kathy Hochul, who won her Democratic primary on Tuesday against U.S. Rep. Tom Suozzi and New York City Public Advocate Jumaane Williams, as well as the nominees of smaller parties.
Zeldin's running-mate is Alison Esposito, the Republican Party's lieutenant governor candidate and an NYPD deputy inspector, who got the party's nomination uncontested on Tuesday.
Zeldin and Esposito face an uphill challenge. No Republican has won a statewide race since 2002, when Governor George Pataki secured a third term. For a general election win, Zeldin will have to appeal to conservative and moderate Democrats as well as independents, since registered Democratic voters outnumber Republicans two-to-one and independents outnumber Republicans. His pivot to the general election as a Trump-supporting conservative firebrand will necessitate keeping the focus of the race on crime, taxes, and the economy.
Hochul is also ahead in fundraising and name recognition, and has the power of the office to wield as well as at least one poll showing her beating Zeldin by 24 points, though it was taken well before the general election begins.
Republicans have some cause for optimism, after making gains locally across the state last year and in a midterm election where Democrats are expecting a backlash from voters based on inflation and other factors. Zeldin and his fellow Republicans have also been laser focused on a rise in violent crime during the pandemic which, polls repeatedly showed, has been the top issue for voters.
Still, the recent Supreme Court rulings, especially in overturning Roe v. Wade, could make for a significant advantage for Democrats, while Hochul will attempt to paint Zeldin as anti-LGBTQ, anti-abortion, anti-gun control, and anti-democracy based on his past votes in the State Legislature and Congress, as well as recent statements.
Zeldin holds a bachelor's degree from the State University of New York at Albany and graduated with a law degree from Albany Law School at the age of 23. After law school, he served in the U.S. Army for four years in various roles including military intelligence officer, prosecutor, and military magistrate. In 2006, he was deployed to Iraq as a paratrooper with the 82nd Airborne Division.
Two years later, Zeldin first ran for Congress, unsuccessfully challenging incumbent Democrat Tim Bishop in New York's 1st District. In 2010, after practicing law in the intervening years, he successfully ran for State Senate, and was later reelected in 2012. In 2014, he took another shot at running for the 1st congressional district and won. He is currently serving his fourth term and is forgoing reelection to run for governor.
Zeldin has touted his various achievements in the State Senate and in Congress. As a state legislator, he chaired the committee on consumer protection. He led the effort to repeal the MTA Payroll Tax for 80% of employers, cosponsored a property tax cap that became law, and worked on veterans issues. He was also among the legislators who voted against New York's Marriage Equality Act of 2011.
As a congressional representative, he touts a long list of accomplishments including introducing and passing into law the Adult Day Health Care legislation for disabled and elderly veterans, and opening a new health care clinic for veterans. While Trump was in office, Zeldin ingratiated himself with the president, voting with his agenda 88.8% of the time, according to a FiveThirtyEight analysis. He rarely spoke out against the president, despite Trump's long history of public remarks that broke political norms.
Zeldin has raised about $10.2 million, transferred another $1.2 million to his campaign, and has spent about $9.2 million, leaving him with about $2.2 million for the general election, as of Monday, June 27, according to State Board of Elections campaign finance filings.
As governor has said he will try to repeal the state's bail reforms (which were passed in 2019 and then subsequently watered down somewhat in 2020 and this year), and other criminal justice reforms approved by the Democrat-led state Legislature including limits on solitary confinement. He has proposed allowing judges to consider a "dangerousness standard" when setting bail, and amending legislation that raised the age of criminal responsibility to give judges more discretion with adolescent offender cases.
He has proposed increased penalties on looting businesses, enacting a Law Enforcement Bill of Rights, and has promised to hire more police officers statewide. Zeldin is also in favor of maintaining the doctrine of qualified immunity, which protects police from civil liability, and opposes calls to "Defund the Police." And he has also proposed several measures that would make the parole process tougher for state inmates.
With inflation at record levels, Zeldin has promised to take steps to put money back in the pockets of New Yorkers, though he has provided few concrete plans to do so. He has said he will lower income and property taxes and cut state spending. He also wants to repeal the state's ban on fracking to open up more opportunities for natural gas and oil drilling in the state to lower energy costs, while also approving new gas pipelines and suspending the state gas tax.
Zeldin has celebrated the recent Supreme Court decision striking down a state law that restricted the concealed carrying of firearms. He has also broadly criticized the state's gun control laws, among the strongest in the country, calling for the repeal of the SAFE Act, a groundbreaking package which banned the most dangerous assault weapons, among other measures.
Zeldin has said that, on day one, he would rescind all covid mandates requiring masking and vaccination and that he would rehire state employees that were terminated for refusing to be vaccinated. He has also railed against New York's Reproductive Health Act of 2019, which codified Roe v. Wade abortion protections into state law and indicated he would like to appoint an anti-abortion state health commissioner.
As a reserve duty member of the military, Zeldin also has a lengthy plan for veterans including pledges to eliminate veteran homelessness, expanding Veterans Treatment Courts and other health care supports, establishing a new protected class for veterans under Human Rights Law, and more. 
Zeldin has proposed a 10-point "Reform Albany" plan that includes term limits for statewide officials, overhauling the Joint Commission on Public Ethics (which is already underway), and appointing a special prosecutor to investigate the Cuomo administration's handling of nursing homes during the pandemic. But he's also proposed instituting a voter identification law, which has long been considered by critics as a method of suppressing voting, particularly among communities of color.