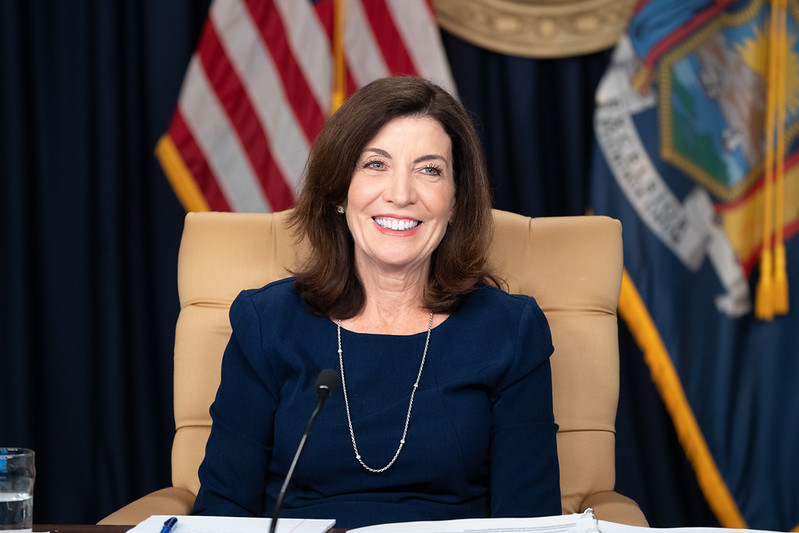 Gov. Kathy Hochul (photo: Don Pollard/Office of Governor Kathy Hochul)
---
Governor Kathy Hochul emerged victorious in the Democratic primary Tuesday, handily defeating her challengers, U.S. Rep. Tom Suozzi of Long Island and New York City Public Advocate Jumaane Williams. The race was called by the Associated Press shortly after polls closed at 9 p.m. as Hochul's wide margin quickly emerged.
New York's first female governor, Hochul ascended to the position from Lieutenant Governor upon then-Governor Andrew Cuomo's August 2021 resignation and she is attempting to win her first term as the state's chief executive.
"It's really a hard time for our state in light of what's happened in Washington," Hochul told reporters at her election night party, shortly after giving a victory speech. "And I want them to know that I'm a fighter, I'm going to be out there making sure that we protect New York values because they're just part of who we are. And we'll fight the Republican extremism, we'll fight...Trump's candidates this November all the way and I know that this community, the communities across the state are gonna be with us. So I'm feeling really good."
Heading into that fall general election, Hochul will face the Republican gubernatorial nominee, U.S. Rep. Lee Zeldin, who beat three other candidates to win his primary race, and other smaller party nominees. Hochul will now formally form a ticket with Lieutenant Governor Antonio Delgado, who she appointed to the role just last month after her first choice, Brian Benjamin, resigned after facing federal public corruption charges. Delgado won his own Democratic primary Tuesday despite being in office and in the race less than two months.
Polling suggests that Hochul will be strongly favored to win in a state where no Republican has won statewide in 20 years. Democrats outnumber Republicans more than two-to-one in the state, though independent voters and moderate Democrats may be crucial in deciding the general election. Hochul held a commanding lead in a head-to-head matchup with Zeldin in a SurveyUSA poll, besting him by a 24-point margin in a survey well in advance of the race that is about to unfold.
Hochul came into the primary with significant advantages over her opponents including name recognition, generally positive approval ratings, an especially hefty campaign war chest built with broad support from wealthy donors, and the backing of many elected officials and powerful labor unions.
Hochul also had the benefits of accomplishments during her brief but busy time as governor. She passed a $220 billion budget that invested billions in health care, housing, and transportation, hundreds of millions in climate action, expanded child care, and provided tax relief to middle-class New Yorkers and small businesses. The state legislative session also saw the passage of major pieces of legislation protecting voting rights, strengthening gun laws, and expanding abortion protections — Hochul quickly signed these into law, giving her a prominent platform just ahead of primary day.
In fact, throughout the months and days leading up to the primary vote, Hochul was able to hold a long series of government events cementing her position, including celebrations of budget outcomes, new announcements, bill-signings, and more. She ran on those recent accomplishments, as well as bringing a steady hand to state government rocked by scandal and a state devastated by COVID-19, and the implementation of programs and projects she launched in her early tenure — including expansion of child care, major infrastructure improvements, and more.
At the same time, she set a frenetic fundraising pace that put her well ahead of her opponents, raising as much as $34 million since becoming governor. She has blanketed the state with more than $13 million worth of ads promoting her record and candidacy, and also boosting Delgado. Overall in this election cycle, as of Monday, June 27, she has raised more than $39 million for her campaign, has spent nearly $26 million, and has nearly $13 million left heading into the general election, according to State Board of Elections campaign finance records.
"This is not for my ego," Hochul said Tuesday night about her wide margin of victory, when asked by reporters. "This just says that people are crying for a new kind of leadership. They've never had a woman as their governor before. They weren't sure what to expect. And 10 months later, to have this scale of support is humbling to me, but also opens the door for all women. All women now know that there are no barriers because a woman has succeeded, at least the first 10 months already, in the most rough and tumble state in the nation. It's not for the faint of heart. You have to have really steel running through your veins the way I do but also heart and compassion. And we're showing them a different way of governing. And that's what I set out to do back in August. And I feel we've been successful."
Much like her predecessor, Hochul is a moderate Democrat with progressive streaks. Some of her positions have evolved from an early career as a more conservative elected official in Western New York. For example, when she was in Congress, she received an 'A' rating from the National Rifle Association (NRA), which also endorsed her for reelection and donated to her campaign. As Erie County Clerk before that, when then-Governor Eliot Spitzer proposed allowing drivers licenses for undocumented immigrants, Hochul threatened to have potential applicants arrested.
As lieutenant governor and governor, Hochul has shown far more liberal positions on a number of issues, while maintaining some of her prior Democratic bona fides on women's rights and other topics. As chief executive of New York, she greatly expanded state spending, including use of large amounts of federal pandemic aid, while opposing any new taxes, while expediting middle-class tax cuts already in motion and passing a temporary gas tax holiday in the state budget this year. She also fended off some of the most ambitious progressive asks, which did not have the votes in the Legislature, including "good cause eviction," single-payer health care, and more, and she pursued rollbacks of criminal justice reforms sought by moderates and conservatives.
Her primary opponents used Hochul's past and current positions against her in the three debates in the race (Hochul did not attend the first), but Hochul not only discussed her evolution on gun regulations, she also signed into law a major gun control package shortly after the racist mass shooting in Buffalo and is convening a special legislative session to deal with the aftermath of a Supreme Court decision that struck down a state law restricting concealed carrying of guns.
Though she has not gone as far as some to her left would like, Hochul has approved legislation protecting undocumented immigrants. And she advanced new legal protections for abortion providers and recipients and expanded access to contraception, ahead of the Supreme Court's ruling that overturned Roe v. Wade last week.
Hochul is likely to center her action on gun safety and abortion rights in the general election against Zeldin, who celebrated both Supreme Court rulings, is against gun regulations of almost all kinds, and is proudly anti-abortion.
In the primary, Suozzi pitched himself as a "common sense Democrat" and ran a campaign focused heavily on crime and economic issues. But he and Hochul aren't far apart ideologically and they were both competing for the same voters in more moderate and conservative parts of the state.
Williams, a Brooklyn native, was expected to do well among progressives, who delivered more than a third of the primary vote against Cuomo in the last two primaries, and make a strong showing with voters of color in the city, particularly Black voters. But he ran a relatively lackluster campaign this year that could not come anywhere close to keeping up with the governor's well-funded operation.
Williams could not turn his campaign into a progressive movement project, and was unable to garner the types of game-changing endorsements he would need: The New York Times editorial board that backed him against Hochul in 2018 went with her this time; Reps. Alexandria Ocasio-Cortez, Nydia Velazquez, and Jamaal Bowman all endorsed his running-mate, Ana Maria Archila, for lieutenant governor but did not back Williams, and the same could be said for a number of state legislators.
Hochul's ten months as governor so far haven't all been smooth sailing. Despite promising a new era of ethical governance to rid Albany of Cuomo's various scandals and bullying autocracy, Hochul was embroiled in scandals of her own. She appointed State Senator Brian Benjamin as her lieutenant governor, only for him to resign within six months after being arrested and indicted on corruption charges. The Legislature then quickly passed a bill that allowed Benjamin to remove his name from the ballot and Hochul appointed U.S. Rep. Antonio Delgado to replace him as lieutenant governor.
Hochul's first budget was delayed, largely because of two last-minute issues she pursued to the dismay of many legislators: bail reform rollbacks and the addition of a $1.4 billion deal to build a new Buffalo Bills stadium, including $850 million in public subsidies. Hochul faced widespread criticism for the stadium move, which smacked of the types of budget maneuvers that Cuomo was known for. Good government groups also pointed to a conflict of interest – the concessions vendor for the current Bills stadium is Delaware North, a firm where Hochul's husband, William Hochul, is a top executive.
Nonetheless, Hochul has a series of accomplishments that she has touted in her campaign, even if she hasn't necessarily expressed a larger vision for the four years ahead beyond steadiness and a continued rollout of what she has done so far, especially on child care, affordable housing, infrastructure, and clean energy.
Good government groups did praise her for introducing a series of ethics and transparency proposals when she first became governor. They included ordering state agencies to expedite Freedom of Information requests, proposed term limits for statewide elected officials, replacing the beleaguered Joint Commission on Public Ethics (JCOPE) with an independent ethics watchdog, and mandating sexual harassment training for state workers. Though term limits were not approved, the governor and Legislature did come to an agreement to scrap JCOPE and create a new Commission on Ethics and Lobbying in Government. It remains to be seen whether the new agency will be more independent than its predecessor.
Hochul accelerated $1.2 billion in tax cuts to the middle class, which were previously approved in recent years. Her budget included $1 billion in property tax rebates affecting about 2 million households, $1 billion to expand high speed internet coverage to underserved areas, and $100 million for small business relief. She also increased wages for childcare workers, with $75 million in state funding.
Through the budget, Hochul advanced a $10 billion five-year plan for health care workforce development, including $4 billion to provide wage increases and bonuses for workers. Similarly, her long-term plan for housing involves a $25 billion investment over five years to build and preserve 100,000 units of affordable housing, including 10,000 units of supportive housing.
Unlike her predecessor, who had an infamously rocky relationship with former New York City Mayor Bill de Blasio, Hochul has worked collaboratively with Mayor Eric Adams, who endorsed her for governor. The two have partnered on various initiatives, notably a Subway Safety Plan for the city that involves deploying more police officers and state outreach workers to get homeless people out of the system and into shelter. She also fought for an extension of mayoral control of city schools and bail law changes, though she did not deliver what she and the mayor had wanted on either.
Hochul has promised strict action on the environment to achieve the goals of the Climate Leadership and Community Protection Act of 2019, which sets the state on a path to net-zero emissions by 2050. And she has taken steps in that direction. The state budget included a $500 million investment in offshore wind energy infrastructure, a $400 million Environmental Protection Fund, and the $4.2 billion Clean Water, Clean Air, Green Jobs Environmental Bond Act – an increase of $1.3 billion at Hochul's behest – which will be proposed as a ballot referendum in the November general election.
But climate activists and progressive elected officials have nonetheless criticized the governor for failing to support a series of bills that would have taken broader and immediate steps to address the climate crisis.
[What is Kathy Hochul's Gubernatorial Campaign Platform?]
The breadth of support for Hochul's campaign was apparent in the endorsements she secured. She was endorsed by most of New York's Democratic congressional delegation including U.S. Reps. Hakeem Jeffries, Yvette Clarke, Adriano Espaillat, Carolyn Maloney, Grace Meng, Jerrold Nadler, and Gregory Meeks; U.S. Senator Kirsten Gillibrand. She also received support from many state legislators, Mayor Adams, and other elected officials. 
She has the backing of hundreds of state, county and local elected officials and Democratic county organizations across the state. Major labor unions, civic organizations, and political action groups also supported her including the AFL-CIO Of New York State, New York State United Teachers , District Council 37, Transport Workers Union Local 100, 32BJ SEIU, the New York State Nurses Association, Retail, Wholesale And Department Store Union, the Hotel Trades Council, the New York State Public Employees Federation, Planned Parenthood Empire State Votes PAC, Emgage PAC New York Metro, Home Healthcare Workers of America, Everytown for Gun Safety Action Fund, and more.
The editorial boards of The New York Times, The New York Daily News, and The Buffalo News endorsed her as well, as did good government group Citizens Union.
Hochul has had a long career in public service. The Buffalo native has a bachelor's degree from Syracuse University and a law degree from Catholic University in Washington, D.C.. She worked in the capital at a major law firm before becoming legal counsel and legislative assistant to U.S. Rep. John LaFalce and then an aide to the late Senator Daniel Patrick Moynihan.
In 1994, Hochul was elected to her first public office as a Hamburg Town Board member, a position she held for 13 years. In 2007, she was appointed Erie County Clerk, was subsequently elected to a full term and reelected in 2010. In 2011, when Republican congressional Rep. Chris Lee resigned in the 26th District, Hochul won his seat in a four-way special election. She served till 2013 and lost her reflection race to Chris Collins, a Republican.
In 2014, Governor Cuomo tapped Hochul to be his running mate after Lieutenant Governor Robert Duffy announced his intention to retire. Hochul would spend the next six-plus years as Cuomo's lieutenant governor criss-crossing the state to promote the governor's policies and achievements even as the governor's team worked sideline her. As this year's election loomed, Cuomo even sought to replace Hochul on the statewide ticket with a candidate that would better appeal to voters of color.
By then, Hochul had already distanced herself from Cuomo as he was facing a cascading series of scandals including allegations of sexual harassment and assault, an investigation of  his administration's disastrous handling of covid in nursing homes, the improper use of state resources to write and promote his Covid memoir, and more. In August, Cuomo resigned, paving the way for Hochul to succeed him.