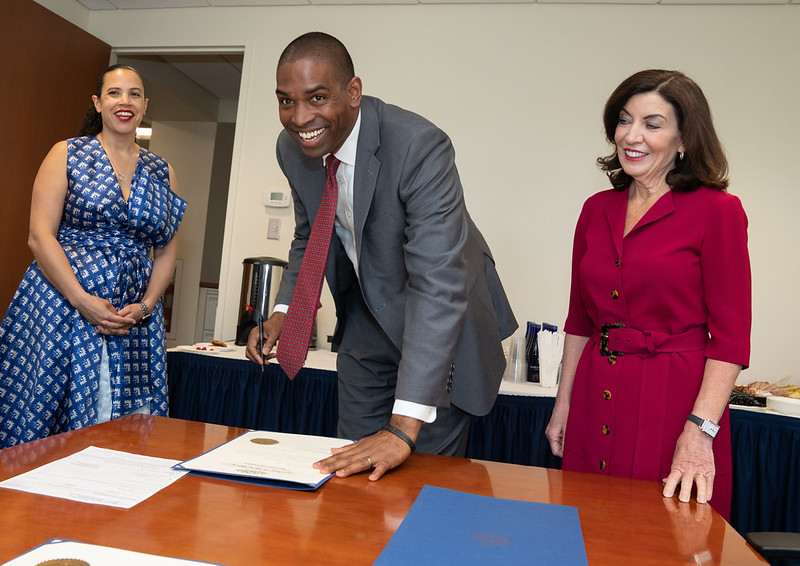 Antonio Delgado, center (photo: Don Pollard/Office of Governor Kathy Hochul)
---
Lieutenant Governor Antonio Delgado, a Hudson Valley Democrat and running-mate with Governor Kathy Hochul, won the Democratic primary on Tuesday, defeating progressive Ana María Archila and centrist Diana Reyna. Delgado, who only took office and joined the race in May, will formally join Hochul on the general election ballot after she emerged victorious in her primary as well.
"This is the fight of our lives," Delgado said Tuesday night in a victory speech at the election night party with Hochul. "It's a generational fight. This regressive and reactionary order is trying to reassert itself in this country and all people regardless of race, gender, sexual orientation, or economic status must stand together. Our democracy depends on it." 
Delgado, who previously represented New York's 19th congressional district, resigned from Congress last month and was sworn in as Hochul's lieutenant governor. He replaced former Lieutenant Governor Brian Benjamin, who resigned within six months of being appointed by Hochul after being arrested and indicted on charges of bribery and corruption. Benjamin was already on the primary ballot but the state Legislature rushed through legislation at Hochul's behest which allowed him to remove himself and for Delgado to run instead. 
With little time as lieutenant governor under his belt, Delgado has mostly touted his Democratic credentials and his accomplishments in Congress, while starting to appear at a variety of Hochul-led announcements and bill-signings. And he had significant resources to do so, with millions of dollars that he raised for his congressional campaign and with additional fundraising assistance from Hochul. He raised $2 million, transferred nearly $4.5 million, and spent about $3.8 million, leaving him with about $2.7 million in cash on hand, as of June 27. 
Besides the advantage of name recognition from being a sitting office-holder, Delgado also benefited from dozens of prominent endorsements from elected officials and powerful labor unions, most of whom also backed Hochul, as well as a barrage of advertisements by his campaign and Hochul's.
Archila, a longtime community activist, was running with gubernatorial candidate Jumaane Williams, the New York City Public Advocate, and was hoping to pull off an upset win and become the first Latina to be elected statewide after inspiring a surge of progressive support for her campaign. She had been endorsed by a long list of progressive groups and elected officials including the Working Families Party, U.S. Reps. Alexandria Ocasio-Cortez and Nydia Velazquez, and actor and former gubernatorial candidate Cynthia Nixon. Reyna, a former New York City Council member, was U.S. Rep. Tom Suozzi's running-mate. Her campaign did not make much of a mark and she came in third, like Suozzi in the gubernatorial primary.  
The position of Lieutenant Governor is mostly ceremonial, but its first in the line of succession in case the governor vacates their post and has also been a springboard for officials seeking to run for the top office. In the past, governors and their lieutenant governors have often had rocky relationships. Hochul's predecessor, disgraced Governor Andrew Cuomo, kept her at arm's length for much of her tenure and sought to replace her on the statewide ticket. 
But Delgado has said he will be a close ally of Hochul's and he is a reliable centrist in line with her political ideology. A Rhodes scholar and Harvard Law School graduate, he won his seat in Congress by defeating Rep. John Faso, a Republican, in a swing district and has among the most moderate voting records in the House.

"People are hurting all across the board, struggling to make ends meet, struggling to pay for groceries and gas, struggling to live in a safe neighborhood free of crime and gun violence, struggling to afford housing and health care, struggling to see how education is still the gateway to opportunity," Delgado said Tuesday night. "Meanwhile, we have so-called leaders exploiting that fear by fanning the flames of hate and division for their own personal gain. It's dark, it's ugly, and it's dangerous, and let's make no mistake about it. [Those] same dark forces that are undermining our freedoms and ripping apart the very fabric of our nation are now trying to take power here in New York."
"We need real leaders at a time like this," he continued. "We need public servants, those who humble themselves before the people and actually care about the people, who will fight to unite folks around a common cause and deliver results. We have to combat the forces of hate and division by meeting people where they are, not with a top-down politics but with a bottom-up approach where our strength is our unity."
"New York has always been ahead of the national curve, setting the pace, and now more than ever, we need New York to not only set the pace but to hold the line," he said.