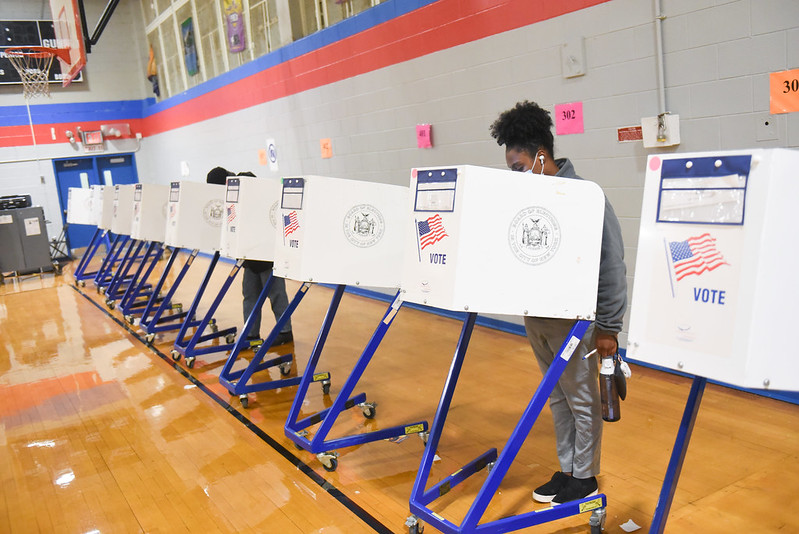 Voter turnout back down (photo: Michael Appleton/Mayoral Photography Office)
---
Voter turnout in New York City and State declined dramatically – by nearly half – from the 2018 Democratic primary for governor to the one that closed on Tuesday. 
In the race for the party's nomination, Governor Kathy Hochul won – by a wide margin – with close to the same number of votes Cynthia Nixon received in 2018 when she lost the Democratic nomination to incumbent governor Andrew Cuomo by a wide margin. The turnout this month was closer to other Democratic gubernatorial primaries over the last twenty years, which have consistently been among the lowest in the nation, though it was significantly larger than the 2014 primary.
Within that low-turnout environment, Hochul trounced her opponents, winning in a three-way race with roughly the same vote share Cuomo won in 2018. Public Advocate Jumaane Williams, who ran a progressive campaign to her left, came in second and U.S. Rep. Tom Suozzi, who ran in a similar centrist lane to Hochul's but to her right on crime and taxes, came in third.
With about 98% of districts reporting results (not including some absentee ballots), Hochul won with about 67% of the vote, compared with Williams' 19%, and Suozzi's 13%. In New York City, where Williams had the home field advantage over the Buffalo native and the Long Island congressman, the gap was slightly narrower: Hochul won 60% of the vote, with Williams pulling in 28%, and Suozzi 12%.
According to preliminary data, just 865,000 registered Democrats — or 13% of the roughly 6.5 million registered Democrats across the state as of the most recent Board of Elections data — voted for governor (a number will grow slightly as final ballots are counted and reported).
That's compared to 1,558,000 Democratic primary voters, or 25%, in 2018 and the 574,000 Democratic primary voters in 2014, an abysmal 10% of registered party members.
New York City saw a similar pattern with 446,000 Democratic voters (13% turnout) compared with 913,000 (27%) in 2018 and 298,000 (9%) in 2014. The crowded, competitive Democratic primary for mayor last year had 942,000 ballots counted, roughly 25% of registered Democrats.
Democratic enrollment has increased statewide since 2014, growing from 5.9 to 6.5 million registered voters. The New York City rolls have grown too, jumping about 220,000 between 2014 and 2018, and growing a smaller 90,000 since then. Enrollment and turnout trends leading up to and during the 2018 election appear to have had several causes including the response to Republican Donald Trump's election as president, intensifying intra-party conflict involving then-Governor Cuomo, and enhanced local attention on the balance of power in the New York State Senate, which shifted to Democratic hands after that year's elections.
Voting rights advocates hoped that syncing state and congressional primary dates, as state lawmakers did in 2019, would help boost turnout. But that couldn't be tested this year, after a state judge postponed congressional and State Senate primaries to August after ruling newly drawn district lines invalid. This was the first gubernatorial primary held in June, rather than September in years. Governor Hochul and lawmakers then decided not to pursue shifting the June statewide and Assembly primaries to August, in a move that appeared to help incumbents. 
The Democratic race for governor was in some ways a rematch of the 2018 lieutenant governor primary between an incumbent Hochul and Williams, but with the addition of Suozzi and a vastly altered political landscape stirring the electoral calculus.
In 2018, the Democratic primary for governor was a two-candidate field with Nixon running against a second-term Cuomo on a progressive platform challenging the entrenched political ethos he cultivated. Williams, then a City Council member, was offering a progressive alternative to then-Lieutenant Governor Hochul. While Cuomo received roughly 66% of the Democratic vote against Nixon, Hochul beat Williams with just 53%.
The Nixon-Cuomo primary was also the first major election since the 2016 presidential contest and was widely seen as a referendum on the Trump era, where progressive and more moderate Democrats, alike, were galvanized to vote. It also contained a series of heated State Senate primaries, in which progressive insurgents challenged (and mostly beat) the breakaway group of Democrats known as the Independent Democratic Conference, or IDC, – another unique draw to the polls.
The Lieutenant Governor's race was slightly closer, with Antonio Delgado, Hochul's chosen running-mate and a former congressman, receiving about 57% of the Democratic vote. Progressive activist Ana María Archila, Williams' running-mate, received 23% of the vote, and Suozzi's running-mate, former City Council Member Diana Reyna, got 13%. Again, in New York City, the margin between the Democrats was narrower, with Delgado's 56% compared to Archila's 30% (Reyna's share was virtually the same).
Archila in some ways ran a more spirited campaign than Williams' and cultivated some high-profile progressive endorsements that he did not, including Reps. Alexandra Ocasio-Cortez, Jamaal Bowman, and Nydia Velazquez, and State Senate Deputy Majority Leader Michael Gianaris, among many others. Both were far outspent by their incumbent rivals, Williams by many millions of dollars.
The Republican Primary
The Republican gubernatorial primary was a four-way race won by Long Island Congressman Lee Zeldin with 44% of the vote. Andrew Giuliani, a former White House aide to President Trump and son of former Mayor Rudy Giuliani, garnered 23% of the Republican vote, according to preliminary data. Former Westchester County Executive Rob Astorino, the 2014 nominee for governor, and businessman Harry Wilson received 18% and 15%, respectively.
Republican primary turnout from 2010, the last time New York had a GOP gubernatorial race, between Rick Lazio and Carl Paladino, declined slightly overall and even increased in New York City. Statewide turnout was 447,000 (16% turnout) so far, compared with 480,000 (17%) in 2010. In New York City, 50,000 Republicans cast ballots for governor, 10% of registered voters, compared with 44,000, or 9%, in 2010.
Republican voter enrollment is up from 2010 in New York City but down overall statewide. Independent voters now outnumber Republicans statewide, and by a large number in New York City.
Over a fifth of registered voters, roughly 1,155,000 New Yorkers, are not affiliated with either major party and did not vote for nominees for governor and lieutenant governor.
Upstate-Downstate, Urban-Rural
According to an analysis from the CUNY Mapping Service, Democratic turnout tended to be higher in urban centers like Buffalo, Rochester, and Albany. It also saw a boost in the Hudson Valley, where Delgado hails from and in the Finger Lakes region. The latter is the home of Tompkins County, a liberal bastion in upstate New York that candidate Zephyr Teachout, a lawyer and activist, won in her unsuccessful 2014 primary against Cuomo.
The Seneca Lake region of the Finger Lakes is also ground zero for the battle over fossil fuel-powered crypto-mining. Williams and Archila spent some of the campaign criticizing Hochul's and Delgado's reticence to opine on legislation to place a two-year moratorium on reopening closed fossil fuel plants -- and the generous sums crypto-currency industry leaders have donated to them or spent on their behalf.
Republican turnout, as a percentage, was highest in rural upstate regions and in Suffolk County on Long Island, where Zeldin received a major home-town boost. Zeldin won on Long Island and across much of upstate, while Giuliani did particularly well in the five boroughs where Republican regard for his father is still quite strong, Astorino did well in his Westchester base, and Wilson performed strongest in the upstate area near where he grew up.