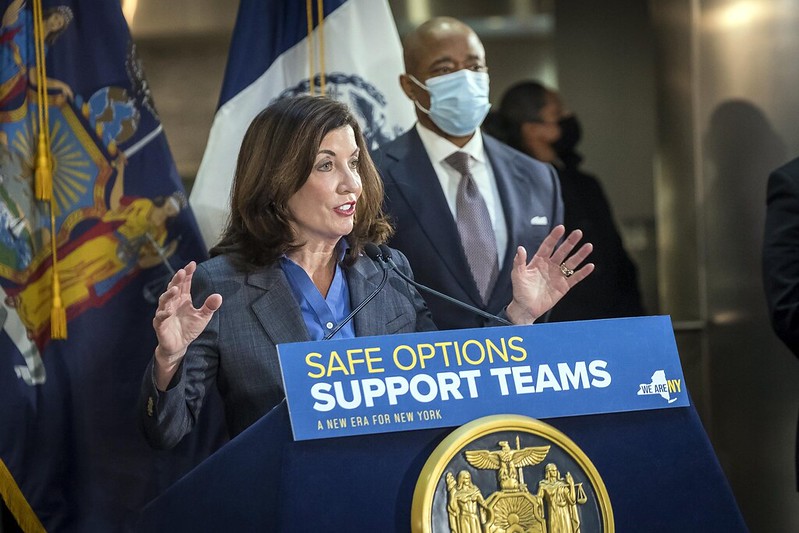 Gov. Hochul and Mayor Adams make an announcement (photo: Ed Reed/Mayor's Office)
---
According to state data, the number of people placed under court-ordered mental health treatment since April, when lawmakers expanded the court's power to make such determinations, has increased 60% from the same period a year before.
The data, provided by the state Office of Court Administration (OCA) to Gotham Gazette after an inquiry, shows that during the four-month period from April through July, 462 people in New York were ordered by a judge to undergo mental health treatment under Kendra's Law, a 1999 statute that applies to people deemed a danger to themselves or others.
During the same period last year, 288 such orders were issued statewide, including 127 – fewer than half the total – in New York City. In April through July of this year, a much larger share, two-thirds of all cases, or 320 orders, took place in New York City.
But it appears the court's new powers, enacted through the state budget in April, do not actually account for the difference. According to the state Office of Mental Health (OMH), which oversees Kendra's Law, no orders have been issued under the new statutory language.
Kendra's Law — named after Kendra Webdale, a young woman pushed in front of a train and killed in 1999 by a man with a long history of untreated schizophrenia — allows courts to require outpatient mental health treatment for people deemed dangerous; if a person fails to comply they can be evaluated and committed to a psychiatric hospital. To receive an Assisted Outpatient Treatment, or AOT, order, a person must have recently been in and out of hospitalizations and be demonstrating violent behavior.
Expanding the reach of Kendra's Law became a focus for Mayor Eric Adams and Governor Kathy Hochul after a rash of high-profile attacks by people with reported mental illnesses, though Adams also spoke in support of greater use of AOTs during his 2021 campaign for mayor. Both Democratic executives helped lead a chorus framing it as a key tool in public safety and mental health strategies to make people with serious mental illnesses, in Adams' words, "get the care that they deserve."
It was also woven into Adams' strategy to clear street encampments and, in partnership with Hochul, reach homeless people living on the subway. "We're not going to be disrespectful. We don't have the right to tell people they can't live on the street," Adams said at press conference on March 30, shortly before the state budget passed in early April. "Laws don't allow us to do that. That's why we're calling for a stronger Kendra's Law to give people help that need help. Albany must make that decision."
At Hochul's insistence, Kendra's Law was amended to allow judges to renew AOT orders within six months when they deem a person has a mental illness that "substantially interferes with or limits one or more major life activities" – even when they have not exhibited any new violent tendencies.
Hochul and the State Legislature also approved amendments to allow doctors to make court appearances by teleconference and require facilities to share patient records with county officials overseeing AOTs. The changes, which included renewing Kendra's Law for five years, also require the state to conduct a study on the efficacy of the law by 2026.
"This is part of the conversation to address the situation which is unfolding particularly in the City of New York," Hochul told reporters when she announced a budget agreement on April 7, saying the amendments were "not sacrificing the rights of injured individuals, but focusing on public safety and making sure people get the medical attention they need."
Asked to comment specifically on the increase in AOTs over the last four months compared to the same period last year or the fact that her desired changes had so far gone unutilized, Governor Hochul's office referred Gotham Gazette to OMH. An OMH spokesperson noted it was early in implementation of the expanded statute and the agency was in the process of educating stakeholders.
"Since the amendments have gone into effect, OMH has been working to make the infrastructure changes needed to implement the amendment," wrote the spokesperson, Mark Genovese, in an email.
He said that because AOT programs are run at the county level, 62 local governments "needed to adjust their practices, educate all local stakeholders including court personnel, county attorneys, Mental Hygiene Legal Services, entities who can function as petitioners of AOT, treatment providers, etc."
But the increased use of Kendra's Law does indicate that petitioners are seeking AOTs more often after Kendra's Law made headlines throughout Adams' and Hochul's early tenure.
OMH could not provide details about who has initiated AOT petitions due to "lag time with data entry." Asked how many AOTs had been initiated after contact with a government employee, Genovese, the OMH spokesperson, noted: "AOT does not occur as a result of a single engagement or by one employee but is usually a coordinated effort by a team of mental health professionals who review an individual's ability to voluntarily engage in recommended treatment."
A host of civil rights activists and advocates for people with mental illnesses have criticized the law and its expansion as a violation of due process and a distraction from systemic failures to engage and aid people with mental health needs under less coercive circumstances.
"We don't believe we should have to haul people into court in order to get them better services," said Harvey Rosenthal, CEO of the New York Association of Psychiatric Rehabilitation Services, an organization of mental health service providers. "More orders is not a sign of a well-working system, it's a sign of a failed system that has to rely on coercion because it doesn't know how to engage various populations effectively."
Rosenthal said expanding AOT criteria from dangerousness to mere self-neglect was the most "egregious" change, calling the threshold "so broad and so vague" and low enough to lead to chronic civil rights violations.
As of August 4, there were 3,418 active AOT orders statewide, only slightly higher than the 3,376 reported on the same day in 2021. Black and Hispanic people make up 65% of AOT order recipients statewide and 76% in New York City, despite accounting for less than 40% of the state population and just over half of the New York City population. According to OMH, 1,174 people have had to undergo an evaluation for failing to comply with a court-ordered treatment, and 27% of those evaluations – roughly 317 people – resulted in a psychiatric commitment.
"We already know that mental health systems fail people of color," Rosenthal said. "That's a perfect example, a terrible one, of system failure."
State Assembly Member Aileen Gunther, a Sullivan County Democrat and chair of the Assembly mental health committee, did not defend the Kendra's Law amendment when presented the data on its lack of use.
"Obviously the expansion of Kendra's Law was a big priority for the Governor in this year's budget. In my time as Chair of the Assembly Mental Health Committee, I've worked to impress upon people that individuals with mental illness are much more likely to be the victims of crime than the perpetrators," she wrote in a statement to Gotham Gazette.
"We need to do everything we can to reduce the stigma and break down barriers to treatment. I will continue to work with my colleagues to monitor the efficacy of Kendra's Law and its recent changes," she said. A spokesperson for Gunther said she believed the state's new 9-8-8 suicide prevention hotline and new "crisis stabilization centers" funded in the budget will make mental health care more accessible.
State Senator Samra Brouk, a Rochester Democrat and the Senate's mental health chair, did not respond to requests for comment.
Revisiting Kendra's Law
In public statements, Adams has embraced Kendra's Law and the expansions wholeheartedly. He supported expansions to Kendra's Law during heated state budget negotiations and lauded the changes that Hochul ultimately pushed through.
In July, Adams appointed Brian Stettin, who wrote the original Kendra's Law bill in 1999 as a New York State assistant attorney general under Eliot Spitzer, as "senior advisor for severe mental illness."
At the height of state budget negotiations, and three months before joining the Adams administration, Stettin wrote an op-ed in the Albany Times Union calling Kendra's Law "our best tool in helping the most vulnerable mentally ill New Yorkers escape the endless shuttle between hospitals, incarceration and the streets."
After the budget was passed with the largest expansion of Kendra's Law to date, Stettin applauded the spirit behind the changes but told Gotham Gazette the final language had been watered down. "Unfortunately, the execution really turned out problematic," he said in an April interview, speaking as the policy director of the Treatment Advocacy Center, an organization that promotes the implementation of AOT laws throughout the country. 
"There are technical problems with the improvements that I think waters them down and leaves them of questionable utility. I'm hopeful that we can do a clean up bill maybe in the summer to fix some of those issues, because in the end we really weren't left with much in terms of useful ways to expand the application of Kendra's Law," he said.
Stettin said the new statutory language leaves uncertainty about whether a judge must make a separate finding that an individual meets the criteria for renewing an AOT, or simply rubber-stamp the determinations of county health officials. He also said the law contains grey areas for how doctors may use the virtual testimony option and for how medical records may be shared with county officials.
Yet like Rosenthal, Stettin also called the criteria around self-neglect overly vague.
A spokesperson for Mayor Adams commended the changes to Kendra's Law but would not comment directly on the increase in AOT orders or the fact that none had been issued under the new expanded language in the four months since it's been law.
"We're grateful to the governor and the state for working together on these changes and are looking forward to continuing this work next session to keep people safe and make sure they get the help they need, including AOT when appropriate," the spokesperson wrote in an email.
Asked whether the administration had been working with state lawmakers on a "clean-up bill," as Stettin had indicated he would like to pursue before joining the administration, the spokesperson referred to their previous statement indicating an interest in "continuing" the effort next session. 
The mayor's office did not answer questions about how many engagements by NYPD officers or city outreach workers result in AOT orders.
According to the state Office of Mental Health (OMH), a so-called "designated petitioner," someone who can seek an AOT for another individual, can include "an adult roommate, parent, adult child, or sibling of the possible AOT recipient, a hospital director where the possible AOT recipient in receiving inpatient care, the director of a public or charitable organization, a treating psychiatrist, licensed psychologist or licensed social worker, a director of community services, and probation or parole officers…however state police, outreach workers and MTA employees are not designated petitioners, and therefore are not part of the [state] AOT data collection process." 
The mayoral spokesperson said the city's Department of Health and Mental Hygiene, which contains the city's AOT office, as well as the Department of Social Services and New York City Health + Hospitals had been educated on the changes to Kendra's Law. But the spokesperson would not say whether Adams or other top officials had issued strategic directives around using Kendra's Law more or differently.
Asked about internal guidance, an NYPD spokesperson pointed to a section in the Police Patrol Guide on procedures for executing removal orders of people into psychiatric facilities that was last updated in October 2021, before Kendra's Law was amended.