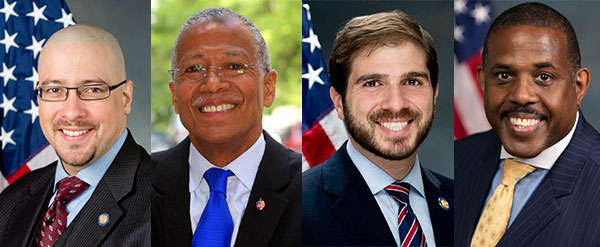 (l-r) State Senators Gustavo Rivera, Robert Jackson, Andrew Gounardes, Kevin Parker
---
Early voting for the August 23 primary begins on Saturday, August 13, and there are several competitive races taking place for New York State Senate, with new district maps in place following the decennial redistricting process.
Democrats currently control the 63-member State Senate, with a 42-20 majority (there is one vacancy) and are in no danger of losing their majority in the November general election, though the margin could tighten. Right now, several incumbents are facing tough primary challenges while others have had to adjust to newly drawn district lines encompassing neighborhoods they did not previously represent. Some sitting senators even had to decide whether to shift their residence to continue running in familiar territory or face the unpredictability of their new districts.
The redistricting essentially created two new Senate districts – the 17th in Brooklyn and the 59th, which covers parts of Queens, Manhattan and Brooklyn – neither of which have incumbents running in them. While there is a crowded and competitive primary in the new 59th, there is no primary in the 17th, where Iwen Chu has the Democratic nomination locked up and is all but certain to head to the State Senate given the district's heavy Democratic tilt.
Meanwhile, among the district lines that have shifted so much that incumbents must introduce themselves to all new neighborhoods, State Senator Andrew Gounardes of Brooklyn is running in territory mostly outside his current district. Gounardes is seeking to keep his seat in the Senate against former City Council Member David Yassky.
Among the most heated State Senate primaries in the five boroughs are three races in which Democratic incumbents are being challenged:
State Senator Gustavo Rivera is facing a deluge of opposition from the Bronx Democratic Party as it seeks to unseat the independent-minded senator by electing challenger Miguelina Camilo, while Rivera's progressive allies are seeking to come to his aid and help him win another term.
State Senator Robert Jackson of Manhattan is facing challenger Angel Vasquez, who is backed by a coalition of elected officials and others led by U.S. Rep. Adriano Espaillat.
And State Senator Kevin Parker of Brooklyn is being challenged from the left by David Alexis, who has the backing of the Democratic Socialists of America New York City branch and many of its allies, including several sitting elected officials like Parker's Brooklyn colleagues Senators Jabari Brisport and Julia Salazar.
Almost all the contested primary races are taking place among Democrats, with just a few Republican races where there is competition.
Here are the competitive State Senate races to watch in the August primary:
New York City
District 15 (parts of southwestern Queens)
State Senator Joseph Addabbo Jr., a Democrat, faces two challengers for the newly drawn District 15: Japneet Singh, an accountant and former taxi driver who is seeking to become the state's first Sikh lawmaker; and Albert Baldeo, president of the Alliance of South Asian American Labor's Richmond Hill chapter, who once went to jail for corruption.
District 21 (parts of central and southern Brooklyn)
Democratic State Senator Kevin Parker faces two challengers in his new district: David Alexis, who is backed by various left-wing groups and officials including the Working Families Party and Democratic Socialists of America New York City branch; and Kaegan Mays-Williams, a former assistant district attorney in Manhattan.
District 23 (Staten Island's north and east shores and parts of Brooklyn, including Coney Island)
State Senator Diane Savino, a Democrat, is retiring from office and there is an open race to replace her. Four candidates are running in the Democratic primary including Jessica Scarcella-Spanton, a former Savino staffer who has Savino's support and is currently assistant director of government and community relations at the Metropolitan Transportation Authority; Bianca Rajpersaud, a lobbyist at Davidoff Hutcher & Citron; Sarah Blas, who is backed by the Working Families Party; and Rajiv Gowda, a civil engineer.
There is also a Republican primary featuring two candidates: Sergey Fedorov, who has been endorsed by the GOP; and Joseph Tirone Jr., a real estate broker.
District 25 (parts of Brooklyn from the Brooklyn Navy Yard to Ocean Hill)
Democratic State Senator Jabari Brisport, a democratic socialist, has two challengers in the primary: Renee Holmes, a teacher; and Conrad Tillard, a minister.
District 26 (parts of western Brooklyn from Dumbo to Fort Hamilton)
State Senator Andrew Gounardes, a Democrat, currently represents District 22, from Bay Ridge and Borough Park to Gerritsen Beach, and is now running in the newly drawn District 26, which is very different but includes his base of Bay Ridge. He is facing David Yassky, who has previously served in the New York City Council, as a policy advisor to Gov. Andrew Cuomo, and as Taxi & Limousine Commissioner under former Mayor Michael Bloomberg.
District 27 (Lower Manhattan)
Democratic State Senator Brian Kavanagh's new district is entirely in Manhattan, with the Brooklyn parts of his current district excluded after the redistricting process. He faces two opponents in the primary, Danyela Souza Egorov, a charter school advocate and vice president of the District 2 Community Education Council; and Vittoria Fariello, a lawyer and Democratic district leader.
District 30 (Upper Manhattan from Bloomingdale and Harlem up to Sugar Hill)
Democratic State Senator Cordell Cleare's district lines did not change drastically and she is running for reelection against Shana Harmongoff, who previously served as district office director and director of community affairs for former State Senator Brian Benjamin. Harmongoff unsuccessfully sought to succeed Benjamin in a special election after he became lieutenant governor, losing to Cleare. 
District 31 (Upper Manhattan from Washington Heights to Inwood)
State Senator Robert Jackson, a Democrat, is running for reelection in a much more compact district. Previously, District 31 stretched along the west side waterfront from Inwood all the way to Midtown. Jackson faces three opponents: Angel Vasquez, a political consultant and former chief of staff to former State Senator Marisol Alcantara, who has garnered significant support from elected officials and groups; perennial candidate Ruben Dario Vargas; and Spanish-language interpreter Francesca Castellanos.
District 33 (Parts of the Bronx from Riverdale to Van Nest)
State Senator Gustavo Rivera, a Democrat, saw major changes to his district lines, with his home falling outside of the newly created District 33, which will require him to move if he should win, though he did not have to in order to run. He is running against Miguelina Camilo, president of the Bronx Women's Bar Association and first-time candidate who has the backing of the Bronx County Democratic Party and many Bronx elected officials including State Senator Jamaal Bailey, who chairs the Bronx county party.
District 34 (East Bronx and parts of Westchester)
With sitting State Senator Alessandra Biaggi running for Congress, there is an open race for the new District 34 seat. Three candidates are seeking the Democratic nomination: Assemblymember Nathalia Fernandez, backed by the Bronx Democratic Party and many other elected officials; Christian Amato, a Democratic consultant and Community Board 11 member; and perennial candidate John Perez.
District 47 (West Side of Manhattan from the Meatpacking District to the Upper West Side)
Democratic State Senator Brad Hoylman represents District 27, which was spread across Midtown and Downtown Manhattan, and has been redrawn into the new District 47. He is running in the primary against Maria Danzilo, an attorney and former City Council candidate.
District 59 (parts of Midtown East in Manhattan, Greenpoint in Brooklyn, and Astoria and Long Island City in Queens)
There's a competitive open primary underway for District 59, a completely new district that was created this year spanning parts of three boroughs. Five candidates are on the ballot but the race appears to be coming down to two: former City Council Member Elizabeth Crowley and Kristen Gonzalez, a product manager for American Express who is backed by the Democratic Socialists of America - New York City.Michael Corbett, vice chair of the state Democratic Party, is also running. Meanwhile, Nomiki Konst, a former journalist and one-time candidate for public advocate, and small business owner Francoise Olivas have both dropped out though their names will appear on the ballot. Konst has endorsed Gonzalez while Olivas endorsed Crowley.
Outside New York City
District 4 (southern parts of Suffolk County)
State Senator Phil Boyle, a Republican, is not running for reelection, leaving an open race for his seat. Republican candidate Wendy Rodriguez has the Republican party's nomination to replace him.
There is a Democratic primary in the race and its winner will face Rodriguez in the general. The two candidates are former State Senator Monica Martinez, who has the county party's endorsement, and Assemblymember Phil Ramos.
District 7 (parts of Long Island's north shore)
State Senator Anna Kaplan, a Democrat, is being challenged by Jeremy Joseph, a Nassau County Democratic Socialists of America organizer. 
District 51 (Delaware, Otsego, Schoharie, Sullivan, Part of Broome, Part of Chenango & Part of Ulster counties)
Republican State Senator Peter Oberacker is facing a primary challenge from Terry Bernardo, who has previously served as chair of the Ulster County Legislature. On the Democratic side, Eric Ball is running uncontested. 
District 52 (Cortland, Tompkins and parts of Broome counties)
Incumbent State Senator Fred Akshar, a Republican, is running for Broome County Sheriff, leaving an open race for his seat. Republican candidate Richard David is running unopposed for his party's nomination. 
Two Democrats are competing in the primary: former Binghamton City Council Member Lea Webb, who also has the Working Families Party Line, and lawyer Leslie Danks Burke, who previously unsuccessfully ran for State Senate twice.
Note - this article has been updated to note that Wendy Rodriguez, not Senator Alexis Weik, is the Republican nominee in the 4th Senate District.