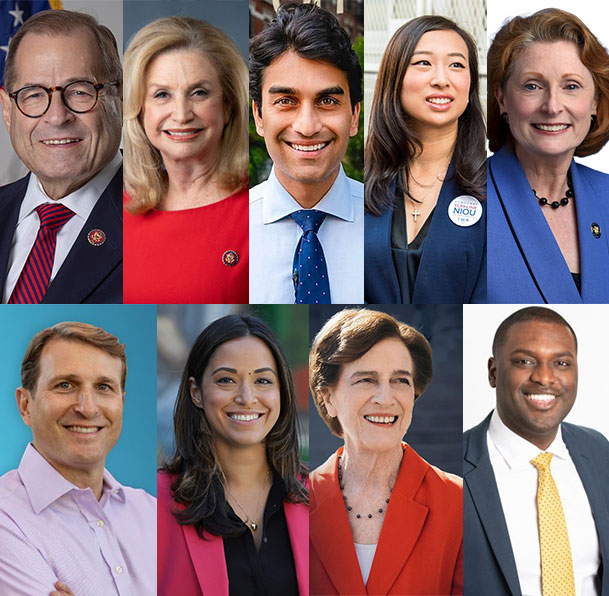 (l-r) Jerry Nadler, Carolyn Maloney, Suraj Patel, Yuh-Line Niou, Jo Anne Simon (top)
Dan Goldman, Carlina Rivera, Elizabeth Holtzman, Mondaire Jones
---
Early voting for the August 23 party primary elections begins on Saturday, August 13, with competitive races in many of New York's now-26 districts in the U.S. House of Representatives. After a chaotic redistricting process that significantly changed the state's political map, these congressional races are unfolding ahead of the general election that will determine which major party controls the House and Senate. Democrats currently hold slim margin majorities in both, and New York House races will be a significant factor in the national picture.
But first, the primaries, several seats where the primary winner is all but certain to win the general election.
New York lost a congressional seat after the 2020 Census, falling just 89 residents short of maintaining its numbers (27) in the House of Representatives, despite an overall increase in the state's population. That was followed by the state's problematic redistricting, which eventually resulted in a court-appointed special master drawing new district lines and a judge ordering two separate primaries, one in June for statewide and Assembly races and one in August for State Senate and Congress. 
The new lines caused particular disarray for Democrats in New York City, with incumbents having to face each other in certain districts, especially the new 12th district in Manhattan featuring Reps. Carolyn Maloney and Jerry Nadler, and created opportunities for Republicans to pick up seats elsewhere.
There are also several 'open' races with no incumbent running where there is heated competition in the primary, particularly the new 10th district where a deep and diverse field of candidates is hoping to represent much of Lower Manhattan and a big stretch of Brooklyn.
Democrats currently hold 18 seats in New York's congressional delegation and Republicans hold seven, while there are two vacancies in Districts 19 and 23. 
Here are New York congressional races to watch in the August primary: 
1st Congressional District
U.S. Representative Lee Zeldin, a Republican, is his party's nominee for governor, challenging Governor Kathy Hochul, a Democrat running for her first full term.
With Zeldin out of the race for the 1st District, which covers two-thirds of Suffolk County, Long Island, three Republicans are seeking to replace him: Anthony Figliola; a lobbyist and a former deputy supervisor of Brookhaven; Nicholas LaLota; chief of staff to the Suffolk County Legislature and former Republican commissioner of the Suffolk County Board of Elections, who has been endorsed by the Suffolk County GOP; and Michelle Bond, CEO of the Association for Digital Asset Markets.
The Democratic candidate, Suffolk County Legislator Bridget Fleming, is running unopposed. 
2nd Congressional District
Republican Rep. Andrew Garbarino faces two primary challengers in his new district, which covers the South Shore of Suffolk County from Amityville to Eastport on Long Island. The challengers include Robert Cornicelli, a U.S. Army and Navy veteran and former Sanitation Inspector Supervisor for the Town of Oyster Bay; and Mike Rakebrandt, an NYPD detective. 
The winner will face Democrat Jackie Gordon, a former teacher and former Town of Babylon Council member, in the general election. 
3rd Congressional District
Democratic Rep. Tom Suozzi did not run for reelection this year as he unsuccessfully sought the Democratic nomination for governor, losing to Hochul in the primary. Five Democrats are running to replace him in the District covering the northern half of Nassau County on Long Island: former North Hempstead Town Supervisor Jon Kaiman; Robert Zimmerman, a longtime Democratic National Committee member; Nassau County legislator Joshua Lafazan; progressive activist Melanie D'Arrigo; and businesswoman Reema Rasool. 
Zimmerman has the most establishment support in the race, including endorsements from Reps. Gregory Meeks, Ritchie Torres, and Grace Meng. D'Arrigo, meanwhile, is the progressive favorite in the race, with the backing of the Working Families Party. Lafazan, however, is Suozzi's chosen successor for the seat.
The primary victor will face Republican George Santos, an investment banker who unsuccessfully ran against Suozzi in 2020, in the general election. 
4th Congressional District
Democratic Rep. Kathleen Rice is not running for reelection, leaving an open race for her district, which covers the southern half of Nassau County on Long Island. Four Democratic candidates are running to succeed her: former Town of Hempstead Supervisor Laura Gillen; Nassau County legislator Carrié Solages; election attorney and Malverne Mayor Keith Corbett; and Dr. Muzib Huq.
Gillen is the establishment favorite in the race, and has been endorsed by Rice, House Majority Leader Steny Hoyer, and House Democratic Caucus Chair Rep. Hakeem Jeffries.
The winner will face Republican Anthony D'Esposito, a Town of Hempstead council member, in November.
7th Congressional District
Democratic Rep. Nydia Velázquez is running for reelection in a significantly changed district. Her current district includes Sunset Park, Red Hook, and the Lower East Side, all of which were cut out of the new district, which retained parts of northern Brooklyn including the Brooklyn Navy Yard, Greenpoint, and Bushwick and southwest Queens, while expanding into Greenpoint, Sunnyside, and Glendale.
She faces a nominal primary challenger in Paperboy Love Prince, a performance artist who has run for multiple offices before, including against Velázquez last election.
Velázquez is all but assured to win and face Republican Juan Pagán in the general election.
8th Congressional District
Democratic Rep. Hakeem Jeffries, chair of the House Democratic Caucus and possible successor to House Speaker Nancy Pelosi, is running for reelection in a district that stretches across southern and central Brooklyn.
Jeffries was among the most vocal critics of the Court of Appeals throwing out maps drawn by Democrat-run State Legislature and of the initial map offered by the special master, which divided historically Black communities such as Bedford-Stuyvesant in Brooklyn, which was in his district. The final map, however, rectified that, uniting Bed-Stuy, but cutting out parts of the western parts of his district including Fort Greene and Clinton Hill and eastern neighborhoods including Howard Beach and parts of Ozone Park.  
He is being challenged in the primary by nonprofit organizer Queen Johnson, but Jeffries is expected to easily prevail. 
That will also be the case in the general election, where the Republican candidate is Yuri Dashevsky, a public relations consultant and interpreter.
10th Congressional District
Among the most competitive races in the primary is the contest for the new 10th congressional district, which covers Lower Manhattan south of 14th street and parts of western Brooklyn including Downtown, Gowanus, Park Slope, Sunset Park, Red Hook, and Borough Park.
A field of more than a dozen Democrats are on the ballot for the primary nomination though six leading candidates have emerged via various metrics, including public polling, endorsements, and fundraising: City Council Member Carlina Rivera; Assemblymembers Yuh-line Niou and Jo Anne Simon; Dan Goldman, a former prosecutor who led the first impeachment of then-President Donald Trump; former Representative Elizabeth Holtzman; and Representative Mondaire Jones, who represents the Hudson Valley's 17th district but recently moved to Brooklyn to run in the new 10th.
Republican Benine Hamdan will face the primary winner in the November general election.
11th Congressional District
Republican Rep. Nicole Malliotakis represents District 11, which covers the entirety of Staten Island and parts of South Brooklyn. She unseated Democrat Max Rose in 2020 after Rose had unseated Republican Dan Donovan in 2018. Rose is seeking the Democratic nomination again this year in hopes of regaining the seat, which is currently the only GOP-held congressional seat 
Malliotakis is being challenged in the primary by John Matland, a health care worker.
Rose is running the Democratic primary against progressive activist Brittany Ramos DeBarros and Komi Agoda-Koussema, a public school teacher.
Malliotakis and Rose are expected to run in a rematch in the general election where Malliotakis will likely be favored to hold the seat but Democrats will eye the opportunity to flip a seat and help Democrats keep a House majority.
12th Congressional District
The newly-drawn district lines put longtime Democratic Reps. Jerry Nadler and Carolyn Maloney in direct conflict with each other by combining the East and West Sides of Manhattan, from roughly 13th Street to 110th Street, into the new 12th congressional district. The two are facing each other in the primary and a third candidate, Suraj Patel, who previously unsuccessfully challenged Maloney twice. Some polling has shown Patel within striking distance of the two representatives who were each first elected to Congress in 1992. A fourth candidate, Ashmi Sheth, is in the race but has run a limited campaign.  
13th Congressional District
Democratic Rep. Adriano Espaillat is running for reelection to the slightly modified 13th district, which covers Upper Manhattan from East Harlem to Inwood and parts of the Bronx including Kingsbridge, University Heights, and Bedford Park. He faces two challengers: Francisco Spies and "social democrat" Michael Hano, though neither seems to be running a viable campaign.
14th Congressional District
Democratic Rep. Alexandria Ocasio-Cortez is running unopposed but there is a Republican primary in the district between business owner Tina Forte and Desi Cuellar, a once-homeless former bartender. Both Forte and Cuellar currently live outside the district, according to City & State.
Ocasio-Cortez's district saw some major changes in the redistricting. The neighborhoods cut from her district include Sunnyside, Woodside, and parts of Jackson Heights in Queens and Pelham Parkway and parts of Van Nest and Morris Park in the Bronx. Her district expanded into Hunts Point, Soundview, Clason Hill, and Castle Point in the South Bronx. 
16th Congressional District
Democratic Rep. Jamaal Bowman's district covers southern Westchester County and parts of the northeast Bronx. He is running for reelection and faces three primary challengers: Westchester County Legislators Vedat Gashi and Catherine Parker, and Mark Jaffe, president and CEO of the Greater New York Chamber of Commerce. Gashi seems to be Bowman's toughest challenger and has received some establishment support. He has also been endorsed by former longtime Rep. Eliot Engel, who was ousted by Bowman in 2020.  
In redistricting, the 16th District lost parts of the North Bronx including Riverdale, Spuyten Duyvil, Woodlawn, Eastchester and Co-op City, while expanding further up north into Westchester into White Plains, Harrison, Elmsford, Dobbs Ferry, Irvington and Tarrytown.  
Republican John Ciampoli is running in the general election.
17th Congressional District
Democratic Rep. Mondaire Jones, the incumbent in District 17, is running in the 10th District in New York City, which has left an open race for a district that spans Rockland County, northern Westchester County, Putnam County, and parts of Dutchess County. 
Democratic Rep. Sean Patrick Maloney, who currently represents District 18 and chairs the Democratic Congressional Campaign Committee, decided to run in the new 17th District, where he lives. He is facing off against New York State Senator Alessandra Biaggi, who had announced a run in the 3rd district before the initial maps were thrown out. Once the new maps were released, she shifted to run in the 17th, where she has since moved, to take on Maloney after he pushed Jones out of the race. Biaggi is offering herself as the progressive alternative to the more moderate Maloney.
There is also a Republican primary in the district between five candidates: Assemblymember Michael Lawler, the clear favorite; Rockland County legislator Charles Falciglia; business executive Jack Schrepel; Shoshana David; and William Faulkner. 
18th Congressional District
With Sean Patrick Maloney running in the neighboring district, the new 18th District in the Mid-Hudson Valley has an open seat and three Democrats are seeking the primary nomination. They include Ulster County Executive Pat Ryan; Moses Mugulusi, a state financial examiner; and Aisha Mills, a Democratic strategist. 
The primary victor will face off against Republican Assemblymember Colin Schmitt in the general election
19th Congressional District
There is also an open race for the 19th District, which covers parts of the Southern Tier, Catskills, and Hudson Valley, and has been vacant since Democrat Antonio Delgado was appointed lieutenant governor. Two Democrats are running to replace him: attorney Josh Riley and small business owner Jamie Cheney.  
The winner will face Republican Dutchess County Executive Marc Molinaro in the general election.
Special Election in the Current 19th Congressional District
Because of Delgado's resignation, there is also a special election to finish his term under the current district lines, with Democrat Pat Ryan and Republican Marc Molinaro facing off against each other in a vote set to take place at the same time as the primaries.
Most of the current 19th District will end up in the newly-drawn 19th, where Molinaro is running in the fall general election as well as this August special election, while parts of the current district have been drawn into the new 18th District, where Ryan is running in the Democratic primary at the same time as this August primary in the 19th. So Ryan is on two separate ballots this month for the special election in the 19th District and primary election in the 18th District. 
20th Congressional District
The capital region district is currently represented by Democratic Rep. Paul Tonko, who is facing a primary challenge from immigration attorney Rostislav Rar. 
Republican Elizabeth Joy, who previously lost to Tonko, is running in the general election. 
21st Congressional District
Republican Rep. Elise Stefanik is running for reelection to the 21st District, which covers most of the North Country and Adirondacks, and parts of the Capital region, and is unopposed in the primary.
There is a Democratic primary in the district with two candidates running: Matthew Putorti, an attorney; and Matt Castelli, a former CIA officer and Director for Counterterrorism at the National Security Council under former President Barack Obama, who is the clear favorite. 
22nd Congressional District
The 22nd District in Central New York is currently represented by Republican Rep. Claudia Tenney, who is running in the new 24th District after the redistricting process significantly changed the boundaries of her current district. Tenney's decision led to an open race with primaries on the Democratic and Republican sides.  
Four Democrats are competing for the primary nomination: Francis Conole, a Navy veteran and ​​former national security adviser; Sam Roberts, a former ​​Onondaga County Assemblymember and former state welfare commissioner; Air Force veteran Sarah Klee Hood; and Syracuse Common Councilor Chol Majok. Conole seems to be the favorite in the race, with the backing of the Democratic Congressional Campaign Committee and several local Democratic elected officials. 
The Republican primary is between two candidates: Brandon Williams, a Navy veteran and entrepreneur; and Steve Wells, a former criminal prosecutor and business owner. Wells is the party favorite with endorsements from Pam Thier, chair of the Oneida County Republican Party, and local Republican elected officials. 
23rd Congressional District
After redistricting, the 23rd Congressional district covers parts of the Southern Tier and parts of Erie, Chautauqua, Cattaraugus, Allegany, Steuben, Chemung, and Schuyler counties. The seat has been vacant since Republican Rep. Tom Reed resigned in May to join a lobbying firm. He had already announced his intention to not seek reelection. 
There's an intense Republican primary to fill the seat between former gubernatorial candidate Carl Paladino and State GOP Chair Nick Langworthy. 
But there is also a special election slated on the same day for the district, under the old district lines to determine who will finish out the current term. That race is between Republican Joe Sempolinski, who is the Steuben County Republican chair, and Democrat Max Della Pia, a retired Air Force lieutenant colonel. The winner of the special election will effectively serve a four-month term. 
Max Della Pia will face the winner of the Republican primary race in the November general election. 
24th Congressional District
The 24th District, which includes parts of Western New York and the North Country, has an open race because incumbent Republican Rep. John Katko is retiring. Republican Rep. Claudia Tenney of the current 22nd district is running to replace him in the new district, against two primary opponents: business owner Mario Fratto; and perennial candidate George Phillips. 
Democrat Steven Holden will face the primary winner in the general election.  
26th Congressional District
In the 26th District, which includes parts of Erie and Niagara counties, including Buffalo and Niagara Falls, Democratic Rep. Brian Higgins is facing a primary challenge from community activist Emin "Eddie" Egriu but he is heavily favored to again win the nomination.
The winner will face Republican Steven Sams, a veteran, in the general election.