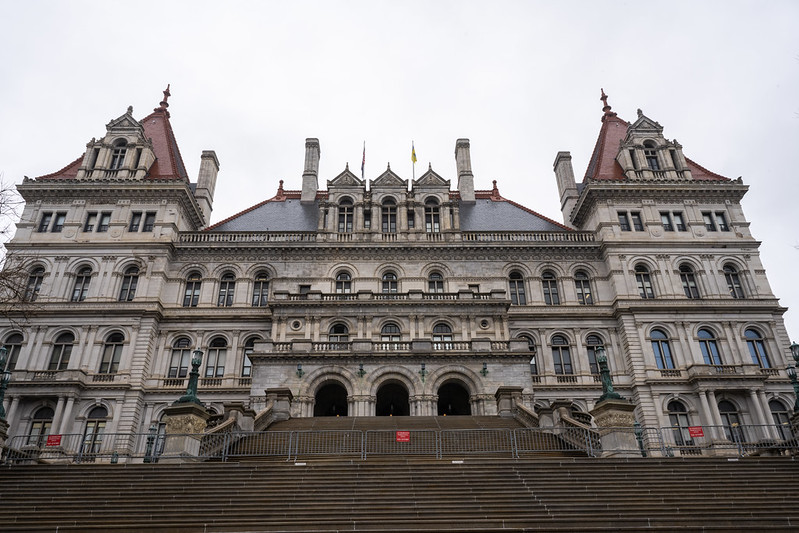 The Capitol in Albany (photo: Darren McGee/Governor's Office)
---
New York's newest state government ethics commission, set to replace the infamously dysfunctional Joint Commission on Public Ethics (JCOPE), will soon take its first steps when its members are approved by a committee of law school deans. That could take place beginning as soon as this month.
Nine out of 11 nominees to the new Commission on Ethics and Lobbying in Government (CELG) have been formally named by New York's statewide elected officials and legislative leaders. By the law passed earlier this year, the deans have 30 days from nomination to vet each candidate, after which time, if approved, they can officially take a seat on the commission.
"The Committee is fully on track to meet its deadline of reviewing and making determinations on candidates within 30 days of each formal nomination. In fact, we are working to accelerate the process," said Anthony Crowell, dean of New York Law School and chair of the review committee, in an interview with Gotham Gazette.
The first formal nomination Crowell's committee received was on July 18, leaving the first CELG member to be formally cleared by mid-August, unless the deans reject them.
"We understand that there is a great need to get the new commission constituted, and we're taking our responsibility to substantively review the candidates extremely seriously," said Crowell.
CELG, like JCOPE before it, is responsible for overseeing New York's ethics and lobbying laws with jurisdiction over state elected officials and employees, lobbyists and their clients. When it is fully established, it will be able to issue formal guidance, advisory opinions and regulations, and investigate potential corruption cases and ethics violations. That could conceivably happen as soon as six members – a majority of the commission – are seated, though at only six members commission votes would have to be unanimous to make a final decision on any action.
For now, 46 JCOPE employees, including its final executive director, Sanford Berland, have remained at work under the new company name, administering financial disclosures laws and maintaining and auditing the state's lobbying registry, potentially giving informal guidance in the process. But those employees may only advance new investigations at the direction of commissioners themselves, who are no longer active.
"They're still doing work," said Rachael Fauss, a researcher at the good-government group Reinvent Albany, of the staff. "It's just that the commission, itself, isn't there so there are no new investigations moving forward, no final decisions being made on any case. All that is dormant."
Lawmakers enacted legislation to replace JCOPE in the state budget earlier this year, fulfilling a promise by Hochul to shutter what she called the "structurally broken" body in the wake of a series of corruption scandals involving disgraced former Governor Andrew Cuomo. In some of those, JCOPE had a role or failed to pursue them as a corruption watchdog. They were only some of the latest examples of the body's well-documented failures and flaws.
The new agency has more appointing authorities and the additional vetting body comprised of law school deans. It will also be subject to greater transparency measures. But good government groups who sought JCOPE's replacement have criticized CELG for having little insulation from the elected officials who appoint it and are subject to its oversight – a repetition of JCOPE's fatal flaw.
Initial Appointments to CELG
Per the new state law, passed as part of an April deal between Democratic Governor Kathy Hochul and the Democrat-dominated State Legislature, the 11 CELG commissioners are nominated by the governor, who appoints three members, Senate and Assembly majority leaders, who appoint two each, and the legislative minority leaders, the Attorney General and Comptroller, who each appoint one. 
All but one CELG nomination – Hochul's third – has been publicly announced. Nine of those 10 initial nominees have also undergone a background check and a seven-day public comment period, a requirement imposed by the law school deans that was not included in statute.
"Governor Hochul committed to replacing JCOPE and worked with the legislature to create a new, truly independent ethics commission to provide greater transparency and accountability for New Yorkers and help restore trust in government," wrote Hazel Crampton-Hays, the governor's spokesperson, in an email. "We are diligently working to announce our third nomination, look forward to receiving feedback from the Independent Review Committee on the nominations, and are committed to providing any support necessary to the Commission and the Committee to help ensure they are successful in carrying out their mission."
Crampton-Hays said Hochul's initial third choice had declined to be considered. She pointed out that the commission could convene once a majority of its members is approved.
Of the ten nominees to CELG so far, nine have been formally submitted to the deans, triggering the 30-day clock on each, according to Crowell. He declined to disclose who the remaining nominee is out of concern that it could prejudice the process.
Mike Murphy, a spokesperson for Senate Majority Leader Andrea Stewart-Cousins, confirmed the missing submission was one of the leader's two appointees – Dr. Claudia Edwards – who hasn't yet completed a required background check from the state Office of General Services.
The ten names that have been announced so far are Michael Cardozo, the former former New York City Corporation Counsel, and Frederick Davie, former chair of the Civilian Complaint Review Board (by Hochul); Seymour James Jr., a criminal defense lawyer, and Dr. Edwards, a consultant (Stewart-Cousins); Robert Torres and Leonard Austin, both retired State Supreme Court judges (Assembly Speaker Carl Heastie); Gary Lavine, an attorney and the only nominee to have previously served on JCOPE (Senate Minority Leader Robert Ortt); Edward Carni, a former Appellate Court judge (Assembly Minority Leader William Barclay); Nancy G. Groenwegen, former counsel to the comptroller (Comptroller Tom DiNapoli); and Emily Jane Goodman, another State Supreme Court judge (Attorney General Letitia James).
CELG Structure and Voting
The most significant differences between CELG and JCOPE are the appointment and voting structures.
JCOPE had long been criticized for being under the influence of the officials that appointed its commissioners (the governor and majority and minority leaders in the Legislature), who were known to have secretly communicated with members on cases they had interests in. JCOPE's supermajority voting structure allowed a small number of members to block investigations, often stymying probes from reaching the leaders or their allies.
Unlike JCOPE, CELG will have appointees from the attorney general and comptroller and all nominees must be approved by the law school deans – a layer Hochul said would help enable more independence in the appointment process. The deans may reject a candidate but the nominating officials still ultimately choose the commissioners.
"It is not a rubber stamp, it has a different way of doing it," Hochul said on April 7 when she announced a deal on the state budget, including CELG. "And the process of getting here was collaborative."
Good-government groups who have lobbied for a JCOPE replacement felt differently.
"We still have the same core problem that we had with JCOPE," said Fauss. "There's an inherent conflict when elected officials get to appoint their own ethics regulators."
In a letter to the appointing authorities in June, good-government groups, including Reinvent Albany, called on the state to prohibit ex parte communications between commissioners and the officials who appoint them to prevent the type of backchannel communications that could sway commission votes. Lawmakers didn't include any such limits when they enacted the new statute. "It's not an independent commission," Fauss said.
She noted even the inclusion of law school deans was an imperfect solution.
"It's not an easy task to reject a name from the governor," Fauss said. "Some of them are from SUNY schools, for example. They get their funding from the governor."
In the past, JCOPE's voting gave particular weight to commissioners appointed by one party and branch of government or another depending on the affiliations of the subject of investigation in order to counter politically-motivated probes. "The theory behind that was you don't want witch hunts, but they made the bar so high that nothing happened," Fauss said.
CELG decisions will be made by a simple majority rule, a change good-government groups commended. Once established, CELG is required by law to review all regulations and advisory opinions made by previous bodies, including JCOPE.
CELG will also be subject to the state's Freedom of Information and Open Meetings laws, which JCOPE had not.
Budget and Staffing
Lawmakers raised CELG's annual budget from the $5.6 million JCOPE received and Hochul proposed in her executive budget, to $7.7 million. It is unclear what that increase is intended to cover. While the new law raises the per diem pay for commissioners, that would not account for the total increase. A spokesperson for the state Division of Budget said the additional funding would cover personnel costs but did not provide details. The new statute gives CELG its own budget line and prevents the Division of the Budget from decreasing or shifting away funds after the budget is enacted. It is not pegged to be proportionate to other budget lines, making it vulnerable to gutting by lawmakers in the future.
The law states JCOPE's staff will be transferred to the new commission "without further examination or qualification." That includes the executive director, who may be hired or fired by a majority vote of the commission for a number of reasons including failure to obey the commission.
Like the commissioners, the executive director cannot have served as a registered lobbyist, state employee, or political party chair within the last two years. While the commission may delegate some powers to the executive director, the new law prevents the executive director from making decisions that require a commission vote – new language that was not in the statute governing JCOPE.
That still leaves questions about how the staff may handle advisory opinions, according to Fauss. It's unclear, for example, if that type of language would have prevented JCOPE staff from approving Cuomo's $5 million pandemic book deal, which the former governor reportedly used state resources to write and which JCOPE later tried to retroactively bar, unsuccessfully.
The law requires the CELG to establish separate units for advice and guidance, training, financial disclosure, lobbying, and investigations and enforcement. Each unit, except the financial disclosure unit, must have a deputy director. The commission is responsible for approving a staffing plan from the executive director with titles, responsibilities, and salaries listed.
CELG and the Legislative Ethics Commission
The new structure leaves intact a bifurcated enforcement system that has rankled good-government advocates for years. As in the days of JCOPE, the new commission can investigate and issue civil penalties for executive branch employees, lobbyists and their clients. For employees of the State Legislature, on the other hand, the commission may investigate claims but cannot impose discipline; they can only refer the findings to the Legislature's internal body known as the Legislative Ethics Commission.
As a result, the two bodies perform somewhat parallel tasks, and may even issue competing advisory opinions on the same subjects. Advocates say the system would be far better without that segregation but eliminating the Legislative Ethics Commission would likely require a state constitutional amendment.
Harassment and Discrimination
Advocates are also concerned that the new commission will not reflect the state demographically or through experience. Seven out of the ten nominees announced so far are men, repeating a gender imbalance within JCOPE and signaling a potential uphill battle for victims of workplace harassment and discrimination. Nothing in the statute requires racial or gender diversity among commissioners.
According to Erica Vladimer, co-founder of an advocacy organization of former government aides called the Sexual Harassment Working Group, the lack of female representation on JCOPE was symbolic of the agency's frequent mishandling of harassment and discrimination cases.
"One of the biggest things we saw with JCOPE was just how ill-equipped it was to handle that type of ethics abuse," Vladimer told Gotham Gazette.
In 2018, Vladimer accused then-State Senator Jeff Klein, the Independent Democratic Conference (IDC) leader, of forcibly kissing her outside a bar in Albany in 2015 when she was a member of the IDC staff. "The investigation itself can be so traumatizing," she said.
The new statute requires CELG's deputy director for training and enforcement to complete four hours of annual training in "trauma-informed approaches." 
"Training should be the bare minimum," Vladimer said, suggesting the new commission hire staff with experience working with or interviewing people who have been traumatized. The Sexual Harassment Working Group was the leading force behind major changes to state harassment laws, including some that Cuomo later ran afoul of before his resignation, according to a series of accusers and multiple corroborating investigations.
Ongoing Reform Efforts
In April, Hochul celebrated a win with the replacement of JCOPE and adoption of CELG. "I want to thank many of the good government organizations who partnered with us to achieve major ethics overhaul," she told reporters at her April 7 budget deal announcement.
But advocates who have been pushing for government ethics reform for decades want to see more.
"There's sort of a perception that the governor and Legislature can check the box, 'We did ethics reform, let's move on.' But there's a lot of things that didn't get done as part of this," said Fauss. That includes changes to lobbying laws, including reporting requirements of lobbyist campaign activity, something New York City has taken steps to address. It also includes expanding financial disclosure rules, and further limits on outside income for lawmakers, she said.
Despite those concerns, all stakeholders appear eager to see the commission take off, not least of all people with pending cases. "I first came out against Klein in 2018," Vladimer said. "I am still having to work with this transitional commission between JCOPE and CELG around my claim. It's been over four years."