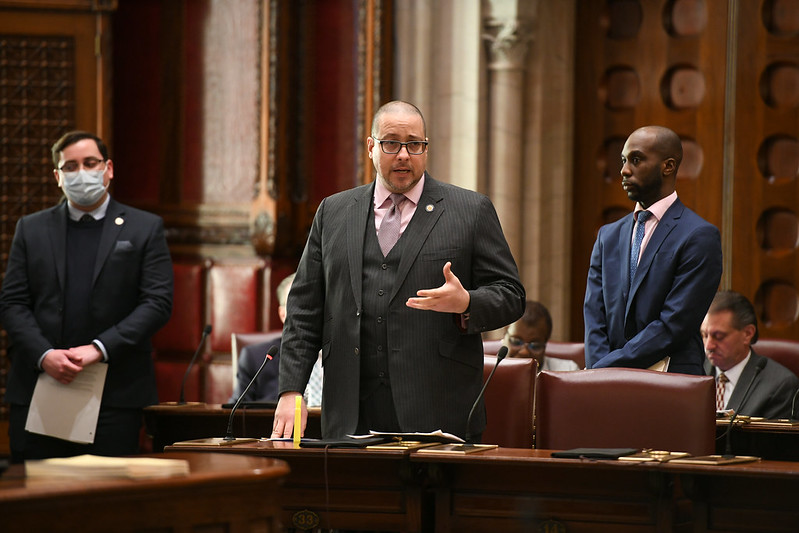 State Senator Gustavo Rivera (photo: NYS Senate Media Services)
---
Bronx State Senator Gustavo Rivera is no stranger to contentious campaigns, but his bid this year for a seventh term has been exceptionally so.
Rivera, a hero of New York's progressive left known for his independence and outspokenness, recently survived a tough Democratic primary race by a narrow margin — just 506 votes. The particularly competitive and at times nasty primary was in part the result of a messy redistricting process, but also showed both interest among many local political figures in ousting Rivera and the strength of his support among allies.
"There are folks who do know me and know about my work, certainly the districts that I've represented for 11 years…but you have people who don't know you and then the first thing that they hear about you is that you're just crazy radical…that will have an impact on some folks," Rivera said of the nature of the campaign in his hard-fought primary win in a significantly altered district, during a recent appearance on Gotham Gazette's Max Politics podcast.
Now that he's through the primary, Rivera is all but certain to remain in the State Senate come January, when the new class of legislators is seated, given the district's immense Democratic tilt.
In the August primary, Rivera, who has represented the 33rd district since 2011, beat Miguelina Camilo by only about 4.6% of the vote. Camilo, backed by the Bronx Democratic Party and a number of prominent elected officials, wound up running in the same district as Rivera after redistricting added western Bronx neighborhoods to much of the current 33rd district, areas where she had planned to run for State Senate in what she had thought would be part of a new 34th district, including her home, without an incumbent in the race.
But the primary turned into one of the latest battles between 'progressives' on one side with Rivera and 'the establishment' on the other with Camilo, while involving a number of other political rivalries as well, some of ambition and some of policy.
"The newly-drawn 33rd is roughly about 50% of the district I currently represent, so the one I've represented for over 11 years, including my district offices within it," Rivera told podcast host Ben Max, Gotham Gazette's editor. "There's a few neighborhoods that made their way back, namely Norwood, Tracy Towers and Scott Tower, those I represented very briefly back in 2010 when I was first elected. I have been here long enough to have survived two of these redistricting messes. And so between those two, it's about 70% of a district that I've represented prior." Rivera added that the southern part of his current district was "chopped off," but that his constituency now includes Riverdale, Spuyten Duyvil up to the Yonkers line, pieces of Allerton, and more of Van Nest and Morris Park.
Rivera's personal residence is no longer a part of the district, he mentioned, meaning he will have to give up his long-time, rent-stabilized home sometime next year. "I'm looking forward to continuing to represent this district and to do more work up in Albany. But this part I'm not looking forward to," he said of having to move.
The new 33rd State Senate district in the Bronx is 13% whiter and 11% less Hispanic than the current 33rd, according to Redistricting & You: New York from the CUNY Mapping Service, adding some wealthier areas of the northwest Bronx — communities that largely supported the more moderate Camilo in the primary.
Rivera said that the new district does not necessarily mean a change in his politics. A progressive, he has backed policies such as the New York Health Act, a bill to create single-payer healthcare in New York. As chair of the Senate health committee since Democrats took a majority in the upper house of the Legislature in 2019, Rivera has sought to find a way forward on the controversial legislation.
"I do not think that my positions are radical. I do not think that fighting for universal healthcare is a crazy, radical thing. I do not believe that fighting for fair housing policy is a crazy, radical thing. I don't think that fighting for full funding for public schools is a crazy thing," Rivera said on the podcast, when asked about whether he needs to moderate some of his stances given his new likely constituents. He pledged to continue working on the New York Health Act next session in the Legislature.
During the Democratic primary, Rivera's campaign was endorsed by several prominent labor unions, including the New York State Nurses Association, the New York City Central Labor Council, Transport Workers Union Local 100, and 1199 SEIU health care workers. He had the backing of prominent elected officials including Rep. Alexandria Ocasio-Cortez, City Comptroller Brad Lander, many of his Senate colleagues, including Majority Leader Andrea Stewart-Cousins, Senator Alessandra Biaggi, and others. He also had the backing of many progressive groups, including the Working Families Party.
In addition to the Bronx Democratic Party and its chair, State Senator Jamaal Bailey, Camilo was endorsed by several other prominent officials and labor unions, including Congressional Reps. Adriano Espaillat and Ritchie Torres, Bronx Borough President Vanessa Gibson, Assembly Speaker Carl Heastie of the Bronx, and others, as well as the Carpenters Union, District Council 37, which is the city's largest municipal labor union, and 32BJ SEIU, the building workers union.
Rivera won by the smallest margin of his career as a state senator. While stressing his victory, Rivera attributes his near-loss to the "enormous amount of money and resources" spent against him, including by promoting misinformation about his record.
Much of that discourse centered around Rivera's stance on BDS, the movement to boycott, divest from, and sanction Israel, he said. For example, an August 11 ad in the Riverdale Press stated, "Gustavo Rivera supports the antisemitic BDS agenda." Rivera told Gotham Gazette that this false claim has been especially perpetuated by Assemblymember Jeffrey Dinowitz, a Democrat who represents the western Bronx's District 81 and with whom Rivera has been feuding for years.
"He took a community for whom Israel is an incredibly important and essential issue to many folks out there who have direct connections to folks back in Israel, and then started to say that I was supportive of folks who did not want Israel to exist," Rivera said of Dinowitz.
In 2014, Rivera voted against a bill introduced by then-State Senator Jeff Klein of the Bronx, which would have prevented CUNY and SUNY campuses that were involved in a boycott of Israeli academic institutions from accessing state funding. Rivera maintains that Dinowitz has spread misinformation about this vote.
In July, Dinowitz told NY1 that Rivera "does support BDS," a claim that Rivera has refuted.
"Instead of providing any nuance to what that vote was, he would repeat over and over again, 'oh, he supports BDS,' which is not true. I do not. But I believe that we should not criminalize it," Rivera told Gotham Gazette.
Rivera believes that Dinowitz targeted residents of the new 33rd district who were not previously part of his constituency.
"The incredible amount of money that was spent on lying…over and over and over again, aided and abetted in particular by Jeff Dinowitz…that's the type of thing that will do when you have folks who do not know you," Rivera said.
Rivera also faced opposition around his education politics, where he has opposed expanding charter schools and focused on increasing state funding to traditional public schools in the city and state. Camilo and many of her backers are more supportive of charter schools, which are privately run and mostly non-union, and raising the state cap on new charter schools in the city, which has been hit. Rivera supports keeping the cap in place.
In the weeks leading up to the primary, New Yorkers for a Balanced Albany, a super PAC in support of charter schools funded by major conservative Wall Street figures who have often been involved in New York politics, reportedly spent more than $200,000 in efforts to unseat Rivera and Robert Jackson, the state senator for the 31st district, spanning parts of Manhattan and the Bronx, who has also been a critic of charter schools.
"As I've told parents and teachers who work for charter schools, if you're a charter school in my district, I certainly want you to succeed and I want the students in your classroom to succeed," Rivera said, noting that his priorities lie in traditional public schools, where the "overwhelming majority" of students, both in his district and New York overall, receive their education.
A lawyer from the Bronx, Camilo supports the New York Health Act, as well as increased funding for public education, and the advocacy of civil rights for groups like immigrants and LGBTQ+ individuals.
"I want to be the first Dominican Woman to represent the Bronx in the New York State Senate," Camilo wrote in a tweet announcing her campaign to represent communities home to many Dominicans and Puerto Ricans, among others in the heavily Latino district.
According to Rivera, who is Puerto Rican, the 33rd State Senate district is home to the most Dominican residents of any state legislative seat in the country.
Rivera, who mentioned he had just visited the Dominican Republic on state business, said his ethnic identity and those of his opponents and fellow senators cannot help but come into play in policy-making and campaigning.
"There are certainly going to be dynamics of different Latino groups. As far as Latino leaders, you know, there's going to be different dynamics that play themselves out," he said, noting that his supporters transcend demographic divisions, in response to a question about whether there was something of a Dominican-Puerto Rican split in the primary given support from Rep. Espaillat, who is Dominican, and others for Camilo.
As Rivera advances to near-guaranteed victory in the fall general election, he emerges from what Politico's Bill Mahoney described as "the messiest primary involving a Senate incumbent since Democrats won a majority in 2018." On the podcast, Rivera repeatedly stressed that he is excited and ready to serve all of his constituents, including in collaboration with those individuals and groups that backed his opponent.
"I would just underline anybody who hears this, who lives in the newly drawn 33rd who did not vote for me, I am looking forward to getting to know you, looking forward to meeting you, looking forward to hearing about your concerns. And again, whether you voted for me or not, I work for you and that has always and will always be how I focus," he said. "The work is about serving people. That's what I will continue to do. I'm looking forward to continuing to do it, at least two more years."
[LISTEN to the full conversation: Max Politics Podcast: Senator Gustavo Rivera on Surviving a Major Primary Challenge]