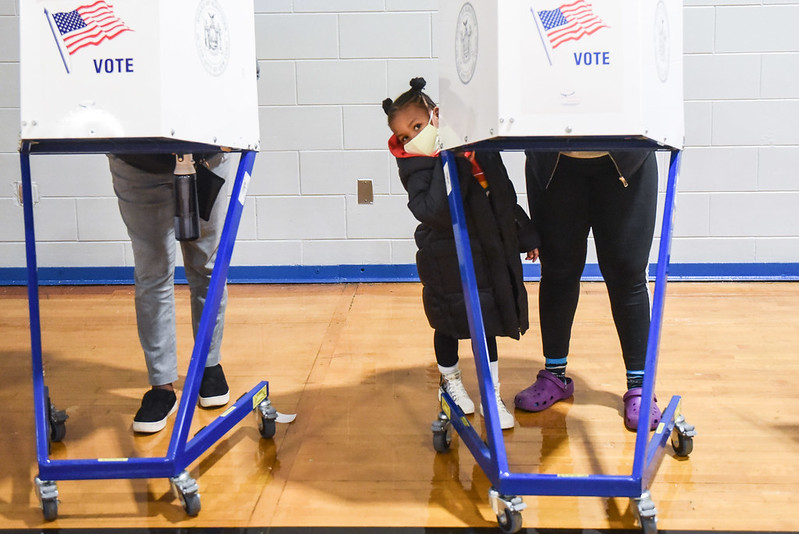 A look at the voting ahead (photo: Michael Appleton/Mayoral Photography Office)
---
Election Day 2022 is less than two months away and there's much at stake in New York, both at the state and national levels. After a messy redistricting process led to a bifurcated primary, the general election is well underway for statewide, state legislative, and congressional seats.
At the top of the ballot are the races for Governor and Lieutenant Governor, Attorney General, and Comptroller, as well as one U.S. Senate seat (currently held by Senate Majority Leader Chuck Schumer, who is seeking reelection). Democrats are running to hold all five positions, while the party is seeking to hold its super-majorities in both houses of the State Legislature and the vast majority of the state's seats in the U.S. House of Representatives.
Election Day is Tuesday, November 8, 2022. Absentee voting by mail is set to begin in late September and early voting will be available from October 29 through November 6.
While Democrats dominate in New York, the party continues to face the possibility of a backlash to rising inflation and crime, while the potential for a Republican wave also threatens the Democratic majorities in the U.S. House and Senate. New York will be among the states with the most House races in play to influence which party holds the chamber come January.
Around 10 to 12 of New York's 26 House districts appear competitive for the general election. Democrats' narrow U.S. House and Senate majorities are both vulnerable in these midterm elections, where the president's party almost always loses quite a few congressional seats.
But Democrats in New York and beyond feel some wind at their backs politically after the U.S. Supreme Court's unpopular decision to overturn Roe v. Wade abortion protections and amid ongoing Republican efforts to undermine American democracy, which are being led by former President Donald Trump, who remains deeply unliked in the state where he made his name. While forecasters continue to predict a Republican takeover of the House majority, recent polling has shown movement toward Democrats and a path to the party keeping its narrow majorities in both houses of Congress.
Though Democratic majorities in the New York State Senate and Assembly are secure, Republicans are hoping to win back several seats in the Senate especially. The top of the ticket, where Governor Kathy Hochul looks to win her first election to the position, could be vulnerable given some national and local trends, but polling, fundraising, and voter registration numbers all tilt heavily in her favor.
Democrats enjoy a heavy voter enrollment advantage across many parts of the state and in sum, making Democratic nominees favored in statewide and many legislative races. But, several general election contests will be competitive, hard-fought, and worth watching, and anything can happen in politics.
Along with elections for many seats in government, voters across the state will be able to vote for or against a ballot proposal for the $4.2 billion Environmental Bond Act advanced by Governor Hochul and the State Legislature; and voters in New York City will weigh three additional ballot questions related to potential additions to the City Charter put forward by a Racial Justice Commission assembled by former Mayor Bill de Blasio.
Along with statewide races, all 26 House seats from New York, all 150 State Assembly, and all 63 State Senate seats are up for election this year, and will be on the fall ballot but for where one candidate is uncontested in the general election.
Here is a rundown of races to watch state-wide and for House and state legislative seats:
Statewide Races
Governor Kathy Hochul, a Democrat, is running for her first full-term with Lieutenant Governor Antonio Delgado as her running-mate. They form a ticket against Republican gubernatorial nominee U.S. Rep. Lee Zeldin of Long Island and his running-mate, Alison Esposito, a former NYPD deputy inspector. Most polling has shown Hochul with double-digit leads, and no Republican has won any statewide office since Governor George Pataki won a third term in 2002.
Zeldin is hoping to break that two-decade streak by barnstorming the state, regularly attacking Hochul on a variety of issues, including her connection to disgraced former Governor Andrew Cuomo, and offering a vision for a tougher "law and order" approach, lower taxes, and fewer business and environmental regulations.
Hochul's pitch for reelection centers on her accomplishments in just over one year as governor and positioning herself and the state as bulwarks against an extreme Republican Party agenda that threatens abortion rights, voting rights, and the broader democratic process.
She has moved quickly to tighten gun restrictions and expand abortion access in the wake of two recent Supreme Court rulings. And she has repeatedly hammered Zeldin for embracing Trump and voting against the certification of the 2020 presidential election.
Zeldin has been extremely critical of criminal justice reforms passed in recent years by Democrats in Albany, particularly the elimination of cash bail in many cases. And he has sought to paint Hochul as a continuation of her predecessor who is not up to the task of leading the state. But his campaign appears to be eschewing a broader effort to reach the large number of independents, moderates, and disaffected Democrats he will need to win.
Emblematic of most polling in the race, a Siena College survey released in early August showed Hochul leading Zeldin 53% to 39%. An Emerson College/PIX11/The Hill poll released September 9 showed Hochul leading 50%-35% and a Data For Progress poll released September 15 showed her leading 52%-39%.
In other statewide races, Democrats face nominal opposition and have commanding leads over Republicans with little name recognition among voters.
U.S. Senator Chuck Schumer, the Democratic Senate majority leader, is running for reelection for a fifth six-year term against Republican Joe Pinion, a conservative TV news commentator. In the Siena College poll released August 2, Schumer led Pinion 56%-35%.
State Comptroller Tom DiNapoli, a Democrat, is running for his fourth full term in office and faces Republican Paul Rodriguez, a Wall Street veteran who unsuccessfully ran for New York City comptroller last year. In the Siena poll, DiNapoli had 51% of the vote against Rodriguez's 30%.
Attorney General Letitia James, a first-term Democrat, is running for reelection against Republican Michael Henry, a commercial litigation attorney. In the Siena poll, James led Henry by 50%-36%.
House Races
Based on the 2020 Census count, New York lost a congressional seat in the latest round of redistricting. There are currently 27 seats – 19 held by Democrats and eight by Republicans – which falls to 26 beginning with the next Congress in January, which will be based on the new district lines now in place and this year's elections.
Of those 26 new districts, according to the latest FiveThirtyEight forecast, two were toss-up races, in the new 19th and 22nd congressional districts.
Fourteen districts are ranked solid blue (Democratic), three were ranked likely blue, and one ranked as leaning blue, while four were solid red (Republican), one was likely red, and one leaning red. The "lean" districts are seen as especially in play, with hopes and there are contested races across the state, including in New York City's one Republican-held congressional district.
The Cook Political Report, meanwhile, has two New York 'open' races as toss-ups, in the new 19th and 22nd congressional districts.
Rep. Sean Patrick Maloney is running in the Hudson Valley's new 17th district, leaving an open race for the new 18th district in the Mid-Hudson Valley, where Ulster County Executive Pat Ryan won the August 23 primary against two opponents. Ryan is facing Republican Assemblymember Colin Schmitt in the general election. (Ryan also won a special election against Republican Dutchess County Executive Marc Molinaro for current, expiring 19th district, slated the same day as the primary, and will serve as the congressional representative of the current 19th district until the end of the year. That seat was vacated by Antonio Delgado when he became Lieutenant Governor.)
There was also an open Democratic primary for the new 19th district, which covers parts of the Southern Tier, Catskills, and Hudson Valley. Attorney Josh Riley won the Democratic primary and will face Molinaro in the general election.
U.S. Rep. Claudia Tenney, a Republican who represents the 22nd district, is running for reelection within the new 24th district. That left an open primary on both sides of the aisle in the new 22nd. Republican nominee Brandon Williams, a Navy veteran and entrepreneur, is running against Democratic nominee Francis Conole, a Navy veteran and ​​former national security adviser, in a race that is being eyed by both parties as a major battleground contest.
Both the 19th and 22nd are among the Democratic Congressional Campaign Committee's "Red to Blue" list of districts that they hope to flip in November. Other New York districts on that list include the 1st, 2nd, and 3rd districts on Long Island and the 11th district in New York City.
In that 11th district, the only New York City congressional district represented by a Republican, Rep. Nicole Malliotakis is favored to keep her Staten Island and Southern Brooklyn seat. But, former Rep. Max Rose is hopeful that recent Democratic momentum is a good harbinger for his bid to pull off an upset while focusing on abortion and democracy.
For the National Republican Congressional Committee, the 3rd, 4th, 18th, 19th, and 20th districts are all targets for their offensive in House races. Many Republicans are also looking at the 17th in hopes of unseating Rep. Maloney, especially given his national campaign role, where Republican Assemblymember Michael Lawler is his general election opponent.
Gotham Gazette will have a more detailed rundown on New York congressional races to watch in the coming weeks.
State Senate Races
Democrats have a 42-20 majority in the 63-member State Senate, with one vacancy, giving them a comfortable cushion as they head into the general election. But Republicans, who held a slim Senate majority as recently as 2018, are hoping to make some gains by capitalizing on the 'law and order' message being offered by Zeldin and other candidates down ballot. That message helped Republicans win some recent local races on Long Island, which is always a battleground area.
The redistricting process created several new open seats and while Democrats have enrollment advantages, more moderate and independent voters can prove decisive in general elections.
Redistricting effectively created two new open seats in New York City – the 17th district in Brooklyn and the 59th district spanning parts of Manhattan, Brooklyn, and Queens – that are likely to go to Democrats considering the sheer overwhelming majority of their voter enrollment in the city.
In the 17th district, there was no primary and Democratic nominee Iwen Chu is running against Republican Vito LaBella in what is at least a somewhat competitive race. (The current District 17 is represented by State Senator Simcha Felder, a conservative Democrat, who is running for reelection in the new District 22.)
In the 59th, Democrat Kristen Gonzalez won a crowded primary to secure the nomination and very likely the seat. She is running against independent candidate Josh Bowen. Gonzalez, a democratic socialist, will likely grow the ranks of state legislators affiliated with the Democratic Socialists of America - New York City.
Republicans are playing defense in at least two seats, in State Senate Districts 41 and 61, where the races appear competitive, while they are on the offensive in districts across the state.
Their arguments are, broadly speaking, the same as the top of the ticket and they are hoping that voter concerns about inflation and public safety, among other issues, will help them flip several seats and potentially end the Democratic supermajority in the chamber.
"After years of one-party rule in Albany, New Yorkers are energized to change the direction of our state," said State Senator Pam Helming, chair of the Senate Republican Campaign Committee, in a statement to Gotham Gazette. "Voters have seen the disastrous policies of the Senate Democrats that have made New York more expensive and less safe. The Senate Republican [sic] will make it clear to the people of this state that there is a viable alternative to pro-criminal, tax and spend Albany agenda. We will deliver our vision of a stronger, safer and more affordable New York to help us take back seats from Long Island to Buffalo and all parts in between."
As a product of redistricting, the new Senate District 41 covers large parts of both the old District 41, represented by Republican State Senator Sue Serino, and the old District 46, represented by Democratic State Senator Michelle Hinchey. The two are now facing off in the general election in one of the two races where Republicans are defending a seat. The new district covers parts of Greene, Ulster, Dutchess, and Columbia counties.
Similarly, in western New York, incumbent Republican State Senator Ed Rath, who represents District 61, saw a significant westward shift in his district. Half of the new District 61 is what has been District 60, represented by Democratic State Senator Sean Ryan, setting up the two to face each other in the general election.
On Long Island, where more moderate Democrats were able to flip Republican seats in 2018, Republicans see an opportunity this year to make gains. 
In District 7, in northern Nassau County, Democratic State Senator Anna Kaplan is being challenged by Republican Jack Martins, a former state Senator who left office in 2017 after unsuccessfully running for Congress.
Democratic State Senator John Brooks, who currently represents District 8, declined to run for reelection after the redistricting process carved out most of his district, but soon changed his mind an is now running in the new District 5. He is facing off against Republican candidate Steve Rhoads.
In the new District 8, which covers the southwestern waterfront of Suffolk County, Republican Alexis Weik and Democrat John Alberts are running in the general election to fill the open seat.
In District 9, which covers the southwestern corner of Nassau County, Democratic State Senator Todd Kaminsky resigned this year to take a job with a lobbying firm, leaving an open race for his seat. Democrat Michael Pernick and Republican Patricia Canzoneri-Fitzpatrick are running to succeed him.
In several races, Republicans believe they have a strong shot of challenging sitting Democrats, some of which include areas home to current districts that Democrats have flipped in the last two election cycles.
In District 38, Democratic State Senator Elijah Reichlin-Melnick is being challenged by Republican William Weber Jr., who unsuccessfully challenged the senator in 2020. The new district covers most of Rockland County.
In District 40, Democratic State Senator Pete Harckham is being challenged by Republican Gina Arena. The new district covers parts of Rockland, Putnam, and Westchester counties.
In District 42, Democratic State Senator James Skoufis is being challenged by Republican Dorey Houle. The new district covers parts of Dutchess, Orange, and Putnam counties.
In District 50, Democratic State Senator John Mannion is being challenged by Republican Rebecca Shiroff. The district covers parts of Onondaga and Oswego counties.
Republicans have other prospects as well.
Democratic State Senator Rachel May, who represents District 53, is running for reelection in the new District 48 after redistricting. She faces two opponents in the general election: Republican candidate Julie Abbott and Conservative Party candidate Justin Coretti.
Republican State Senator Joseph Griffo, who represents District 47, is now running in the new District 53, which covers parts of Chenango, Madison, and Oneida counties. Griffo is unopposed in the general election.
"While a midterm election is historically difficult for the party in power, we remain confident that voters will recognize the need to fight against Republican extremism that threatens reproductive freedom and so many of the rights we've come to hold dear," said State Senator Michael Gianaris, the Democratic deputy majority leader and chair of the Democratic Senate Campaign Committee.
There are several other open seats as well including in Districts 3, 4, 23, 34, 39, 43, and 52, some of which are expected to be competitive.
In District 3 in Suffolk County on Long Island, Republican nominee Dean Murray is running against Democratic nominee Farzeen Bham. The district covers areas that are heavily Republican, spanning parts of three existing Senate districts represented by Republicans.
In District 4, which covers the southern parts of Suffolk County, Democrat Monica Martinez – a former state senator who lost reelection in 2020 – is running against Republican nominee Wendy Rodriguez. The district looks to be a toss up, composed of parts of three existing Senate districts represented by a Democrat and two Republicans.
In District 23, which covers parts of Brooklyn's southern waterfront and the North Shore waterfront of Staten Island, Democratic State Senator Diane Savino did not run for reelection this year, giving Republicans hope of picking up a seat in the city. Democrat Jessica Scarcella-Spanton is running against Republican Joseph Tirone for the seat. Voters in the district tend to vote for Democrats, likely giving Scarcella-Spanton an advantage.
In District 34, which covers the East Bronx and parts of Westchester, Democrat Nathalia Fernandez faces Republican nominee Samantha Zherka. It is a heavily Democratic district and Fernandez is likely to be the winner.
In District 39, which spans parts of Dutchess, Putnam, and Orange counties, Republican nominee Robert Rolison is running against Democratic nominee Julie Shiroishi. Most of the new district falls within the confines of existing district 41, which is represented by Republican Sue Serino, which could signal a significant shift in voting patterns this year.
Republican State Senator Daphne Jordan represents District 43 but, after redistricting, ran in the new District 44 before withdrawing from that race. In the new District 43, which covers parts of Rensselaer and Washington counties, Democrat Andrea Smyth is running against Republican Jacob Ashby in the general election for the open seat. The new district spans parts of existing Senate districts that are both represented by Republicans, which could mean that Ashby has an edge heading into the general election.
In District 52, which covers Cortland, Tompkins, and parts of Broome counties, Democrat Lea Webb is running against Republican nominee Richard David. The new district covers parts of three existing Senate districts that all elected Republicans in the past.
Gotham Gazette will have a more detailed rundown on New York State Senate to watch in the coming weeks.
State Assembly Races
Democrats practically have a stranglehold on the Assembly and currently hold 107 out of 150 seats, with the remaining 43 held by Republicans. The state's chaotic redistricting process led to a judge throwing out the new Assembly map but not in time for the June primary, which means that Assembly districts are set to change again for the next election in 2024.
There are some races that could be competitive this fall.
Republican Assemblymember Michael Lawler, who narrowly flipped the District 97 seat in 2020 against incumbent Democrat Ellen Jaffee, is his party's general election nominee for the 17th congressional district. Republican John McGowan and Democrat Eudson Francois are running to replace him in the Assembly.
In District 103, which includes parts of Dutchess and Ulster counties, Sarahana Shrestha, a climate organizer and Ulster County co-chair of the Democratic Socialists of America, defeated incumbent Democrat Kevin Cahill in the June primary. Shrestha now faces Republican Patrick Sheehan in the general election.
In District 135 outside Rochester, Democratic Assemblymember Jen Lunsford defeated incumbent Republican Mark Johns in 2020 by a slim margin. This year, she is being challenged by Republican Joseph Chenelly in the general election.
There are several other races where incumbents are not running for reelection, which means there will be a new Assembly member from that district, likely a Democrat in most cases. They include Districts 30, 37, 63, 65, 73, and 75.
In District 30, which covers parts of Woodside and Elmhurst in Queens, Democrat Steven Raga is running against Republican Sean Lally. In the heavily Democratic borough, Raga is the apparent favorite, though the new district lines are drastically different than when represented by a Democrat previously.
In District 37, which covers Long Island City, most of Sunnyside and Maspeth in Queens, Democrat Juan Ardila is running unopposed. The district is currently represented by Assemblymember Cathy Nolan, who is retiring after 37 years in office.
In District 46, which covers Fort Hamilton, parts of Bay Ridge and Dyker Heights, Coney Island and Sea Gate in South Brooklyn, Assemblymember Mathylde Frontus is facing a challenge from Republican candidate Alec Brook-Krasny, a former Democratic Assemblymember who previously represented the district. 
In District 63, covering Staten Island's Mid-Island communities, Assemblymember Michael Cusick, a Democrat, is not running for reelection. Democrat Vincent Argenziano and Republican nominee Sam Pirozzolo are running to replace him. Voters in the district tend to vote for Republicans in higher numbers in general elections but Cusick nonetheless served the district since 2003, making it hard to predict which candidate will be favored this fall.
In District 65, covering Manhattan's Lower East Side and Chinatown, Democrat Grace Lee is running against Republican Helen Qiu. It is a heavily Democratic area currently represented by Assemblymember Yuh-Line Niou, who declined to run for reelection as she pursued the new 10th congressional district seat, but narrowly lost the primary there.
In District 73, covering Murray Hill, Midtown East and the Upper East Side in Manhattan,  Democrat Alex Bores is running against Republican David Casavis. The district is currently represented by Democratic Assemblymember Dan Quart, who declined to seek reelection. The district is heavily Democratic but contains a significant number of registered Republicans.

In District 75, stretching from Chelsea to Columbus Circle on the West Side of Manhattan, Democrat Tony Simone is running against Republican Joseph Maffia. This heavily Democratic area is currently represented by Assemblymember Dick Gottfried, who is retiring after 52 years in the Assembly.
Note - this article has been updated.