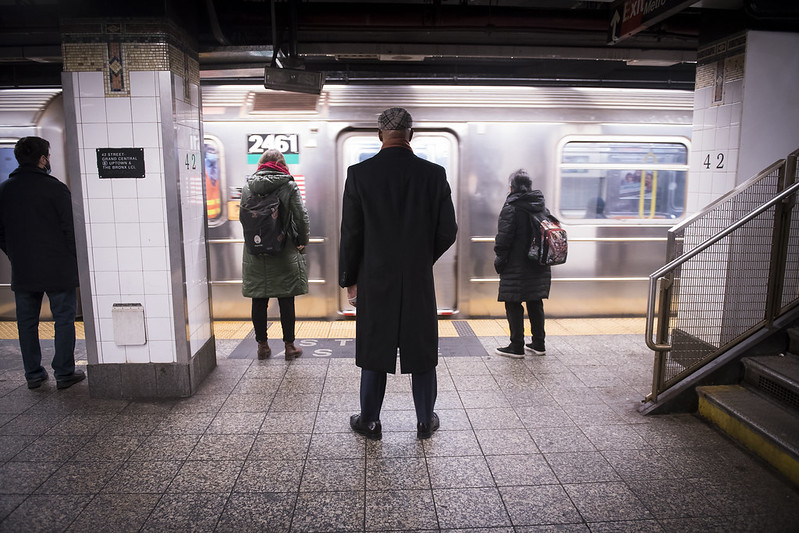 Mayor Adams rides the subway (photo: Mayor's Office)
---
When Mayor Eric Adams was on the campaign trail last year, he repeatedly called for city and state officials to step up the use of Kendra's Law – a state law that allows court-ordered outpatient mental health treatment for people deemed dangerous to themselves or others.
"We must strengthen Kendra's Law," Adams told the press outside a subway station in May 2021.
"Judges, do your job. It's time to use Kendra's Law to deal with the mental health crisis that we're seeing," he said.
Adams came into office in January and, with Governor Kathy Hochul, trained his sights on "subway safety," homelessness, and untreated mental illness. With the presence of people with serious mental illness more visible on the subways and streets of some parts of the city, the crisis was further elevated by high-profile incidents, particularly the January killing of Michelle Go, who was pushed in front of a train by a man with schizophrenia. Earlier this year, Hochul, with Adams' support, strengthened Kendra's Law in the state budget and both made it a focus of public pronouncements. 
That messaging appears to have reached the city's pool of law enforcement and social service agencies.
The number of Kendra's Law orders statewide increased modestly in August, from roughly 3,400 to 3,500, and has remained elevated through much of September. While the increase statewide is slight, it is driven almost entirely by New York City, which has seen a significant jump in treatment orders across the five boroughs whereas there have been declines in most of the rest of the state.
The Adams administration and the city's Department of Health and Mental Hygiene (DOHMH), which administers the orders, has pointed to few official directives related to the use of AOT petitions or to Kendra's Law at all.
Asked to respond to the figures, the Adams administration did not point to specific efforts to increase the use of Kendra's Law and AOT.
"The Adams administration is laser focused on keeping New Yorkers safe and caring for the most vulnerable among us. We will continue to make sure people get the help they need, including AOT when appropriate," wrote a City Hall spokesperson in an email.
To be placed under what's known as "assisted outpatient treatment" (AOT), a person must be demonstrating violent behavior or have been hospitalized repeatedly for not complying with a treatment regimen in the past. AOT often entails taking psychotropic drugs and various forms of therapy. If a person doesn't comply they can be involuntarily held for evaluation and ultimately committed to a psychiatric hospital.
Typically, a county health department -- in this case the NYC DOHMH -- petitions the court after receiving a referral, often from an outreach worker, outpatient provider, or family member, or from other city agencies like the Department of Social Services. Over the last 12 months (since September 2021), judges in New York City have granted 90% of AOT petitions (down slightly from 96% of petitions granted since 1999).
Proponents, like Adams' senior advisor for serious mental illness, Brian Stettin, a lawyer who helped write Kendra's Law in 1999 as a assistant attorney general, say the law helps a subset of people with mental illness receive expedited care and avoid unnecessary hospitalization and criminal-legal involvement. Some civil rights advocates and advocates for those with serious mental illness call the system coercive, with language that is overly broad and often used to violate constitutional rights.
In New York City, 44% of current AOT recipients are Black and 32% are Latino, according to state data. About a quarter have experienced homelessness, incarceration, or both. More than half have alcohol or substance use issues. Current rates suggest a quarter of AOT orders will result in hospitalization.
As of September 22, the number of individuals under AOT in New York City had risen to 1,655, close to half of the state total, and a remarkable 19% increase over the same day last year. Long Island was the only other region in the state to see an increase, dwarfed by both the pace and volume in the city. Every region north of the Bronx saw declines in AOTs year-over-year.
The uptick came on the heels of a surge in new AOTs in New York City from April through July, despite falling rates elsewhere in the state. That has raised questions about what emphasis the Adams administration is placing on using Kendra's Law outside his bully pulpit.
In February, a few weeks after Go was fatally pushed in front of a moving train, Adams unveiled his Subway Safety Plan. The centerpiece of the campaign included flooding the subways with outreach workers and police officers, and pushing state legislators to change Kendra's Law.
"It is cruel and inhumane to allow unhoused people to live on the subway, and unfair to paying passengers and transit workers who deserve a clean, orderly, and safe environment," Adams said in a statement at the time.
"The days of turning a blind eye to this growing problem are over, and I look forward to collaborating with the state, the federal government, TWU, advocates, and law enforcement to solve this challenge," the new Democratic mayor said.
Adams' plan called for an inter-agency review of the entire AOT system, to "identify efficiencies and ensure clients are placed in the best-care pathway for their needs."
A City Hall spokesperson said that review is ongoing but declined to provide any details about its status or findings so far.
In April, after a push from Hochul echoing calls from Adams to expand Kendra's Law, state lawmakers broadened the statute to make it easier to renew orders after they've expired. The amendment made it possible for local health departments to extend mandated treatment within six months of expiration without meeting previous criteria (i.e. evidence of violent behavior or hospitalization) within the statutory window, as long as an individual is unable to carry out "one or more major life activities" due to mental illness.
"Governor Hochul's top priority is protecting New Yorkers, and she has made the development of a comprehensive behavioral health crisis system in New York State a key initiative in her administration," said Justin Mason, an Executive Chamber spokesperson, in response to the latest increase in AOT.
"Governor Hochul worked with the Legislature to implement the most substantial amendments to Kendra's Law in two decades in order to strengthen the use of the law and outcomes," Mason continued. "By investing millions of dollars in mental health services and working closely with providers, local government, and law enforcement to help vulnerable individuals get the care they need, Governor Hochul is taking meaningful action to protect the health and safety of New Yorkers in need."
The state's Office of Mental Health (OMH), has met with county health departments, the state courts and state-appointed legal counsel around the state to educate them on changes to the law, Mason said. OMH has also updated the guidance documents available on its website.
According to the mayor's office, the city has trained officials at DOHMH, New York City Health + Hospitals, and the Department of Social Services in the changes to the law.
The administration also sent city agencies a February guidance letter from OMH Commissioner Anne Marie Sullivan, an appointee of former Governor Andrew Cuomo, that said police and front-line crisis responders may remove a person to a hospital under a danger standard that included self-neglect, similar to the change codified in the expanded Kendra's Law this spring.
But according to OMH, the more expansive language hasn't been the basis of any new orders.
From April to July, while the number of new orders jumped, the overall number of people under AOT remained steady around 3,400, indicating people were coming off AOT as quickly as they were going on.
The reason, according to a spokesperson for the city's Department of Health and Mental Hygiene, which handles almost all AOT petitions in the five boroughs, "is that during the latter part of the pandemic, some AOT orders lapsed without renewal due to pandemic related issues with the court system," causing a reduction in the AOT census.
"Many of these lapsed cases were reopened as investigations and, as the courts began functioning better, were placed back on AOT," the city health department spokesperson told Gotham Gazette. "These, in addition to the usual new referrals each month, allowed the AOT census to recover."
Asked why the courts were able to process new orders so quickly but couldn't keep up with lapsing orders, another DOHMH spokesperson explained that the courts could not review expiring orders "when their operation reduced during the pandemic," leaving it to DOHMH to resubmit AOT petitions after the fact.
Lucian Chalfen, a spokesperson for the state court system, appeared to deny the claim that court functions had halted. "We continued to do hearings throughout the pandemic as we had been set up for virtual appearances previous to March 2020," he wrote to Gotham Gazette in an email response to the DOHMH statement.
Amid the current spike in AOTs, the biggest jump has been in Manhattan, which saw a 25% year-over-year increase, followed by Queens, Brooklyn, the Bronx, and, modestly, Staten Island. The particular uptick in Manhattan appears to align with Adams' and Hochul's focus on targeting police and outreach services to the epicenter of public transit hubs. The NYPD recently reported interacting with more than 40,000 people experiencing homelessness in the transit system this year, of whom 7,700 accepted services.
In mid-September, representatives from OCA and Mental Hygiene Legal Services, a branch of the court system, DOHMH's legal division, and over a dozen other stakeholders, including AOT providers, met to discuss ways to expedite mental health cases. It was "a regular meeting," according to Chalfen. The second item on the agenda was "Treatment Orders," he said. 
Neither Chalfen, DOHMH, nor City Hall will comment on what was discussed or who was present. A City Hall spokesperson confirmed the meeting took place, focused on court calendaring. The spokesperson said it was not specific to AOT orders but did not deny the orders were discussed.
This article has been updated in a few locations for clarity.