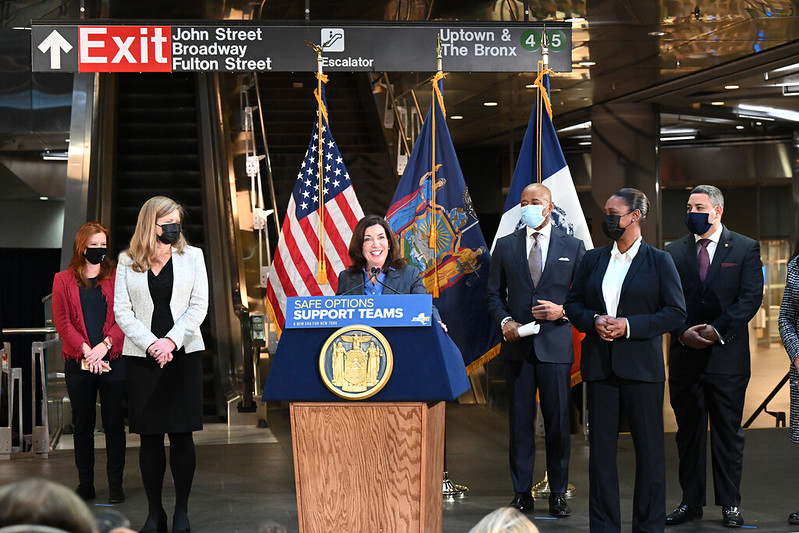 Gov. Hochul & Mayor Adams discuss subway support teams (photo: Kevin P. Coughlin/Governor's Office)
---
Governor Kathy Hochul's Safe Option Support outreach teams have helped find "bed placements" for 150 homeless individuals living in the subways in their first six months of operation, according to the New York State Office of Mental Health.
The figures, provided to Gotham Gazette after an inquiry, indicate some action by one of Hochul's first major mental health and public safety initiatives as governor, amid rising homelessness and street violence. They also raise more questions about whether the program is effective in getting people who need help off the subways, enrolled in services, and into housing.
"Our ultimate goal is to make sure that every New Yorker has a roof over their head and that they are safe," Hochul said at a January 6 press conference at the Fulton Street subway station with Mayor Eric Adams and Police Commissioner Keechant Sewell, just a week into the new mayor's tenure and a day after announcing the SOS program in her State of the State agenda.
For "the first time we're going to create teams of trained professionals, who will be embedded here, who develop relationships, develop trust, and allow us to face the issue of chronic street homelessness with a plan," Hochul said.
The SOS teams are made up of medical professionals, social workers, and other service providers, and intended to work with city agencies to find placements and wraparound services for homeless individuals. A majority of the teams, which are administered by Coordinated Behavioral Care, a nonprofit contracted by the state's Office of Mental Health (OMH), operate in Manhattan, with others in Brooklyn, Queens, and the Bronx.
The announcement by Hochul came amid concerns of rising street homelessness and a number of high-profile attacks on straphangers by unhoused people with serious mental illness. It was an effort that appeared to showcase the new governor as both a partner of the new mayor on challenging issues, and responsible for what happens on MTA mass transit, which she controls.
The purpose of the program is to meet the multiple psycho-social needs of chronically homeless people, including mental health support, and reduce obstacles that often prevent people from seeking services.
Hochul also acknowledged the inadequacy of the shelter system in meeting many of those needs.
"Shelters can be a scary place for someone, especially during COVID and we tell people not to be in congregate settings," Hochul said. "That's why in conjunction with launching a very hands-on strategic approach to dealing with the people on the streets, I want them to have an option to go somewhere else that is safe and worthy of them."
To get there, Hochul set the five-year goal of creating or preserving 100,000 units of affordable housing, including 10,000 units of supportive housing, which come with on-site social services. The state budget adopted in April included $12.5 million for 500 scatter-site supportive housing beds "to more quickly transition those in crisis from the streets, subways, and shelters to stable housing," according to an Executive Chamber statement from April. But James Plastiras, a spokesperson for OMH, said a request for proposals to contract-out the beds that was intended for the summer was delayed and, as of early October, was "in the final stages of review."
Since the January announcement, the city's Department of Homeless Services shelter census has skyrocketed, in part due to an influx of migrants and asylum-seekers, reaching a single-night record of 62,000 earlier this month and leading to violations of court-mandated "right to shelter" standards.
Outreach workers on the streets and subways are not new in New York City and some of the SOS teams were repurposed from existing programs. The city's Department of Social Services has its own workers, both contracted and agency-employed, that do outreach throughout the system, especially at end-of-line stations.
According to OMH, the new teams use an approach called "Critical Time Intervention," which includes "addressing immediate basic needs" like food, clothing, and housing, help securing public benefits, and links to medical, behavioral health, and substance use treatment.
"We're going to utilize our police to do public safety and our mental health professionals to give people the services that they need…Safe Option Support team plan is going to do just that," said Adams, a former transit police officer, at the January announcement with Hochul and Sewell.
Replacing police with professional social workers was a long-sought goal of housing and police reform advocates. The concept gained traction during protests against police brutality in 2020 and the heightened visibility of street homelessness as the pandemic cleared public spaces of daily commuters.
On the campaign trail last year, Adams stumped on a public safety platform that included increasing NYPD presence in the subways and pairing police with mental health workers to help clear encampments and get people into services. He has eschewed calls to remove police entirely from homelessness and mental illness outreach.
The SOS program was billed as a hybrid model with the teams intended to work in conjunction with city agencies, including the police, health, and social services departments.
"These are individuals who work hand in hand with New York City outreach teams," Hochul said in January. "You don't need to be siloed or have turf battles, you're teamed together."
Adams echoed that sentiment in his Subway Safety Plan, released in February. "We are excited to welcome 12 New York State Office of Mental Health SOS CTI teams, which will be comprised of up to 150 staff, over the next few months to join us in this work," the proposal report reads.
But it is not clear how the ten currently-active teams have been working with the city, if at all. According to OMH, the 150 bed placements may include anything from shelter beds to safe havens and stabilization beds to long-term or permanent housing. It may also include connecting homeless individuals to DHS "Welcome Centers," which are temporary shelters beds intended for only a few nights' occupancy before individuals are rerouted to other options. Psychiatric beds were not mentioned as possible destinations, despite a $55 million push in the state budget this year to bring 1,000 new beds on line.
It is unclear how many of these 150 individuals ended up back on the streets.
It is also unclear how many people SOS teams have referred to the city Health Department for court-ordered psychiatric treatment under a statute known as Kendra's Law, which state lawmakers expanded earlier this year after a push from Hochul and Adams.
City Hall did not respond to multiple requests for comment about the program's efficacy or how it was working with city agencies. Coordinated Behavioral Care, the non-profit contractor, also did not return requests for comment.
Since the first team was launched in April, SOS workers have made 2,486 contacts with homeless individuals, often including multiple interactions with the same person, according to OMH. The data shows one person enrolled in services for every seven engagements with an SOS team.
Through October 7, the last date data is available, Coordinated Behavioral Care has gotten 385 referrals from outreach teams, hospitals, local service providers, caregivers, the NYPD, and the MTA. Of those, 378 individuals have enrolled in case management services.
"Governor Hochul's top priority is the safety of New Yorkers, and the deployment of SOS teams is part of our efforts to improve safety on our streets and in our subways," wrote Avi Small, a spokesperson for Hochul, in an email to Gotham Gazette. "The Governor will continue working with elected colleagues, law enforcement, medical professionals and the nonprofit sector to provide safety, support and resources."
Advocates for homeless New Yorkers said the program would miss its mark if it was focused only on engagement and not on expanding the services behind them.
"We've said many times that the issue is not so much the number of people doing outreach, it's what resources outreach teams have to connect people to," said Jacquelyn Simone, policy director at Coalition for the Homeless, a nonprofit.
"I worry a lot of the announcements, including the announcement around the SOS teams, seem to be focused on the optics and the visibility of unsheltered homelessness, rather than actually addressing real pressure points that are preventing people from accessing stability," said Simone.
She said the teams need to be able to offer a menu of housing options, which aren't always available. In the near-term, that means more low-barrier shelters (shelters without requirements like curfews) with private rooms in locations near where homeless individuals are living, she said. In the long-term, Simone said there needs to be greater investment in affordable and supportive housing.
Only 16 people were accepted into supportive housing from the street or another public place in the city's last fiscal year (from July 2021 through June 2022), according to newly-required reporting from the city's Department of Social Services.
In an announcement from the governor's office later in January, the state said it planned to launch 12 SOS teams in New York City, four by spring and another eight by the summer. Eight more were planned to start elsewhere in the state by the end of the year.
According to OMH, the first four SOS teams were up and running in Manhattan in April and two more were converted from another program, Pathway Homes, in June. This summer, two more teams launched in Brooklyn, one in Queens, and one in the Bronx, with another expected to start this fall, a spokesperson said, for a total of 11.
Asked about the status of the twelfth SOS team promised for New York City, Plastiras, the OMH spokesperson, told Gotham Gazette the program is a work in progress hampered by workforce limitations.
"Despite a nationwide shortage of healthcare workers, OMH has successfully launched 10 SOS teams offering specialized services for vulnerable New Yorkers living with mental illness and experiencing homelessness, while demonstrating this new program's effectiveness in linking these individuals to both housing and services," Plastiras wrote in an email. "OMH will continue our efforts to expand the impact of the SOS program."
This year Hochul and state lawmakers included $11.3 million in the budget to launch the program with annual funding of $21.5 million in the next fiscal year, which will begin April 1 2023. In June, as part of an announcement with New Jersey Governor Phil Murphy and transit agencies on the reconstruction of Penn Station in midtown Manhattan, Hochul said the state would be expanding the SOS program as one of the development's homeless services offerings after public meetings with providers and other stakeholders.
The Office of the State Comptroller (OSC) has no record of any SOS contracts, according to a spokesperson.
"OMH's SOS contracts are in various stages of the review and approval process within our agency, and by the Attorney General's Office and OSC," Plastiras wrote. "Given the immediate need for these services, OMH amended existing contracts with providers to allow them to get teams up and running while new contracts are being reviewed and approved."
"Additionally, some providers have agreed to begin operations of SOS teams prior to receiving executed contracts or funding," he said. "The final contracts will include retroactive effective dates to reimburse providers for their services."
The implementation is a departure from Hochul's initial announcement in January, in which the governor said the contracts would go through a competitive bidding process. "I'm announcing that I'm signing an RFP to go out immediately to develop these teams," she said.
The Office of Mental Health would not say under what authority the state was amending contracts outside of the comptroller's oversight. 
"We are not amending contracts without OSC approval," Plastiras wrote in response to an inquiry. "The amended contracts, as well as the new contracts, will be reviewed and approved by the OSC. However, responding to the immediate need necessitated amending existing contracts to quickly launch the teams."