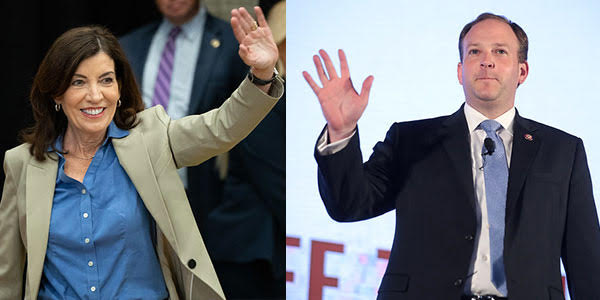 Kathy Hochul and Lee Zeldin
---
With under three weeks till Election Day, a set of recent polls in the New York governor's race show U.S. Rep. Lee Zeldin, the Republican nominee, catching up to incumbent Democratic Governor Kathy Hochul. They appear to indicate a growing possibility that New York could elect its first Republican governor since George Pataki won a third and final term in 2002, despite that such an outcome seemed like a big longshot just weeks ago.
But a deeper dive into polling trends shows that Zeldin continues to face an uphill battle and will have to shore up greater support among independents and moderate Democrats to have a shot at victory in a state where Democrats outnumber the sum of Republicans and independents and independents outnumber Republicans. Hochul, buoyed especially by New York City voters and women, while competing in the suburbs, remains the favorite, but is clearly in a less comfortable position than the glide path she appeared to be on earlier in the race.

Hochul, the state's first woman to be governor, has only been in the position a little more than a year and was not particularly well known across the state before taking office. While she has had a major fundraising advantage over Zeldin, she has not been campaigning aggressively, while Zeldin has been boosted by massive outside spending by national Super PACs. Hochul has largely focused on abortion rights and criticized Zeldin's conservatism and ties to former President Trump, even as her opponent has focused on issues that polling shows matter most to New Yorkers: the economy, inflation, and crime.
Recent Polling in the Governor's Race
A Quinnipiac University poll released Tuesday (October 18) had Hochul with a 50-46% lead over Zeldin, the closest the two have come in polling in the last few months. The poll questioned 1,617 likely voters, with a 2.4% margin of error and a sample that many Democrats and some analysts questioned for under-weighting Democrats.
"In the blue state of New York, the race for governor is competitive," Quinnipiac University Polling Analyst Mary Snow declared. "Democrats have cruised to victory in gubernatorial races since 2006, but Governor Hochul's narrow edge puts Republican Lee Zeldin well within striking distance of her."
However, a Siena college poll released the same day gave Hochul an 11-point lead, with 52% of the vote over Zeldin's 41%. Siena polled 707 likely voters, with a 4.9% margin of error.
The two polls had different sample sizes and constitutions: Quinnipiac's sample included 24% Republicans, 39% Democrats, 31% independents, and 5% other parties; Siena's was 31% Republicans, 47% Democrats, and 17% independent and other parties. The latter appeared far more in line with past New York voting trends. While Hochul's margin has shrunk in Siena's polling of the race, her 11-point margin was in line with its prior surveys.
On Thursday (October 20), SurveyUSA released a poll that showed Hochul with a six–point lead, 47-41% over Zeldin, down significantly from its previous August 23 poll that had Hochul leading 55-31%.
A poll released October 13 by the Marist Institute for Public Opinion hewed close to Siena's results, with Hochul ahead by 51-41% over Zeldin, but the lead falling to 8 points among those who said they will definitely vote.
"Although Democratic candidates for governor and U.S. Senate lead in very blue New York, the race for governor still bears watching," said Lee M. Miringoff, director of the Marist Institute. "Republicans say they are more likely to vote, enthusiasm for Zeldin among his supporters exceeds Hochul's, and any shift to crime in the closing weeks is likely to benefit Zeldin."
There have been outlier polls in the race as well. A poll released October 3 by The Trafalgar Group, a right-leaning polling firm, had Hochul and Zeldin neck-and-neck, with the governor leading just 44.5% to 42.6%.
The Big Picture
Nonetheless, the latest FiveThirtyEight model, updated October 20, gives Hochul a 98 in 100 chance of winning the race, predicting a 56.7% vote share for the incumbent over 43.3% for her challenger. That model looked at eight different polls in the race, including Quinnipiac and Siena, weighted by recency, sample size, and pollster rating.
The campaigns have both attempted to put a good spin on the polling.
"Despite $8 million in outside spending from right-wing groups pushing baseless lies, Governor Hochul maintains a double-digit lead against her opponent," said Hochul campaign spokesperson Jerrel Harvey, in an October 18 statement, seemingly referencing Hochul's polling average. He also insisted that though Quinnipiac's poll "substantially undercounted Democrats," Hochul still crossed the key 50% mark. "With just three weeks until Election Day, the governor isn't taking anything for granted and will continue to contrast her strong record of results with Lee Zeldin's MAGA agenda," he added.
Zeldin hailed the results as proof that his campaign is garnering momentum. "We've consistently been gaining massive ground on Hochul as New Yorkers witness first hand her abysmal record on the issues most important to them - crime, the economy, corruption and more," he said in a statement. "Every day, all day, we've been ALL IN, all across the state, communicating directly with voters about the issues that matter most to them. The polls have continued to show that our message is resonating, and on Tuesday, November 8th, New York voters are going to elect a new Governor to Save Our State and restore New York to glory."
A Narrowing Lead
Zeldin, a conservative from Long Island, has indeed grown in the polls even as support for Hochul has largely remained stable overall. In an August 2 Siena poll, the first head-to-head poll conducted by the firm ahead of the general election, Hochul led Zeldin 53-39% (among 806 likely voters, with a 3.5% margin of error), meaning she lost only one point in the latest Siena poll while Zeldin gained two.
For Zeldin, his campaign message focused on public safety and the economy seems to be resonating with voters. Voters in the Quinnipiac poll said crime (28%) and inflation (20%) were their top priorities, followed by protecting democracy (14%). However, Republicans, Democrats and independents differ wildly on the issues. Among Republicans, 42% said crime was their top priority, 31% said inflation, and 6% said protecting democracy; for Democrats, 18% said crime, 12% said inflation, and 23% said protecting democracy; among independents, 31% said crime, 21% said inflation, and 11% said protecting democracy.
Hochul's campaign has spent months blasting Zeldin on issues like his opposition to abortion, for questioning the results of the 2020 presidential campaign – Zeldin was one of four New York Republicans in Congress to vote against certifying the results of the election on the night of January 6, 2021 – and his downplaying of the Capitol insurrection prior to that vote.
Notably, Zeldin's unfavorable rating among voters has been rising alongside his favorable rating as voters get to know him better. In the August 2 Siena poll, 31% of voters gave him a favorable rating compared to 28% unfavorable. In the September 28 poll, he stood at 31% favorable and 33% unfavorable. In the October 18 poll, he was at 37% favorable and 41% unfavorable.
Tom Doherty, a former aide to Pataki and partner at Mercury Public Affairs, said that Zeldin's position on January 6 likely doesn't matter to voters who care more about bread-and-butter issues that affect their daily lives. And his almost singular focus on crime has worked to his benefit.
"So wages, gas prices, crime…taxes, those are things that affect us on a daily basis," he said in a phone interview. "And that's what this campaign has really now come down to." 
Regional Differences
The two candidates' strength of support varies when comparing New York City, which is home to 42% of the state's population, with the rest of the state. The city's weight is also large in a gubernatorial race. Case in point, former Governor Andrew Cuomo won his 2014 race by a 14-point margin by handily carrying New York City while narrowly losing in the rest of the state to Republican opponent Rob Astorino.
Hochul had a 59-37% lead in the city in the Quinnipiac poll and a 70-23% lead in the latest Siena poll. Siena and Marist polls also show that her lead has been steady since August, while Zeldin has barely gained any support in the city. For instance, the August 2 Siena poll had Hochul leading in the city with 70-21%. For Republicans, hitting at least 30% in the city is seen as key to winning statewide.
In the suburbs and upstate, Zeldin has an advantage in most cases, according to the polling. Quinnipiac showed him with 52% in the suburbs compared to Hochul's 44%, while they were almost tied in upstate New York, where Zeldin led 50-49%. (Hochul hails from the Buffalo area and is the first "upstate governor" in decades, she likes to say, possibly giving her some help in the vast region that is typically friendly to Republicans overall.)
In Siena's survey, Zeldin led both: 49-45% in the suburbs and 48-44% upstate. Those numbers show progress for Zeldin who was down by five points (50-45%) in the suburbs in a September 28 Siena poll and up by just one point (45-44%) in upstate New York.
"Zeldin has a small lead outside of the city, but it's tight and the question is going to come down to turnout," said Steven Greenberg, a Siena College pollster, in a phone interview.
As Greenberg noted, in the 2018 election, the state saw 54% turnout, a high number compared to previous presidential-midterm elections. That year, New York City accounted for 34% of voters. In 2014, when statewide turnout was just 36%, the city accounted for 26% of voters, which is a major reason why Cuomo won by a higher margin in 2018 than in 2014.
"Historically, Republicans outperform their enrollment disadvantage, Democrats underperform their enrollment advantage," he said. "New York City underperforms in turnout [compared to] upstate and, to a lesser extent, the downstate suburbs."
Independent Voters
For any Republican to win a gubernatorial race, they have to consolidate support from independent voters with no party affiliation, who outnumber registered Republicans.
As of February 21 this year, there were 6.4 million registered Democrats, 2.8 million Republicans, and 2.9 million independents across the state.
While Zeldin has grown his support among Republicans and independents, he doesn't have nearly the lead that may be required to overcome Hochul's overwhelming support from Democrats. Zeldin will also have to make inroads with moderate and conservative Democrats to shore up support for his campaign.
As the Quinnipiac poll showed, Hochul leads Democratic voters 91-8% and, in Siena's poll, 84-10%. Among independents, Zeldin led the Quinnipiac poll 57-37% and the Siena poll with a far narrower 49-40% (up from 44-42% since the August 2 Siena poll). 
"For Republicans to win statewide, whether it's Lee Zeldin or any Republican to win statewide, they've got to do better than a nine-point lead with independents," said Siena's Greenberg. "They've got to be in the area of like 60%."
"And he's got to cut into Democrats, which he's shown so far no ability to do," he added. "I'm not sure how a Republican can win in New York if you're getting 10% or less of the Democratic vote." 
The Gender Gap
With the Supreme Court striking down Roe v. Wade, abortion has become one of the major issues in the governor's race. Hochul, the state's first female governor, has intensely focused her campaign on pointing out Zeldin's opposition to abortion while touting the steps she has taken to strengthen reproductive rights in the state. It may be among the reasons she has maintained her polling lead.
As the poll numbers show, Hochul has earned far more support from women than men. In the Quinnipiac poll, she led among women by 57-39% while Zeldin led among men with 55-41%. Similarly, in the Siena poll, Hochul led among women with 61-32% and Zeldin led among men with 49-44%.
Election Day is November 8; absentee balloting has begun; early voting is October 29-November 6.