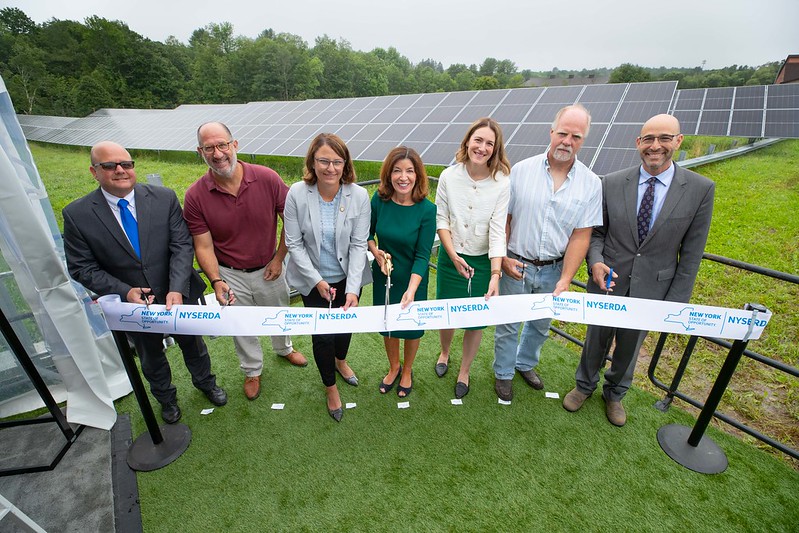 Then-Lt. Gov. Hochul opens a solar farm (photo: Philip Kamrass/ New York Power Authority)
---
On the back of every New Yorker's ballot this fall is a question: whether or not to allow the state to borrow $4.2 billion to pay for major clean environment and climate change mitigation infrastructure.
The provision, known as the "Clean Water, Clean Air, and Green Jobs Environmental Bond Act," would authorize the state comptroller to sell bonds on behalf of the State of New York to pay for projects related to greenhouse gas emissions, flood risk, clean water, land conservation, and other climate-related matters.
After having passed the Legislature at the Governor's urging, the question is now before voters amid increasingly extreme weather events, high pollution, and lost biodiversity, and as the state makes strides toward carbon emission reduction and clean energy production goals. It also comes one year after New York voters approved a statewide referendum guaranteeing a new constitutional right to clean air and water and a healthy environment.
Governor Kathy Hochul and the Legislature passed the Environmental Bond Act as part of the state budget earlier this year and, because it involves increasing the state's general obligation bonding, requires voter approval to go into effect.
It is the lone statewide ballot referendum this year, and voters across New York can vote "yes" or "no" when casting a ballot in the general election, which also includes races for statewide, congressional, state legislative, and judicial offices. In New York City, there are three other ballot referendum questions dealing with proposals from a racial justice commission that would alter the City Charter.
The bond act ballot measure has the support of the state Democratic Party and hundreds of local leaders, advocacy groups, and community organizations throughout the state. It faces criticism from some fiscal watchdogs and conservative groups, like the state Conservative Party, which opposes adding to state debt on matters like the environment while the economy shows signs of contracting. While there is a large, connected movement in support of the proposal, there appears to be limited organized opposition.
A Siena College poll of likely voters in mid-October found 54% supported the referendum and 26% opposed it; while 20% said they were either undecided or did not intend to vote on the measure. Of likely Democratic voters, the poll found 78% supported the referendum, while only 6% were against it (15% were undecided or not planning to weigh in). Republicans had a different perspective, with 52% against the measure, 23% in favor, and 18% undecided (7% did not plan to vote).
What's In It
The Environmental Bond Act includes $1.5 billion for climate change mitigation. Of that sum, $500 million would go to cover the cost of electrifying the state's school bus fleet, and at least $400 million is earmarked for renewable-energy and efficiency upgrades in state-owned buildings. The act includes a "Clean Green Schools" initiative​ energy and air quality upgrades in 1,000 public schools. Other funding in this category would go toward pollution mitigation in marginalized communities and projects to blunt the effects of climate change.
The act also contains $1.1 billion for flood risk reduction. If approved, state agencies would get another $650 million to purchase land for conservation and rehabilitation. And $650 million would go to water infrastructure and pollution control initiatives. Outside of these categories, the state would have leeway to spend an additional $300 million that hasn't been specifically earmarked.
At least 35% of the total $4.2 billion would have to go toward improvements in areas disproportionately impacted by climate change and pollution.
The act was originally proposed as a smaller $3 billion bond by Governor Andrew Cuomo in 2019, the same year lawmakers passed the Climate Leadership and Community Protection Act (CLCPA), which set state goals to reduce greenhouse gas emissions 40% by 2030 and 85% by 2050. Seventy percent of the state's electricity must come from renewable sources by 2030 and all electricity must come from renewables by 2040. The bond act's champions in Albany have said the bill is necessary to reach those ambitious targets, part of a larger effort to meet the CLCPA that includes a "scoping plan" in development by the state's Climate Action Council.
The state delayed moving the bond act to a voter referendum previously due to the onset of the pandemic.
Hochul, who is seeking her first full term as governor, secured the proposal in the state budget this year, expanding it to $4.2 billion in the process. ​The budget also included $400 million for an Environmental Protection Fund, $500 million for offshore wind development, and another $500 million in clean water infrastructure, among other environment-related spending.
Arguments For and Against the Environmental Bond Act
"I need to have everybody who cares about human life on this planet and lives in the State of New York to mobilize to make sure the vote gets out in support of this bond act," the governor said at a September 21 press conference on the state's efforts to solicit new large-scale renewable energy projects.
"The Environmental Bond Act exemplifies the New York State Democratic Party's commitment to fighting climate change while providing environmental equity and economic opportunity for all New Yorkers," said New York State Democratic Party Chair Jay Jacobs in a statement to Gotham Gazette. "The Act is a crucial step in guaranteeing New York State can lead the nation by creating green jobs, ensuring environmental resiliency, and reducing our dependency on fossil fuels."
Democrats were dealt an unexpected blow last November when three other referenda the party backed failed after an organized campaign from Republicans and virtually no rebuttal. A spokesperson for Jacobs would not say what the party was doing or how much it has spent to promote the ballot question.
Hochul's campaign did not return requests for comment about what it was doing to promote the referendum and to respond to the most common criticisms of the measure.
The state Republican Party did not return requests for comment for this story. GOP gubernatorial nominee Rep. Lee Zeldin has not taken a public position on the Environmental Bond Act, and his campaign did not respond to multiple Gotham Gazette inquiries seeking his stance. The last state environmental bond act was passed under the last Republican governor, George Pataki, in 1996.
There is wide agreement on the necessity of many of the spending planks in the bond act, even among fiscal conservatives who recognize the threats of climate change to the health of New York and its economy.
Supporters of the act say the investment in the environment is critical and long overdue.
"This is the first time in a generation that New Yorkers have had this opportunity to vote for environmental funding," said Jessica Ottney Mahar, director of policy and strategy at The Nature Conservancy, in an interview with Gotham Gazette. "The bond act is focused on really big issues facing all of our communities."
The Nature Conservancy is a member of a coalition known as "New Yorkers for Clean Water & Jobs," which has attracted hundreds of member organizations and raised $4.8 million to support a yes-vote campaign, of which it has spent $398,000 as of October 24, according to campaign finance filings.
"It's good debt," said Julie Tighe, president of the New York League of Conservation Voters, in a recent podcast interview with Gotham Gazette, referring to the relatively high return on investment experts say comes from funding environmental mitigation projects and those that promise both good jobs and resilient infrastructure. "This is something, we know it's not going to increase any taxes for New Yorkers."
A report from the international engineering firm AECOM and Rebuild by Design, an environmental consultancy group created in the aftermath of Superstorm Sandy, estimates the bond act would create 84,000 jobs. "There are rippling effects for spending that $4.2 billion. You might be creating economic development, you might be creating tourism," said Amy Chester, managing director of Rebuild by Design, in the same interview as Tighe. "It ends up being really a home run."
Some opponents of the referendum argue the state should not be increasing its already sizable debt at a time when interest rates have been rising.
"New Yorkers do not need another $4.2 billion in public debt, together with its resulting debt service," said state Conservative Party Chair Gerard Kassar in a statement.
Comptroller Tom DiNapoli, a Democrat who is also seeking reelection this year, disagreed with the argument that the state cannot afford to take on this debt. "By approving it, it doesn't mean automatically the state's going to go out and borrow $4.2 billion," he told Gotham Gazette in a recent podcast interview. "I mean, bond acts take years, if not decades to be spent out. And because New York does have a high debt burden, this will be factored in before the state goes out to borrow."
DiNapoli said that his office has not examined the bond act but that he, in his personal capacity and as a candidate, is supporting it and urging New Yorkers to vote to approve it. His Republican opponent, Paul Rodriguez, has opposed the Environmental Bond Act. In the lone debate between the two, DiNapoli asked Rodriguez for his stance on the measure, to which Rodriguez said, "I think we are not at a time right now where we should be adding more debt to the balance sheet of the state."
New York currently has roughly $67 billion in outstanding debt backed by the state, according to the state financial plan. The state's financial plan projects both that the new debt from a potential Environmental Bond Act and the resulting debt service costs will fall below the statutory debt and debt service caps. That outlook can change over time.
"In five years' time, the State expects to be approaching its statutory debt cap, primarily due to growth in outstanding debt from areas other than the bond act," wrote Patrick Orecki, director of state studies at Citizens Budget Commission, a fiscal watchdog group, in an email to Gotham Gazette. "Still, the State will need to continue to manage debt from all sources in future years to continue to adhere to its cap." CBC has not taken a position on Question 1.
Opponents also argue new debt shouldn't be issued while money from a previous environmental bond act, passed in 1996 remains unspent.
"The Act and arguments in favor reference a number of projects that appear to warrant consideration," Kassar continued in his statement. "However, The Conservative Party maintains that a full review and application of all funds that remains from previous state actions should be used before an additional $4.2 billion is incurred."
The last time an environmental bond referendum was on the ballot was in 1996, when a $1.75 billion bond, backed by then-Governor Pataki, came before voters, who approved it with 55% of the vote. Ninety-five percent of those funds have been spent on drinking water projects, replacing coal-based heating systems in New York City schools, pollution remediation, shuttering landfills, and other programs, according to an Albany Times Union report, with about $82 million leftover and another $100 million in authorized borrowing still on the table.
According to Ottney Mahar, that money has been tied up in negotiations between the executive and legislative branches but is still moving out the door, however slowly.
"Yes, there are bits of money left over from 1996. That money should be spent too. But that's not a reason not to move forward with this exciting program," she told Gotham Gazette.
The Empire Center for Public Policy, a conservative think tank, has argued that while the bond would help fund many worthy projects, its provisions to require prevailing wages for labor on bond act-funded projects and requirements to buy resources domestically when possible make it less cost effective and detract from its mission.
"What these provisions mean is that the money allocated doesn't go as far as it could go – less can be accomplished than if the act exempted all projects from these financially destructive requirements," wrote James Hanley, an Empire Center fellow, in a recent blog post on its website.
Hanley also argued that some measures in the bond act were questionable, like a $500 million allocation to help achieve zero-emission school buses by 2035. That funding would be a drop in the $10 billion bucket he estimates would be needed to convert the entire fleet, a sum he wrote amounts to a mere "talking point for the Hochul administration."
Ottney Mahar agreed the funding wasn't enough but counters Hanley's ultimate conclusion.
"What's exciting about the bond act is that it's not necessarily a silver bullet alone, but it's creating an opportunity for leverage," she told Gotham Gazette. "It could be the keystone in a larger funding pie that really helps us advance solutions."
The federal Bipartisan Infrastructure Law and Inflation Reduction Act include significant funding for purposes similar to the current bond act, and which often require states and localities to match spending. The bond act can help New York meet those requirements, proponents regularly note.
"The leverage potential for this bond act is just enormous," said Ottney Mahar. "The timing is perfect."
Early voting in the 2022 general election, including "prop 1" is underway, running from Saturday, October 29 through Sunday, November 6. Election Day is November 8.