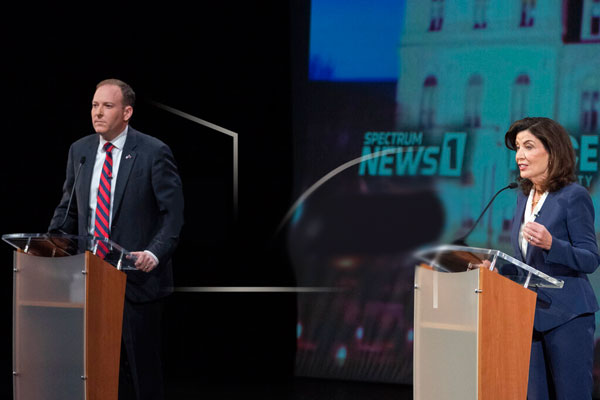 Lee Zeldin and Kathy Hochul at Tuesday's debate
---
Governor Kathy Hochul, a Democrat seeking her first full term as governor, faced off against her Republican opponent, U.S. Rep. Lee Zeldin of Long Island, on Tuesday night in the only debate of the governor's race.
In an hour-long debate hosted by Spectrum News, the two candidates attacked each other's records and clashed on crime and public safety, the economy, abortion, ethics, democracy, and more. They outlined vastly different assessments of where New York stands today and visions for where to take it in the future, seeking to make an impression on voters with just two weeks till Election Day, November 8, and with early voting set to start this weekend. The debate was held at Pace University in Manhattan and moderated by Spectrum anchors Errol Louis and Susan Arbetter.
Going into the debate, Hochul, the state's first female governor, held many advantages. Registered Democrats outnumber Republicans two-to-one in the state and Hochul has a significant fundraising lead, having built a massive war chest since she took office after the resignation of disgraced former Governor Andrew Cuomo. Polls have consistently shown her ahead, with the latest Siena College poll released October 18 giving her an 11-point lead over Zeldin. 
But various polling has also shown a tightening race, and Zeldin is being boosted by a flood of outside spending by national Republicans and SuperPACs, somewhat mitigating his campaign cash disadvantage. Zeldin's has also been laser focused on crime and inflation, which voters have consistently ranked at or near their top priorities, while Hochul has spent months highlighting Zeldin's opposition to abortion rights and gun control and his support for former President Donald Trump. 
In recent days, Hochul has refocused on public safety, making governmental announcements and releasing a new campaign ad on the subject. She has also touted her economic record after months largely focused on abortion rights and Zeldin's ties to Trump. 
"I'm here for one reason, to save our state and deliver a safer, freer, better future for you and your family," Zeldin said in his opening remarks, criticizing Hochul for failing to reduce crime and inflation in the state. 
"You will see a great contrast here tonight between myself and my record and someone who has been called one of Donald Trump's strongest and most loyal supporters," Hochul said for her part, as she touted her accomplishments and called out Zeldin's opposition to abortion and gun control. 
For Zeldin, the overriding issue of the race is crime, which he repeatedly spoke to throughout the debate. He has called for a rollback of state bail reforms, legislation that limits solitary confinement in prisons, and other criminal justice changes made by Democrats in recent years. In particular, he wants to allow judges far more discretion to consider their assessment of defendants' dangerousness when deciding to set bail and possible pre-trial remand. 
But state data shows that bail reform has not led to a significant rise in crime or rearrests for those released before trial. Zeldin has repeatedly ignored those statistics, insisting that New Yorkers' sentiments about crime are far more important. "You ask the will of the people, they want to see reform," he said on Tuesday when asked to respond to the data.
Hochul has repeatedly stressed support for balanced reforms, highlighting her effort to tighten the state bail law earlier this year, giving judges more discretion especially when dealing with repeat offenders. "You can either work on keeping people scared or you can focus on keeping them safe," she said at the debate. She also pointed to her administration's effort to convene a multi-state task force that has pulled thousands of illegal guns off the street, strengthening the state's gun control regulations and her collaboration with New York City Mayor Eric Adams to tackle crime on the city subway system.
The governor also sought to shift to the offensive, taking the opportunity to repeatedly call out Zeldin's record on gun control. As she did often throughout the debate, she pointed to his voting record in Congress, where he failed to appear to vote on a bipartisan assault weapon ban last year. "[T]here is no crime fighting plan if it doesn't include guns, illegal guns, and you refuse to talk about how we can do so much more," she said. 
Among the pledges that Zeldin has made is that, if elected governor, on his first day he would remove Manhattan District Attorney Alvin Bragg, a progressive, from office for failing to be a sufficiently tough-on-crime prosecutor. "If he's not going to do his job, I'm gonna do my job and I'm going to remove as soon as I can," he said. 
"I'm not surprised, because in Lee Zeldin's world, you overturn elections you don't agree with," Hochul retorted, again referencing Zeldin's votes against certifying President Joe Biden's 2020 victory.
"It's not about governing by sound bites. I'm governing by sound policy," she added.
During the debate, Bragg tweeted data showing murders and shootings down significantly in Manhattan this year over last, with gun prosecutions up during that time.
Later in the debate, Zeldin refused to say whether he would vote the same way given the overwhelming evidence that the presidential election was fairly decided. "Election integrity should always matter," he said, instead promoting restrictive election laws such as mandated voter ID.
Asked if he would accept the results of the general election if he loses, he said, "First off, losing is not an option. Secondly, playing along with your hypothetical question, of course."  
With inflation at record highs and the economy facing the prospect of a recession, the candidates were asked about future economic plans. 
Zeldin broadly floated reining in state spending and cutting taxes, but offered no specifics, and repeated his calls for reversing the state's ban on fracking for natural gas and approving new fossil fuel pipelines to cut the price of energy. "New York is going to be back open for business baby, January 1," he said.  
Hochul largely touted actions that her administration has already taken including expediting a middle class tax cut approved under her predecessor, providing a property tax rebate in this year's budget, and temporarily suspending the state gas tax. She acknowledged that the highest expenses that families face are mortgages and rent. "I have a plan heading into the next session, which is thoughtful," she said, but gave no details until prompted in a question about affordable housing. 
She also noted Zeldin's votes against the Bipartisan Infrastructure Law, the CHIPS Act, and the Inflation Reduction Act passed by Congress, all of which are expected to provide many billions of dollars to New York and create many thousands of jobs. "It's so disingenuous to say you want to create jobs when you, as a member of Congress, vote against everything that would create jobs," she said to Zeldin.
Keeping with his campaign's limited policy platform, Zeldin also had no major ideas for solving the state's affordable housing crisis. He vaguely criticized the length of time that it takes to receive approvals to build housing in the state and said that first-time homebuyer credits need to be ramped up. Hochul pointed to the state's $25 billion housing plan, which includes funding to help ensure 100,000 units of affordable housing over five years. She touted a plan to foster conversion of office space into housing but that has not produced any housing or even specific deals promising its creation. She also spoke about shifting zoning regulations to foster more housing, previewing the promised pursuit next year, if she wins the election, of policies she dropped this year after they saw opposition from suburban lawmakers.
One of Hochul's main lines of attack against Zeldin is his opposition to abortion, a particularly pertinent issue in the wake of the Supreme Court's decision to strike down Roe v. Wade. Hochul tried to corner Zeldin on that at the debate. "There's very few people in Congress who have a more pro-life record, someone who said he would bring on a pro-life health commissioner…that's a frightening spectacle. Women need to know that that's on the ballot this November as well," she said. 
Zeldin would not say whether, as governor, he would sign any abortion restrictions into law, only that there was little chance of a Democrat-led Legislature passing such a bill. He said he would choose a health commissioner who is "the best qualified person" for the job.
In the cross-examination round, the two candidates had an opportunity to pose one question to the other. 
Zeldin pushed Hochul on steps she would take to curb pay-to-play politics, attempting to put her on the defensive given her massive fundraising from entities with state business and one particularly egregious example of a major campaign donor receiving a state contract. "There has never been a quid pro quo, a policy change or decision made because of a contribution," Hochul said of her administration. 
When the moderators later pointed to her fundraising from contributors with business before the state and being able to assure voters she is not influenced by such donations, she reiterated her defense. "I have always, for 30 years as an elected official, played by all the rules," she insisted, noting that she has long been in favor of campaign finance reform.
Hochul, in turn, sought to highlight Zeldin's association with former President Trump, asking him if he believes Trump was "a great president." Though Hochul pressed for a yes or no, Zeldin responded by listing many specifics of work he said he accomplished while Trump was in office, from resources for Long Island to support for Israel. He even sought to praise Trump for some of his covid pandemic response. 
"I'll take that as a resounding 'yes,' and the voters of New York do not agree with you," Hochul said. 
The candidates found some common ground in their response to the crisis of thousands of asylum seekers arriving in New York City, burdening an already struggling local shelter system and straining the city's precarious finances. Both candidates said the federal government needs to step up their role, though Zeldin proposed harsher immigration measures that Hochul does not support.
And they both said yes when asked if the state cap on charter schools in New York City, which has been hit, should be lifted. It was Hochul's first time taking the position publicly.
Zeldin did have the governor on the back foot when the subject of the Buffalo Bills stadium deal was raised. The governor, at the last minute, added the deal to the state budget, approving $600 million in state subsidies for the $1.4 billion project. As the moderators noted, stadium deals rarely provide the level of economic development to justify the subsidies. 
The question kicked off an intense back and forth between the two. Hochul said she structured the deal in a way that will keep the Bills in the state for 30 years while creating 10,000 construction jobs and providing ample economic benefits. "It was just important to make sure that the Buffalo Bills stay in New York State," she said. 
Zeldin said he would renegotiate the deal if elected. "We can absolutely have a better deal," he said. "At the 11th hour of a budget deal, she slams it in, she screws over Seneca Nation and she puts the squeeze on legislators. No vetting, no debate. It was irresponsible on process and substance," he added. 
"Lee Zeldin hates job-creating projects," Hochul said.
"I haven't got a problem with job-creating projects, I have a problem with corruption-creating governors," Zeldin countered. 
There were key differences between the two candidates on other issues as well. With the state expediting the approval of three new casino licenses in downstate New York, Zeldin said he would "possibly" alter the process. "Local control is important. There is a process that is underway and it shouldn't be jammed into areas that do not want it," he said. "We have to respect the will of the people."

Hochul said she would not stop the process, and reminded that there is a robust local siting approval process already in the law.
Hochul also defended her decision to lift covid mask and vaccination mandates, even as the pandemic continues to plague the state and as the CDC recommends that the covid vaccine be added to the list of required vaccines for children. 
Asked if she would mandate a covid vaccine for children, Hochul said, "Not at this time." Though, she did say the decision would fall to the Legislature. 
Zeldin was more absolute. "I will not mandate COVID vaccines for your kids ever," he said, though he did not explain why. Asked if he would mandate a polio vaccine (as the state is experiencing a polio outbreak emergency), he drew a distinction between the two diseases and noted that a mandate already exists. 
"You've been an election denier, a climate change denier. You and Donald Trump are the masterful covid deniers," Hochul responded. 
In a brief lightning round, the two offered different takes on many issues. Zeldin opposed the operation of two overdose prevention centers in New York City, while Hochul said she conferred with her health commissioner, Dr. Mary Bassett, who supports them. The governor indicated she would study them further before supporting any new sites.
Hochul said she is still studying a bill that would put a temporary moratorium on the reactivation of fossil fuel facilities to support the proof-of-work crypto currency mining industry. Zeldin said he would refuse to sign the bill. Hochul said the state should continue the rollout of its cannabis industry while Zeldin raised concerns about the legalization of marijuana.