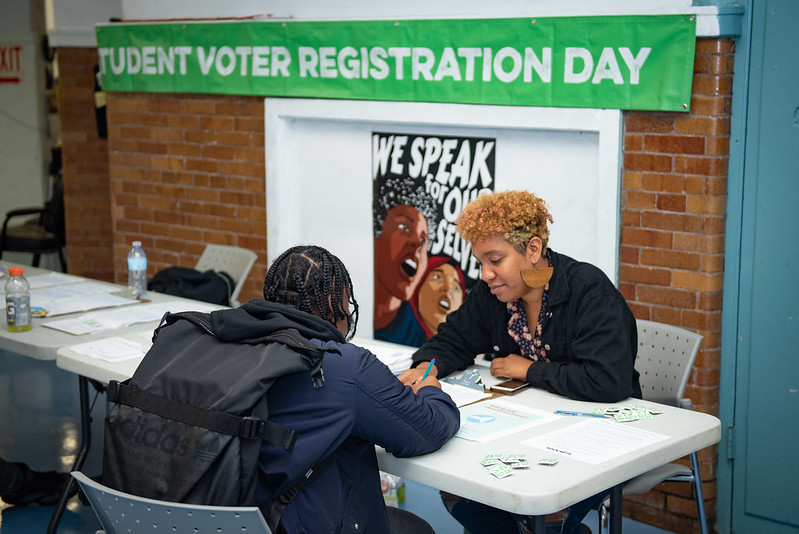 Voter registration (photo: Michael Appleton/Mayoral Photography Office)
---
New York State added over 400,000 voters to the rolls since the last gubernatorial election in 2018, a 3% increase in total enrollment, according to the latest data released by the State Board of Elections on Tuesday.
The 424,000 net additional voters since 2018 bring the total to 13.1 million registered voters statewide, roughly the number of those eligible to vote in this month's major 2022 elections for Governor and other statewide positions, seats in the U.S. House of Representatives and the State Legislature, and other posts on the ballot, as well as the statewide ballot referendum on an environmental bond act. How many and which voters actually cast ballots in a state where gubernatorial turnout has struggled to hit 40% in most recent cycles will be determinative.
The balance of party enrollment changed by only fractions of a percent, with modest declines in Democratic and Republican enrollment and a slight uptick in the number of party-unaffiliated voters, also known as "blanks" or "independents."
Democrats now make up just under half of all New York State voters, while Republicans account for 22% and party-unaffiliated voters 23%. The rest are registered with smaller parties like the Working Families Party, Conservative Party, and others. (In practice, the ranks of "independent" voters is even higher given that hundreds of thousands of New Yorkers have registered with the mostly-defunct Independence Party, apparently thinking they were registering to be party-independent.)
As of the updated numbers, there are now 6.5 million registered Democrats in New York State, 2.9 million Republicans, and 3 million party-unaffiliated voters. There are 163,000 voters registered with the Conservative Party and 51,000 with the Working Families Party. Given new political party ballot requirements that went into effect in 2020, there are only four recognized political parties in the state. The Green Party, Libertarian Party, and Independence Party were among those that lost their ballot status in the 2020 election under new thresholds.
New York City had a small net gain of 61,000 registered voters, and the city now accounts for 39% of the state's registered voters and 43% of the state's population.
It is unclear what these small shifts in voter enrollment will mean for the race for governor between incumbent Democrat Kathy Hochul and Republican U.S. Rep Lee Zeldin, other statewide races, or the numerous competitive congressional and state legislative contests.
Hochul enjoys the advantages of incumbency, significant fundraising, and being a Democrat in a heavily blue state. Zeldin, like Hochul, is benefiting from major outside spending in the race and has some wind at his back in what is expected to be a wave year for Republicans across the country. No Republican has won statewide in New York since Governor George Pataki secured a third term in 2002, but polling has shown Zeldin within striking distance, though Hochul remains the favorite.
Conventional wisdom suggests Zeldin needs a combination of a very strong showing in the conservative bastions of upstate New York and relatively low turnout in New York City, where Democrats outnumber Republicans nearly seven to one. On top of that, experts say he will likely need to sweep the New York City suburbs – Suffolk, Nassau, and Westchester Counties – where the numbers of registered Democrats, Republicans, and unaffiliated voters are closer together. And, of those who do come to the polls in the five boroughs, conventional wisdom is that in order to win statewide, the Republican must get at least 30% of the New York City vote.
While the enrollment increase represents a small bump since the last time a governor was on the ballot four years ago, it is a decline from a highwater mark of 13.6 million registered voters during the 2020 presidential election, in which record numbers turned out in the contest between Joe Biden and Donald Trump.
New York City, which lost about 366,000 voters since 2020, accounted for 86% of the decline. Despite the city's major Democratic enrollment advantage, the shift spurred only a blip in the statewide party-enrollment balance with Republicans and unaffiliated voters making slight gains at Democrats' expense.
The recent decline represents a shift from the previous post-presidential election period, between the 2016 presidential race between Trump and Hillary Clinton and the 2018 gubernatorial race, in which Andrew Cuomo won a third term. In that two-year period, statewide enrollment increased and Democrats reached 50% of total registered voters while the proportion of Republicans and independent voters shrank by less than a percent each.
"There is usually a jump in enrollment in the presidential year," said Jerry Skurnik, a veteran political consultant who specializes in voter trends, in an interview with Gotham Gazette.
In 2020 that leap was likely exaggerated by opposition to Trump, Skurnik estimated, which spurred a slight boost in Democrats' voter enrollment advantage that has since shrunk without the former president's name on the ballot.
"People who are now Democrats, some of them were motivated to become Democrats as a reaction to Trump, I think, and you didn't have that after Biden won," Skurnik said. "My guess is you had an abnormal jump there as a reaction to Trump."
Since Pataki's 2002 win, the number of registered voters in New York State has increased by more than 2 million voters, or close to 19% growth. At the time, the state had a larger share of Republican voters, who accounted for 28% of registered voters compared with Democrats' 47%. About a quarter of voters were independent or registered with third parties. Republicans are now down to 22% of the state total and have dropped below independents, and Democrats are up to about 50%.

New York City
New York City gained 61,000 voters since the 2018 gubernatorial race. That year, Democrat Andrew Cuomo won with 60% of the vote over Republican Marc Molinaro, including 80% in New York City.
Two in five registered voters now hail from New York City. That balance has fluctuated less than two percentage points over the last four years.
Democrats added just 6,000 city voters to their rolls since 2018. Republicans added just 3,000 voters in the five boroughs (a significantly larger share of total party members than Democrats added, but still a limited sum). The number of unaffiliated voters in New York City, which grew by 41,000 since 2018, now account for nearly a fifth of all registered city voters.
Since the last presidential election in 2020, New York City lost 366,000 registered voters, though the distribution of Democrats, Republicans, and independent voters was roughly unchanged.
Suffolk
Suffolk County on Long Island, a swing region and one of the state's most populous counties, gained 72,000 enrolled voters since 2018 and accounts for 8% of all registered voters in the state, or 1,109,000 voters.
The county -- Zeldin's home district -- is slightly more Democratic and independent (party-unaffiliated) than it was in 2018, and less Republican, with shifts within two percentage points of 2018 figures. But Republican turnout there and in many other parts of the state often outruns Democratic turnout, especially in non-presidential years, and the direction independent voters go can be determinative.
In 2018, Cuomo received 50.7% of the Suffolk County vote, compared to 45.6% for Molinaro.
While seeing enrollment gains over four years, like much of the rest of the state the county on the eastern side of Long Island lost voters since the 2020 presidential election. Suffolk lost 15,000 registered voters since 2020 with the party balance going mostly unchanged.
Nassau
Nassau County, another populous swing county, on Long Island's western end abutting Queens, added 36,000 voters since 2018, reaching 1,068,000 registered voters or 8% of the statewide total.
The number of Democrats and party-unaffiliated voters increased and the number of Republicans declined since 2018. Democrats now make up nearly 40% of registered voters in Nassau, compared to Republicans' 30% and the 26% of voters who are not registered with any party.
In 2018, Cuomo beat Molinaro in Nassau County with 55.4% of the vote.
Part of the statewide trend, Nassau lost registered voters since the 2020 presidential election. Nassau lost 21,000 voters, mostly among Democrats and Republicans with growth among unaffiliated voters.

Westchester
In Westchester County, voter enrollment increased by 22,000 registered voters from 2018 to 2022 to 665,000.
Westchester is home to roughly 5% of the state's registered voters.
Democrats and unaffiliated voters accounted for almost all of that increase, gaining 20,000 and 14,000, respectively, while Republicans lost 9,000 members. Democrats now account for 50% of registered voters in the county, which has been voting more Democratic in recent years, while independent voters make up roughly 25% and Republicans close to 20%.
In 2018, Cuomo beat Molinaro in Westchester County with 65.5% of the vote.
Since 2020, Westchester lost a net 11,000 registered voters, with the number of Republicans and Democrats decreasing and unaffiliated voters increasing.