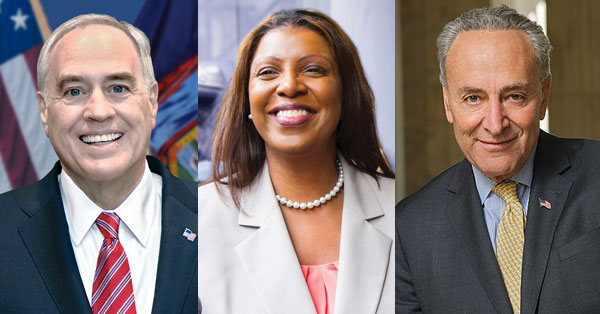 Tom DiNapoli, Letitia James, and Chuck Schumer
---
Beyond the top of the ticket governor's race that has gotten most of the attention, Democrats running for New York's other statewide offices on the ballot also prevailed Tuesday night.
Though some of the races appear tighter than Democrats might have hoped in a state where they outnumber Republicans two to one, the wins come in an election year where many political dynamics favored the GOP.
Incumbents U.S. Senate Majority Leader Chuck Schumer, State Attorney General Letitia James, and State Comptroller Tom DiNapoli each won against their Republican challengers, all of whom were underfunded outsiders to the state's political scene.
The three Democratic incumbents each enjoyed sizable funding and polling leads throughout the campaign season, but won at smaller margins than they may have expected coming into this election year. Republicans appear to be picking up several seats in New York races for the House of Representatives and State Legislature.
Chuck Schumer
Schumer's expected win is part of the larger picture of Senate control playing out across the country, with roughly a third of the upper chamber's seats on the ballot and Schumer's position as majority leader hanging in the balance. The Senate is currently effectively split 50-50 with the Vice President, Democrat Kamala Harris, able to break ties as needed and therefore having made Schumer majority leader over the last nearly two years.
Schumer, New York's senior senator, was elected to a fifth term Tuesday, beating Republican opponent Joe Pinion, a conservative news commentator. As of about midnight and votes still being counted, Schumer had a preliminary 56-41% lead. (Junior New York Senator Kristen Gillibrand was not on the ballot this year as Senate six-year terms are staggered.) 
A Brooklynite, Schumer maintained his strong polling and funding lead even as other Democrats faced tighter races. In recent months he has touted major federal incentives for semiconductor manufacturing in upstate New York and funding for Broadway stages and other performance venues hit hard by the pandemic.
Schumer shored up his popularity with some big wins nationally and for New York in his two years as majority leader, including the American Rescue Plan, Bipartisan Infrastructure Law, Inflation Reduction Act, the bipartisan gun safety law, and more. In his 23rd year in office, he is the first Jewish person and first New Yorker to lead the Senate majority. It is unclear as of midnight on election night whether he will retain that position given unknown results of several Senate elections around the country.
Pinion's campaign was focused largely on school choice, particularly charter school expansion, and claims that Democrats including Schumer have not done enough to combat crime and inflation. The Yonkers native also talked about literacy, rural health care, and illegal drugs on the campaign trail.
Letitia James
James won a second term as New York's top attorney, beating Republican Michael Henry, a commercial litigator from Queens. With votes still being counted, James held a preliminary 54-43.5% lead.
James, the first woman and Black woman to win statewide elected office, has made a name for herself by holding to account powerful officials like then-Governor Andrew Cuomo and former President Donald Trump, as well as institutions like the NRA, pharmaceutical companies, and others.
The Brooklynite waged a quiet campaign against Henry – she was the only statewide candidate to refuse to debate her opponent – with a focus on her accomplishments in office defending reproductive rights, environmental safeguards, and state gun laws. The night before Election Day she held a get-out-the-vote rally in Flatbush, Brooklyn, with Schumer, Mayor Eric Adams, and a slew of local Democratic leaders. It was one of only a small number of campaign events James took part in.
Henry campaigned almost exclusively on fighting violent crime, government corruption, and the rising cost of living. While offering few policy specifics, he was able to ride a wave of concern about crime and the economy that buoyed Republicans, especially Zeldin and Henry. By contrast, in the Democratic wave year of 2018, James won her first election to the Attorney General's office 62-35% over Republican Keith Wofford.
Tom DiNapoli
DiNapoli won his fourth full term as state comptroller Tuesday, with initial results showing a 56-40% margin against Republican Paul Rodriguez, a former Wall Street investor. As the state's fiscal watchdog, he is responsible for auditing state spending, reviewing and approving contracts, and managing state debt, the pension system, and payroll. DiNapoli, who has held the office since being appointed in 2007, ran on his record of "steady" management and oversight, exposing corruption and waste, and support for greater oversight powers.
Rodriguez criticized DiNapoli for what he said was failing to rein in fraud and wasteful spending and not holding his fellow Democrats accountable. His campaign focused on promises to combat pay-to-play corruption, professionalize state pension fund management, and increase budget oversight and transparency about state debt and pension obligations.