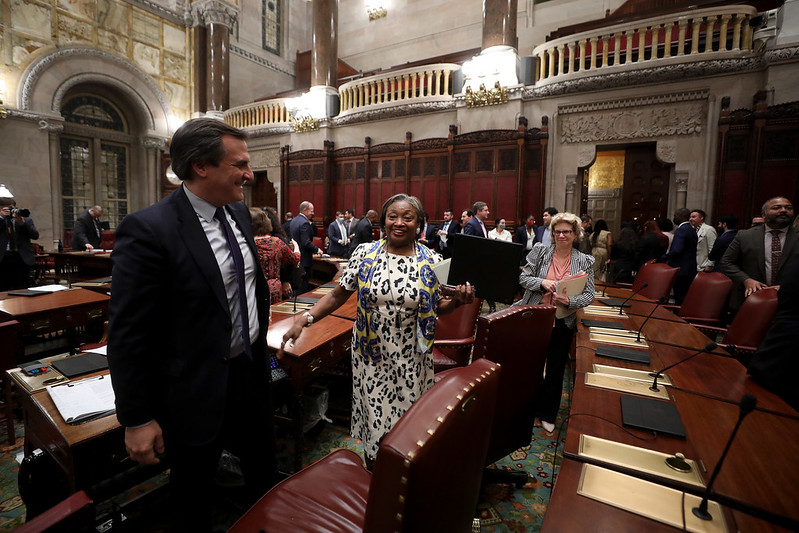 Senate Majority Leader Stewart-Cousins & Deputy Leader Gianaris (photo: NYS Senate Photography)
---
New York Democrats are poised to retain a comfortable majority in the State Senate but could lose the supermajority they have held since the 2020 elections.
Senate Democrats headed into the general election with 42 members in the 63-seat legislative chamber, and needed to hold on to that number to keep their supermajority. Republicans held 20 seats, while one that was most recently held by a Democrat was vacant.
On Wednesday, with most votes tallied, Democrats were victorious in at least 40 seats, with two more races that were too close to call, one of which is headed to a recount. 
"The voters of New York have spoken, electing another strong Democratic Majority in the State Senate," said Senate Majority Leader Andrea Stewart-Cousins, in a statement that said her conference would hold at least 40 seats. "In these unprecedented times in our country, the people know that the Senate Democrats have and will continue to deliver meaningful results."
Tuesday's election was the first general election contest with new district lines in place, created after a chaotic redistricting process that shook up the political landscape across the state. While Democrats were unable to draw districts as they saw fit, they were still helped by the fact that a more objective process still undid past gerrymandering that favored Republicans and population trends in New York meant a greater New York City concentration.
Two new districts, the 17th and 59th, were created in New York City, where Democrats hold a massive voter enrollment advantage over Republicans, while in other regions, several incumbents of both parties refused to run for reelection after seeing their districts change drastically. In two cases, incumbent legislators — one of each party — were matched against each other. 
Given many factors, Republicans saw an opportunity to flip several seats and increase their numbers, particularly on Long Island where Democrats struggled badly in local elections last year and have held some Senate seats only for a few years after strong performances in 2018 and 2020. Republicans saw that electorate and other moderate and conservative areas within New York City and its northern suburbs as the prime audience for their message on tackling crime and inflation, two issues that have dominated races up and down the ballot in this year's election.
Republicans were hopeful that the election would lead to a much narrower Democratic majority, putting them within striking distance for the next state election cycle in 2024. But while Republicans did flip several Long Island seats, their gains were mostly matched by Democrats elsewhere, with the two races still to be called. GOP leadership had called 14 State Senate races competitive going into the election. A spokesperson for Senate Republicans declined to comment for this story.
State Senate Movement
In the new 59th District, which covers parts of Queens, Brooklyn, and Manhattan, Democrat Kristen Gonzalez ran unopposed in the general election and took the seat.
But in the 17th District, a new Asian plurality area, Democrat Iwen Chu currently holds a mere 215 vote lead over Republican Vito LaBella, with the race potentially heading to a recount. That race was one of several — the others in the Assembly or statewide — where Republicans did well in Southern Brooklyn. Many Democrats had been confident that Chu would win by a comfortable margin.
In the 50th State Senate District, which covers parts of Onondaga and Oswego counties, Democratic State Senator John Mannion trails his Republican challenger Rebecca Shiroff by just 396 votes, triggering a recount for the race.  
On Long Island, two Democratic incumbents lost their seats. In the 7th District in northern Nassau County, Democratic State Senator Anna Kaplan lost to Republican Jack Martins, a former state senator himself. Democratic State Senator John Brooks, who represented the 8th District but ran for the new 5th District after redistricting, lost to Republican Steve Rhoads. (Democrat Jim Gaughran, who represented the 5th district, declined to run for reelection.)
In the new 8th District, the race went to Republican State Senator Alexis Weik, who defeated Democrat John Alberts.  
In the 9th District in Nassau County, which was left vacant after Democratic State Senator Todd Kaminsky resigned from office for a private sector job earlier this year, Republican Patricia Canzoneri-Fitzpatrick won on Tuesday, beating Democrat Kenneth Moore. 
Democrats did notch a crucial win in Long Island. Monica Martinez, a former Democratic state Senator who previously represented the 4th District, won the open race for the new 3rd District in Suffolk County, defeating Republican Wendy Rodriguez. 
In the 38th District in Rockland County, Democratic State Senator Elijah Reichlin-Melnick also lost his race to Republican William Weber Jr., who had unsuccessfully challenged Reichlin-Melnick in 2020. 
But incumbent Republicans also lost some races on Tuesday as they faced off against sitting Democratic senators because of new district lines. Republican State Senator Sue Serino lost to Democratic State Senator Michelle Hinchey in the new 41st District, which includes parts of Greene, Ulster, Dutchess, and Columbia counties. Similarly, in the new 61st District, Republican State Senator Ed Rath lost to Democratic State Senator Sean Ryan.
And other Democrats who Republicans had thought they would unseat, particularly Senators Pete Harckham, Rachel May, James Skoufis, Lea Webb, and Toby Stavisky, held onto their seats.
Assembly Races
In the 150-seat Assembly, Democrats also had a supermajority ahead of the election, with 107 members in the chamber to Republicans' 43 seats. There too Democrats lost some seats, though Republicans need to make an eight-seat gain to disrupt the supermajority. 
Though many races remain too close to call and ballots remain to be counted, Republicans won some competitive races including in New York City. 
In District 23, which covers Howard Beach and Rockaway in Queens, Democratic Assemblymember Stacey Pheffer Amato lost to Republican Tom Sullivan by just 246 votes. 
In District 45, which covers Gravesend and Brighton Beach in Brooklyn, Democratic Assemblymember Steven Cymbrowitz, a 22-year incumbent, lost his seat to Republican Michael Novakhov.  
In District 49, which covers Dyker Heights, Bath Beach, Bensonhurst, and Borough Park in Brooklyn, longtime incumbent Democratic Assemblymember Peter Abbate Jr. lost to Republican Lester Chang. 
In District 63, in Staten Island's Mid-Island region, Democratic Assemblymember Michael Cusick did not run for reelection. The seat flipped on Tuesday with Republican Sam Pirozzolo defeating Democrat Vincent Argenziano with a healthy margin. 
One race that remains to be decided is in District 46, which covers Fort Hamilton, parts of Bay Ridge and Dyker Heights, Coney Island and Sea Gate in South Brooklyn. Incumbent Democratic Assemblymember Mathylde Frontus is trailing her Republican challenger Alec Brook-Krasny, a former Democratic Assemblymember, by about 797 votes. Frontus has not conceded the race and tweeted Wednesday that she will "wait until every vote is counted."