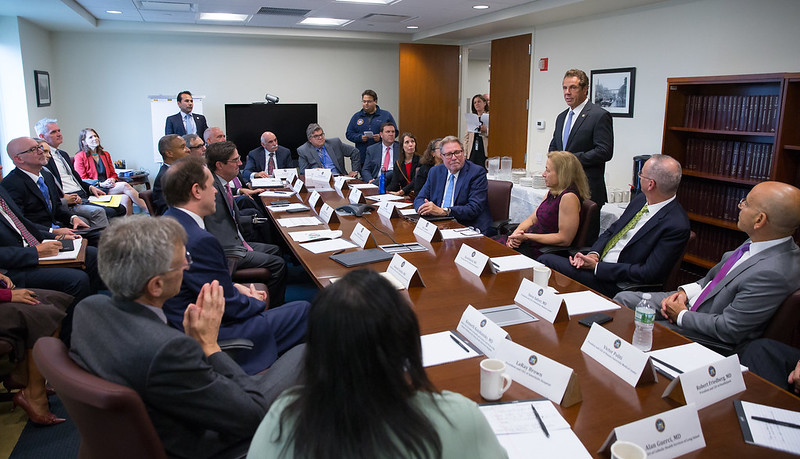 Then-Gov. Cuomo holds a health care meeting (photo: Philip Kamrass/Governor's Office)
---
New York State overpaid more than $194 million in Medicaid payments during the pandemic after state officials failed to move eligible recipients to a cheaper funding plan, according to the Office of State Comptroller Thomas DiNapoli.
An audit of Medicaid payments from March 2021 to March 2022 found the state Department of Health continued to pay higher premiums to care management organizations even after receiving federal authorization to move some Medicaid recipients to a different plan at a fraction of the cost.
"My latest audit of Medicaid uncovered yet another example of millions of dollars in wasteful spending," said DiNapoli, in a statement to Gotham Gazette about the audit being released Thursday. "This time, the state Department of Health's failure to make sure recipients were enrolled in the correct health care coverage, resulted in over $194 million in over payments. My office continues to monitor the system, but critical changes are needed."
The audit report, which was sent to DOH Commissioner Dr. Mary Bassett on October 31 and reviewed by Gotham Gazette, urges the health department to review and recover the excessive payments and continue to move eligible recipients from coordinated care plans to cheaper fee-for-service coverage.
The recommendations are not binding. DOH has 180 days to respond to the comptroller, the governor, and legislative leaders with steps the department has taken to meet the recommendations or explain why it has not.
The department, in initial responses to DiNapoli's recommendations, which were included in his report, and in a statement to Gotham Gazette, has maintained its decision to leave eligible recipients in more expensive managed care plans was essential to avoid service interruptions.
The state's Medicaid program provides medical coverage for 7.8 million impoverished New Yorkers and individuals with special health needs. It is funded by a mix of federal, state, and local sources with Washington covering about 57% and DOH administering the program. In the last fiscal year, New York's Medicaid claims cost $74.6 billion.
The state's coverage calculus is embedded in layers of payment programs that the federal government flexed at the height of the pandemic to help ensure New Yorkers kept their insurance. The comptroller's report suggests DOH officials failed to take advantage of the additional flexibility during a period of economic instability and regime change in the department and the governor's mansion (Governor Andrew Cuomo, whose Medicaid Redesign initiative established the managed care model for Medicaid recipients in New York, resigned in August 2021).
In general, the state pays for Medicaid in one of two ways. Medicaid recipients may be enrolled in managed care, meaning the state pays a premium to an organization that coordinates care and reimburses providers for their services. Alternatively, the state may pay providers directly on a fee-for-service basis.
For Medicaid recipients who also become eligible for Medicare coverage because they reach the age of 65 or have certain disabilities, the arithmetic pushes some managed care premiums higher than the deductibles and coinsurance the state would pay under a fee-for-service plan.
Prior to the pandemic, DOH was disenrolling these so-called dual-eligible recipients from two managed care programs with higher premiums and moving them to lower-cost fee-for-service plans.
With the onset of the pandemic in March 2020, Congress passed the Families First Coronavirus Response Act, which increased federal assistance to state Medicaid programs that maintained managed care coverage for people enrolled in the program during the state of emergency. DOH paused disenrollments to receive the increase.
In November 2020, federal regulations changed again to allow states to cancel managed care coverage as long as they continued to cover essential services through programs like fee-for-service. But DOH did not restart managed care disenrollment and continued to pay higher prices than it had to.
During the comptroller's audit period, the state implemented yet another program that would lower managed care premiums for one subset of beneficiaries – dually-eligible Medicaid-Medicare enrollees who do not need long-term care – in order to make it more cost-effective than fee-for-service. The program, called "IB-DUAL," lowered the average monthly premium by more than $800 per recipient during the course of the audit.
In total, the Comptroller's Office identified $190.6 million in excessive payments for Medicaid recipients who continued to be enrolled despite being ineligible for the lower-premiums of IB-DUAL. The comptroller found another $3.5 million in over-payments for recipients who were eligible but not enrolled in the IB-DUAL program.
In one case identified in the report, the state over 13 months paid an additional $85,000 for a single patient who was ineligible to remain in managed care under IB-DUAL but was not moved to fee-for-service. In total, New York made 667,000 monthly premium payments for Medicaid recipients who should have been moved to a fee-for-service plan, the comptroller said.
According to responses from DOH to the Comptroller's Office included in the report, the department continued with managed care enrollment for ineligible clients "in an effort to maintain continuity of care and services for this vulnerable population" as it prepared to launch the IB-DUAL program. It was ​​also "part of a broader Department strategy to encourage enrollment of dual-eligible individuals into integrated care options," according to the DOH reply submitted by Acting Executive Deputy Commissioner Kristin Proud.
But the vast majority of overpayment was for individuals who were not eligible to participate in IB-DUAL because they failed to meet other program requirements. The comptroller's report called DOH's statement "misleading."
DOH still has not resumed disenrolling managed care recipients who are ineligible for IB-DUAL, according to the report.
"The Comptroller's audit fails to recognize that all disenrollments were halted effective March 1, 2020, due to the COVID-19 Public Health Emergency, wrote DOH spokesperson Jeffrey Hammond in an email to Gotham Gazette.
"In Nov. 2020, CMS granted states the option to restart disenrollments as they found appropriate so as not to put any undue hardship on members," Hammond continued. "The Department made the decision to allow Medicare members to remain enrolled in their Medicaid Managed Care (MMC) plan through the duration of the [public health emergency] to avoid potential disruption in care on the part of Medicaid members.
"To reflect this decision, the managed care premiums have been reduced to reflect the lower average cost of duals to the Medicaid program as Medicare is the primary payer," he added.
DOH would not say what further steps have been taken toward DiNapoli's recommendations, including moving remaining recipients who are not eligible for IB-DUAL from managed care to fee-for-service plans.  
The release of the comptroller's Medicaid audit comes on the heels of another audit from DiNapoli showing the state paid $11 billion in fraudulent unemployment insurance claims in the first year of the covid state of emergency, in large part due to failures by the Cuomo administration to update its unemployment insurance systems despite repeated warnings that it was out of date going back many years.