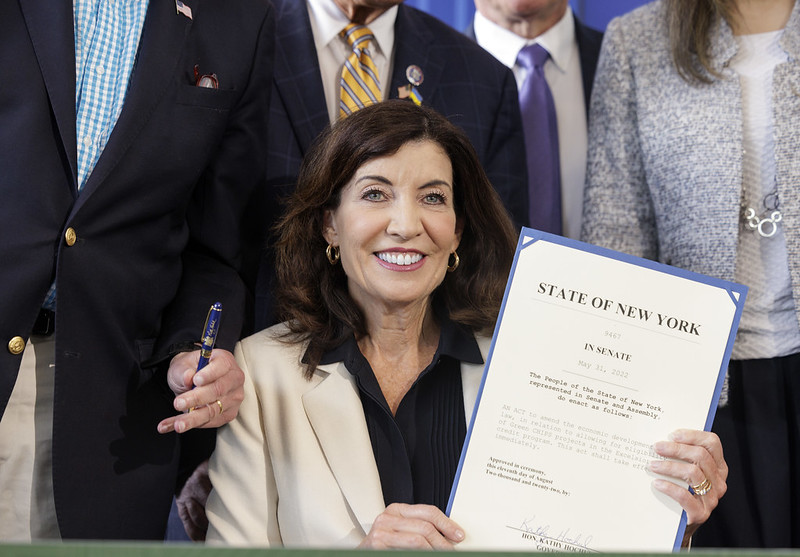 Gov. Hochul at a bill-signing (photo: Mike Groll/Governor's Office)
---
Update: Governor Hochul signed legislation to restore some of the comptroller's oversight of SUNY, CUNY, and Office of General Services centralized contracts on December 30, 2022.
Governor Kathy Hochul has yet to sign a bill that would restore some of the Comptroller's contract oversight powers that had been stripped by her predecessor, Andrew Cuomo, putting her at odds with the state's chief fiscal watchdog, members of the State Legislature, and good government advocates.
The wait-and-see on the bill, which passed both houses of the Legislature in June, is "frustrating" some of the main stakeholders, including Comptroller Thomas DiNapoli, who has pushed for the restoration on and off over the decade.
Hochul has said she is still considering legislation that would give the Comptroller power to review some major state contracts from the State University of New York (SUNY), the City University of New York (CUNY), and the Office of General Services before they are signed  – often referred to as "pre-audit" authority. Comptroller Thomas DiNapoli and good-government groups say the measure would codify protections intended to limit opportunities for corruption, waste, and fraud.
DiNapoli has gone the bulk of his tenure without that authority after Cuomo and the Legislature stripped it from him in 2011 and 2012. Its absence featured prominently in corruption scandals that dogged Cuomo throughout his time in office and led to the convictions of several of his close allies and donors.
The bill would restore pre-audit authority over Office of General Services centralized contracts; certain contracts from SUNY, including SUNY health care facilities and the SUNY Construction Fund; and CUNY contracts, including its Construction Fund.
According to the comptroller's public database, Open Book, the state has committed tens of billions of dollars outside DiNapoli's pre-audit authority in OGS contracts alone. That means the Comptroller's Office didn't have the chance to flag potential issues with the bidding process or contractors ahead of their issuance, unlike with many thousands of other annual contracts entered into by state entities.
Hochul has until the end of the year to sign or veto the bill.
"Frustration would be a fair characterization. The bill passed overwhelmingly in both houses," DiNapoli told Gotham Gazette in a phone interview last week.
"With the change in administration there needs to be a new level of transparency. A bill like this should really be a no-brainer," he said. "I think it should have been signed months ago."
Asked about the legislation at an unrelated press conference on November 29, Hochul said the bill was still under review along with hundreds of other pieces of passed legislation.
"We are always looking to strive to improve accountability and transparency in state government. We can always do more," she said, noting the year-end deadline still a month away. "But it's important that people know that we take taxpayer dollars very seriously, that they are invested and allocated based on strong principles and not access to individuals as has happened in the past."
"It's an opportunity to show our priorities and how I'm going to lead over the next four years," she added.
A spokesperson for Hochul referred Gotham Gazette to her November 29 statement after an inquiry about the status of the bill.
Advocates say the measure would help prevent the kinds of pay-to-play schemes that plagued the Cuomo administration, including the bid-rigging plot in the $1 billion "Buffalo Billion" economic development program that landed a top aide and other allies in prison. Part of that involved SUNY Research Foundation and its nonprofit affiliates, leaders of which manipulated a request for proposals to steer tens of millions of dollars in contracts to corrupt bidders who were major donors to Cuomo's campaigns.
"Prior to being removed by Governor Cuomo, the Comptroller's oversight powers over many of these state contracts existed for over 100 years," wrote Tom Speaker, a policy analyst at the good-government group Reinvent Albany, in an email. "Every day that Governor Hochul delays signing this bill is another day that her office continues a Cuomo-era policy that puts hundreds of millions of taxpayer dollars at risk."
Reinvent Albany and 34 other advocacy groups, labor unions, and political organizations urged Hochul to sign the legislation in a memo in support of the bill in October, before the general election she went on to win.
"Comptroller oversight is crucial for ensuring the integrity of state contracts," the memo states. "The Comptroller's office reports that it reviewed $235 billion in state contracts in 2020, and identified multiple cases where oversight saved the state millions. Allowing large contracts to go unchecked risks the abuse of billions of taxpayer dollars."
The Comptroller's Office could not say the exact value of contracts that would have been under pre-audit oversight, had it not been removed.
"Because the COVID emergency orders eliminated our approval role and the need for a competitive procurement, we cannot provide an accurate or complete number of contracts that we did not have an opportunity to review," wrote spokesperson Mark Johnson in an email.
"Especially in the early Cuomo years there were these huge centralized contracts, as I said in the billions, that went through OGS that we didn't review," DiNapoli said in the interview. According to Open Book, the largest was a $4.1 billion contract with Citibank from 2014 for credit and travel cards to be used by state agencies, school districts, and other entities.
In 2019, as Cuomo faced pressure over the scandals, he and DiNapoli signed a memorandum restoring some of those powers to the comptroller's office under an agreement that could be terminated with ten days notice. The legislation before Hochul would codify much of that agreement and go beyond it, with higher thresholds that will place more contracts under the comptroller's pre-audit jurisdiction. It would also expand the length of time the comptroller has to conduct pre-audit reviews from 30 days to 90 days. Advocates for greater checks and balances say the bill substantially brings the comptroller's authority back to the pre-2011 status quo.
The bill sponsors, Assemblymember Kenneth Zebrowsky and Senator Elijah Reichlin-Melnick, told Gotham Gazette discussions with the administration went cold ahead of the election, in which Hochul faced a competitive challenge from Republican Lee Zeldin.
At the time, Hochul indicated that she had issues with some of the value thresholds that would place a contract under the comptroller's pre-audit oversight. Under the current memorandum, the comptroller may review proposed SUNY and CUNY contracts valued at $250,000 or greater and OGS centralized contracts of $85,000 or greater. The legislation keeps the OGS threshold the same but gives the comptroller the power to review preliminary SUNY and CUNY contracts as low as $50,000 in some cases.
"I'm in conversations with the comptroller as we speak about the levels," Hochul said, when asked about the bill on the debate stage with Zeldin in October. "We think we can negotiate a position to recognize that inflation is out there. So something that may be worth $50,000 10 or 12 years ago has a different price point."
"We are actually having conversations to make sure that people do feel comfortable that we restore the oversight system," she said. "And I believe in this, I mean, I believe in accountability and transparency and that's how I continue to conduct myself as the governor of the state of New York for the next four years."
Hochul, Cuomo's lieutenant governor, came into office in August 2021 promising "a new era of transparency," collaboration, and ethical government.
"I'm waiting," Reichlin-Melnick told Gotham Gazette of the governor acting on the bill. "There were conversations between their team, me, the Senate staff, the Assembly, the Comptroller, with a couple of proposals back and forth and then everything kind of stopped leading up to the election…I have not heard back from the governor's office in the last three weeks since the election."
"How would I characterize it? To-be-determined," Zebrowsky said in an interview, of the status of negotiations.
Neither lawmaker gave specific details about the proposals during negotiations before they fizzled out. "The main source of contention is that the administration felt like the bill that passed constrained them too much, it put too many barriers in place towards rapid issuance of contracts," said Reichlin-Melnick.
One of the main voices against the legislation is SUNY, which sent a memorandum of opposition to lawmakers in May – after it passed the Senate and before it passed the Assembly – raising concerns about the lower thresholds and longer review window.
"It will result in costly delays for hundreds, if not thousands of SUNY contracts, and further hinder SUNY's ability to compete for students, faculty, and research," stated the memo, issued by the SUNY Office of Government Affairs. "Increased purchasing costs due to delays will also impact the healthcare and patient services provided by SUNY's three hospitals to vulnerable populations across the state."
According to a 2019 State Comptroller's Office report, pre-audit reviews take on average between six and seven days and only take longer when the contract raises red flags.
"I think it's kind of a bogus argument, because that's just not the reality of how long it takes," DiNapoli told Gotham Gazette, echoing comments he repeatedly made when Cuomo stripped the powers and then sought to defend the move. "But the purpose of the 90 days as existed before is to give maximum time if in fact there is a need for closer scrutiny."
He said a shorter window could have unintended consequences. "If we're under a tighter timeframe, it may compel us to just reject the contract because we don't have adequate time to get through it," DiNapoli warned. "So I don't think it achieves what they think it might be achieving."
"But," he added, "nobody's advanced anything to my knowledge along those lines. They've just been using that as a reason to say they're against the legislation. SUNY has a history of wanting to operate as an entity unto itself and I don't think that's right."
DiNapoli, Reichlin-Melnick, and Zebrowsky each said they were open to discussing changing some of the parameters of the bill to address administration concerns as long as the comptroller's pre-audit authority was materially restored.
"My line in the sand is to make sure that there's no loopholes in the language that allows the governor to waive the review," Zebrowsky said. "In terms of the threshold levels, we think these are appropriate. If the governor attempts to come up with different levels I would ask for a justification and I would confer with the comptroller."
"Any attempt to carve SUNY out in any significant way would be a nonstarter to me," DiNapoli said.