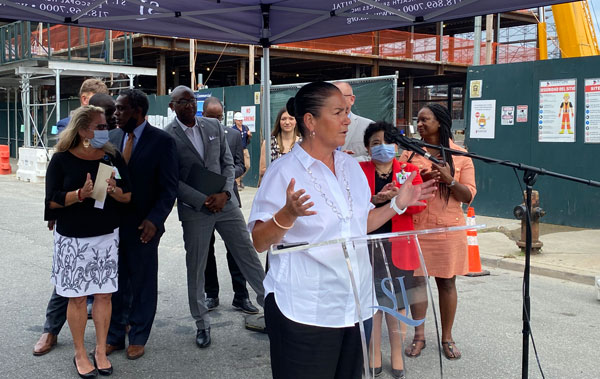 Assemblymember Stacey Pheffer Amato (far left, photo: @Stacey23AD)
---
Assemblymember Stacey Pheffer Amato, a Queens Democrat, is leading by just one vote over her Republican opponent, Thomas Sullivan, after a manual recount for the District 23 election concluded on Wednesday. But, the race is still not over as a court battle for nearly 100 additional ballots remains to be decided.
On election night, Amato trailed Sullivan by 246 votes in an election with more than 32,000 ballots cast, a close enough margin to trigger an automatic hand recount. More than 1,000 absentee and affidavit ballots remained uncounted at the time, and Amato's campaign also filed a lawsuit to ensure that ballots that were improperly invalidated should be counted. On Tuesday, Queens Supreme Court Justice Joseph Risi ruled in her favor, ordering that 94 absentee ballots and 4 affidavit ballots that were initially deemed invalid by the Board of Elections should be added to the tally.
In the case of the 94 absentee ballots, the court found that the BOE had failed to notify voters that their ballots had been invalidated and did not give them the opportunity to cure their ballots or inform them of their other options for voting as required by state law.
"There is no question that the Board's failure to provide this required notice impaired these voters' ability to participate in the electoral process," the judge ruled. He also said that the election law "shall be construed liberally in favor of…protecting the right of voters to have their ballot cast and counted."
The additional four ballots, he wrote, were "mistakenly marked as invalid" for varying reasons.
Sullivan's campaign has appealed the court decision, with the next hearing in the case set for Monday, December 12. According to Adam Fusco, a lawyer representing Sullivan, the campaign is fighting to exclude the 94 "fatally defective" absentee ballots. However, neither side has questioned the inclusion of the four affidavit ballots, which will be counted regardless of the outcome of the appeal.
"It's those four affidavit ballots that may very well decide this race," Fusco said in a phone interview. "Those four affidavits are sealed. Other than guessing, there's no way to know who, if either, of the candidates that those four voters voted for." Fusco expects the case to be decided quickly next week.
Doug Forand, a spokesperson for Amato's campaign, expects to prevail despite the appeal and predicted that Amato's margin of victory will only increase since the 94 absentee ballots contain more Democratic votes than Republicans.
"Voting is the cornerstone of our American democracy," Forand said in a statement after the court ruling on Tuesday. "We will not allow anyone to silence the voices of voters who have exercised their constitutional right to have their votes counted. We are grateful to the courts for following the law and rightfully ruling that these ballots must be counted."
Pheffer Amato has been in the Assembly since 2017, representing the 23rd District, covering Rockaway, Howard Beach, Lindenwood, Ozone Park and parts of Hamilton Beach. She had to outrun Democratic Governor Kathy Hochul, who lost the district to Republican Rep. Lee Zeldin by nearly 8,000 votes.