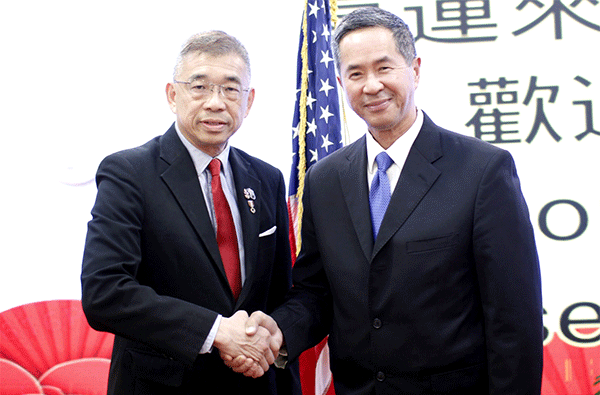 Lester Chang, left (photo: Chang campaign website)
---
Though Democrats maintained supermajorities in the State Senate and Assembly after the midterm elections, they lost ground in several communities across the state and ceded several seats to the Republican Party in the State Legislature and in Congress.
One of the most notable Republican flips came in Assembly District 49, an Asian-majority district in Southern Brooklyn which covers parts of Bay Ridge and Borough Park and much of Dyker Heights and Bensonhurst. There, 36-year Democratic incumbent Peter Abbate Jr. narrowly lost to Republican Lester Chang, in a race some have pointed to as evidence of Asian American voters moving from Democrats to Republicans. Now, a new post-election study finds that low turnout among Asian American voters could actually have been the deciding factor.
Chang, who is Chinese-American, defeated Abbate Jr., who is white, 52-48%, a margin of just 582 votes in an election where only 14,287 votes were cast. But according to a new study from the Asian American Federation, an advocacy and research nonprofit, Asian American voters did not turn out significantly in favor of Chang and if they had been more engaged in the election, they could have swung it for Abbate and the Democrats. While there has been some rightward movement of Asian voters, they remain overwhelmingly Democratic in both registration and voting patterns.
There also remains the possibility that Chang may not be able to serve in the seat. The State Assembly is set to convene on Wednesday morning to determine whether he failed to meet the residency requirements to run for District 49 and thus should not be seated for the new term that begins in January.
"The 2022 midterm elections in New York showed us how imperative it is for candidates and parties to forge and sustain meaningful voter outreach to New York's rapidly growing Asian population," said Jo-Ann Yoo, executive director of the Asian American Federation, in a statement. "Taking District 49 as a case study, there is a clear lesson that underinvesting in outreach to Asian Americans has electoral consequences."
AAF's analysis examined the Asian American population in the Assembly district, which was slightly redrawn in the recent redistricting cycle following the 2020 Census. (The Assembly district maps were later rejected by a judge but were allowed to stand for the 2022 cycle. They are currently being redrawn for the next legislative election in 2024.)
As AAF noted, Asian Americans were the fastest growing population in the 2020 Census and the count showed they had overtaken white residents as the majority in the district. According to AAF calculations, Asian Americans made up 59% of the population of the district, 80,454 residents out of a total 136,258. The district had 60,627 voting age residents, of whom 49%, or 29,704, identified as Asian. Moreover, more than half of those Asian voters were registered as Democrats while only 6.9% were registered as Republicans (40.3% were unaffiliated with a political party).
Overall voter turnout in the district was about 28%, even below the citywide turnout of 33% in the election. But AAF's study found that turnout in District 49 election precincts with more than 50% of Asian registered voters had turnout lower than the district average, with some as low as 15-16%.
AAF modeled two scenarios if turnout had been different. If there was higher Asian American turnout and all registered voters cast a ballot along party lines, while all party-unaffiliated voters cast a ballot for the Republican, Chang would still win but with a smaller margin of 459 votes.
But, if all party-affiliated registered Asian voters cast a ballot along party lines and unaffiliated Asian voters split among Democrats and Republicans, Abbate Jr. would have won by 473 votes.
"Our examination of District 49 voter data undermined assumptions that the growing Asian population caused the district to swing red or that Asians always vote for other Asians," said Linying He, AAF's associate director of research, in a statement. "Asian voters are not a monolith, and we do not always vote along party lines or the ethnicity of a candidate. What matters to us, like all voters, are credible and deliverable promises that our communities and issues will continue to matter to candidates after Election Day."
To that point, the district went for Democrat Joe Biden in the 2020 election, as he won by a margin of 56.4-43.6 over then-President Donald Trump, a Republican. But in the governor's race this year, Democratic Governor Kathy Hochul lost the district to Republican Lee Zeldin roughly 38-62% — meaning Abbate outran Hochul by a wide margin even in defeat — expanding on the improved Republican performance by mayoral nominee Curtis Sliwa in the 2021 election.
In their recently released Civic Engagement Report, AAF wrote that the Asian American community is "often considered too socially and linguistically fractured for political campaigns to target effectively." But, through their own voter outreach efforts through the AAPI Power Coalition of eight nonprofits in the city, they found that culturally relevant and in-language outreach increased Asian voter turnout by 10 percentage points.
The group also recommended several measures to increase Asian American participation in the electoral process including more local surveys to accurately study various Asian American communities, addressing language barriers at the polls, and same-day or Election Day voter registration and no-excuse absentee voting to make voting easier.
[READ: 'I knew the vote would be close, but I didn't think that close': Iwen Chu's History-Making Win in Brooklyn's New 17th State Senate District]
[LISTEN: Max Politics Podcast: Ron Kim on How Democrats Can Win Back Asian Voters]