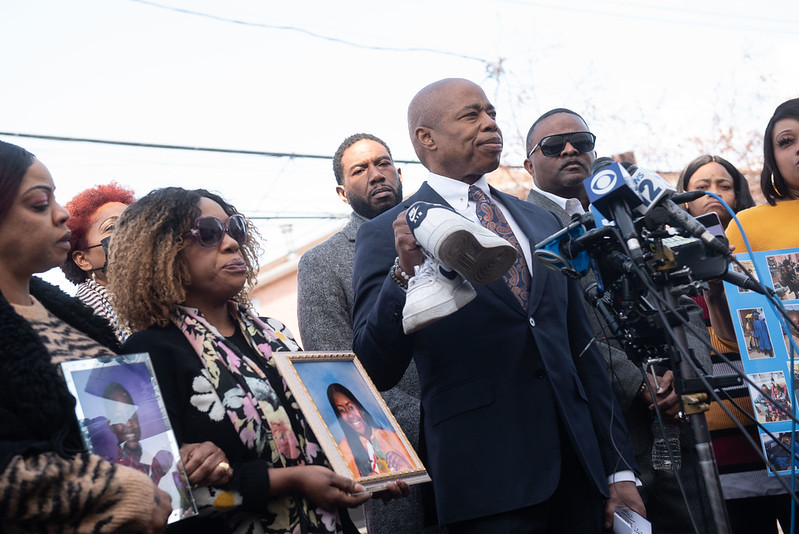 Mayor Adams decries victims of gun violence (photo: Michael Appleton/Mayor's Office)
---
Having come to power on a tough-on-crime message after years marked by criminal justice reform and protests against police brutality, Mayor Eric Adams often says New York lawmakers have done too much to protect the perpetrators of crime and not enough for the victims.
But after a year in office he has not said what additional victims services policies he thinks should be in place.
"What do we do for a family member who's the victim of a homicide and they're the primary breadwinner and now their entire family is thrown into turmoil," Adams said in a December 7 interview with NY1 host Pat Kiernan when asked about similar comments he made previously. "We passed laws to protect the person who killed the individual. What have we done for those who are the victims of crimes, who have [been] devastated?"
Adams made similar statements on the campaign trail in 2021 and throughout his first year as mayor, as he promised to crack down on gun violence and lower-level offenses and invest in "upstream" measures to stem the factors that lead to crime. He has spent much of that time criticizing fellow Democrats over changes made to the state's bail and discovery laws in 2019 (and adjusted in subsequent years). But Adams rarely if ever acknowledges the victim services that are in place or offers any specifics on what he thinks should be done to enhance benefits available to crime victims.
Victim compensation funds and supportive services like emergency housing, medical care, and counseling for people devastated by crime are common throughout the United States, including in New York. And efforts here at the state and city levels are ongoing to expand access to that funding and those services — including some Adams has signed into law.
Adams' campaign material made virtually no mention of specific crime victims services. It did, however, include a proposal to launch a cognitive behavioral therapy program for domestic abusers called the "Family Violence Perpetrator Program," which has not come to fruition.
His comments echo points made by opponents of bail and discovery reform and other criminal justice measures either passed or proposed. That includes Republican Lee Zeldin, who made similar statements on the campaign trail for governor last year. In other contexts, Adams has said he wants to see state lawmakers revisit the bail law once again to give judges greater discretion to consider a defendant's "dangerousness."
"Prior to Lee Zeldin wanting to run for governor, this is what I've been saying. Do an analysis of all the laws we've passed, not only in New York but across the country. Analyze them," he told Kiernan. "Where is the law that protects innocent people? That's my question."
Administration officials would not say what specific policies the mayor wants to see enacted or what laws he believes protect perpetrators. His comments appear to ignore the fact that criminal law itself is intended to prevent crime and keep potential victims from harm.
A spokesperson for Adams said the mayor was referring to laws to make victims whole and pointed to the State Legislature for action. The spokesperson noted the mayor, a former state senator, is not in the Legislature and does not introduce bills, and wouldn't elaborate on what those could or should entail. They referred further inquiries to the Legislature.
Adams has in fact released multiple specific proposals for legislation he wants to see passed at the state level this year, including a nine-point state legislative plan released last week on improving the capital construction process, a push for a change to state mental health law, and more.
Crime remains a top priority for the mayor. Murders and shootings rose sharply during the pandemic but dropped during Adams' first year in office, while overall index crimes (the seven major felonies) increased 22.4%, according to the NYPD. In 2022, 433 people were murdered and 1,566 were victims of gunfire. Thefts, rapes, and assaults all increased in 2022 over 2021.
A vast majority of crime victims are low-income Black or Latino New Yorkers. Crimes also often go unreported, especially in communities where trust in police is frayed, and especially among survivors of domestic and gender-based violence, a growing focus of lawmakers.
At both the city and state levels, lawmakers working on victim services have focused largely on improving access to compensation funds and micro-grants. The mayor's comments have frustrated a number of those officials, several of whom told Gotham Gazette they don't reflect reality or draw a false dichotomy between victims and perpetrators.
"One day a person is the defendant in the case, another day they're the victim or complainant in a case, and another day they might be a witness in a case," said City Council Member Tiffany Cabán, a Queens Democrat and former public defender who chairs the Council's Committee on Women and Gender Equity, in a interview.
"Ultimately our goals for survivors and for citizens in general should be creating the conditions for stability," she said.
State Services
The state Office of Victim Services funded 228 programs totalling $294 million in State Fiscal Year 2021 (April 2020 through March 2021), according to the latest data available. The services include counseling, emergency shelter, legal assistance, and case management, among others.
The state's victim compensation program – which includes funding for medical expenses, lost earnings or property, burial costs, attorney's fees, and more for qualifying victims of crimes or their survivors – distributed $18.7 million in payments to victims in fiscal year 2021, a more than $10 million drop from fiscal year 2012 and $4 million down from the previous fiscal year.
The victim compensation fund is a payer of last resort, intended as a backstop for people with no other means to cover expenses in the aftermath of a crime, according to Janine Kava, a spokesperson for Governor Kathy Hochul, in an email to Gotham Gazette.
"Financial assistance administered by OVS provides a critical safety net and helps victims, survivors and family members with medical and counseling expenses, funeral and burial expenses, lost wages and support, in addition to other assistance," Kava wrote. "New York is the only state in the nation with no cap on medical or counseling costs, which means individuals can receive assistance as long as they need it."
"It also is important to note that prior to 2020, New York State experienced seven consecutive years of declining crime, with reported crime reaching an all-time low in 2019," Kava continued. "Access to health care through the federal Affordable Care Act (Obama care) also has resulted in fewer claims being filed because individuals who previously may have been eligible now have health insurance to cover costs."
But the total annual funding for victim and witness assistance programs outside of direct payments has grown over the same period, more than doubling from $40 million in fiscal year 2012 to $91 million in fiscal year 2021, which was up $17 million from fiscal year 2020.
Last year, state lawmakers advanced a number of bills to expand access and eligibility for the victim compensation fund. In June, Hochul signed legislation to make reckless endangerment and the illegal dissemination of intimate images, also known as revenge porn, compensable crimes.
"The Senate Democrats have demonstrably done more to support crime victims than the mayor's administration has," said State Senator Julia Salazar, a Brooklyn Democrat who chairs the body's Committee on Crime Victims, Crime & Correction and has championed the criminal justice reforms Adams often criticizes, in a statement to Gotham Gazette. "I hope they will work together on these issues with us instead of dodging responsibility."
Other bills failed to pass one or the other chamber of the Legislature, like a bill to make victims eligible for payments without having to file a police report. The legislation had the support of the New York City Council via a resolution, and passed the Assembly last spring but failed in the Senate.
"The law enforcement reporting requirement for victim compensation adversely impacts Black and Brown, LGBTQIA+  and the immigrant communities, who are traditionally less likely than other groups to report their harm to law enforcement," said City Council Member Mercedes Narcisse, a Brooklyn Democrat and sponsor of the non-binding resolution encouraging state passage of the bill. "There is no doubt that accessing crime victim compensation is part of a broken system."
Senator Zellnor Myrie, a Brooklyn Democrat who sponsored the bill, also took issue with the mayor's comments.
"Leaders on either side of the aisle who perpetuate this falsehood – that we're protecting the accused and ignoring the victims – aren't serving anyone but themselves," Myrie said in a statement to Gotham Gazette. 
"We can support crime victims right now by passing my bill to expand access to compensation funding and help families rebuild their lives after being impacted by violence," he said. "I look forward to the Mayor helping me advocate for this legislation over the next few months."
City Services
In the fall of 2021, just a few months before the end of the de Blasio administration, the city launched the Office of Crime Victim Services (OCVS), housed within the Mayor's Office of Criminal Justice, to coordinate and expand the city's existing survivor services and ensure parity in assistance programs.
In the last fiscal year, from July 2021 through June 2022, OCVS directly operated 20 programs, including ones to prevent intimate partner violence and an online service finder with 78 providers and 361 locations around the city.
The office's marquee initiative is the Crime Victim Assistance Program, which places service coordinators and advocates in police precincts. According to the OCVS annual report, published in April 2022, the pandemic stay-at-home orders and labor shortages impacted the program's operations in 2021 but the office is "committed to ensuring the program has the supports it needs to resume and expand operations."
Since that report, the OCVS budget has fallen slightly, from $48.9 million in city fiscal year 2022 to "nearly" $48 million in the current fiscal year 2023, according to another spokesperson for Mayor Adams.
In the annual report from April, OCVS promised to develop more emergency housing options for survivors, sexual violence and human trafficking prevention programs, and sommunity-based supports for underserved communities. The office would also explore formal avenues for public engagement.
OCVS and the Mayor's Office of Criminal Justice have not provided any information about any progress made toward those goals despite multiple Gotham Gazette inquiries.
The City Council has put an emphasis on survivor services in the first year of the new cohort, led by Speaker Adrienne Adams and the Council's first female majority. Speaker Adams pushed to fund "trauma recovery centers" in four neighborhoods with high rates of gun violence and also provided each Council district with $100,000 to fund survivor and community safety services, according to a spokesperson.
In November, Mayor Adams signed a set of laws known as the "Support Survivors" package after it passed the City Council. The center of the package was a law to establish a micro-grant program for emergency housing and other services for domestic violence survivors, to be established by the Mayor's Office to End Domestic and Gender-Based Violence.
The law is based on an pandemic emergency program in summer of 2020 that provided roughly $469,000 to 377 clients at an average disbursal of $1,243 per recipient, according to a final report. The funds went to low-income domestic and gender-based violence survivors disproportionately impacted by the pandemic – 40% of whom were Latino, 32% Black, 16% Asian or Middle Eastern, and 10% white. The program was quickly inundated with applications and distributed more than 50 more grants than originally budgeted, with the result being a smaller average grant size, according to the report.
Cabán was the lead sponsor on the Support Survivors package. She and Adams held a joint press conference to celebrate when the mayor signed it into law. Cabán told Gotham Gazette she is seeking a minimum of $3 million for the program in fiscal year 2024 and that conversations with the Adams administration are ongoing.
"That is it going to be my office's number one priority," she said over the phone. "We plan on running a robust budget campaign and doing the organizing necessary to get as many dollars as possible into that fund."
"It's going to be about making sure that we are investing resources to the scale of the problems that we're facing, which has been a challenge over the past year," Cabán said, referring to Mayor Adams' first year in office. "We've seen some investments in certain places but not nearly to the degree that is necessary to meaningfully tackle some of the issues New Yorkers are facing each and every day."
Richard Aborn, president of the Citizens Crime Commission, a non-profit focused on public safety, believes Adams isn't talking about survivor services at all when he says lawmakers need to focus on victims not perpetrators.
"I think it's a way of expanding the aperture so that we see the real impacts of the lack of bail reform and the lack of discovery reform," he said.
While there has been a justified focus on criminal justice reform in recent years, Aborn said, "we also need to make sure that the criminal law is sufficiently robust that people are not unnecessarily victimized." That can happen during the initial crime "and then if the law does not respond appropriately the person is revictimized because nothing has happened to the perpetrator," he added.
In this case, the rhetoric of supporting victims refers to ensuring a survivor is not "re-frightened" by the lenient administration of justice, said Aborn, who supports giving judge's more discretion in setting bail and prosecutors more time to turn over evidence as part of the discovery process.
To Cabán, carceral approaches to public safety are misguided and the city could be doing more to materially support survivors of crime. "When politicians and other folks in the city talk about crime victims from that perspective," she said, "they're practically always cynically exploiting the pain and trauma of survivors to make the case for ramping up policing and incarceration, which doesn't prevent further violence, and it practically never actually asks survivors what they need or want to heal and repair their lives, let alone provide those things."