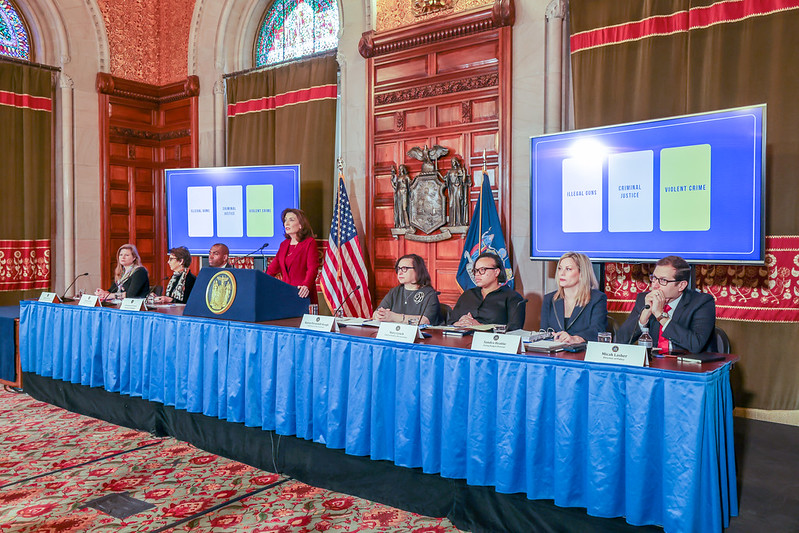 Gov. Hochul presents budget details (photo: Mike Groll/Office of Governor Kathy Hochul)
---
Governor Kathy Hochul on Wednesday released a $227 billion Executive Budget, her proposal for the 2024 fiscal year, which begins April 1, including major initiatives on mental health, affordable housing, public safety, and investments in "the New York Dream" to support seniors, young adults, parents, veterans, entrepreneurs, and others.
"It's a thoughtful plan that furthers our progressive values and our priorities as New Yorkers, but also ensures fiscal responsibility," said Hochul, a Democrat who just won her first term in the office, in her speech, delivered from the Capitol in Albany, where she was flanked by top aides. "Our $227 billion budget will include unprecedented investments in areas that will make a positive impact in people's lives, that'll make the New York Dream real, and as I said, make it safer, more affordable. more livable."
Hochul's budget, which will now become the focus of legislative hearings and negotiations with the Legislature's two Democratic supermajorities, presented fiscal details behind the policy agenda she laid out in her State of the State speech on January 10. The overall state budget is $227 billion, an increase of $5.4 billion, or 2.4%, over the budget that was adopted last April. The proposed budget includes $125.2 million in state funds, an increase of $2.5 billion, or 2%, and $80.3 billion in federal operating funds, a decrease of $2.6 billion, or 3.1%.
Despite the after-effects of the pandemic, New York's economy has performed better than expected. The state Division of Budget projects that tax receipts will be about $5.9 billion higher than projected in the mid-year budget update issued in November, leading to a total surplus of $8.7 billion by the end of the current fiscal year.
But tax collections that surged in recent years are expected to slow in the years ahead, and there are warnings of a recession looming on the horizon. With that in mind, about $5.3 billion of the end-year surplus will be used for deposits into state reserves over the next two fiscal years, bringing the level of reserves to 15% of state spending two years ahead of schedule. The reserves will stand at about $24 billion by the end of the current fiscal year, the highest level ever.
Most of the remaining surplus funds will be used for prepayments into next fiscal year and to address future budget gaps, according to a budget briefing book released by the governor's office.
The state economy continues to face risks with jobs and wage growth slowing, a volatile stock market coming off a very bad 2022, and the Federal Reserve's interest rate hikes to control inflation, which could cause a recession. Projected budget gaps remain significant for the years ahead – $5.7 billion in FY 2025, $9 billion in FY 2026, and $7.5 billion in FY 2027. According to the governor's budget book, those gaps are largely because of an expected reduction of almost $21 billion in tax revenues between FYs 2025-2027.
Hochul is putting additional funding into the two biggest sections of the state budget, and without any of the cost controls watchdogs have called for: local education aid and Medicaid. Overall, the budget proposal includes $34.5 billion for school aid, an increase of $3.1 billion, or 10%, over the current budget. Hochul is proposing an overall Medicaid budget of about $103 billion, including $59 billion in federal funds, $34.8 billion in state spending, and $8.9 billion from local governments.
Among the major announcements in Hochul's budget are a series of housing proposals under the governor's "New York Housing Compact;" proposed measures to stabilize the finances of the MTA; a $337 million plan to tackle gun violence; a $1 billion plan to help address the tens of thousands of migrant asylum seekers arriving in New York in the last year; $1 billion to increase mental health care beds; another $1 billion for other health care infrastructure; $1.3 billion for economic development initiatives; $5.5 billion to address climate change and environmental protection; and more.
The governor also proposed eliminating the charter school cap for New York City, a measure that she first vocally supported last year while debating her Republican opponent for governor, then-U.S. Rep. Lee Zeldin, and support for which she has not explained.
Among other especially notable specifics, Hochul omitted a proposed replacement for the expired 421-a affordable housing tax credit, which expired last year and she unsuccessfully tried to replace with a new program. But she did include a proposal to extend a deadline by four years for completed buildings to receive 421-a credits, from 2026 to 2030.
Though Hochul again emphasized that she will not raise income taxes this year, she did propose an extension of a temporary corporate tax increase first approved in 2021 that was meant to expire by the end of the year. That extension, through the end of 2026, would raise as much as $810 million in the 2025 fiscal year, according to the budget book.
The budget now sets the stage for negotiations with the state Legislature over the next two months before the next fiscal year begins. The State Senate and Assembly will present their own one-house budget resolutions outlining their respective priorities and will examine the governor's budget over a series of hearings, while backroom negotiations proceed between the Legislature and Executive. It also triggers negotiations with other major stakeholders like Mayor Eric Adams, who gave a mostly positive initial reaction to Hochul's budget and will testify before the Legislature on his state budget priorities on February 15.
Public Safety
"Number one priority always has been keeping New Yorkers safe, full stop," Hochul said, touting decreases in murders, shootings, and subway crime. In all, spending on public safety agencies will increase from $7.8 billion to about $8.1 billion, per her proposal.
Hochul outlined the details of a $337 million plan to reduce gun violence including doubling funding for the Gun Involved Violence Elimination (GIVE) program to $36.4 million for 20 police departments outside of New York City, $37 million for youth employment programs in GIVE jurisdictions, $1 million to help establish a dedicated Crime Analysis Center in New York City, $70 million for communities to respond to the aftermath of gun violence, doubling funding for alternatives to incarceration programs to $31.4 million, tripling funding for reentry services to $11.5 million, $40 million to help district attorneys implement discovery reform and $40 million for local district attorneys to hire hundreds of prosecutors, $20 million for pretrial services, and more.
Hochul also advanced her controversial proposal to further amend the state's bail laws by removing the "least restrictive means" standard that judges are mandated to use when setting bail. The governor's proposal would only apply to "serious offenders," she said, while the law would remain the same for lower-level offenses that are bail eligible. "I will not turn our backs on the progress that was made, but conflicting language in the law leads to confusion and a lack of accountability for the judges to make their determinations," she said. "So let's just simply provide clarity."
Last year, Hochul held up the budget as she sought changes to bail laws to give judges more discretion, particularly in cases involving gun crimes and repeat offenders. This year, she said in a press conference after the budget presentation, the scope of her proposals is much narrower. "What is glaring to us and anyone who looks at it closely is that our law has two different standards in it and we're just focusing on that," she said.
Housing
In her State of the State, Hochul announced a new "Housing Compact" to build 800,000 homes over the next ten years through a series of policy measures that include changes to zoning regulations, tax incentives, and housing creation targets for local and regional housing growth. The strategy is meant to supplement her $25 billion housing program enacted last year that will directly build 100,000 units of affordable housing over a decade. On Wednesday, she presented the many items from that strategy, including some proposals that she had floated last year but abandoned in the face of opposition.
Among the more controversial ideas is her proposal to essentially override localities that fail or refuse to meet housing growth targets, by mandating that developments be approved within a set time frame if they meet certain affordability criteria or allowing developers to initiate fast-track appeals to a new State Housing Approval Board or the courts. The measure is already being met with opposition from suburban lawmakers who rejected Hochul's efforts to pursue much-needed housing growth last year.
Under her other proposals, the state will also promote "transit-oriented" development by requiring rezoning for higher density near MTA rail stations, streamline zoning regulations, increase the Floor-Area-Ratio (FAR) cap in New York City, expand the number of commercial buildings eligible for conversion to residential use (and new tax incentives to encourage that conversion), grant New York City the authority to legalize basement units, expand an existing property tax exemption to Accessory Dwelling Units (ADUs), create a new local option property tax exemption for multifamily affordable housing, and more.
In her speech, Hochul also outlined additional investments that included a $250 million Infrastructure Support Fund for projects that support housing creation, a $20 million Planning Assistance Fund for localities, a $40 million fund for lead inspection for rental properties, and more.
"The bottom line is, the more houses we build, you increase housing stock, the prices go down," she said. "It's called supply and demand. And then New Yorkers get what they deserve: options, opportunities."
Mental Health
The governor's budget proposal increases spending on the state's mental health and hygiene system to $10.5 billion, an increase of $709 million, or 7.2%.
In her speech and the budget book, Hochul outlined both expense and capital allocations for the state mental health system. That includes a $1 billion investment to bring 1,000 inpatient psychiatric beds into use, including 850 beds previously taken offline and 150 new beds; $10 million to expand school-based mental health services; an additional $15 million investment in housing for people with intellectual and developmental disabilities; $60 million to fund the expansion of the state's crisis center network to support people who use the 988 Crisis Hotline; $10 million in grants for suicide prevention programs targeting high-risk youth; and more.
Hochul also announced several measures to tackle the opioid epidemic. "We'll examine every possible solution to this crisis, and treat people experiencing addiction as people who are human beings who just need our help," she said.
The governor also announced a 2.5% Cost Of Living Adjustment (COLA) for human
services providers and $38 million to support minimum wage increases, including her proposal to index the minimum wage to inflation, for staff at programs run by state mental health agencies.
Other Health Care
In the budget, the governor included a new $1 billion investment in health care infrastructure, building on a $20 billion multi-year investment she first enacted last year. But the budget book notes that there is still uncertainty around growing Medicaid costs, which is the largest aspect of the budget. The state projects spending $1.6 billion more than expected on Medicaid because of increasing enrollment in the current fiscal year – enrollment is expected to be about 7.78 million people this year, according to the executive budget financial plan. "That's a concern of ours very much," Hochul acknowledged at the press conference. "The escalation of costs for Medicaid, especially if you look at the outyears, it's rather dramatic."
Enrollment is projected to fall to 6.9 million people in the next fiscal year, and 6.5 million people by the 2025 fiscal year.
The budget does include other major health care proposals including expanding the state's Essential Plan coverage; expanding Medicaid coverage of preventative health services, expanding access to primary care; $379 million to provide a reimbursement rate increase to hospitals, nursing homes, and assisted living providers; and more.
Child Care
The governor's budget continues the $7.6 billion, four-year child care investment she enacted last year, and includes several new child care initiatives such as instant eligibility for parents who already receive other public benefits, lower child care co-pays, increasing the income eligibility for families to receive free child care, and 12 weeks of fully paid parental leave for state employees.
Education
The executive budget's $34.5 billion for school aid is an increase of $3.1 billion, or 10%, over the current year. That increase includes a $2.7 billion increase in Foundation Aid, fully funding it for the first time, and a $392 million increase in other school aid programs. About $250 million of the increase in Foundation Aid will be dedicated to high-impact tutoring programs.
The growth in education funding includes $20 million for new Smart Scholars Early College High School (ECHS) or Pathways in Technology Early College High School (P-TECH) programs, $10 million over two years for the high school-college-workforce pipeline, and more.
One of the major investments is an additional $125 million to expand full-day prekindergarten programs for four-year-olds – for an overall $1.2 billion annually – which will create about 17,500 new seats. The new funding would bring the state to 95% of universal prekindergarten coverage, according to the briefing book.
The governor also proposed an elimination of the cap on charter schools in New York City. There are currently 460 charter schools permitted statewide, including a cap of 290 in New York City, which was met in 2020. Hochul wants to do away with the city's cap, thus allowing dozens of unused charters to be awarded to operators in the five boroughs. Another proposal would permanently authorize the reissuance of so-called "zombie charters" that were previously issued but where the schools have closed sometime since 2015. This would make available another roughly 19-21 charters.
Charter school proponents hailed the governor's support for eliminating the city cap.
"A budget is a reflection of priorities – and with this budget proposal, Governor Hochul has proven that she prioritizes the voices and needs of students and families first," said James Merriman, CEO of the New York City Charter School Center.
But the proposal was quickly criticized by some legislators, including those who chair education committees or have focused on education issues. State Senators Shelley Mayer, John Liu, and Robert Jackson said in a statement that they were "deeply disturbed and disappointed" by the idea. "By removing the geographic restrictions for charter authorization, NYC could see an increase of more than 100 new charter schools. This will further increase the financial burden on NYC traditional public schools, taking much-needed resources away from schools serving the vast majority of our children," they said.
The MTA
The MTA has been kept afloat through the pandemic with billions in federal aid. But the agency has continued to have structural deficits, both pre-existing long-term fiscal challenges and additional gaps given ridership still far below pre-pandemic levels. The MTA has previously predicted that it would need to take several steps, including increasing fares and tolls by 5.5% later this year, to meet its budget shortfall should the state not step in with additional aid.
On Wednesday, the governor finally addressed the MTA's fiscal woes in her budget. Her plan for the agency includes finding $400 million in operating efficiencies, $800 in additional revenue through a marginal increase in the Payroll Mobility Tax, $500 million in increased contributions from New York City, and $300 million in one-time state aid. The governor also proposed that the MTA should receive a share of the $1.5 billion in licensing fees from the issuing of three new casino licenses in downstate New York and between $462 and $826 million in projected annual casino tax revenue that will begin to flow in 2026. In addition, the state is also putting $150 million towards more MTA safety personnel as part of the governor's public safety plan also aimed at increasing ridership.
Pursuing $500 million from New York City for the MTA could prove a controversial ask of Mayor Adams and city-based legislators. "The city annually contributes approximately $2 billion to the MTA in direct and in-kind contributions and, while we recognize the significant fiscal challenges the MTA faces, we are concerned that this increased commitment could further strain our already-limited resources," Adams said in a statement Wednesday.
New York City Comptroller Brad Lander similarly pushed back against the governor's proposal. "Just as the shift to remote and hybrid work hit the MTA's farebox revenues, so too it hit the City's commercial property tax revenues and redistributed them to the rest of the region," he said in a statement. "Rather than fare hikes, an increased share of payroll taxes, revenue from new casinos, and the implementation of congestion pricing are the right ways to replace farebox revenue and make long-overdue upgrades to ancient signal technology and repairs. The State should not stick the City with the bill to sustain our regional public transit system."
Migrant Assistance
More than 42,000 migrant asylum seekers have arrived in New York City over the last year, according to estimates from Mayor Adams' office, straining the city's ability to provide shelter and other services. The mayor and other officials have repeatedly called for additional funding to meet those needs, mostly from the federal government but also from the state.
The governor, on Wednesday, seemed to heed that call as she proposed spending $1 billion on service and resettlement efforts. But her proposal involves the city, state, and federal governments each taking on a third of the costs. "The Budget creates a framework for the financial burden of such services to be evenly split between the levels of government," the budget book reads.
Environment and Climate Change
Hochul announced several major climate programs and funding initiatives in her speech. Among them is a Cap-and-Invest program, which will cap emissions statewide and require major greenhouse gas emitters and heating and transportation fuel distributors to purchase allowances for their emissions. The emissions cap will be reduced annually, as the state attempts to reach the targets set under the Climate Leadership and Community Protection ACt of 2019, which sets the state on a path to cutting economy-wide emissions by 40% by 2030 and by 85% by 2050.
The governor also announced a $500 million investment in clean water infrastructure, $400 million for the state Environmental Protection Fund,  $400 for utility relief and energy retrofits for homeowners,  $200 million to improve state parks, and support for passage of the Waste Reduction and Recycling Infrastructure Act to increase recycling rates. The budget also includes the new Climate Action Fund, which will distribute more than $1 billion annually raised from the Cap-and-Invest program.
The governor also announced support for legislation to ban fossil fuel equipment in new construction, phase out fossil fuel heating equipment in existing buildings, and more.
Capital Budget
The budget also includes a $95 billion five-year capital plan to fund infrastructure such as the governor's $25 billion housing program and the Department of Transportation's $32.8 billion overall program.
It will fund new initiatives including $890 million for 2,150 new psychiatric residential beds for people with mental illness, $2 billion for CUNY and SUNY, $100 million to buy and renovate a new forensic laboratory, an additional $80 million for the renovation for a new State Emergency Operations Center, $1.7 billion for the reconstruction of the Wadsworth Center public health labs, $200 million for the EmPower Plus program to help low-income homeowners make their homes energy efficient, $500 million for clean water infrastructure, $1 billion for health care infrastructure, $200 million for parks and recreation, $845 million in new economic and community development funding, $455 million for the redevelopment of Belmont Racetrack, and more.
Reactions
"In the midst of an unprecedented affordability crisis, the Governor presented a state budget that continues to tax and spend without providing any real relief to struggling New York families and businesses," said Republican State Senator Rob Ortt, the Senate minority leader, in a statement. "New York is facing a public safety crisis, and yet, there was no specific plan to fix the state's disastrous bail laws. Instead of presenting solutions to make New York more affordable, this budget adds billions of dollars in new spending and imposes a new payroll tax that will hurt downstate New York businesses."
Mayor Adams said in his statement that there were "many victories worth celebrating" in the governor's budget, including her support for New Yorkers with serious mental illnesses, housing solutions, and public safety proposals.
But, he noted, "There are also areas of uncertainty that will require deeper review." He said he wanted to see more detail on her proposal to aid with the asylum seeker crisis, and also expressed concern that her call for $500 million in additional city funding for the MTA "could further strain our already-limited resources."
Kathryn Wylde, President & CEO of the Partnership for New York City, which represents the largest businesses in New York, praised the governor's budget proposal, particularly the plans to address the state's housing shortage and mental health crisis. "In this new era of remote work, and federal restrictions on foreign immigration, New York must focus resources on what it will take to make the city and state more affordable and attractive for workers and employers. The Executive Budget seeks to advance that agenda," Wylde said in a statement.
Fiscal watchdogs praised the governor for adding more funding to reserves, even as they pointed to the economic risks that lie ahead.
State Comptroller Tom DiNapoli said in a statement he was "pleased" with the additional deposits to the rainy day fund. "Robust increases to reserves will better prepare us for future downturns and challenges," he said, as he highlighted the uncertainty from high inflation, the state's lagging job recovery and depleting federal aid.
He also expressed concern about the state's debt burden, and has proposed a debt reform plan that he said will "impose meaningful limits on debt and ban backdoor borrowing."
"While the reserve deposits help buttress New York against a recession," said Andrew Rein, president of nonprofit Citizens Budget Commission, in a statement, "the budget also extends the temporary business tax surcharge and adds money for recurring programs without offsetting savings to support them in the future, setting the stage for potential future service cuts and unfortunately extending our nation-leading combined corporate tax rates."
"The Governor's proposal usually sets the floor in negotiations with the Legislature," Rein added. "All New York State leaders should focus not just on today, but on protecting generations of New Yorkers from a future downturn and self-made fiscal crises arising from unaffordable spending or counter-productive taxes."
There were a variety of other mixed reactions, including several advocacy groups who were disappointed with omissions from the governor's budget.
Michael Zurlo, president of the New York State Association of Counties, took issue with a proposal in the budget that would allow the state to pocket Enhanced Federal Medical Assistance Program (eFMAP) funds meant for localities, shifting a $1 billion burden to local taxpayers. "At a time when New York is facing an affordability crisis, the last thing the Governor should do is burden local taxpayers with more costs that will drive up the cost of homeownership and rent, increase business expenses and make New York more unaffordable," he said in a statement.
"Governor Hochul's executive budget for FY24 makes some strides but does not go far enough to meaningfully support immigrant New Yorkers, at a time of unprecedented need in our state," said Murad Awawdeh, Executive Director of the nonprofit New York Immigration Coalition, in a statement. He particularly pointed to failure to fund legal services for immigrants in immigration court and to expand health coverage regardless of immigration status.
Reinvent Albany, a good government advocacy group, pointed to several issues with the governor's budget including, but not limited to, insufficient funds for the new public campaign financing program, no policy improvements or funding increases for the Freedom of Information Law process, and increased business subsidies that have failed to work in the past. "We are dismayed that the Governor is doubling down on billions in totally discredited business subsidies while cutting and freezing other state agencies and programs. Either her advisors are badly misinformed or her administration is totally cynical and swimming in pay to play," the group said in a response. 
They also noted that some questions remain unanswered. "Unfortunately, the Governor does not clearly show the public the high future cost of her proposals like increasing the Film/TV subsidy to $700 million a year, nor answer big questions like how the State is paying back the $9 billion federal Unemployment Insurance loan," they said. 
The New York League of Conservation Voters praised the governor's many climate and environment-related proposals including a new Cap and Invest program, investments in public transit, the Waste Reduction and Recycling Infrastructure Act, banning emissions in new construction, funding for energy affordability and home retrofits, and more. "The Governor's 2023 budget proposal is a forward-thinking approach to addressing the pressing environmental challenges we face. We look forward to working with the governor and state legislature in the coming year to see these priorities to fruition," the group said in a statement. 
Among the items that weren't in the budget was a measure to allow a "vacancy reset" for rent-regulated apartments that have been unoccupied and are in need of major repairs. New York City landlord groups, led by the Community Housing Improvement Program, say that the proposal is crucial to fund necessary repairs to thousands of dilapidated vacant units. 
"CHIP is having productive conversations with the governor's office and dozens of state lawmakers as we work to find a solution that would bring vacant rent-stabilized apartments back online," said Jay Martin, Executive Director of CHIP, in a statement. "While a fix was not in the governor's initial budget proposal, we are optimistic that one will be in the final budget that passes."
Note - this article has been updated with a section on the governor's climate proposals and additional reactions to her budget.