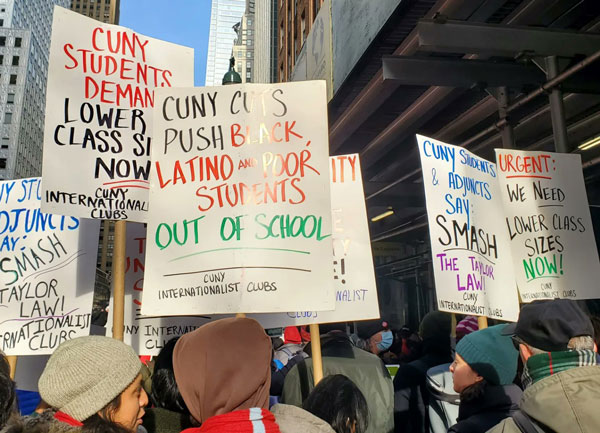 PSC CUNY contract rally (photo: @psccunygc)
---
City University of New York faculty, staff, and students marched outside CUNY Central headquarters in East Midtown early Monday morning, in a nearly 500 person-strong rally organized by the Professional Staff Congress – the union representing over 30,000 CUNY employees. The rally was scheduled for the eve of the expiration of PSC's labor contract with CUNY, and union members are gearing up to negotiate an extensive list of demands for their first contract since before the covid pandemic.
Manhattan Borough President Mark Levine and PSC President James Davis were among the speakers at the rally, alongside other union members and student government representatives. They expressed urgency to negotiate a contract that commits to a wage increase above pandemic-era inflation, a greater focus on staff diversity and inclusion, tuition decreases, and pay parity for adjunct instructors.
"I believe in lower tuition and higher salaries," said Levine, a first-term Democrat. "The way to attract and retain students is to make CUNY an outstanding institution with well-compensated staff and faculty."
After significant wins by academic labor unions in the University of California system and the New School here in New York, PSC-CUNY is looking to improve the working conditions of its tens of thousands of members across the city. Representatives from all five boroughs were present at the rally, and many speakers pointed to CUNY's role in providing education for essential roles such as healthcare workers and teachers throughout New York City.
In a survey sent out to members late last year by PSC-CUNY, 95% of respondents cited "Protecting the Quality of CUNY Education" as their greatest concern. PSC Vice President Andrea Ades Vásquez connected it to contract negotiations, saying, "A fair contract means better wages for ourselves, but it also means a quality education for our students."
Alongside other speakers, Vásquez referenced the out-of-class hours faculty and adjunct professors work unpaid, as many take on the advising and support roles of staff positions that have not been filled due to budget cuts and understaffing.
"Without adequate funding to meet their rising costs, [government] agencies cannibalized their own operating budgets and cut staffing and services," Davis told Gotham Gazette in a statement. "At CUNY that meant shortages of full-time faculty, advisors, and mental health counselors, further adjunctification of the teaching corps and inadequate maintenance."
A few hours after the rally, Davis joined CUNY Chancellor Félix V. Matos Rodríguez and representatives of other educational entities who testified at the State Legislature's joint budget hearing on higher education in Albany. In their testimony, both Davis and Rodríguez made note of the significant budgetary increases earmarked for higher education within Governor Kathy Hochul's $227 billion Executive Budget plan.
Matos Rodríguez gave an optimistic report in his testimony, highlighting the successes of CUNY, the largest urban public university in the United States, educating roughly 220,000 students across its community colleges, senior colleges, and graduate center. He thanked Hochul for her budget proposal, which, among other investments, recommends $642.7 million in capital funding to cover much-needed building maintenance and infrastructure improvements at the senior colleges.
But Davis noted in his testimony that CUNY had requested $983 million for capital funding , much more than Hochul's proposed allocation. "For any institution to have only 8% of its buildings in a state of good repair is a recipe for disaster," Davis told legislators from the State Senate and Assembly, who will negotiate a final state budget with the governor. A new state budget is due by the April 1 start of next fiscal year.
Echoing comments he made earlier that morning at the PSC rally, Davis also noted Hochul's proposed tuition increases, a proposition PSC vehemently opposes.
"CUNY needs help to stem enrollment declines," Davis said. "We urge the Legislature to not only reject tuition increases, but strive for a New York where community colleges are free."
While Hochul and legislators made major investments in CUNY in this year's state budget, passed in April 2022, their commitments fell short of the "New Deal for CUNY" that PSC, legislators such as State Senator Andrew Gounardes and Assembly Member Karines Reyes, and many students had sought. But, they saw the gains of the current fiscal year as significant progress toward that agenda.
That push now coincides with the PSC contract negotiation. Some PSC members rallying outside CUNY headquarters on Monday were concerned about how their demands would be met. 
PSC Secretary Penny Lewis, an Associate Professor of Labor Studies at the CUNY School of Labor and Urban Studies, said that in previous contract negotiations, wage increases came from the CUNY budget, adding to the austerity the university operated under. "Under [Governor Andrew] Cuomo, every salary increase we won, [CUNY] had to pay for. They did not put more money into our system in order to pay for it," Lewis said.
She added that a recent memo from Executive Vice Chancellor and CUNY COO Hector Batista announcing a hiring freeze and planned budget cuts was "outrageous" and sent the wrong message to the Hochul administration.
The February memo, sent to the presidents and deans of all CUNY colleges, further announced a savings target of $100 million on top of the previous $75 million target. Reaching this target "will require courage, creativity, perseverance, and discipline," Batista wrote.
At Monday's rally, a different set of words were chanted, with PSC members and their supporters calling for "raises," "justice," "community," and "unity."
As the crowd dispersed, Lewis said, "Right now, we have lower enrollment than we need. But in order to get that back, we need more investment, and that's what CUNY management should be signaling."
Davis also emphasized greater investment as means for CUNY to regain enrollment, which dropped roughly 10-15% during the pandemic but has rebounded somewhat this school year, and pointed to the need for budget gaps to be closed if Hochul is to stay true to her commitment to higher education.
"Governor Hochul has demonstrated that she values public higher education. Even this budget, which falls short of what CUNY needs, starts with an increase, not a cut," Davis said via statement to Gotham Gazette, after the hearing. "We urge the governor to show respect for CUNY workers and continue her planned reinvestment in the university by returning to the principled practice of fully funding CUNY contracts."