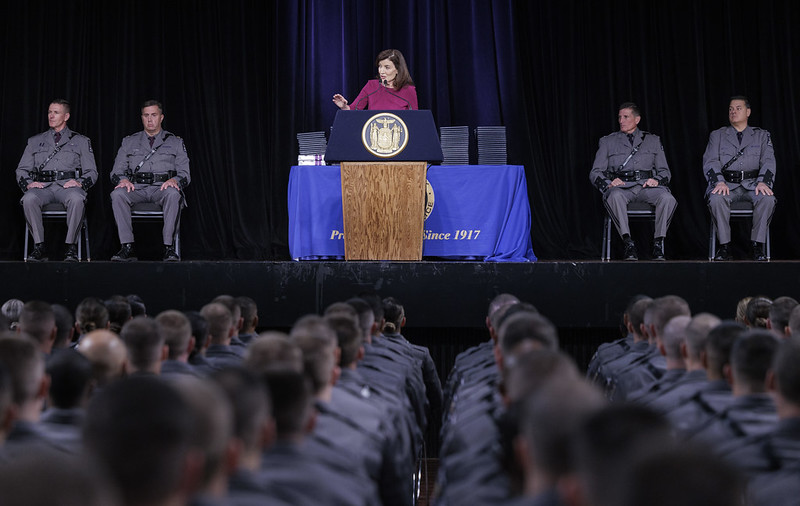 (photo: Mike Groll/Office of Governor Kathy Hochul)
---
While another potential rollback of bail reforms has taken center stage in state budget negotiations for the second straight year, the fates of a swath of other criminal justice programs are being quietly hashed out.

Governor Kathy Hochul and state legislative leaders are in the midst of pinning down the contours of a roughly $230 billion state budget, already past the April 1 start of the new fiscal year. Even with the focus on bail, all parties are talking about a holistic suite of criminal justice-related policies with hundreds of millions of dollars at stake.

On everything from funding for prosecutors and public defenders to alternatives to incarceration and pretrial services, there is both major daylight and points of accord between the governor's executive budget plan and the State Senate's and Assembly's one-house budget resolutions.

The main sticking point in the budget negotiations has been Hochul's emphasis on removing a bail standard that requires judges to consider the "least restrictive" means of securing a defendant's return to court. The governor is also focused on funding for law enforcement, district attorneys, and gun violence prevention. The Legislature, on the other hand, has raised the stakes for criminal legal services, especially funding for public defenders, while backing many of the violence and drug reduction spending programs in Hochul's plan. Other long sought reforms, like the Clean Slate Act, elder parole, and protections for juvenile interrogees, however, appear to be off the table, according to reporting from The City.

"New Yorkers are concerned about public safety, the rising cost of housing, and ensuring high-quality schools for all our kids, and any budget deal must make progress on these core issues," Hochul said in a statement last week as she announced a budget extension until April 10. "I have been negotiating in good faith with the legislature, but it is clear there is more work to be done before we reach an agreement." The governor and Legislature are expected to pass another budget extender on Monday to fund state government operations until April 17. 

Assembly Speaker Carl Heastie told reporters last week that "bail is now taking up pretty much all the oxygen and everything else is second." Heastie and Senate Majority Leader Andrea Stewart-Cousins, each commanding Democratic supermajorities, have made it clear they are opposed to further changes to the bail reforms of 2019, which removed cash bail for most nonviolent felonies and has been adjusted every legislative session since its enactment.

"We want to help to clarify the judicial discretion as well as keep the integrity of our bail law," Stewart-Cousins said at a press availability in the Capitol on March 30, a day before the budget deadline. "So again, it's a productive conversation and I have every feeling that we can get to a good end."

Both chambers passed their own-one house budgets in which they outlined various lines of funding to support criminal justice and public safety programs, including the implementation of bail and other recent reforms. Among them are funding to implement changes to discovery laws, also passed in 2019, that were intended to open up the sharing of evidence between prosecutors and criminal defense attorneys. Both Hochul and Mayor Eric Adams have said additional funding is needed to support lawyers struggling to comply with the new more stringent discovery requirements and reduce a growing court backlog.

Albany leaders have also yet to settle how much will be included for so-called alternatives to incarceration, a growing menu of diversion programs that often include social services for people convicted of a crime. Questions remain about how funding will be distributed for pretrial services, another type of diversion programs, this one for defendants to avoid jail before a conviction. The programs have expanded around the state in the wake of the 2019 bail reforms as a cashless alternative to bail.

The governor's budget includes hundreds of millions of dollars for local law enforcement agencies and district attorney's offices. In total, the executive budget projects spending $8.1 billion, or 3.5% of the total budget, on public safety agencies in the new fiscal year. That money will go to the Department of Corrections and Community Supervision, Division of Criminal Justice Services, the state police, Division of Homeland Security, Indigent Legal Services, and Division of Military and Naval Affairs.

Also at stake is roughly a third of a billion dollars included in the executive budget for gun violence prevention and intervention initiatives. According to the Division of the Budget, that money represents a $110 million increase from last year, much of it going to local police departments, prosecutors, and law enforcement task forces. The governor's office did not provide a list that accounted for the full $337 million. At least some of that funding, including gun violence interrupter programs known as SNUG Street Outreach, was included in the Senate and Assembly proposals.

Funding for Prosecutors, Public Defenders
In 2020, a new state discovery law took effect that required prosecutors to automatically turn over evidence within tighter timeframes to defenders, part of a series of criminal justice reforms that included the elimination of cash bail for most nonviolent crimes. The new demands placed on lawyers come amid excessive court delays and a rise in city and statewide jail populations, as defendants await trial. Hochul and Mayor Eric Adams have blamed the reforms for a growing backlog of cases in criminal court, which they claim has contributed to spikes in recidivism and violent crime.

"Our prosecutors need help as they've been underfunded for a long time, so we're proposing to help them play their role in the process by increasing funding from $12 million to $52 million and increasing coordination among all law enforcement agencies," Hochul said at a March 22 press briefing in the State Capitol.

In testimony before a joint legislative budget hearing in February, Mayor Adams acknowledged that the city's district attorneys and public defenders "are overwhelmed and need our help immediately." "The state must make a major investment in them now or risk depriving defendants of their constitutional right to a speedy trial — delaying justice for victims and continuing the unprecedented level of attrition within each of these offices," he said.

Hochuls executive budget includes $40 million to help prosecutors outside of New York City meet more stringent discovery rules, on top of $52 million in "aid to prosecution," up from $12.5 million, for district attorney offices statewide. The discovery funding would help DAs hire staff and purchase the technology needed to store and process evidence, money they argue is desperately needed.

Much of the new "aid to prosecution funding" is to hire hundreds of prosecutors to help "develop crime strategy plans and reduce case backlogs," according to the governor's budget book. The allocation comes on top of funding from counties and federal grants; New York City pays hundreds of millions of dollars more for its five DAs.

Publicly funded defense attorneys have argued they too need funding to keep up with the new, much-needed influx of evidence.

"We have a lot of the same costs and the same impacts," said Lisa Schreibersdorf, executive director of Brooklyn Defenders Services. "We need to get the technology up to speed, we have to collect all that same evidence, we have to store it, organize it, sort it, share it."

Public defenders, who provide legal representation to the state's poorest residents, have seen an exodus of employees drawn to firms with lighter caseloads and better pay. The strain means fewer lawyers available to clients, who are predominantly Black, Latino, and immigrant New Yorkers.

The Senate one-house budget includes $50 million for prosecutors to comply with the new discovery rules, $10 million more than Hochul's allocation. It also gives $40 million to public defenders for the same purpose and another $47 million for other "Aid to Defense" funding for public defender organizations, for a total of $87 million – something left almost completely out of the governor's proposal (the governor included $7.6 million to the state's "Aid to Defense" fund and nothing to public defenders for discovery).
"When the governor…didn't put anything at all for the defenders, it was very disheartening," Schreibersdorf said.
The Assembly's one-house budget goes even further, raising discovery funding for prosecutors to $100 million (half to New York City's five DAs and half to the rest of the state). And it matched that funding, $100 million, to criminal defenders. The Assembly budget also includes another $40 million for the Aid to Defense fund.

The executive budget fell short in funding requested by the state Office of Indigent Legal Services to represent parents in family court, including when custody of a child is at stake. Hochul included $359 million for ILS, the same level as last year, and $23 million short of ILS's budget request this year. 

[Read: As Prosecutors Get Budget Boost, Public Defenders Seek More Funding Too]
Alternatives to Incarceration and Pretrial Services
The executive budget includes nearly $32 million for alternatives to incarceration (ATI) – a range of community supervision, treatment, and employment-oriented programs available to some defendants in lieu of prison. The allocation doubles the $15.7 million that was included in the budget adopted last year (in total, the Department of Criminal Justice Services (DCJS) awarded more than $17 million last fiscal year).
Hochul also proposed $11.5 million for reentry services, including $7.7 million in new funding.
"It demonstrates New York's leadership in this area and this increased funding, we know, is certainly long overdue," said Andre Ward, associate vice president for public policy at the Fortune Society, a service provider for justice-involved and formerly incarcerated individuals. He was referring specifically to the governor's boost in ATI funding.
"Especially important, as we see more people with serious mental illness, there needs to be increased funding for more clinical and peer services," he said, which would be supported by the new allocations.
On ATI, the executive and Assembly one-house budgets are nearly identical, allocating roughly $32 million, with the minor exception of an Assembly carveout of $300,000 in federal Justice Assistance Grants (JAG), which can be used for a swath of law enforcement purposes, including ATI and re-entry services. Hochul's JAG proposal of $6 million is still $1 million less than previous years, according to the Senate's resolution, which restores that funding. The Senate also included an additional $2.7 million in legislative grants for "community safety and restorative justice," which similarly includes ATI and re-entry services.
Some state legislators and advocates had their hopes dashed when the executive and one-house budgets left out the Treatment Not Jails Act, which would expand mental health treatment courts statewide. Every county would be required to open diversion courts that offer social services and supervision in place of prison-time for people with severe mental illness and a growing list of special needs. Over a third of each chamber has signed onto the bill, sponsored by State Senator Jessica Ramos and Assemblymember Phara Souffrant Forrest, both Democrats. Pieces of the measure may still make it into the final budget agreement and lawmakers are eying the rest of the legislative session to try to get it across the finish line.
The executive budget also includes $20 million for pretrial services, a nonmonetary alternative to jail that was included in the bail reforms passed in 2019. Under the program, defendants may participate in various levels of community supervision by designated pretrial services agencies in order to ensure they return to court. New York City has been piloting a form of pretrial services, known as supervised release, since 2016, using nonprofit providers that often make referrals to other social services.  Many counties throughout the state lacked the same experience and infrastructure, relying instead on local probation departments to deliver the services, which some defenders fear may be less independent of prosecutors than private providers.

A portion of the governor's $40 million allocation to prosecutors for discovery reform implementation may also be used for pretrial services.

The Assembly and Senate resolutions both meet the executive budget request of $20 million for pretrial services. The Assembly also included an additional $5 million for grants from the legislature for pretrial and legal services.