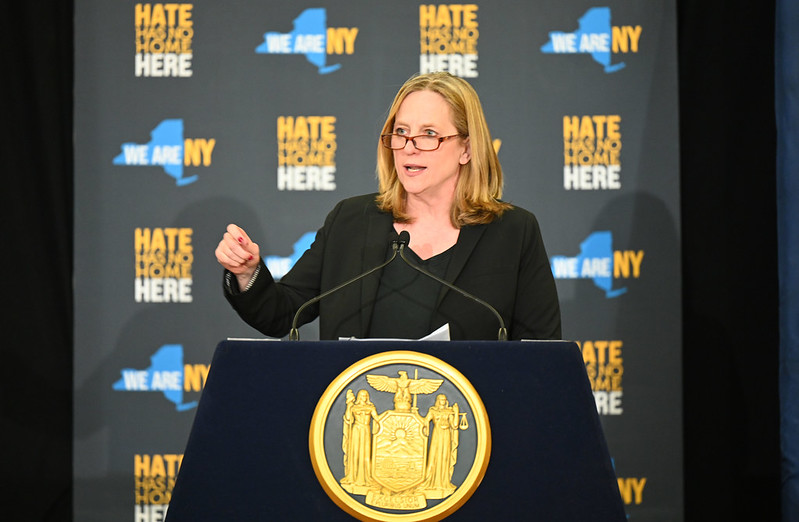 Queens District Attorney Melinda Katz (photo: Kevin P. Coughlin/Governor's Office)
---
Queens District Attorney Melinda Katz, a first-term Democrat, is running for reelection this year and is facing a challenge from two candidates in the June 27 Democratic primary. Katz eked out a victory in the Democratic primary in 2019 and went on to overwhelmingly win the general election, giving Queens a new district attorney for the first time in almost 30 years as she succeeded the late District Attorney Richard Brown.
Katz says she has been a "steady hand during very turbulent times," shepherding the district attorney's office through the disruption of the COVID-19 pandemic and the simultaneous overhaul of state criminal justice laws, specifically reforms to bail and discovery statutes. Her opponents include George Grasso, a retired Queens Supreme Court judge, who believes she hasn't been tough enough on crime, and Devian Daniels, a public defender who has filed petitions to get on the ballot but does not otherwise seem to be running a campaign.
This year's New York City primary elections are fast approaching, with early voting and absentee balloting set to begin mid-June. On the ballot this year are races for Queens, Bronx, and Staten Island District Attorney, which occur every four years, certain judicial positions, and all 51 seats of the City Council, elections occurring just two years after the last round as happens once a decade after the Census and redistricting. Incumbents, almost all of them Democrats, are running for reelection in virtually every contest this year. Few races are expected to be competitive and turnout will likely be low even for New York City's paltry standards.
District Attorney is a massively powerful law enforcement position, the borough's lead prosecutor tasked with upholding state law and partnering with officials at all three levels of government.
The 2019 Democratic primary for Queens DA was a nail-biter till the end. On election night in June, Tiffany Cabán, a democratic socialist public defender who is now a City Council member, declared victory, hoping to usher in an era of progressive policy with a focus on public safety through alternatives to incarceration. But there were votes that had yet to be counted and more than a month later, Katz emerged on top with a margin of just 60 votes. She went on to win the general election with 74% of the vote against Joe Murray, a registered Democrat who ran on the Republican Party line.
There has been little attention paid to district attorney races in the city this year, and Katz appears the favorite to win the Democratic primary. She has the advantages of incumbency, including name recognition, deeper campaign coffers, and endorsements from unions and fellow Queens elected officials. And she has run her office with few major controversies, trying to both crack down on violent crime and modestly reform prosecutorial practices to build stronger relationships with the community.
"I think she's a winner. I don't see where the race is," said one Queens Democratic consultant, who wished to remain anonymous and is unaffiliated with any candidate in the race, of Katz. "She's had no bad publicity. I don't see what she's done that people would want to vote against her for. She's very noncontroversial."
Though Katz is not as progressive as her counterparts in Manhattan and Brooklyn, which she has faced some criticism for, progressive advocates that rallied around Cabán in 2019 have not targeted her in this year's primary.
"If it's between Katz and Grasso, I think regardless of the outcome, it's bad news for Queens voters who want to see decarceration," said Keli Young, civil rights campaign coordinator for VOCAL-NY, a progressive advocacy group. "Grasso is positioning himself to the right of Katz…and DA Katz is a carceral DA. The best that can come out of a prosecutor's office is a commitment to harm reduction and that's not what we're seeing."
Conservatives, on the other hand, have argued that Katz and other Democratic DAs have not been tough enough on crime, too often downgrade crimes, and have not locked up enough people pre-trial.
One of the biggest challenges for Katz has been an uptick in crime across Queens. The pandemic saw increases in crime nationally and in the city, including a spike in gun violence. While crime has trended downwards citywide, Queens continues to struggle. For policing jurisdictional purposes, the borough is split into Queens North and Queens South, each covering eight police precincts. According to the latest NYPD data, through May 14 Queens North has witnessed an 8% increase in major index crimes compared to the same period last year, and a nearly 63% increase compared to the same period in 2021. Queens South, on the other hand, has seen a 1.86% decrease through May 7 this year but a 38.6% increase compared to 2021.
Though murders and gun violence have fallen, the recent uptick has been driven by increases in other crimes including assaults, robberies, burglaries, and car thefts.
The winner of the Democratic primary is likely to face attorney Michael Mossa in the general election. According to City & State, Mossa has been endorsed by the Queens Republican and Conservative parties, though he has yet to launch a campaign committee.
Melinda Katz
Katz has previously served in the City Council and the state Assembly, and she was the two-term borough president of Queens when she ran for DA in 2019. At the time, DA Brown, who had been in office for 28 years, had already announced that he would not run for another term. He passed away before he could finish his last year in office.
Katz, a licensed attorney for 30 years, won a crowded primary, with establishment support and despite having no prior prosecutorial experience. After sailing through the general election, she took office in January 2020, just months before the pandemic ravaged the city and at the same time that a slate of criminal justice reforms approved by the State Legislature took effect.
Besides an uptick in crime, the pandemic forced court closures and the criminal justice system slowed to a crawl. On top of that, many prosecutors across the state complained about the state criminal justice reforms. New bail laws, which eliminated bail for most low-level offenses, were hampering their ability to keep criminals off the street, prosecutors claimed, while expanded discovery requirements were straining their resources amid an exodus of attorneys towards the private sector, leading to a massive increase in case dismissals.
"Since day one on the job, I've been doing the work," Katz said in a phone interview. "The bail laws changed on day one, the discovery laws changed on day one. In my third month of being the district attorney of this county, the world shut down because of COVID. But we still had work to do and we do it every single day."
Katz touted several initiatives she has taken in office to target gun violence, human trafficking, domestic violence, drugs, and gangs. She created a Violent Criminal Enterprises Bureau to tackle drug crimes, a Cold Case Unit, a Bureau of Housing and Worker Protection that recovered lost wages and prosecuted deed theft, set up the office's first ever Conviction Integrity Unit, which vacated 99 wrongful convictions so far, a Community Partnerships Division to strengthen ties with her constituents, and even appointed an immigration specialist to serve the immigrants who make up nearly half of the borough's population of 2.3 million people.
Though Katz advocated for eliminating cash bail, she has also said that the state should set a "dangerousness standard" for judges to consider when deciding to set bail or remand a defendant. She was supportive of the successful effort by Governor Kathy Hochul in this year's state budget to tighten bail laws once again, in order to give judges more discretion for pre-trial detention, and also said that discovery laws need to be "fairer" and focused on turning over material evidence rather than strict timelines.
A looming concern for the city's prosecutors is the impending closure of the Rikers Island jail complex by 2027. Katz has supported the plan, which involves replacing Rikers with four borough-based jails, including one in Kew Gardens, Queens, after reducing the city's jail population to about 3,300. But she has previously criticized how the plan unfolded, taking issue with the apparent lack of community input and the original proposed size of the Queens facility. The facility has since been shrunk from nearly 1,500 beds to 886, including 126 beds for all the women in Department of Correction custody.
"I think that my job is to keep this borough safe and send…individuals to jail when it's appropriate to do that. I do believe, however, that the city of New York is a first class city. It is, I believe, the best city in the world, and we should be able to have a top notch, first-rate, healthy humanitarian detention center," she said.
"What happens with the county jails, I can't let that deter me from what my charge is, and my charge is to prosecute drivers of crime and to make sure that communities are well represented by my office," she said, referring broadly to the Rikers closure plan.
Katz also believes that the plan may be unachievable by the deadline set by law, since the average daily jail population has climbed to nearly 6,000. "I'm not sure they can accomplish it by 2027 but that's not my charge," she said (Mayor Eric Adams himself has said that the city needs to craft a "Plan B" but none has yet been offered and the City Council has shot down such a suggestion).
One of the biggest accomplishments Katz boasts is tackling guns and gang violence in the borough. In March, for example, her office indicted 33 gang members in connection with 23 separate shootings, as a result of a three-year investigation.
"We have to tackle the gun violence but you can't prosecute your way out of that…A balanced approach to drivers of crime versus keeping people out of the system is, I think, an important combination of what I do," she said, arguing that her office has built better relationships between law enforcement and the people of Queens.
"I don't think you can be a good prosecutor unless you have communication and partnerships with the community," she added.
Katz is well-positioned for the primary, with a campaign account that holds more than $1.2 million. She's also been endorsed by U.S. Rep. Gregory Meeks, who chairs the Queens Democratic Party, Queens U.S. Rep. Grace Meng, Borough President Donovan Richards, several local City Council members, and a slate of unions including 32BJ SEIU, RWDSU, Hotel and Gaming Trades Council, 1199 SEIU, and others.
George Grasso
Grasso was previously a long-time NYPD official and became a judge in 2010. In August 2022, he retired from the position of administrative judge for criminal matters for the Queens Supreme Court in order to run against Katz in this year's election.
As an attorney, Grasso prosecuted cases of NYPD misconduct before becoming the Deputy Commissioner of Legal Matters and Chief Legal Counsel in 1997, followed by his elevation to First Deputy Police Commissioner in 2002.
On the bench, he boasts of creating the "CourtStat" system, which helped reduce case processing times citywide. He formulated Project Reset, a pre-court diversion program, and implemented programs that allowed teenagers to have their criminal cases dismissed. He also served on former Mayor Bill de Blasio's Behavioral Health Task Force, helping to craft the city's first Citywide Supervised Release Program.
In 2016, Grasso became the Supervising Judge of Bronx Criminal Court. He partnered with Bronx DA Darcel Clark to establish the Overdose Avoidance and Recovery Court to help defendants with substance abuse disorders receive treatment and have their criminal charges dismissed.
As the administrative judge in Queens, he led a Citywide Gun Initiative to quickly process gun violence cases, and he also helped create a diversion program for felony gun possession cases involving individuals between the ages of 18 and 24.
Grasso is running to the right of Katz, pledging to be tough on crime on a platform that closely mirrors Katz's own policies. He has promised to tackle quality-of-life offenses through community-based intervention, crack down on repeat offenders, go after gun violence, hate crimes, domestic violence, human trafficking, animal cruelty, and child and elder abuse. He has pledged to fully support the conviction integrity unit and has also supported restorative justice programs and treatment services for those suffering from substance abuse disorders.
"I think we are in a very, very tough spot right now, not only in Queens but in New York City and frankly, throughout New York State," Grasso said in a phone interview.
He had particularly harsh criticism for the Democrat-led Legislature and former Governor Andrew Cuomo, for creating a "politically driven crime wave" when they ushered in criminal justice reforms in 2020, which "swept out the entire concept of quality of life enforcement." He too has stressed the need for a "dangerousness" standard for judges to consider in pre-trial proceedings.
He also had a pointed critique of Katz, who he believes has failed to address the quality of life crimes that escalate to larger, more violent crimes. "You Google 'Melinda Katz and quality of life', the only thing you're gonna see is George Grasso questioning why she never talks about it," he said.
Rather than insisting on locking more people up, Grasso has said he supports the plan to reduce the jail population and close Rikers. "I believe in helping people. I believe in minimizing the Rikers population," he said. "In the world I would like to live in, we would have state-of-the-art, 21st century, borough-based jails."
But he has cast doubt on the "artificially low" jail population target of 3,300. "No expert, including me, believes that's a rational number," he said. "We need a Plan B right now," he said, "because the current plan…I am stating unequivocally I believe this plan is not working."
He also suggested that Rikers could be converted into a satellite facility for Bellevue Hospital, to provide treatment to those with serious mental illnesses. Additionally, he said he would create a new mental health bureau at the DA's office.
Grasso has been endorsed by the Uniformed Fire Officers Association and former NYPD Commissioner Bill Bratton. He has just over $230,000, low in comparison to Katz's fundraising.
Though he's running in the Democratic primary, Grasso has made no secret of appealing to Republicans and has also decided to run as an independent candidate in the general should he lose to Katz in June.

"I'm not only considering running on the third party line, I've already taken legal steps to begin the process," he said, according to a Queens Daily Eagle report. "Not only because I'm a glutton for punishment, I'm all in on this. So, I've taken legal steps, I'm going to create a third party line, we're going to call it the public safety line."
[READ: Clark Faces Challenger in Bronx District Attorney Primary Set for June]