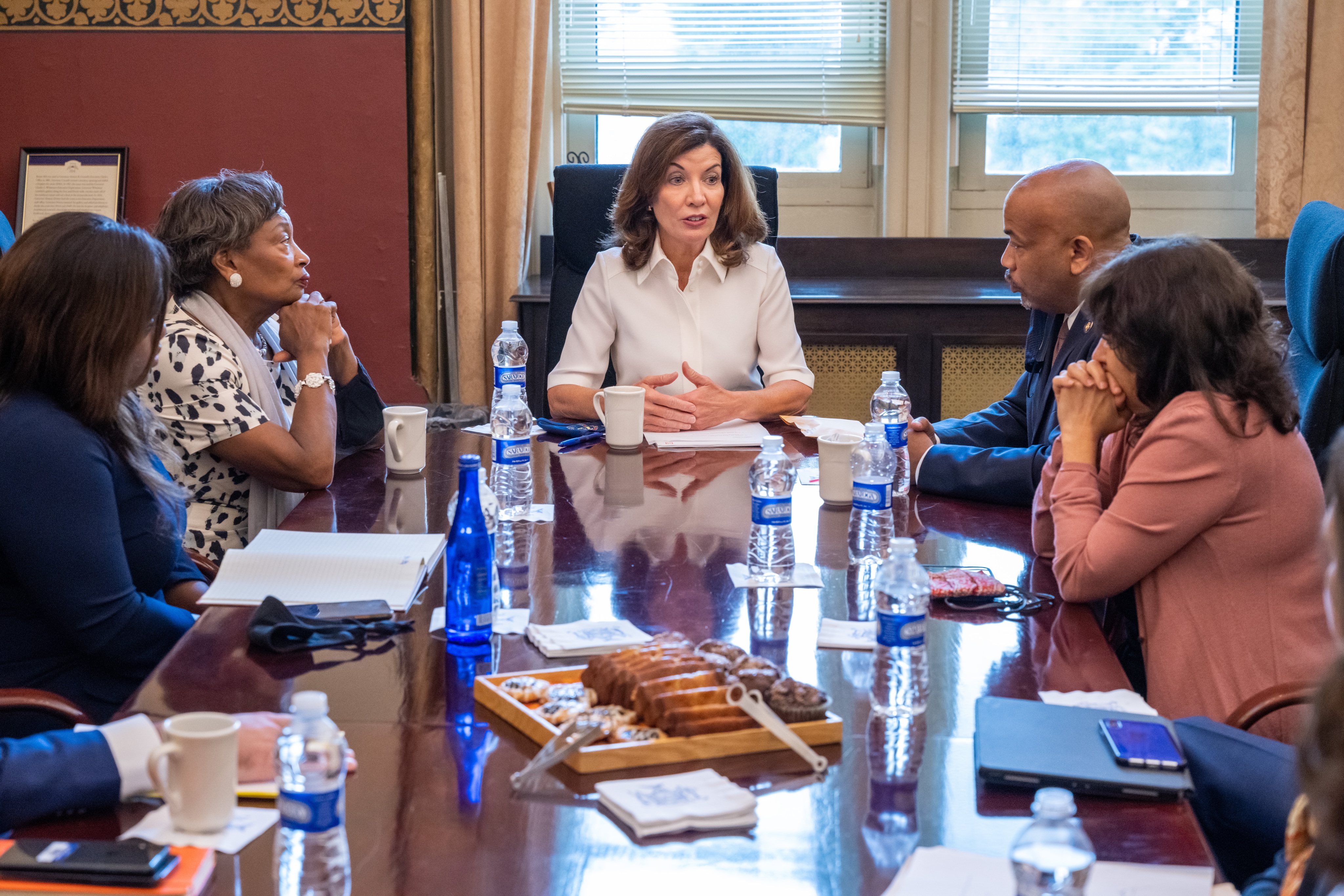 Gov. Hochul meets with legislative leaders (photo: @GovKathyHochul)
---
The dust is beginning to settle on the $229 billion New York state budget, which was approved last week after a month of delay that saw Governor Kathy Hochul and the State Legislature make major compromises on spending and policy measures.
Hochul has expressed no regret for delaying the budget for the second time in two years, after she managed to convince the Legislature to support her top priority and change the state's bail laws yet again. She won other priorities, too, but came up empty on her biggest proposal for the future of the state: an ambitious housing development plan.
Opinions in the Legislature have varied. Assembly Speaker Carl Heastie and Senate Majority Leader Andrea Stewart-Cousins, both Democrats like Hochul, appeared frustrated by the governor's approach but have been celebrating the budget deal overall. Rank-and-file legislators have shown their disappointment at different aspects of the deal while touting accomplishments. For advocates and organizations pressing their own agendas, there were victories and defeats.
But for everyday New Yorkers, who pay far less attention to the inner workings of Albany, the state government kept chugging along, state workers kept being paid – though legislators were not – and there was little practical consequence from a budget that was delayed the longest in more than a decade.
This is Hochul's second budget, and the second time she has delayed it to force changes to state bail laws. Hochul's predecessor, Andrew Cuomo, proudly boasted of passing successive on-time or timely budgets, with just a few days of delay in some cases. Previous administrations in Albany, on the other hand, were notorious for late budgets, with some passing months after the April 1 start of the new fiscal year.
In announcing a "conceptual budget agreement," Hochul said she was more concerned about getting the right budget rather than an on-time budget. "There's a blueprint for the future of New York, and I know this budget process has taken a little extra time, but our commitment to the future of New York was driving this," she said, "and I believe today we'll be able to unveil the concepts of a framework that'll reveal that what was important is not a race to a deadline, but a race to the right results."
The state constitution gives the Governor far more power and leverage than the Legislature in setting the terms of the budget process, and the delay served Hochul well in some regards. She managed to settle the thorny issue of revisiting bail, specifically giving judges more discretion by removing the "least restrictive standard" to ensure a defendant's return to court. The changes, which were more expansive than what she had originally proposed and apply to low-level offenses as well, have prompted broad criticism from progressive Democrats and criminal justice reform advocates while Republicans have said they don't go nearly far enough to ensure more pre-trial detention.
As bail negotiations took center stage and Hochul imposed her will to win changes, the governor's "Housing Compact" suffered. The plan, which aimed to build 800,000 homes over the next decade to address the state's crippling housing shortage, was her other major priority for the budget but was entirely scrapped as she failed to rally enough support from the Legislature or negotiate a compromise both sides could live with.
Hochul has conceded her initial failure while claiming she did not have enough time to build consensus around her plan. "So the fact that people are saying, 'Well, if you'd only taken the time to build support' – I didn't have time," Hochul told the Buffalo News in an interview on Monday. "But I also didn't want to miss the window to really start the conversation and say, 'We're talking about housing now.' So now I have a year to build consensus and support around a plan."
Housing advocates naturally have been disappointed. "Albany's failure to address the housing crisis in the State budget represents an unacceptable abdication of responsibility that will leave New Yorkers struggling," said Annemarie Gray, executive director of Open New York, a pro-housing advocacy group, in a statement.
The governor did accomplish other items that had also received pushback, at least in part. The budget reauthorizes 14 "zombie" charter schools in New York City, though the governor had initially proposed eliminating the city's charter school cap altogether. It also includes a financial rescue plan for the MTA that will draw $165 million for each of two years from New York City, lower than the $500 million annually in the governor's proposal, while also increasing subway service and funding a free bus pilot in each of the five boroughs.
The budget increased massive education and health care spending, including a $1 billion mental health care plan, and included major climate action, an increase in the minimum wage, funding for expanded abortion access, emergency rental assistance funding for public housing tenants, and more.
Nonetheless, the late budget and lack of housing progress left lingering doubts about Hochul's leadership and political instincts, and pointed to signs of a return to dysfunction in Albany despite one-party control.
"The way we're set up structurally, constitutionally, it's a three-pronged government, if you will, and at the end of the day, we've gotta get all three prongs in concurrence with each other," said Assemblymember Crystal Peoples-Stokes, the Assembly majority leader and a Buffalo Democrat. "So it took longer than it has in the past, but we got it right."
To some observers, the delay in the budget didn't seem justified. Andrew Rein, president of Citizens Budget Commission, a nonprofit fiscal watchdog, said in a statement that "this budget was not worth the wait."
"Increasing the State's fiscal instability risks New York's attractiveness to residents and businesses and increases the chance of future massive program cuts or economically harmful tax increases. New York needs to be both affordable and stable; this budget does not take the steps needed to get there," he said.
When the governor and Legislature passed a third budget extender instead of a final budget, State Republican Party Chair Ed Cox said, in part in a statement, "This failure of leadership clearly demonstrates that government by Three Democrats in the Room is not working for the people of New York State."
"I think the major blow is to how New Yorkers view their own state government," said Blair Horner, executive director of the New York Public Interest Research Group, a good government organization. He said the April 1 budget deadline is a "crude metric" but one of the few ways that average New Yorkers can gauge the performance of state government. "The law says they should have a budget in place for the new fiscal year, and when they don't, that's just another hit to the body politic."
The late budget threw uncertainty far and wide, at least for the month. It forced Mayor Eric Adams to craft his $106.7 billion executive budget proposal for the city's 2024 fiscal year, which begins July 1, without clarity on state funding the city would receive, to what extent certain Hochul-proposed cost-shifts would go through, and other key funding and policy details. The mayor's executive budget was released April 26, just one day prior to the governor's announcement of the conceptual budget agreement.
"Unfortunately, without an adopted State budget from Albany, the City is operating in the dark when it comes to the impacts of proposed assistance and potential cost shifts, and today's Executive Budget reflects that uncertainty," New York City Comptroller Brad Lander said in a statement responding to the mayor's executive budget proposal.
Senator Liz Krueger, a Manhattan Democrat and the Senate finance committee chair who has been in office for two decades of state budgets, downplayed the ramifications of the month-long delay. "The fact is that because of the ability to do what's called extenders, when we are late on a budget, it has very little significant impact on anyone because we continue to pay the workers, we continue to pay our bills," she said.
Krueger pushed back on the notion that the delayed budget reflects poorly on either the governor or the Legislature, insisting that it's a matter of perception rather than reality. "I think we're functioning on a much higher level of professionalism than in any other time that I've been here over 20 years," she said, in apparent reference, at least in part, to the more collegial shift from Cuomo to Hochul.
She also insisted that local governments, including New York City, which is disproportionately affected, largely knew what to expect from the budget since it wasn't appropriations but policy issues that held it up – though major funding streams such as for the MTA and money set aside for the asylum seekers crisis and charter school rent did remain uncertain and affected the city's budgeting. "This budget was very heavily laden with policy, far more than any other I think I've ever dealt with," she said. "And it was all those policy issues that took us much longer to negotiate out, which is different than all the other governments in New York State not knowing what the hell is happening with the money they might be expecting from us."
In the Buffalo News interview, Hochul proudly said she was "guilty" of pushing a policy-heavy budget. "Yes, it has a lot of policy. This is the one time of year the governor has a chance to really have a major hand in driving policy," she said, though she did not shy away from potentially pursuing a similar tactic in the future. "It is always easier just to do a budget by the numbers. That will always be the path of least resistance. But it will never be the path that I choose," she added.
Some have explained away the delayed budget in part by noting that the governor released her own executive budget proposal two weeks later than is usual, which New York governors are allowed to do the first session after being elected to give them more time to formulate a budget. "The starting line moved back quite a bit, which shortened the process and made it a lot harder to get the budget done on time at all," said Patrick Orecki, director of state studies at CBC. He also cited the turnover at the state Division of Budget, where acting director Sandra Beattie was fired and replaced at the end of February.
"If you need a little bit of extra time to get a good budget done, then it is worth taking that extra time," Orecki conceded. But, the final deal did not vindicate that delay, he said. "Especially with the fact that housing, probably the key policy item in this budget in terms of impact on New Yorkers' lives, is not going to be addressed at all. So it's looking more and more like the extra time to work on the budget did not yield an extra good budget."
As Orecki pointed out, Cuomo made it a priority to pass budgets on-time for better or worse, even if it meant that many major policies and spending measures were shoe-horned in at the last minute and approved with little debate or public scrutiny. Many aspects of this year's budget were debated openly, though Hochul nonetheless issued "messages of necessity" so lawmakers could quickly pass budget bills without going through the otherwise-required three days of aging.
"A couple of more days would not have hurt," State Senator Krueger said. "I've always been on record as not such a big believer in using emergency messages of necessity when it's not an emergency…I think giving the public and the Legislature more time to review these final budgets would be good public policy. But I'm not Queen. I don't always get my way."
While the budget extenders made sure that state employees received pay, "the most practical consequence is frankly on local governments rather than on state government itself, especially for the city of New York," Orecki said. Other local governments and school districts were also going through their own budget processes without clarity about aid coming from the state.
The question also remains whether the decision to delay the budget actually strengthened the governor's hand? "It could if the governor was willing to use the extenders as significant leverage against the Legislature," Horner said. "The governor could do an 11-month extender… Now you do that and you're at war with the Legislature." Former Governor David Paterson used that maneuver successfully in 2010, as he added spending cuts and other budget measures to extenders to force the Legislature's hand in approving the budget.
As Horner noted, drastic action could have threatened Hochul's relationship with the legislative branch, where Democrats hold supermajorities in both chambers. "I think the only leverage is really if lawmakers believe that the governor is willing to go to the brink," he said. Legislators weren't getting paid as the budget was delayed, under the provisions of a 1998 state law, and some legislators have suggested that the law should apply to the governor as well.
Neal Kwatra, founder of Metropolitan Public Strategies, said the perception of dysfunction caused by the late budget is only readily apparent to Albany insiders and to the media, rather than a practical concern for Democratic leaders or voters. "Outside of our little bubble, I don't think a late budget really penetrates to the public writ large," he said.
"I think this relationship between the Legislature and the governor is still in its early innings. They're still kind of building and figuring it out," he added, alluding to the fact that Hochul has still only been governor for less than two years.
He also said that though the governor seemed to have notched another major loss in the failure of her housing agenda – following closely after her failed nomination of Hector LaSalle to be the state's chief judge and an unexpectedly close reelection fight in November – the notion that her position has been weakened further is overblown. Kwatra pointed out, for instance, that the budget included a minimum wage hike and major climate action, successes that the governor can brag about.
"I think she's got three years ahead of her. The governor of New York has vast powers. She's still learning the job. And I think they're probably going to learn from this budget session," he said. "I think it's going to be interesting to see what she and her team learn about the politics of what they just went through and how they maybe deepen some relationships and to figure out how to build other alliances."
The deferred budget certainly truncates the post-budget legislative session, giving the Assembly and Senate far fewer days to discuss and negotiate their remaining legislative priorities. But Kwatra also had another prediction. "The Legislature was able to avoid anything on housing which, frankly, is also going to be avoided next year in an election year. So, at least for a couple of years, they've forestalled this debate, and frankly, given themselves in many cases, a much more comfortable path to reelection, avoiding primaries, avoiding tougher general elections."
For Republicans, the budget delay was all the more frustrating since they were effectively shut out of the room where major decisions were made between Hochul, Stewart-Cousins and Heastie. "There's three people in a room, all of the same party," said State Senator Tom O'Mara from the Southern Tier, ranking Republican member of the Senate finance committee, of the Democratic leadership.
"We're a month late when the budget was supposed to be done and we get nothing but by leaks and rumors about where things stand," he said, the day the budget agreement was first announced. "It's important that the public, at a minimum, be aware of what's going on and us as the representatives need to know where things stand."
Though O'Mara also said he would prefer a good budget over one that meets the deadline, he said it "doesn't bode well for building confidence of the public in their government and their legislature for being able to get things done."
The day prior, the Republican conference called on the governor to avoid messages of necessity to pass the final budget, calls that went unheeded. "We have shown with all the extenders, even though we don't like them, state government has continued to operate, government services continue to be provided, and government employees continued to get paid," he said. "And there's no reason we can't wait the constitutionally required three days to at least have that period of time for ourselves and for our constituents and the citizens of New York to be able to review the budget fully."
O'Mara echoed concerns about what the delay will now mean for the remainder of the legislative calendar, forcing work to be expedited. "Typically I've always been frustrated with the process in Albany at the end of session because literally in the last week to 10 days, we do probably 65% of all the bills for the year," he said. "And things are just getting rushed through at the last minute. Some things aren't even getting committee meetings, and they're just popping up on an active list on the floor."