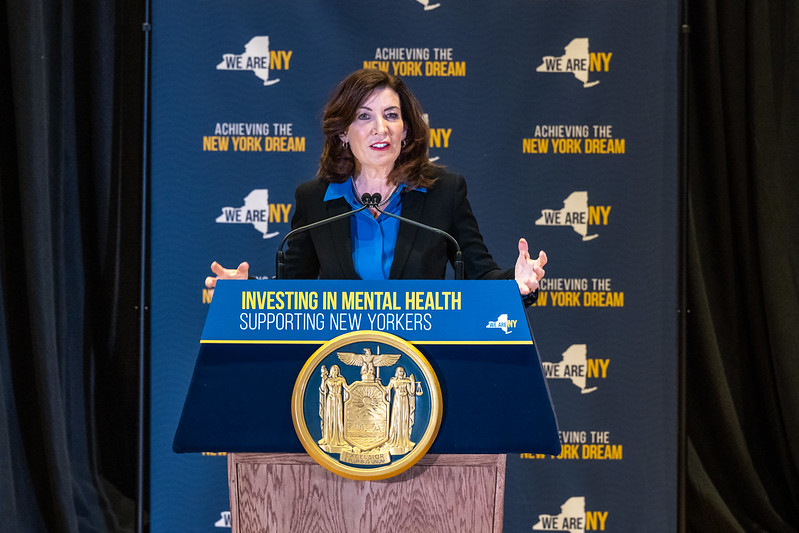 Gov. Hochul talks mental health care (photo: Darren McGee/Governor's Office)
---
Governor Kathy Hochul is touting the inclusion of over $1 billion for mental health care in the new $229 billion budget deal recently struck with legislative leaders.
"When it comes to keeping people safe, there are commonsense places we can start as well. One of them has to do with fixing our mental health system because it is broken, the rates of mental illness have been on the rise, and the pandemic only made matters far worse," Hochul said Thursday evening when she announced the framework of a budget deal.
"Too many people can't get the care they need, and for too long we've underinvested in mental health," she said.
While the funding has broad applications for the governor's "continuum of mental health care" vision, part of it relates to ongoing challenges to her goal of reinstating over 1,000 psychiatric beds in hospitals across the state to directly deal with the most serious mental illness.
The new budget allocation includes $14 million for mental health care workforce recruitment and retention at a time when hospitals have been unable to open psychiatric beds, and in some cases shuttered more units, in part due to severe staffing shortages exacerbated by the pandemic.
Hochul has been pushing hospitals to reopen psychiatric units closed during the pandemic using a mix of incentives, punishment, and workforce development spending. Those efforts have largely been frustrated by the scarcity of needed clinical and support staff and the costs of renovations for financially strapped facilities.
More than 600 beds, out of an initial 1,050, remained offline this spring, including more than half in New York City. While New York City Health + Hospitals, the city's public hospital system and largest inpatient provider, plans to restore most of its shuttered beds by the end of this year, most facilities throughout the state continue to struggle to do so.
This week, state lawmakers voted through the budget bills negotiated among Hochul, Senate Majority Leader Andrea Stewart-Cousins, and Assembly Speaker Carl Heastie, all Democrats, after weeks of logjam over bail, housing, charter schools, and other contentious policy issues. Less fuss was made over the governor's mental health agenda, which went largely uncontested in each chamber's one-house budget response.
Last year, Hochul and the State Legislature allocated $55 million in state and federal funds to increase Medicaid reimbursement rates for psychiatric beds in general hospitals to bring them closer to regular medical bed rates. They also included $9 million for loan forgiveness for psychiatrists and psychiatric nurse practitioners to help fill needed positions.
Earlier this year, the state Office of Mental Health and state Health Department issued an ultimatum to hospitals requiring them to bring all licensed beds back into service by April 1 or face fines and other sanctions. In the state budget this year,
Hochul successfully pushed for legislation to allow OMH to impose penalties of up to $2,000 per violation per day (up to $25,000) on hospitals operating below the psychiatric bed capacity listed on their license agreement. The move is a bitter pill for some hospitals that have been operating below capacity for years, often as part of plans developed with OMH.
In the new budget for the fiscal year that began April 1, loan forgiveness funding increased from $9 million to $14 million. The language was expanded to include "other licensed clinicians" in facilities with "critical capacity shortages," after hospital officials pushed for aid to other important roles like social workers and technicians.
Another $3 million from the state's General Fund is available for loan forgiveness for psychiatrists who agree to work for three years in hospitals or outpatient services in underserved areas. That funding was included in last year's budget as well. The budget also includes a 4% cost of living adjustment for some mental health workers.
On Wednesday, the governor's office issued a series of press releases touting elements of the new state budget, including one highlighting over $1.4 billion in mental health spending. 
"Decades of chronic underinvestment has allowed far too many New Yorkers to fall through the cracks in our State's mental health care system," Hochul said in an accompanying statement. "The plan to fix our State's continuum of mental health care marks a monumental shift in our approach, reversing years of neglect to our system and bringing bold investments to ensure that everyone in our state has access to the high-quality care they deserve."
Also Wednesday, the governor touted the funding when asked about a man in apparent psychological distress who was killed in the subway by a fellow passenger. "​One element we have not talked about is the billion dollars investment in mental health services so we don't have people who are homeless in our subways, many of them in the throes of mental health episodes, and that's what I believe were some of the factors involved here," Hochul told reporters when asked whether she thought the individual should be charged in the death, adding she needed more facts about the case and calling it "deeply disturbing."
Hochul's mental health care agenda is focused on expanding inpatient and outpatient services, and insurance coverage of mental health and telehealth care.
It includes $48 million to add 150 long-term beds in some of New York's 24 state-run psychiatric institutions.
Hochul secured $182 million for outpatient mental health services, including new psychiatric emergency programs in hospitals, a dramatic increase in the number of Certified Community Behavioral Health Clinics from 13 to 39, and new mobile treatment teams. It also pays to expand capacity at 20 private behavioral health clinics.
Close to $3 million will go to peer-based outreach programs and $28 million will support the creation of 50 Critical Time Intervention teams, a care coordination model touted by Hochul and Mayor Eric Adams.
Another $30 million will go towards mental health services in schools, Hochul said last week.
That money "will help meet the needs of our children and hopefully cut the demand for services by half over the next five years," she said last week. "They need services now. You give them the services now, you keep them from needing more serious services in the future."
It also uses $42 million over two years to reimburse family and children providers for  preventative mental health services. It also requires insurance companies to cover a range of mental health services including crisis intervention and post-discharge.
The 988 suicide and crisis hotline will receive an additional $60 million, a $25 million increase from last year's budget.
The bulk of the funding is for capital and operating expenses needed to create and sustain supportive housing units, including 3,500 units for people at risk of homelessness. 
Outside the $1 billion for mental health care, the final budget agreement also includes $500 million for distressed safety-net hospitals and increased rates for enrollees in Medicaid and the state's Essential Plan for low-income New Yorkers.