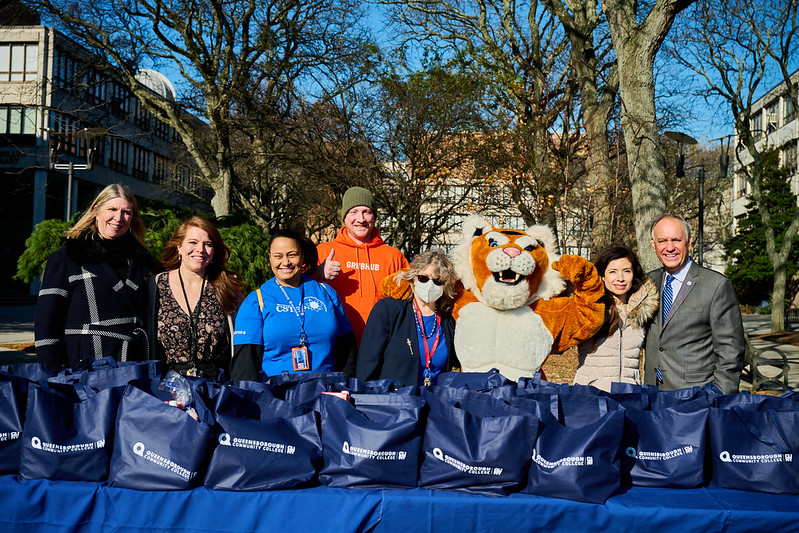 At CUNY (photo: @CUNY)
---
In the new state budget that was passed Tuesday night, the City University of New York, CUNY, will get significant operational and capital funding boosts while students from New York will be spared tuition increases, Assembly leadership announced on Tuesday.
The State Legislature is approving budget bills in Albany, bringing the $229 billion state budget for the 2024 fiscal year to a conclusion, one month after it was due.
While all final details have yet to be dissected, Assembly Speaker Carl Heastie announced on Tuesday that the CUNY system, which has more than 220,000 students enrolled across 25 colleges, will receive $821.4 million in operating funds, a $103 million increase, in the enacted state budget.
The budget will also keep tuition rates flat for in-state CUNY students, after the State Legislature rejected a proposal by Governor Kathy Hochul to raise tuition by indexing increases to the Higher Education Price Index or 3%.
"Ensuring public colleges and universities remain affordable and accessible to all New Yorkers is a top priority for the Assembly Majority," Heastie said in a statement on Tuesday afternoon. "This year, as always, we fought to ensure that tuition remains as it is today and that our SUNY and CUNY schools have a multiyear commitment of funding that is necessary to continue delivering a world class education to students."
"We've rejected any tuition hikes to in-state SUNY and CUNY rates, keeping higher education within the economic reach of all of New York's students, and ensuring no one is priced out of the education they've earned," said Senate Majority Leader Andrea Stewart-Cousins, in her budget floor remarks on Tuesday. 
The budget includes an additional $213 million for opportunity programs that provide academic and financial assistance and are offered at all CUNY colleges, certain SUNY schools and even some private institutions, according to the Assembly.
The budget will also invest $1.1 billion in capital funding for CUNY, including $384 million for maintenance of facilities, $535 million for expansion and major renovations, and $119.7 million for community colleges. The state is also expanding abortion access for CUNY and SUNY students through legislation that guarantees access to abortion medication at campus clinics or through referrals to local and telehealth providers. Governor Hochul signed the bill on Tuesday. 
"I'm proud this year's budget includes investments that will ensure New York State's higher education system remains affordable, competitive, and a national and international pinnacle of postsecondary education," said Assemblymember Patricia Fahy, who chairs the Assembly's higher education committee, in a statement.
Hochul's proposed tuition increase was a response to CUNY's financial struggles, where enrollment, and therefore tuition revenue, has dropped significantly during the pandemic, particularly at community colleges.
In February, the New York Post reported that CUNY Chancellor Félix Matos Rodriguez had implemented a hiring freeze and called for budget cuts as preliminary fall enrollment had fallen to 220,260, a 9% decrease from 243,000 in the fall of 2021 and nearly 19% from the 271,242 students enrolled in the fall of 2019. With additional funding in the state budget, it's unclear whether those spending cuts may continue. "Governor Hochul and legislative leaders realize how instrumental public education is to transforming our state and this funding plan will help ensure CUNY's continued ability to uphold its historical mandate of providing a first-rate public education to all students, regardless of means or background," Matos Rodríguez said in a statement on Wednesday.  
Lawmakers, CUNY faculty, students, and education advocates have been protesting the governor's proposed tuition increase throughout the budget process, while simultaneously calling for the passage of a "New Deal for CUNY" package to build upon CUNY-related gains made in last year's budget. The legislation, sponsored by Democratic State Senator Andrew Gounardes, would add $1.7 billion in operating aid for CUNY over five years in order to eliminate tuition and fees, hire thousands of additional full-time faculty, increase adjunct pay, and hire hundreds of mental health counselors and academic student advisors. "This year's budget is not all we had hoped for, but I'm proud that we were able to bring a number of crucial initiatives over the finish line," Gounardes said in part in a statement on Wednesday that touted additional investments in CUNY. 
The Professional Staff Congress CUNY, the union that represents 30,000 CUNY faculty and professional staff, also celebrated the budget. "CUNY faces considerable challenges, but we are now a step closer to a New Deal for CUNY—a New Deal for Higher Education," said PSC CUNY President James Davis, in a statement on Wednesday. "New Yorkers are ready for a free and fully funded public university system and we are committed to making that vision a reality. Our students deserve no less."
The funding for CUNY in the state budget now sets the stage for another fight in New York City, where City Council members and advocates are also hoping to stave off cuts to the system in Mayor Eric Adams' $106.7 executive budget for the 2024 fiscal year, which starts July 1.
The mayor's budget sets CUNY's funding at $1.29 billion, down about $150 million from the budget adopted last June and about $229 million lower than the city's modified spending forecast for the current fiscal year. The city is largely responsible for funding CUNY's community colleges.
When he released his executive budget last week, the mayor added funding for certain CUNY programs including $4.8 million for CUNY Inclusive Economy Initiative programs, $5.8 million to expand the CUNY Reconnect program, and $1 million for the Medgar Evers College Brooklyn Recovery Corps.
At the same time, in repeated attempts at cost-cutting, the mayor has implemented several rounds of a Program to Eliminate the Gap (PEG) that reduced CUNY funding by $18.4 million in the current fiscal year and $41.3 million for next fiscal year. A significant portion of those funding reductions are from cutting budgeted personnel vacancies.
Even prior to the executive budget, the City Council had pushed back against the mayor, calling on him to restore and baseline funding to CUNY, and that advocacy is likely to continue as the Council begins examining the executive budget next week.
Note - This article has been updated.